August 5, 2018
The heatwave looks set to continue, so we'll be staying indoors with the blinds down whenever possible during the hours of daylight and drinking large glasses of ice water, aside from spending 10–20 minutes a day in our swimwear in the apartment block's communal garden / concrete area, all the better to gain that deep, Mediterranean tan that our friends and neighbours are off seeking in Croatia. Vacations can be fun, but since all we do when on one is nothing this year we decided to do that here, in our sleep, and save the waking hours for something more productive.
The Ljubljana Festival continues to run until early September and presents a series of live music concerts, with a bias towards classical, opera, and ballet; see here for details. This week it includes a performance by the pianist Alexander Gadjiev playing Chopin, Tchaikovsky and Prokofiev on Wednesday evening (details here), including the following piece.
Some of the other events on around town are presented below. As ever, clicking on the venue name will get you more details with regard to the time, price and location, as well as other events on this week, and if you want to get a Ljubljana Tourist Card, which gives you travel on the city buses and entry to a lot of attractions, then you can read more about that here, and if you want to use the bike share system, as useful for visitors as it is for residents, then you can learn more by clicking this.
And if there's something you want to promote in a future edition of What's on... please get in touch with me at This email address is being protected from spambots. You need JavaScript enabled to view it.
CINEMA
You can read about all the cinemas in town here, while a selection of what's playing this week is below, and note that kid's movies tend to be shown in dubbed versions, so do check before driving out to a multiplex and dropping off the young ones. (And if you like watching trailers with Slovene subtitles, then catch up on some from earlier this year here and here).
Kinodvor – The arts cinema not far from the train station, but still rather tucked away, showing, among other features, three music documentaries, Whitney, Grace Jones, and Marley, along with a subtitled version of Hotel Transylvania 3: A Monster Vacation.
Kinoteka – The revival house at one end of Miklošičeva is just showing one movie this week, and it's Anton Corbijn's Control, about Ian Curtis and Joy Division.
Kolosej – The multiplex out at BTC City Mall is playing all the big movies, which this week include – deep breath – Mama Mia 2: Here We Go Again, Looking Glass, Sicario 2, Skyscraper, Ant Man & Wasp, Adrift, The First Purge, Tag, Jurassic World: Fallen Kingdom, Deadpool 2, Book Club and both dubbed and subtitled versions of Hotel Transylvania 3: A Monster Vacation. From Tuesday on there's Finding Your Feet, while Thursday starts to the run of Mission Impossible: Fallout.
Komuna – The cinema in a basement behind Nama department store is showing Mama Mia 2 a dubbed version of Hotel Transylvania 3: A Monster Vacation.
CLUBS
See a short documentary comparing / contrasting Metelkova and Rog here
Božidar – Friday, August 10, the club at Vilharjeva 11 has an evening (19:00–01:00) called Cigarettes & Beverages, with DJs Disco Durum and Dojaja.
Gala Hala – Monday night is Dub Lab, this week with Michel Pfeifer. Tuesday there's a night of Brazilia with DJ Zenf, then on Friday there's a night of live and DJ'd electroclash, synthwave and leftfield from the Belgrade duo Auf Wiedersehen and DJs Torulsson and Kobayashii.
Klub K4 – Nothing seems to be planned for this week.
EXHIBITIONS
Please note that public galleries and museums are closed on Mondays.
Ljubljana Castle has an exhibition on the history of dragons that runs until November 11, and is being promoted with the following video.
Plečnik's desk. Photo: JL Flanner
Plečnik's House is worth a visit if you want to learn more about the architect who gave Ljubljana much of its character. Read about our guided tour here.
The Balassi Institute (The Cultural Centre of the Embassy of Hungary) – This is at Barvarska steza 8, Ljubljana, not far from Dragon Bridge, and hosts various events. Until August 6 it's also showing photos by Ora Hasenfratz.
Jakopič Gallery – Fans of Magnum and photography in general will wish to check out the Marc Riboud show here, as detailed in an earlier story, and on until October.
Marc Riboud. Huangshan, 1985. On the right, the pine named Flower-Formed-on-the-tip-of-a-Dream-Paintbrush. On the left, the Sublime Peak. ©Marc Riboud – all rights reserved.
Cankerjev dom – Running until the end of February 2019 is an exhibition titled Ivan Cankar and Europe: Between Shakespeare and Kafka. This is "An examination of Cankar's art through an analysis of influences and interpretations, and juxtaposition with contemporary European writers. The visually elaborate architectural and graphic layout, supported by audio-visual media, installation art and diverse visual highlights, offers a vivid account of Cankar's excellence, his comprehensively exquisite aesthetic and artistic vision."
City Art Gallery – On until the first week of September is a show called Prrrrrr, featuring the work of seven female artists from Slovenia. More on that here.
Simona Semenič, Nada Žgank - Zapis celote, triptih fotografij, 67 x 100 cm, giclée print, 2009. On display at the City Art Gallery
City Museum – The Museum in French Revolution Square has an exhibition on the writer Ivan Cankar that's on until the end of February 2019, with pictures, books and manuscripts, all presented in Slovene and English. It also has a very interesting permanent exhibition on the history of Ljubljana, from prehistoric times to the present day, with many artefacts, models and so on that bring the story alive.You can read about my recent visit here.
The Faces of Ljubljana in the City Museum. Photo: JL Flanner
Galerija Kapelica – Until August 17 you can visit an installation by Christiaan Zwanikken called Kinetic garden + Nose patrol, being promoted with the following image on Facebook.
Galerija Kresija – Among other shows, until September 7 this gallery has an exhibition of ceramics and sculptures titled Krogla (Ball), and promoted with the following image, from the gallery's Facebook page.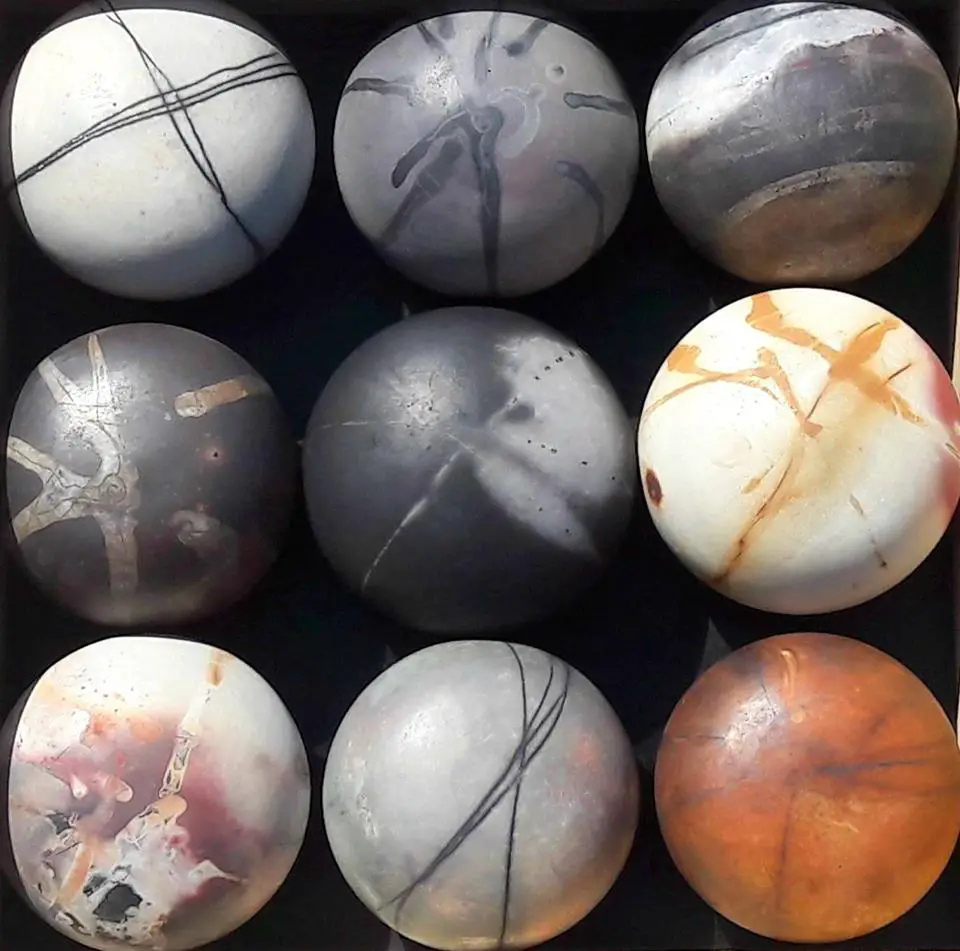 Mitja Klančar: IntegracijaDD
International Centre of Graphic Arts – Running until August 18 is a show called Stop and Go - the art of animated gifs. Per the publicity "The group exhibition explores the artistic use of animated GIFs, presenting a broad and diversified panorama of the various approaches currently adopted by the international community. The show includes works by nine artists who are some of the most famous exponents of the genre.".
Ljubljana Castle – Giampaolo Sgura, the fashion photographer, has an exhibition here until August 25, with images like the one below.
Giampaolo Sgura
MAO – The Museum of Architecture and Design is showcasing Slovenian designers in a show called Made in Slovenia, lasting until the end of 2018: "The selling exhibition aims to present good practices of Slovenian designers and companies in the creative sector." The same venue has an exhibition based on Slovenia's Pavilion at the 16th International Architecture Exhibition – La Biennale di Venezia, called "Living with Water", and on until November 25.
Something by Drago Tršar
Moderna galerija – The main branch of this gallery, to be found near the entrance to Tivoli Park, has a good collection of modern art, as well a nice café in the basement, and, until September 30th, a retrospective on the monumental sculptures of Drago Tršar, which you'll recognise from around town (see more here). For even more contemporary work you can take a trip to the Metelkova branch, where there's currently a show on the relationship between humans and animals.
Photo: JL Flanner
Museum of Contemporary History – The museum in Tivoli Park has two new shows. One is called Museum's (R)evolution 1948-2018, marking the place's 70th anniversary with an exhibition tracing its evolution through artefacts, photographs and personal stories and running until January 6 2019 (details here). There's also In Search of Freedom: 1968-2018, looking at the 1968 student protests.
National Gallery – The country's main gallery has "the best" of what's on offer from the Middle Ages to non-contemporary modern visual arts, and is in a great location for exploring other areas, just by Tivoli Park and opposite the main branch of the Moderna galerija. Running until February 10 2019 is a show called Ivana Kobilca (1861-1926): But Of Course, Painting Is Something Beautiful!, featuring works like the one below. You can read about our visit to the room containing scared art from the Middle Ages here, and see a picture from our trip after the two girls.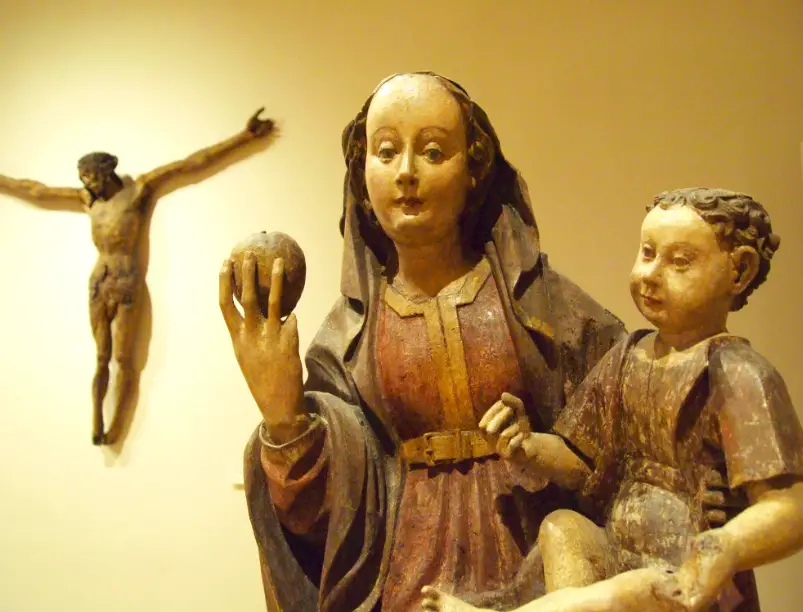 JL Flanner
National Museum of Slovenia – There's plenty to see in the permanent collection here, from Roman times, Egypt and more. Meanwhile, at the museum's Metelkova branch, located between one branch of the Moderna galerija and the Ethnographic Museum is the International Ceramic Triennial UNICUM 2018, which runs until September 30. It's being promoted with the following image.
Slovene Ethnographic Museum – The museum currently has a temporary show on Bees and Beekeeping, as well two permanent exhibitions. One of these is called Between Nature and Culture, and has a great collection of objects from Slovenia and around the world, well worth the trip up to the third floor to see it. This place is located near the newer branch of the Moderna galerija and Metelkova.
Photo: JL Flanner
Union Experience – The Ljubljana-based brewer has a museum showing the history of the company, with the ticket also including access to part of the factory and a few samples of the product. You can read about our visit here.
It's not a formal museum, but if you're interested in "Yugo-stalgia" then you'll enjoy a trip to Verba, a small, privately run space that's crammed with objects and pop culture items from the era, and is conveniently located at the start of one of the short walks to the castle. It's also a great place to take pictures, if you leave a donation, and you can read more about it here.
Verba. Photo: JL Flanner
FAMILIES & KIDS
You can find our Top 12 list of things to do with kids in Ljubljana here. If want to read more about the philosophy behind the wonderful House of Experiments look here, while our trip to the Museum of Illusions is documented here, and there's always riverside walks, ice cream and pizza.
Lean more about this happy fellow here. Photo: JL Flanner
LGBTQI+
If you want to learn more about Ljubljana Pride, then take a look at our interview with its president here.
Klub Monokel – No events are being promoted this week, but that's no reason not to head to this lesbian bar and see what's happening
Klub Tiffany – And nothing's planned at this friendly gay bar, either. It's summer.
LIVE MUSIC
It's the height of summer, and there seems to be rather little on this week with regard to concerts. That said, we might have missed a lot, so keep your eyes on the posters you'll see around town and you could find more going on. The Ljubljana Festival certainly continues, with the programme of classical music at various venues to be found here.
Gala Hala – Thursday night you can enjoy live stoner rock / doom metal from Omega Sun.
MISC.
Every Friday through the warmer months there's the Open Kitchen in Ljubljana Market, where you can try food and drink from some the biggest names in town, and you can read more about it here.
Breg Embankment, just opposite the Old Town and by the river, has a small flea market open every Sunday morning. Learn more about it here.
If you're in town and want to go jogging or walking in nature, why not take another look at the Castle, with a brief guide to the trails here. If you want something bigger, head to Tivoli Park.
If you want to get wet and work on your tan then consider going to one of the outdoor pools in town, which you can read about here.
Kodeljevo pool
And if you're bored with the Old Town, why not take a walk, cycle or boat ride to nearby Špica and enjoy the riverside life. Learn more about that here.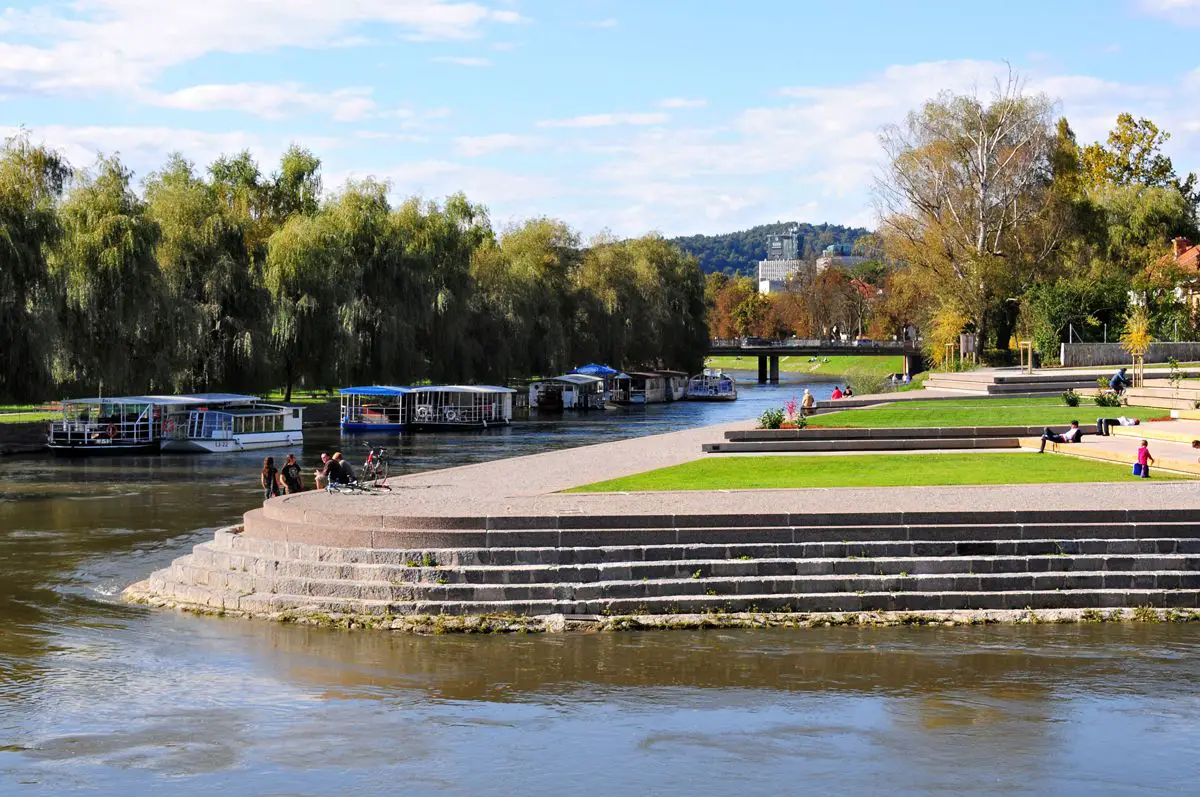 visitljubjana.si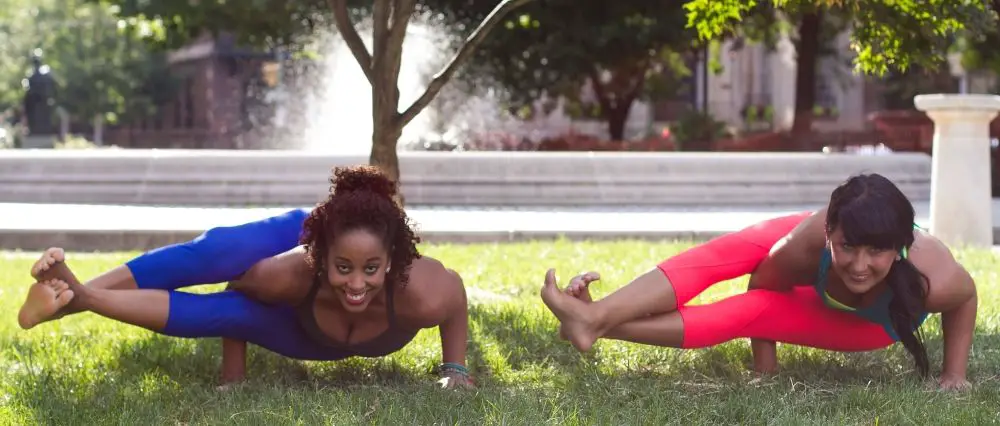 Flickr - Dave Rosenbaum CC by 2.0
Want to stretch and breath? Then check out our list of drop-in yoga classes for tourists, visitors and the uncommitted.
TRIPS
Most of Slovenia is only a few hours from Ljubljana, and you can easily visit Lake Bled, Lipica Stud Farm, Postojna Cave, Predjama Castle, the coast and other locations.
FINALLY…
The Robba Fountain you'll see at one end of the Old Town isn't the real one. Learn more and find out where you can see the genuine article here.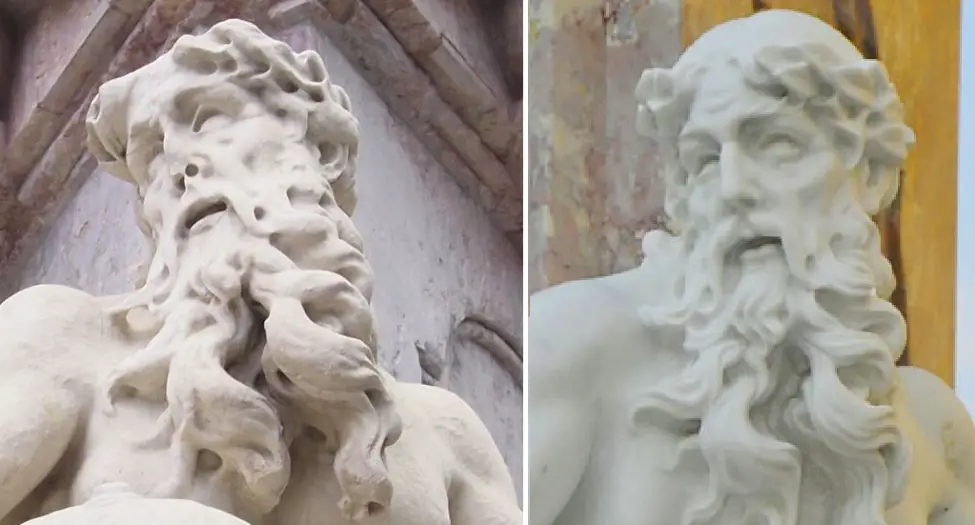 Left, the real one; Right, the copy. Photos: JL Flanner, visitljubljana.com