This place costs €25,000, has three bedrooms, amazing views, and a need for some major renovations. You'll be sleeping somewhere else the first night you own it, and you'll learn a lot more about both the property and yourself before you move in and starting living in the village of Labinje full time.
So it's the promise of relatively blank canvas that will draw the new owners to this four-bedroom, four-floor place, one that comes with a large garden (1374 m2 outdoor space) and the opportunity to remake it in line with your own understanding of your needs, wants, strengths and limitations.
As noted at the top, the property is currently on the market for €25,000, and is being handled by Think Slovenia, who describe it as follows.
Spacious traditional farmhouse in the picturesque village of Labinje in the hills above Cerkno. The house is priced to take account of a significant damp issue and is in need of major renovations or possible demolition and rebuilding.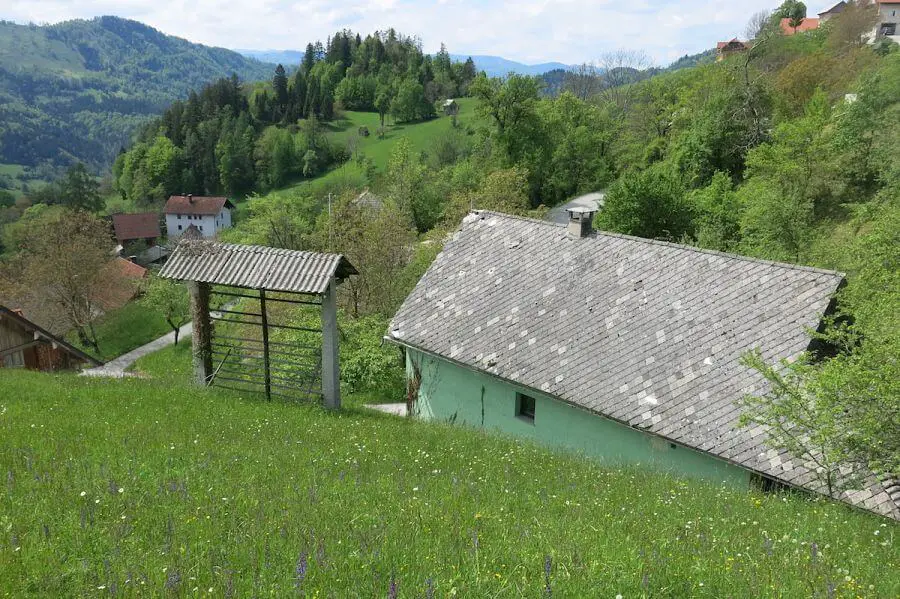 The existing house occupies four floors with a cellar area in the basement, kitchen, living room with traditional ceramic wood stove and bedrooms on the ground and first floors. There is a woodshed next to the house and large garden behind the house.
The elevated hillside position offers fantastic open views over the valley and surrounding hills. The village of Labinje is only a 5 minute's drive from the town of Cerkno, known for its excellent family ski resort.
The surrounding hills are great for hiking and mountain biking, the river Idrijca great for swimming in the summer cca 15 minutes' drive whilst the Soča Valley and Bohinj Lake are easy day trips from the property.
You can see more of this, and other properties for sale or rent around the country, at Think Slovenia