March 13, 2018
Sunday morning it's all too easy to slip into sloth, either suffering from or planning gross over-indulgence, otherwise seeking penance and forgiveness, but one place to get up, out and ready to conquer the day before noon when staying in Ljubljana is the flea market along Breg Embankment.
Whether hungover or hungry for adventure, it's a short strip full of variety, colour and interest, even on a Sunday with persistent light rain, as when I visited and took these photos, and all the better if the weather's fine. You're out of bed, alive, fully clothed, one hopes, and in Ljubljana. What's the worst that could happen?
The market is set in a great location for exploring more, starting at Novi trg and just by Shoemakers' or Cobblers' Bridge (Cevljarski most, and in our opinion one of the nicest around), and then stretching on to the end of the pedestrianised area. From here you can follow the river upstream, visiting Trnovo, once known as solatendorf and still a site of many small gardens. Or you can head up the hill, away from the castle, pass the Zois Pyramid and end up, or at least take a rest, in French Revolution Square (Trg francoske revolucije).
You're also well-sited for a trip across the river to the Old Town, with its fancy shops, tourist stores, restaurants and cafés, as well as the free charms of the streets themselves, open to every flâneur and dilettante, and the buildings that have stood there for centuries and will outlast us all.
The market in Breg opens early and closes around noon, and although only half the stalls were functioning when I visited on a slightly raining day in early March there was still more than enough to pass the time inspecting the goods on offer, aimless and without eventual purchase, a cheap and cheerful morning.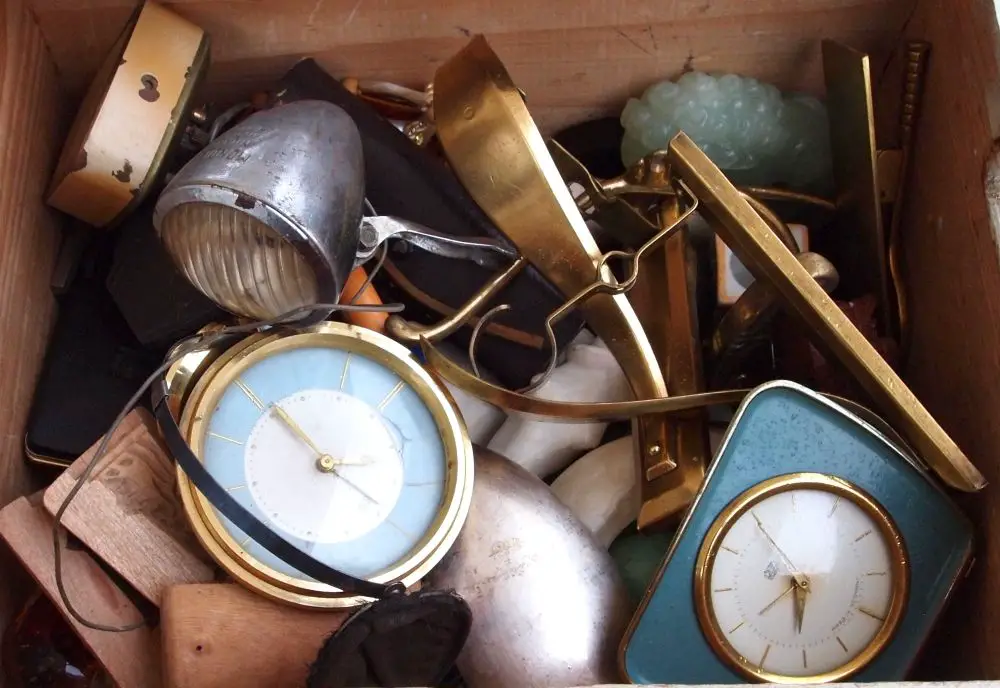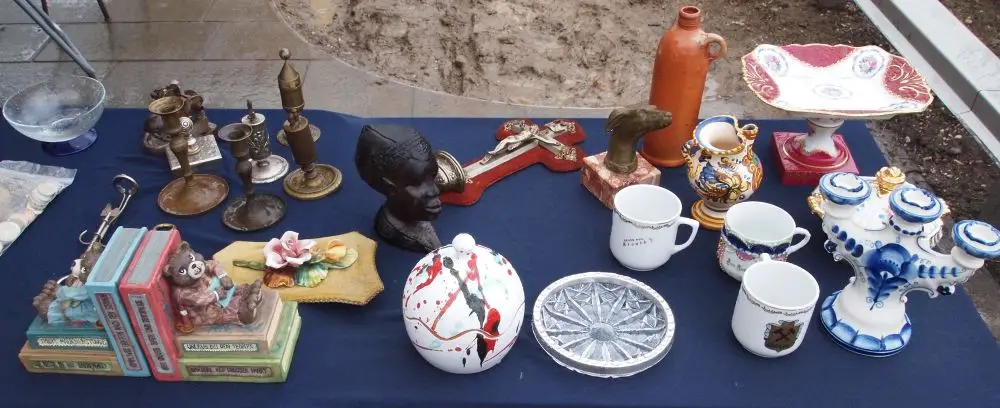 The items are all small enough to carry away, with no large pieces of furniture or farmyard equipment, and there are also no clothes. Instead you'll find a colourful selection of treasure and trash, as exemplified in these images, all things that a person just as real as you are, even on a Sunday morning, once bought in the hope of home- or self-improvement.
Of particular interest, or at least striking to those unfamiliar with such objects, are various relics from the days of Yugoslavia, and especially military and other wartime items, with medals, belts, leather packs, helmets, badges, books and documents from all sides of the conflict, and yours for whatever price you negotiate.
There are also lots of small home fixtures, such as lights, hooks, and so on, but in truth there must be something for almost everyone here, from antique and pornographic postcards to Christ nailed on a cross.
And if nothing appeals then don't worry, as the whole market is just one row of stalls that can be easily navigated in around half an hour, and less without interest, leaving you with plenty of time and energy to do something else – out of bed, teeth brushed, hair combed and maybe some money to spend.
Uživaj dan, and all that, because the hours are yours to inhabit, and we take the world as we find it or work to make it better.