October 07, 2018
Something new this week was "25 Things to Know about Ljubljana Castle". It's a far from exhaustive list, as 25 things could perhaps be drawn from each of the centuries it's been overlooking the city, but I'd be surprised if you didn't learn something new on reading it.
Some parts of the Castle's wall are from Roman Emona. Can you see them? Photo: JL Flanner
As ever, clicking on the venue names in the list below should get you more details with regard to the time, price and location, as well as other events on this week in the same place. Finally, if there's something you want to promote in a future edition of What's on... please get in touch with me at flanner(at)total-slovenia-news.com
GENERAL
If you want to get a Ljubljana Tourist Card, which gives you travel on the city buses and entry to a lot of attractions, then you can read more about that here, and if you want to use the bike share system, as useful for visitors as it is for residents, then you can learn more by clicking this. Visitors with reduced mobility will be pleased to find that downtown Ljubljana is generally rated as good with regard to accessibility, and that there's a free, city-sponsored app called Ljubljana by Wheelchair highlighting cafés, attractions and so on with ramps, disabled bathrooms and Eurokey facilities, which you can read about and download here.
Want / need cigarettes but the stores have closed? Here's an incomplete list of bars downtown that will satisfy your craving for the demon weed. While if you're having trouble with the ATMs then here's a guide to the Slovene you'll see on screen. If you get a hangover then find out where to get paracetamol (and prescription drugs) in Ljubljana here, while details on emergency birth control can be found here.
Ljubljana is a small and relatively safe city, but if need to contact the police then there's a special number for foreigners, and that's 113.
CINEMA
You can read about all the cinemas in town here, while a selection of what's playing this week is below, and note that kid's movies tend to be shown in dubbed versions, so do check before driving out to a multiplex and dropping off the young ones. (And if you like watching trailers with subtitles as a way of learning Slovene, then catch up on some from earlier this year here and here).
Kinodvor – The arts cinema not far from the train station, but still rather tucked away, showing, among other features, Bergman: A Year in a Life, The Bank Job, and The Death of Stalin. Bergman fans should check out Kinoteka, below, if they speak Swedish or Slovene….
Kinoteka – The revival house at one end of Miklošičeva is showing has a Bergman season, in Swedish with Slovene subs, featuring Smultronstället, Höstsonaten, Tystnaden, Scener ur ett äktenskap, and Vargtimmen. For those looking for something in English, they can check out Larry Clark's degenerate Kids or Antonioni's 60s classic Blow Up, as trailed below.
Kolosej – The multiplex out at BTC City Mall is playing all the big movies, which this week include Mission Impossible: Fallout, Mamma Mia 2: Here We Go Again, dubbed versions of Hotel Transylvania 3: A Monster Vacation and Duck, Duck, Goose, The Meg, The Spy Who Dumped Me, The Nun, A Simple Favour, The Predator, The Extraordinary Journey Of The Fakir, Night School and Gajin svet. New movies include Patrick, Peppermint, Venom, Assassin Nation, The House with a Clock in Its Walls and A Star is Born. Wednesday also sees the start of First Man.
Komuna – The cinema in a basement behind Nama department store is showing Mamma Mia 2: Here We Go Again and Todos lo Saben.
CLUBS
Drogart, an organization that aims to minimise harm on the party scene, has a useful page analysing the contents of various pills being sold as MDMA. It's in Slovene, but you can Google translate it or work things out yourself. One thing they recently warned of were pink Pharaoh pills with around twice the normal MDMA content (measured at 261 mg). See pictures and learn more here, but do remember that all the usual drugs remain illegal in Slovenia. We've also heard increasing reports - albeit anecdotal - of women's drinks being spiked in the city, so take care and let friends know where you're going.
Channel Zero – Monday night is Dub Lab, this week with Darla Smoking, Čunfa, and DubDiggerz. Friday you can then enjoy SUBØ: Scratcha DVA / DVA Hi:Emotions (Hyperdub Records, UK), Bakto (TEKK DJZ), Terranigma and DVS, with visuals provided by VJ 5237.
Gala Hala – Friday you can dance to Versus: Dokaj / Shekuza playing techno, while on Saturday there's Wave Riders!, with Torulsson and Kobayashii playing electroclash, leftfield, and synthwave, with visual support from Maii.
Klub Cirkus – The more polished end of clubland has another week of faculty parties, with Spoznavni žur FE & FRI & ZF on Tuesday, Spoznavni žur Fakultete za šport on Wednesday, and Spoznavni ŽUR Medicinske fakultete on Thursday, while on Friday there's New AGE / ACTY (Lyc Takeover) and then on Saturday there's HouseKeeping with Mike Vale.
Klub K4 – The place we keep kalling the klub for kool kids, due to both its storied history and exciting present, has two events this week. Phi w/ Saverio Celestri & Pascal on Friday, playing "music", while on Saturday we have K4DNB with, you guessed it, d'n'b, provided by Dub_Tone (d:light), Kryptønite (Bass Fighters), and Mixxle (Vibe Department Official).
Orto Bar – Friday night there's an 80s Party here.
Most public galleries and museums are closed on Mondays, although not the National Museum.
Ljubljana Castle has an exhibition on the history of dragons in Slovenia and around the world that runs until November 11, and there's plenty more to see and do when up there, including some nice walks in nature. Note that the bathroom is in the basement and rather difficult to find.
Plečnik's desk. Photo: JL Flanner
Plečnik's House is worth a visit if you want to learn more about the architect who gave Ljubljana much of its character. Read about our guided tour here.
From October 5 to November 5 you can visit FLO Bistro in Gornji trg (part of the Old Town) and see a selection of photographs of the city by Xenia, called #Ljubljanamylove. If you can't make it, then you can see some of the images on Instagram, and one of them below.
Photo: Xenia6
The Balassi Institute (The Cultural Centre of the Embassy of Hungary) – This is at Barvarska steza 8, Ljubljana, not far from Dragon Bridge, and until November you can see a show with works from Igor Andjelic (1961) from Slovenia, Dénesa Farkasa (1974) from Estonia and Hungary and Pétra Mátyásija (1982) from Hungary.
Jakopič Gallery– Fans of Magnum photography in general will wish to check out the Marc Riboud show here, as detailed in an earlier story, and on until October 14.
Marc Riboud Beijing, 1965. Da Sha La street in old Bejing, as seen through an antique dealer's window. Private citizens come here to sell family jewels or other objects. The prices are fixed by the government. ©Marc Riboud – all rights reserved
Cankerjev dom – Running until the end of February 2019 is an exhibition titled Ivan Cankar and Europe: Between Shakespeare and Kafka. This is "An examination of Cankar's art through an analysis of influences and interpretations, and juxtaposition with contemporary European writers. The visually elaborate architectural and graphic layout, supported by audio-visual media, installation art and diverse visual highlights, offers a vivid account of Cankar's excellence, his comprehensively exquisite aesthetic and artistic vision."
City Art Gallery – Tadej Pogačar's CODE:RED project will be presented here until November 4, including documentary material, texts, interviews, videos, photographs, and newspapers. It's being promoted with the following image.
CODE:RED Venice, Red umbrella march, public action, 49th Venice Biennale of Contemporary Art, Venice, 2001 / on the picture: Carol Leigh
City Museum – The Museum in French Revolution Square has an exhibition on the writer Ivan Cankar that's on until the end of February 2019, with pictures, books and manuscripts, all presented in Slovene and English. It also has a very interesting permanent exhibition on the history of Ljubljana, from prehistoric times to the present day, with many artefacts, models and so on that bring the story alive.You can read about my recent visit here.
The Faces of Ljubljana in the City Museum. Photo: JL Flanner
International Centre of Graphic Arts – Running until November 11 is an exhibition of works by Riko Debenjak, including prints, drawings, paintings and illustrations.
MAO – The Museum of Architecture and Design is showcasing Slovenian designers in a show called Made in Slovenia, lasting until the end of 2018: "The selling exhibition aims to present good practices of Slovenian designers and companies in the creative sector." The same venue has an exhibition based on Slovenia's Pavilion at the 16th International Architecture Exhibition – La Biennale di Venezia, called "Living with Water", and on until November 25.
Something by Drago Tršar
Moderna galerija – The main branch of this gallery, to be found near the entrance to Tivoli Park, has a good collection of modern art, as well a nice café in the basement. For even more contemporary work you can take a trip to the Metelkova branch, where there's currently a show on the relationship between humans and animals.
Photo: JL Flanner
Museum of Contemporary History – The museum in Tivoli Park has two new shows. One is called Museum's (R)evolution 1948-2018, marking the place's 70th anniversary with an exhibition tracing its evolution through artefacts, photographs and personal stories and running until January 6 2019 (details here). There's also In Search of Freedom: 1968-2018, looking at the 1968 student protests.
National Gallery – The country's main gallery has "the best" of what's on offer from the Middle Ages to non-contemporary modern visual arts, and is in a great location for exploring other areas, just by Tivoli Park and opposite the main branch of the Moderna galerija. Running until February 10 2019 is a show called Ivana Kobilca (1861-1926): But Of Course, Painting Is Something Beautiful!, featuring works like the one below. You can read about our visit to the room containing scared art from the Middle Ages here, and see a picture from our trip after the two girls.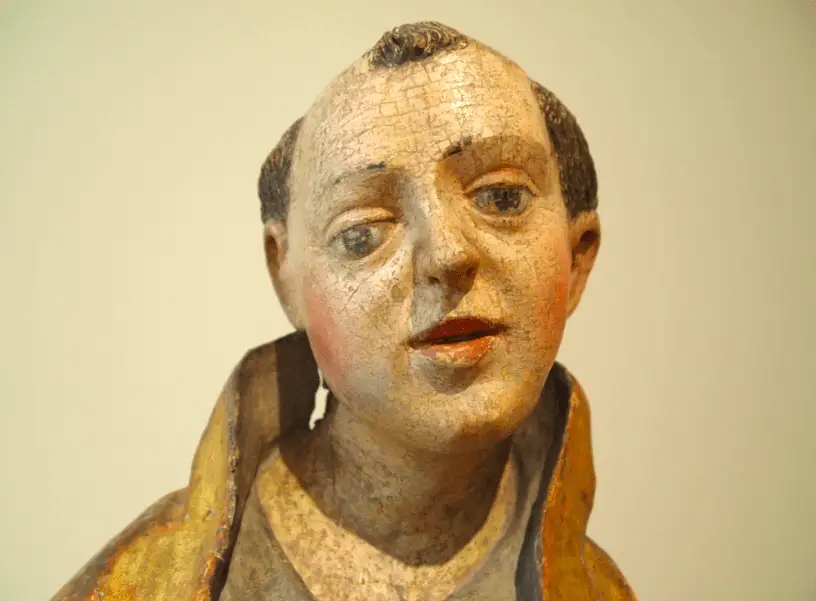 JL Flanner
National Museum of Slovenia – There's plenty to see in the permanent collection here, from Roman times, Egypt and more, with the big draw this season being the exhibition of over 140 items of gold from Ming Dyntasy China, as reported here, and with an example below.
Photo: Wang Wei Chang
Meanwhile, the museum's Metelkova branch, located between one branch of the Moderna galerija and the Ethnographic Museum has some rooms on Church art, funiture and weapons, with the latter including more guns than you'll see anywhere else in town, and quite a thrill if coming from a nation where such objects are not household objects.
Photon Centre of Contemporary Photography – A show called Forbidden Whispers – Laibach in North Korea is on here until October 19.
Slovene Ethnographic Museum – The museum currently has a temporary show on Bees and Beekeeping, as well two permanent exhibitions. One of these is called Between Nature and Culture, and has a great collection of objects from Slovenia and around the world, well worth the trip up to the third floor to see it (as recounted here). This place is located near the newer branch of the Moderna galerija and Metelkova.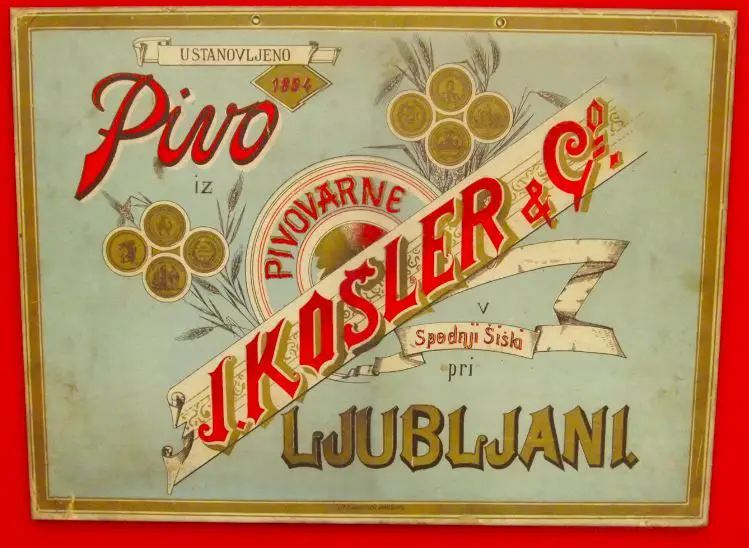 Photo: JL Flanner
Union Experience – The Ljubljana-based brewer has a museum showing the history of the company, with the ticket also including access to part of the factory and a few samples of the product. You can read about our visit here.
It's not a formal museum, but if you're interested in "Yugo-stalgia" then you'll enjoy a trip to Verba, a small, privately run space that's crammed with objects and pop culture items from the era, and is conveniently located at the start of one of the short walks to the castle. It's also a great place to take pictures, if you leave a donation, and you can read more about it here.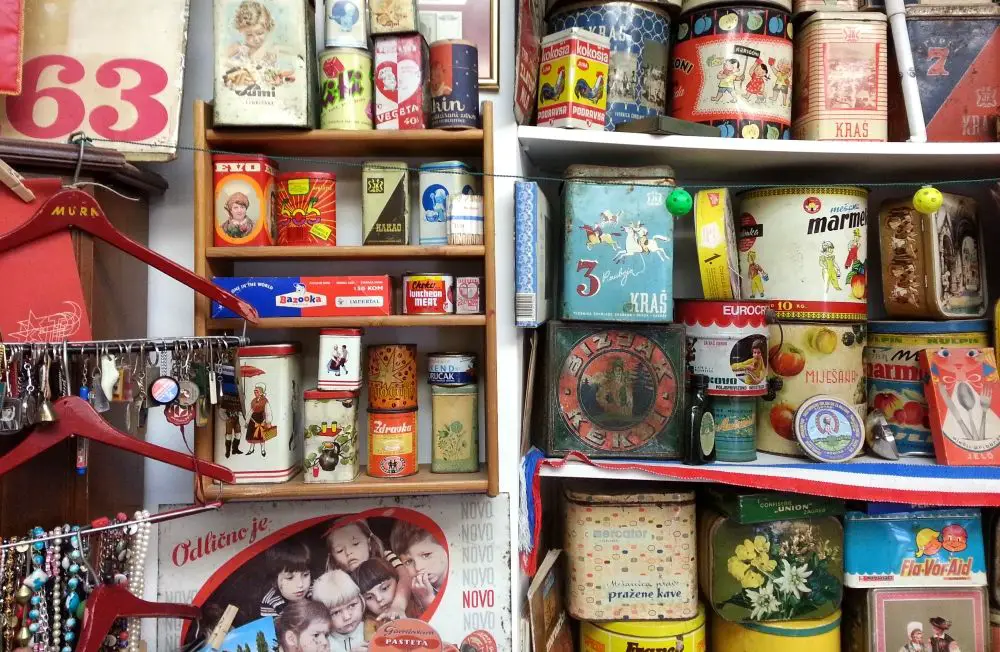 Verba. Photo: JL Flanner
Alternative Ljubljana isn't a museum or gallery, as such, but instead turns the city streets into a museum and gallery. Learn more about their tours of street art, history and LGBT Ljubljana here.
FAMILIES & KIDS
You can find our Top 12 list of things to do with kids in Ljubljana here. If want to read more about the philosophy behind the wonderful House of Experiments look here, while our trip to the Museum of Illusions is documented here, and there's always riverside walks, ice cream and pizza. There's also the weekend programmes of films for children, from babies up, at Kinodvor, which you can read about here.
Photo: JL Flanner
LGBTQ+
If you want to learn more about Ljubljana Pride, then take a look at our interview with its president here. If you're looking for more general links on "gay Slovenia", including a history of the scene and various projects, then you can find that here. We recently also published an interview with the LGBT activist and writer Suzana Tratnik, talking about - among other things - the occupation of Metelkova.
Klub Monokel – The lesbian bar in Metelkova that's always open on Friday night is hosting, along with Klub Tiffany – see below – an al-nighter that begins at 23:00 and ends at 06:00. The on Sunday both klubs are having an workshop for Ade Lovelace Day, from 18:00 to 21:00. You can learn more about the event here.
Klub Tiffany – See above for the events this gay bar is co-hosting.
Pritličje – This is the closest Ljubljana comes to a "gay bar" so it's a good thing this LGBT-friendly cafe / bar / events space is such a good one, and open from morning to night. You can read more about it here.
Pride – There's a Quiz Night, Tuesday 19:00 to 21:00. Details here.
Photo: Alternative Ljubljana
How to behave in Metelkova. Photo: JL Flanner
LIVE MUSIC
Cankerjev dom – Jacques Brel fans can see Branko Završan performing some of the man's songs on Tuesday, while on Saturday there's Ólafur Arnalds, as seen below.
Channel Zero – Tuesday night you thrill to the doom-laden metal sounds and psychedelic rock of The Skull (ex. Trouble), Eagle Twin and Acid Muffin.
Kino Šiška – Tuesday there's Son Lux and SK Kakraba. Friday night you can see a live set from God is an Astronaut. Then on Sunday there's Popjazziada, a vocal group. A full show at the same venue can be see in the third video below.
Ljubljana Castle – Friday night is music night at the castle, and this week sees a show by Big Band KK.
Orto Bar – Thursday there's metal from Shotdown, Flesh, and Street Creeps. Then on Saturday you can thrill to the sounds of Razpaljot and The Rusks playing alternative and blues rock.
There doesn't seem to be much going on here the next week, but I may have missed something, so keep your eyes open. There are also some performances on as part of the City of Woman, with the schedule here.
Gledališče IGLU - IGLU Theatre – Saturday night this group is usually putting on an English improv show somewhere in town, but it's generally promoted after this is written, so check the Facebook before putting on your shoes. You can also study with the crew, with their course starting Thursday – learn more here.
Klub Gromka – One of our favourite acts is back on stage, the technoburlesque of Image Snatchers / Tatovi Podob, bringing music, dancing, comedy, nudity and joy to an intimate venue at 23:00, Thursday. Maybe it should belong in this section, but Friday night you can attend a Beatbox Battle, running from 20:30 to 03:00
SNG Opera and Ballet – Thursday, Friday and Saturday you can see Offenbach's Tales of Hoffmann.
Every Friday through the warmer months (and still now) there's the Open Kitchen in Ljubljana Market, where you can try food and drink from some the biggest names in town.
If you'd like to spend an evening painting with others, then take a look at Design with Wine, which organises painting parties on Trubarjeva cesta,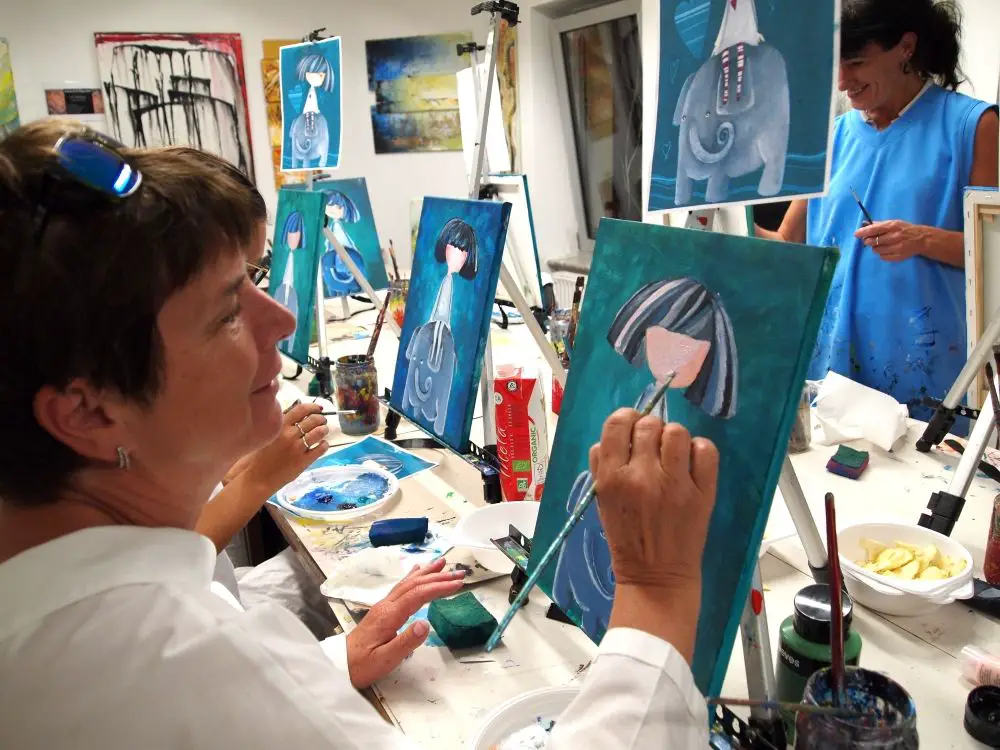 Breg Embankment, just opposite the Old Town and by the river, has a small flea market open every Sunday morning. Learn more about it here.
If you can't make it to Breg on Sunday morning, but still want to see some antiques, then check out the wonderful Antika Carniola, as discussed here.
Photo: JL Flanner
If you're in town and want to go jogging or walking in nature, why not take another look at the Castle, with a brief guide to the trails here. If you want something bigger, head to Tivoli Park.
And if you're bored with the Old Town, why not take a walk, cycle or boat ride to nearby Špica and enjoy the riverside life. Learn more about that here.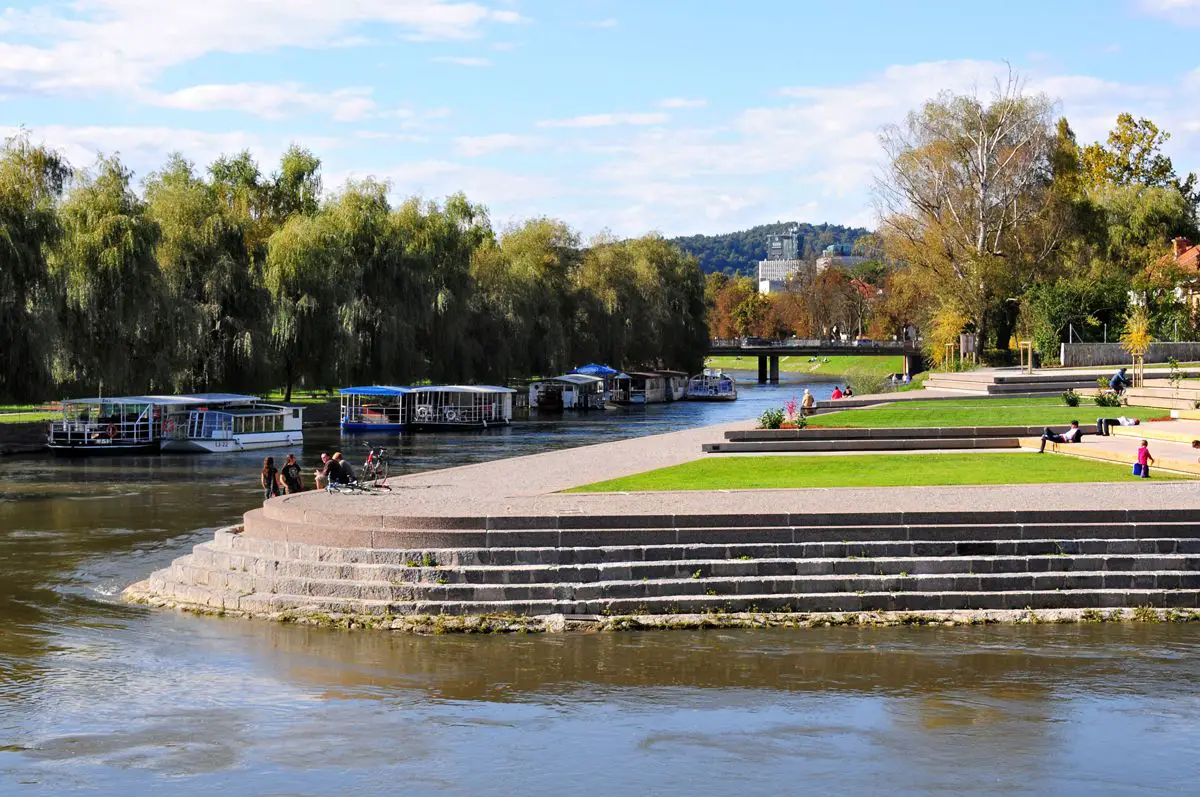 visitljubjana.si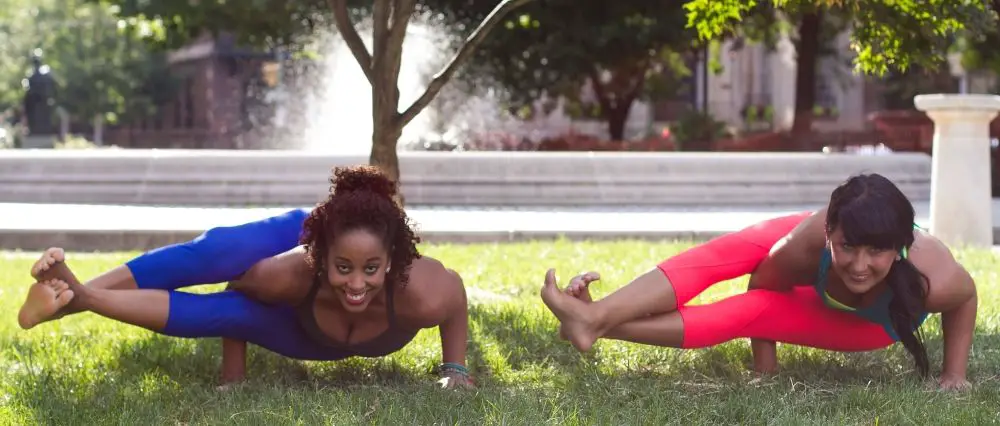 Flickr - Dave Rosenbaum CC by 2.0
Want to stretch and breath? Then check out our list of drop-in yoga classes for tourists, visitors and the uncommitted. If you're heading to the coast, check out our interview with a yoga teacher who offers breakfast sessions there, while if you're staying in town (or nearby) and want to try some "family yoga" then you can learn more about that here and maybe get your kids to calm down a moment or two.
TRIPS
Most of Slovenia is only a few hours from Ljubljana, and you can easily visit Lake Bled, Lipica Stud Farm, Postojna Cave, Predjama Castle, the coast and other locations, while if you'd like to take a photo of from that bench in Bled, then you can learn how to get there here.
Photo: Google Image Search
FINALLY…
One of the best photo spots in town is a small bridge that does its job so well it's easy to overlook how good the design is. Learn more about the quietly charming Fishmarket Footbridge here.
Photo: JL Flanner