As of writing the lights and tree are up, but nothing lit, and so for a few more days you have the chance to see a skeletal display. This changes at 17:15 on Friday, November 30, when the switch will be flipped in Prešeren Square, somewhere near the tree, and the whole pedestrianised area will come alive, as seen in this promotional video from 2017.
Yes, December in Ljubljana is a magical time, with the lights designed by Zmago Modic - the man behind the summer rain - coming out once again but moved to different positions, making things both familiar and fresh. In addition to the lights there are stalls selling mulled wine, sausages, chestnuts and other seasonal delights, along with decorations, hats, gifts, that kind of thing, with live and recorded music to keep you on your toes.
One other event to look out for at the end of the week is SILA's annual bazaar, taking place on Sunday in the Grand Hotel Union from 10:00 to 16:00, where you can enjoy food from around the world (often cooked by embassy chefs), as well as other items, cultural performances and a prize draw. I ate Indian food twice on my visit last year, and aim to go earlier and hungrier this year. You can read more about SILA here.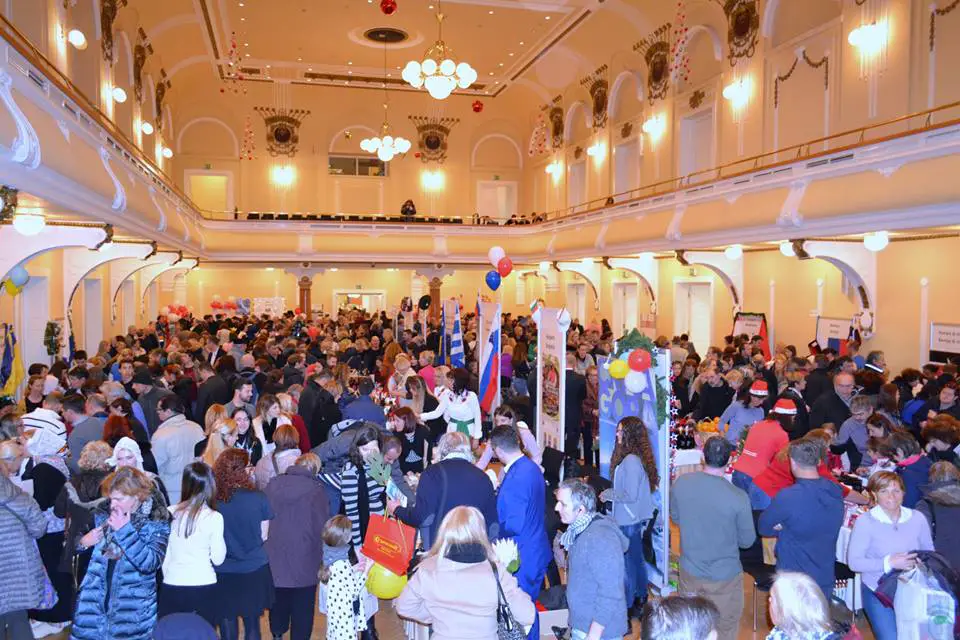 A previous bazaar. Photo: SILA
As ever, clicking on the venue names in the list below should get you more details with regard to the time, price and location, as well as other events on this week in the same place. Finally, if there's something you want to promote in a future edition of What's on in Ljubljana please get in touch with me at flanner(at)total-slovenia-news.com
Getting around Ljubljana
If you want to get a Ljubljana Tourist Card, which gives you travel on the city buses and entry to a lot of attractions, then you can read more about that here, and if you want to use the bike share system, as useful for visitors as it is for residents, then you can learn more by clicking this. Visitors with reduced mobility will be pleased to find that downtown Ljubljana is generally rated as good with regard to accessibility, and that there's a free, city-sponsored app called Ljubljana by Wheelchair highlighting cafés, attractions and so on with ramps, disabled bathrooms and Eurokey facilities, which you can read about and download here. If you're driving into town and don't know where to part, our guide to how to park in Ljubljana is here.
Want / need cigarettes but the stores have closed? Here's an incomplete list of bars downtown that will satisfy your craving for the demon weed in various parts of the downtown area. While if you're having trouble with the ATMs then here's a guide to the Slovene you'll see on screen. If you get a hangover then find out where to get paracetamol (and prescription drugs) in Ljubljana here, while details on emergency birth control can be found here.
Ljubljana is a small and relatively safe city, but if need to contact the police then there's a special number for foreigners, and that's 113.
Cinemas and films playing in Ljubljana this week
You can read about all the cinemas in town here, while a selection of what's playing this week is below, and note that kid's movies tend to be shown in dubbed versions, so do check before driving out to a multiplex and dropping off the young ones if they can't understand Slovene. That said, parents should pay attention to Kinobalon, which is Kinodvor's regular weekend series of film screenings and events for children, from babies on up, witrh special parent/child events, "first time in a cinema" screenings, and babysitting. Learn more about it here, and see the current schedule here. (And if you like watching trailers with subtitles as a way of learning Slovene, then catch up on some from earlier this year here).
One film festival that continues this the week, the Ljubljana LGBT Film Festival, which runs until December 02. You can learn more about the festival, and see trailers for many of its films - all of which will be shown with English and Slovene subtitles, if needed - here.
Kinodvor  – The arts cinema not far from the train station, which has a nice café with books and magazines, is playing, among other features: Winter Flies, The House that Jack Built, The Children Act, Posledice, Igor Zabel: Kako narediti umetnost vidno?, Un beau soleil intérieur and The Gruffalo and the Gruffalo's Child, with the latter also shown in a Sunday morning babysitting presentation. There's also a dubbed version of The Highway Rat playing.
Kinoteka – The revival house at one end of Miklošičeva is showing many of the LGBT+ festival films, including, Chi salverà le rose?, My Life with James Dean, Jean Genet, un captif amoureux, parcours d'un poète combatant, and Sidney & Friends. All the festival moves will be shown with English and Slovene subtitles.
Kolosej - The multiplex out at BTC City Mall is playing all the big movies, which this week include Robin Hood, The Grinch (with both subbed and dubbed versions), The House that Jack Built, Widows, Fantastic Beasts: The Crimes of Grindelwald, El mayor regalo, The Girl in the Spider's Web, Little Italy, Overlord, The Nutcracker and the Four Realms, Bohemian Rhapsody, Halloween, Johnny English 3, A Star is Born and Gajin svet.
Komuna – The cinema in a basement behind Nama department store is showing Bohemian Rhapsody, A Star is Born and The Grinch.
Clubbing in Ljubljana
Compared to some European capitals it can seem that nightlife in Ljubljana ends rather early, especially along the river, but there are still bars that stay open late and clubs were you can dance until dawn, and perhaps the best place to stumble across something interesting is the legendary Metelkova. Be aware it's a grungy kind of place and not for all tastes, but also that there's consideable variety to found within the various clubs there, from death metal to electropop, gay caberet to art noise. You can read "the rules" of the place here.
Channel Zero – Monday night is Dub Lab, this week with Domaćica Original: Dj Večer - Zenicafaria Sound (BiH). Friday you can then enjoy Elektroliza: Electro City Ljubljana #2 with electo music from DJs Kalson, Le Chocolat Noir, Alavux, Barion, and Microslav, and visual from VJ RGB.
Gala Hala – Friday night it's Umešana jajca with dance, breakbeat and alternative hip hop, as cooked by DJs Jopa (KopajOvo; Hr), Borka (rx:tx, Tetkine radosti) and Woo-D (GOR, Tetkine radosti).
Klub Cirkus – It's a busy week here, with Wednesday kicking things off with a party for young economists called Brucanje Ekonomistov. Thursday the space is given over to Schweppes Experience / DJ Dey & Anthony & Gaja Prestor, again offering "party music". Friday night things get more specific with El Fuego, who'll be playing LatinX flavoured pop, R&B, dance, reggaeton, latin house, tropical, and island beats, offering a warm escape from whatever the weather is doing outside. The week then ends on Saturday with Tutti Frutti - Slovenska Edicija. This will see music from DJs Matthew Z and Matteo Kunst, and a special appearance by Alya, the artist behind this bouncy pop song.
Klub K4 – O šit, the klub 4 kool kids is offering an electronic dance music all-nighter on Friday, with music from DJs Eliaz Live! (Sw:idr), Looni (Elektronika 69), Kosheer (Past Present), Čunfa (TRITE) and Nebelung (Courtyard), with VJ 5237. Saturday there's another all-night party, with Sezam & Friends playing house, techno, acid, electro, rave, and bass, and the tunes being mixed by Commercial Break, Gabi, Softskinson b2b Krilc, and Levanael b2b Felis Catus.
Koncertna Dvorana Rog – The alternative to Metelkova that sits at one end of Trubarjeva will have an all-nighter from Bass Fighters on Friday, presenting a drum'n'bass audiovisual experience, with one of the DJs being Theejay. On Saturday it's the turn of od:vod pres. Infoline, .
Harm reduction and drug testing
Drogart is an organization that aims to minimise harm on the party scene, and offers drug-testing services and reports on their webpage. It's in Slovene, but you can Google translate it or work things out yourself, andout story on the group is here. One thing they recently warned of were pink Pharaoh pills with around twice the normal MDMA content (measured at 261 mg). See pictures and learn more here, but do remember that all the usual drugs remain illegal in Slovenia, while our in-depth profile of the group is here. We've also heard increasing reports - albeit anecdotal - of women's drinks being spiked in the city, so take care and let friends know where you're going.
Things to do with children in Ljubljana
You can find our Top 12 list of things to do with kids in Ljubljana here. If want to read more about the philosophy behind the wonderful House of Experiments look here, while our trip to the Museum of Illusions is documented here, and there's always riverside walks, ice cream and pizza.
Photo: JL Flanner
Facts about Ljubljana Castle
The city's main tourist attraction is the Castle, and you'll enjoy your visit a lot more if you know what you're looking at, so take a look at our 25 Things to Know about Ljubljana Castle and learn, among other things, why some of these holes are round and some triangular.
Photo: JL Flanner
LGBT+ Ljubljana
If you want to learn more about Ljubljana Pride, then take a look at our interview with its president here. If you're looking for more general links on "gay Slovenia", including a history of the scene and various projects, then you can find that here, while our stories about the community can be found here.
There's an LGBT+ Film Festival in town from thr 24th on, and you can learn more about that, and see trailers for many of its films - all of which will be shown with English and Slovene subtitles, if needed - here.
Klub Monokel – This lesbian bar in Metelkova is open every Friday night, but otherwise nothing seems to be planned..
Klub Tiffany – The gay bar next door to Monokel is also open every Friday, and every Monday until June 2019 there's tango at 18:00. Special this week is Saturday night's event, A Star is Born. Per the promotion: "From the Trash-Out team who brought you the Britney and Mean Girls Trash-outs comes a new party to open the festive December. Come out of the cold nooks and crannies and try to come on top for one night. Let your inner diva come out and steal the spotlight. Claw you way up to the pedestal and reach for the stars; thats how stars are born! Music: The last decade of hits with Lady Gaga in the front line."
Pritličje – This is the closest Ljubljana comes to a "gay bar" so it's a good thing this LGBT-friendly cafe / bar / events space is such a good one, and open from morning to night. 
Museums and galleries in Ljubljana
Most public galleries and museums are closed on Mondays, although not the National Museum.
Plečnik's desk. Photo: JL Flanner
Plečnik's House is worth a visit if you want to learn more about the architect who gave Ljubljana much of its character. Read about our guided tour here. Something on for a limited time is Plečnik and the Sacred, showing here until January 20, 2019.
Cankerjev dom – Running until the end of February 2019 is an exhibition titled Ivan Cankar and Europe: Between Shakespeare and Kafka. This is "An examination of Cankar's art through an analysis of influences and interpretations, and juxtaposition with contemporary European writers. The visually elaborate architectural and graphic layout, supported by audio-visual media, installation art and diverse visual highlights, offers a vivid account of Cankar's excellence, his comprehensively exquisite aesthetic and artistic vision."
City Art Gallery – Drago Tršar recently had a show at the main Moderna looking at his monumental works, and now this smaller gallery in the Old Town, not far from Town Hall, is showing some the sculpture's erotic works, on until January 20, 2019. It's being promoted with the following example.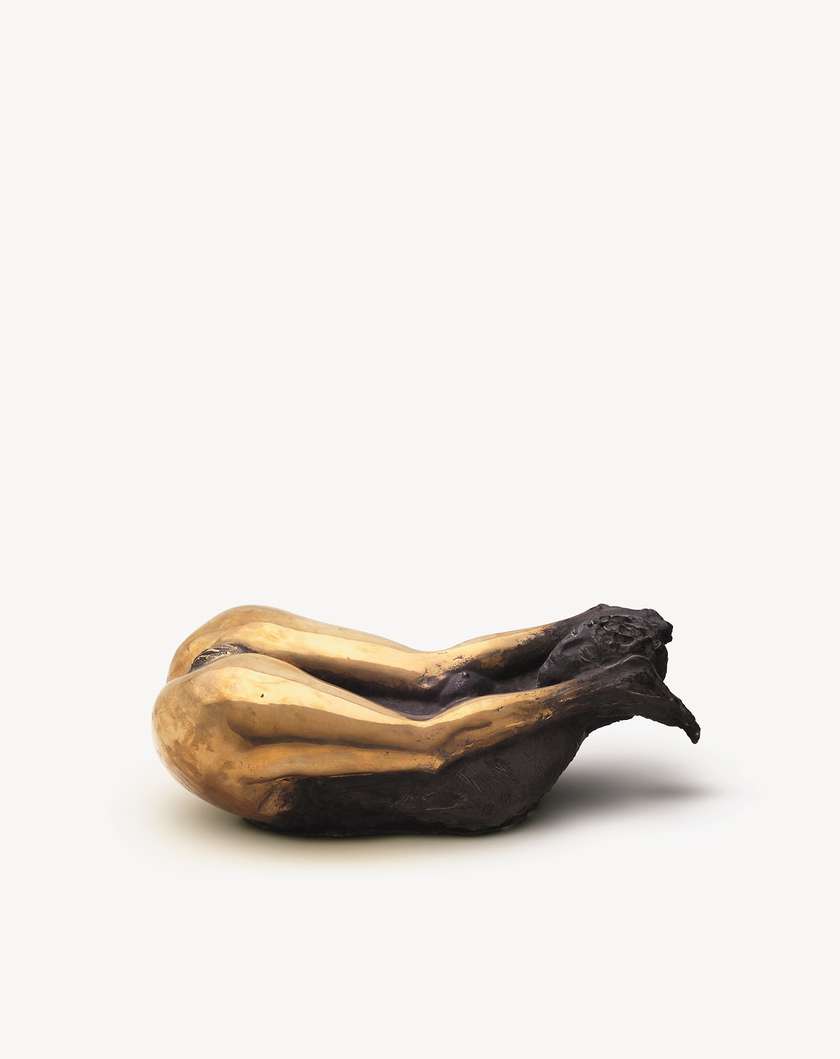 City Museum – The Museum in French Revolution Square has an exhibition on the writer Ivan Cankar that's on until the end of February 2019, with pictures, books and manuscripts, all presented in Slovene and English. It also has a very interesting permanent exhibition on the history of Ljubljana, from prehistoric times to the present day, with many artefacts, models and so on that bring the story alive.You can read about my visit here. Until March 2019 there's a show highlighting the work Elza Kastl Obereigner (1884-1973), a pioneer Slovenian sculptress, with an example of her work shown below.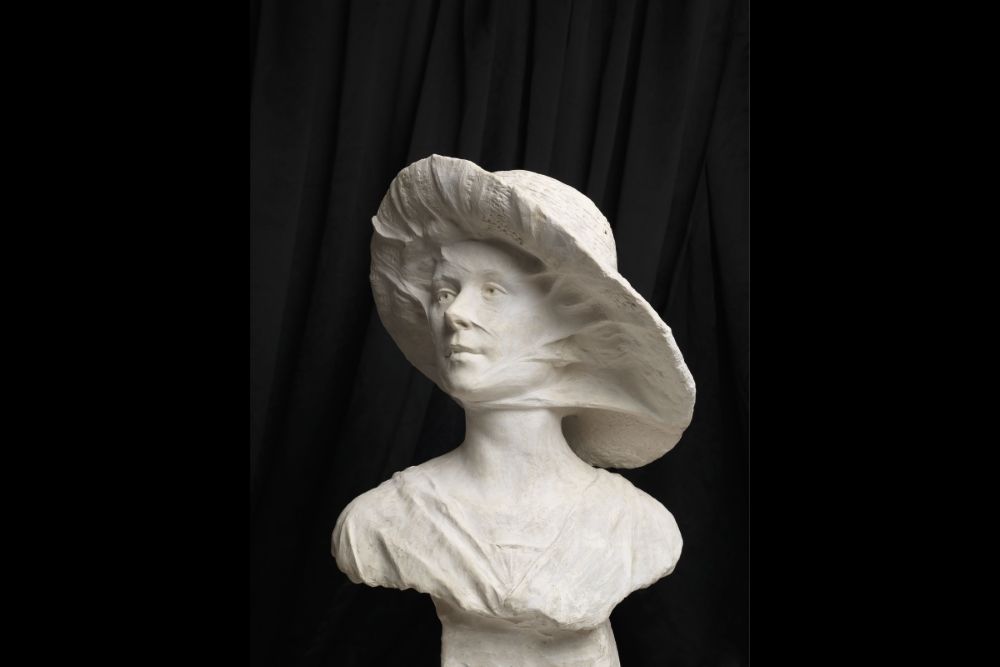 Photo: M Paternoster
The Faces of Ljubljana in the City Museum. Photo: JL Flanner
Galerija Vžigalica – Saša Spačal has a show here until January 6, 2019 called Earthlink, "working at the intersection of intermedia art, exploration of living systems and audio frequencies, links Earth to the post-human present, that includes both a seed of the future as well as a shadow of the past." A promotional image is what's shown below.
Simbiom – ekonomija simbioze, 2016 © Dejan HabichtArhiv Moderne galerije
Galerija Kresija – Showing in the City Hall's right atrium until December 13 is an installation, Gorazd Krnc: Tod in Ondod (Worth Not Knowing Where Knowington Is), which includes video projections
International Centre of Graphic Arts – Running from Friday until March 3 2019 there will be a show of posters from Milton Glaser, with the poster for the show shown below.
Ljubljana Exhibition & Convention Centre – Just outside the centre of town, at Dunajska cesta 18, you can see a lot of plasticized bodies at the Body Worlds Vital show, running from October 20 until January 20 2019.
Photo: Body Works Vital
MAO – The Museum of Architecture and Design is showcasing Slovenian designers in a show called Made in Slovenia, lasting until the end of 2018: "The selling exhibition aims to present good practices of Slovenian designers and companies in the creative sector."
Sam, 1966, fotografija na srebroželatinskem papirju. ©Stojan Kerbler
Moderna galerija – The main branch of this gallery, to be found near the entrance to Tivoli Park, has a good collection of modern art, as well a nice café in the basement, and it's latest exhibition focuses on the photographer Stojan Kerbler, which runs until January 13, 2019, and shows rural live in Slovenia for the recent past.
Museum of Contemporary History – The museum in Tivoli Park has two new shows. One is called Museum's (R)evolution 1948-2018, marking the place's 70th anniversary with an exhibition tracing its evolution through artefacts, photographs and personal stories and running until January 6 2019 (details here). There's also In Search of Freedom: 1968-2018, looking at the 1968 student protests.
National Gallery – The country's main gallery has "the best" of what's on offer from the Middle Ages to non-contemporary modern visual arts, and is in a great location for exploring other areas, just by Tivoli Park and opposite the main branch of the Moderna galerija. Running until February 10 2019 is a show called Ivana Kobilca (1861-1926): But Of Course, Painting Is Something Beautiful!, featuring works like the one below. You can read about our visit to the room containing scared art from the Middle Ages here, and see a picture from our trip after the two girls.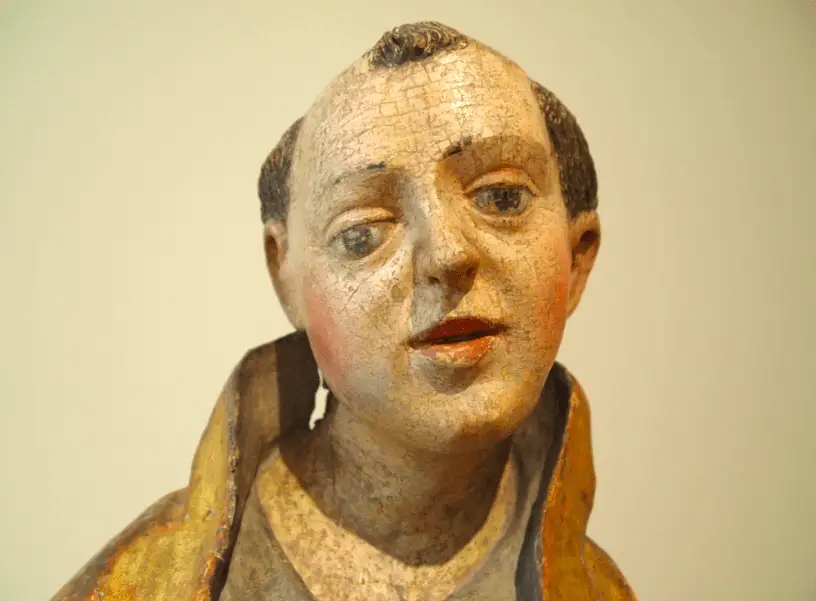 JL Flanner
National Museum of Slovenia – There's plenty to see in the permanent collection here, from Roman times, Egypt and more, with the big draw this season being the exhibition of over 140 items of gold from Ming Dyntasy China, as reported here, and with an example below. This runs until February 15th.
Photo: Wang Wei Chang
Meanwhile, the museum's Metelkova branch, located between one branch of the Moderna galerija and the Ethnographic Museum has some rooms on Church art, furniture and weapons, with the latter including more guns than you'll see anywhere else in town, and quite a thrill if coming from a nation where such objects are not household items.
Slovene Ethnographic Museum – The museum currently has a temporary show on Bees and Beekeeping, as well two permanent exhibitions. One of these is called Between Nature and Culture, and has a great collection of objects from Slovenia and around the world, well worth the trip up to the third floor to see it (as recounted here). This place is located near the newer branch of the Moderna galerija and Metelkova.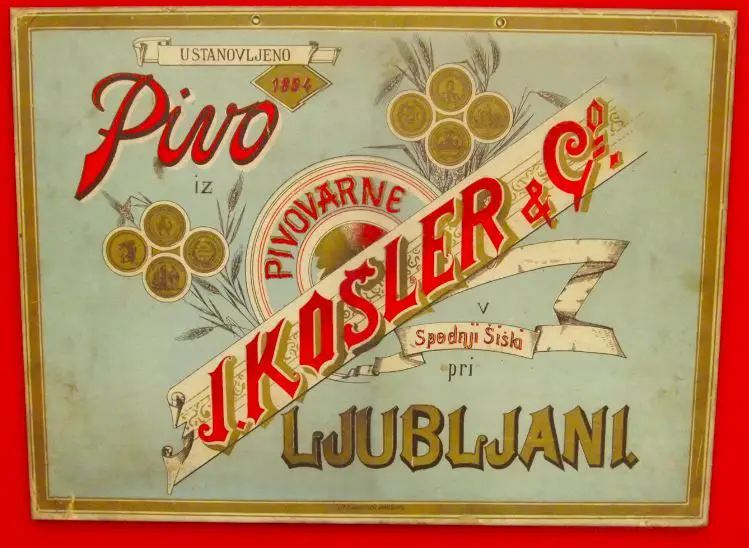 Photo: JL Flanner
Union Experience – The Ljubljana-based brewer has a museum showing the history of the company, with the ticket also including access to part of the factory and a few samples of the product. You can read about our visit here.
It's not a formal museum, but if you're interested in "Yugo-stalgia" then you'll enjoy a trip to Verba, a small, privately run space that's crammed with objects and pop culture items from the era, and is conveniently located at the start of one of the short walks to the castle. It's also a great place to take pictures, if you leave a donation, and you can read more about it here.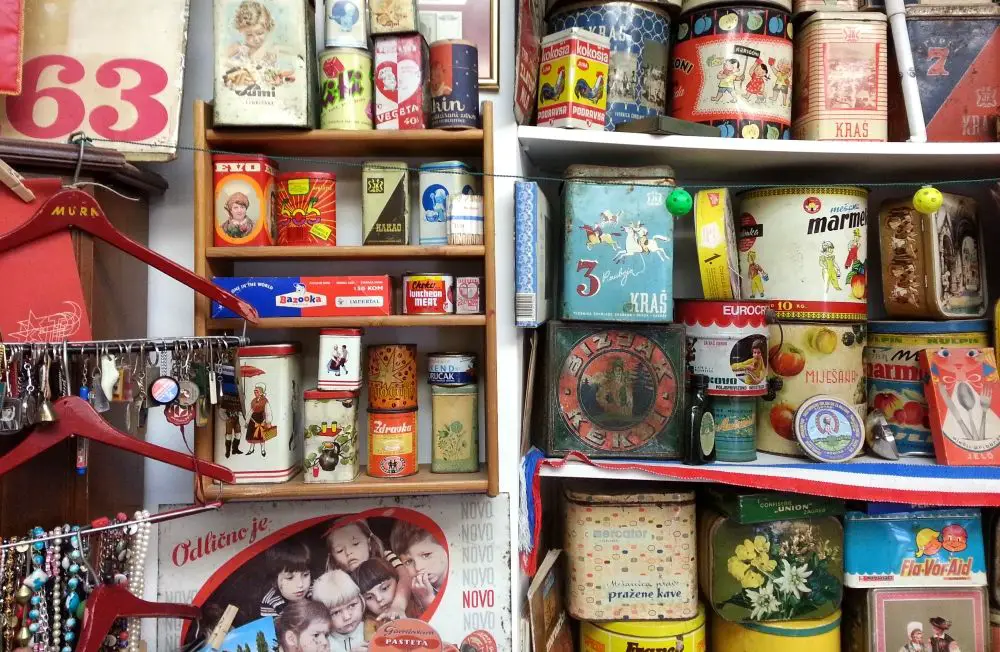 Verba. Photo: JL Flanner
Alternative Ljubljana isn't a museum or gallery, as such, but instead turns the city streets into a museum and gallery. Learn more about their tours of street art, history and LGBT Ljubljana here.
Live music in Ljubljana
Cankerjev dom – Tuesday evening there's Midori on the violin and Özgür Aydin on the piano playing Bach, Schubert, Franck and Respighi.
Gala Hala - Thursday night there's Domorodni četrtki: Blue Town's Radio.
Klub Gromka – Tuesday there's Limun Up, with Canshaker Pi and 21 Vek, the former said to be the best live band in the Netherlands. Thursday there's another double bill, Last Rizla (Greece) and Drobovina, playing post-punk, stoner, and sludge metal.
Kino Šiška – Friday you can enjoy Marko Louis, with an aftershow from DJ Zeds and DJ Bayo, then on Sunday there's music from Keziah Jones.
Ljubljana Castle – Friday is music night at the castle, and this week sees a show by Akordika.
Orto Bar – Wednesday evening, from 20:00 on, you can celebrate 15 years of the Rock Partyzani, plus guests. Friday Letu Štuke take the stage. The third show of the week comes from Avtomobili.
Slovenska filharmonija – Thursday evening it's baroque music with a programme of Vivaldi and Bach. Friday there's then a choir concert on the 90th anniversary of composer Jakob Jež
Opera, theatre and dance in Ljubljana
There's an international improv festival, held in English, going on this week, with the name Naked Stage (Goli odor). Most the shows will be in Elektro Ljubljana, not far from Metelkova, with more details here.
Kino Šiška – A short bus ride or taxi from the centre, this venue is hosting events that are part of the dance-based CoFestival, November 23 to 29, with the official website here and the programme here (Slovene, but easily translated by a machine). Among the delights, Lucinda Childs: Zgodnja dela (Early Works 1963 – 1978).
Gledališče IGLU - IGLU Theatre – Saturday night this group is usually putting on an English improv show somewhere in town, but it's generally promoted after this is written, so check the Facebook before putting on your shoes.
Pocket Teater Studio – Friday night there's CoraViento at Noches de Tablao, a Slovenian tango troupe. The venue is tiny, and so it's important to make a reservation via This email address is being protected from spambots. You need JavaScript enabled to view it. in 070 325 522. The price of ticket is 20€ (15€ for students) and includes wine during the whole performance.
SNG Opera and Ballet – Nothing seems to be on here this week.
Other things to do in Ljubljana...
From November 2 to 30 there's the Gourmet Ljubljana Festival, with a full programme of culinary events, as detailed here.
If you'd like to spend an evening painting with others, then take a look at Design with Wine, which organises painting parties on Trubarjeva cesta,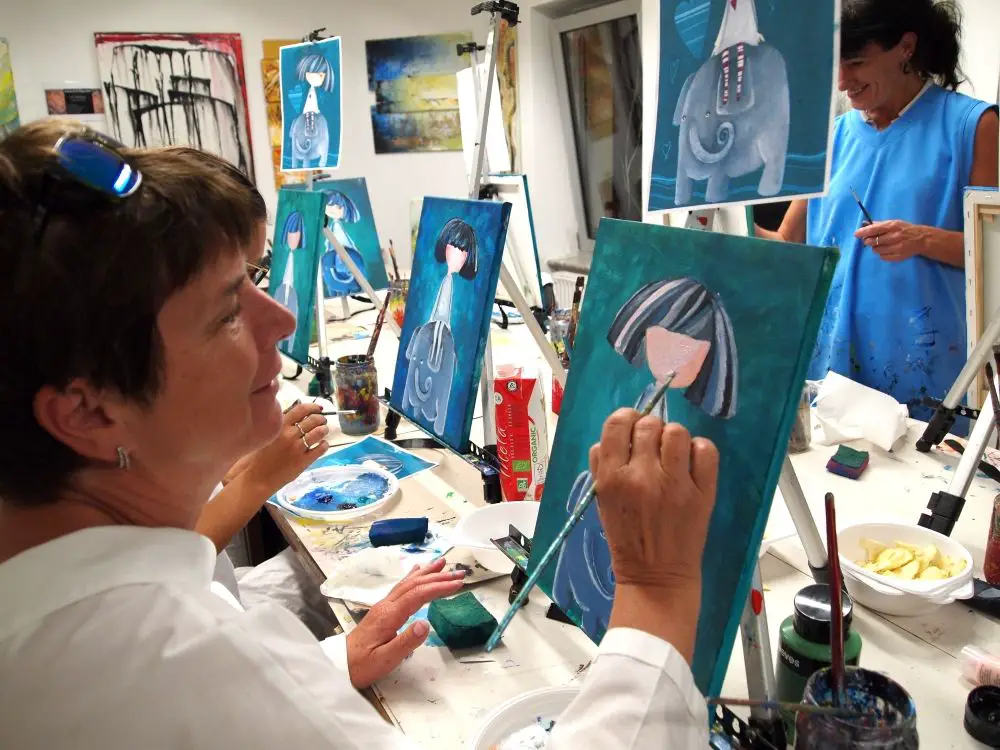 Breg Embankment, just opposite the Old Town and by the river, has a small flea market open every Sunday morning. Learn more about it here.
If you can't make it to Breg on Sunday morning, but still want to see some antiques, then check out the wonderful Antika Carniola, as discussed here. The man behind it, Jaka Prijatelj, has a fine eye for life on this street, as you can see at the top of this page, with more on his Facebook account.
Photo: JL Flanner
If you're in town and want to go jogging or walking in nature, why not take another look at the Castle, with a brief guide to the trails here. If you want something bigger, head to Tivoli Park.
And if you're bored with the Old Town, why not take a walk, cycle or boat ride to nearby Špica and enjoy the riverside life. Learn more about that here.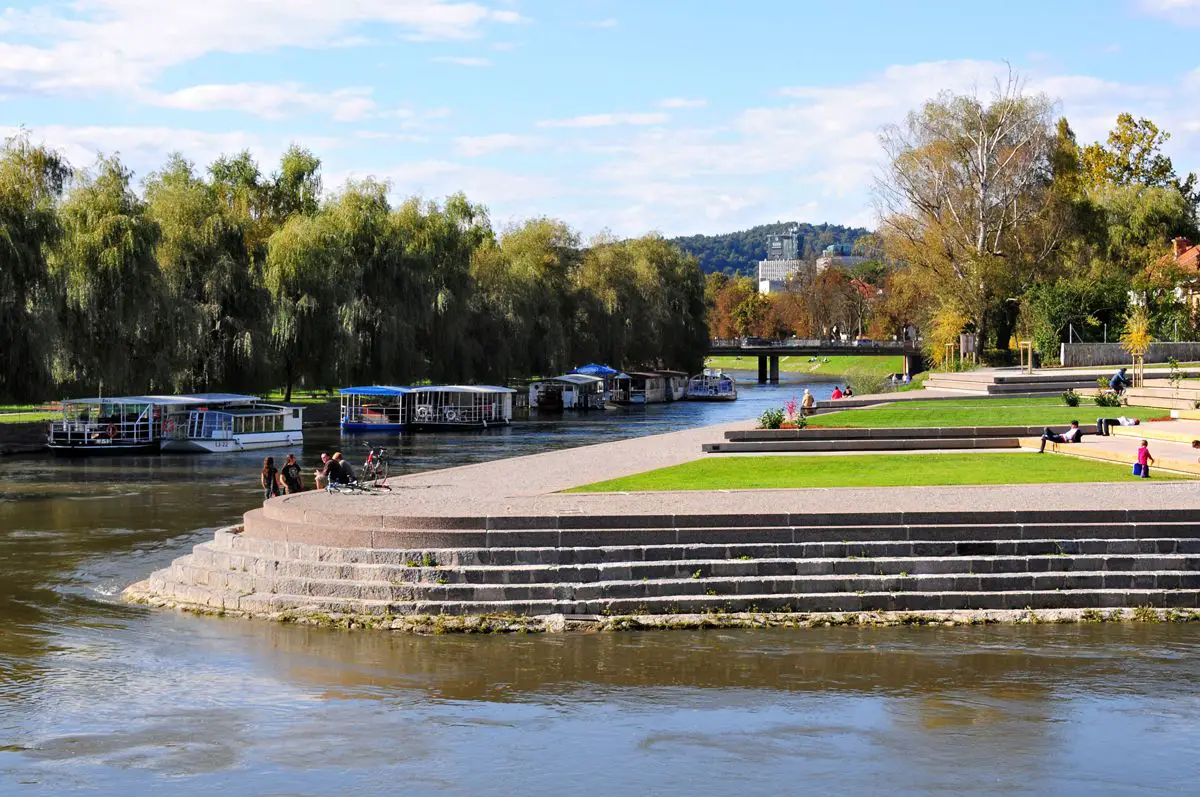 visitljubjana.si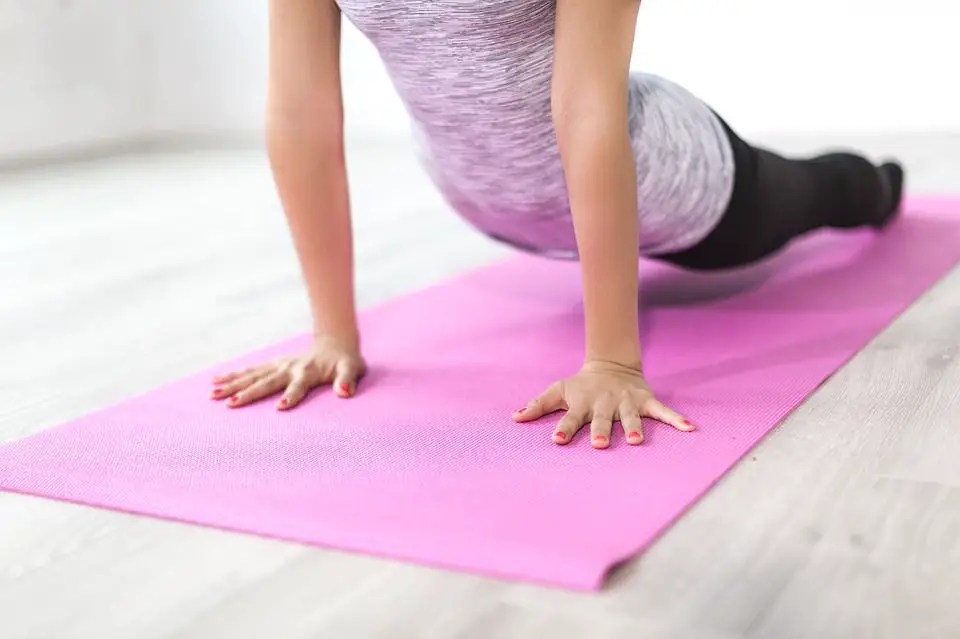 maxpixel.net, public domain
Want to stretch and breath? Then check out our list of drop-in yoga classes for tourists, visitors and the uncommitted. If you're heading to the coast, check out our interview with a yoga teacher who offers breakfast sessions there, while if you're staying in town (or nearby) and want to try some "family yoga" then you can learn more about that here and maybe get your kids to calm down a moment or two.
There are some golf courses near Ljubljana, but even ones further away are not far, as seen in our list of all the golf courses in Slovenia.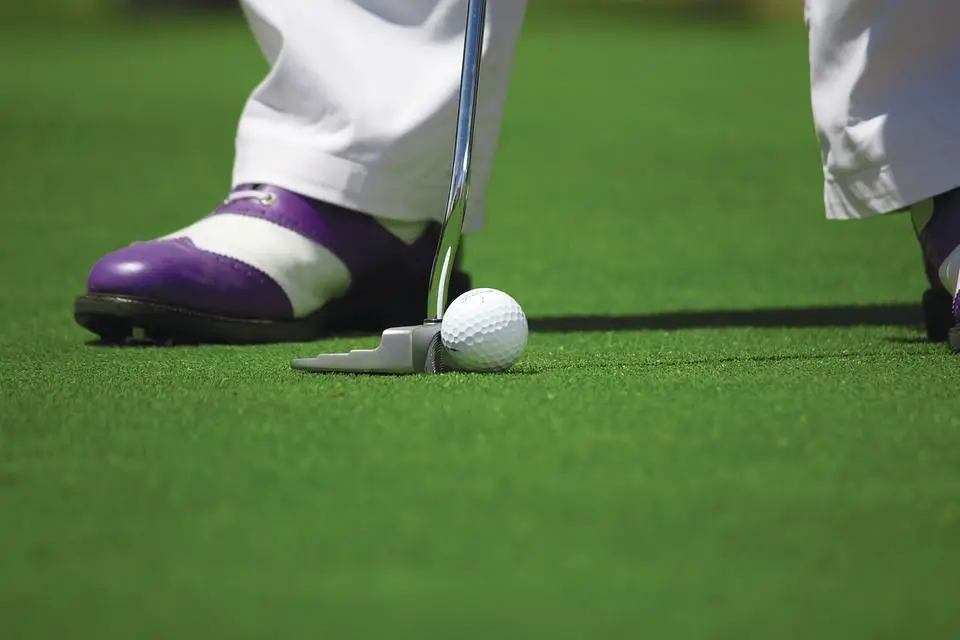 Photo: maxpixel.net, public domain
Daytrips from Ljubljana
Most of Slovenia is only a few hours from Ljubljana, and you can easily visit Lake Bled, Lipica Stud Farm, Postojna Cave, Predjama Castle, the coast and other locations, while if you'd like to take a photo of from that bench in Bled, then you can learn how to get there here. If you're looking for something more ambitious, then check out our recent guide to the 17 members of the Association of Historical Towns of Slovenia
Finally...
You can see all our stories tagged Ljubljana here.