July 08, 2018
It's a beautiful day, and so we're putting together this guide in an even more rushed and distracted state than usual, anxious to get outside and sunbathe and then enjoy the long, summer evening ahead. As such, please overlook any typos and formatting errors, which we'll deal with on Monday.
As the summer ramps up certain places seem to close while others open, and there's so much going on that choosing what to do can be overwhelming, in which case the best option is perhaps to take a walk and see what happens, or sit outside a café and watch the world go by until inspiration strikes. Whatever your inclinations, the city has something for your to enjoy.
One focus is the Ljubljana Festival, which runs until early September and presents a series of live music concerts, with a bias towards classical, opera, and ballet; see here for details.
The Summer Festival at the National Library is also running throughout July. Details of the musical programme for this week are here, while for those for the week after are here.
There's also more of Film Under The Stars, a collaboration between Kinodvor and Ljubljana Castle, which sees screenings of recent art house movies in the castle courtyard when the sun goes down. It can be a magical experience, and you can see more details, plus all the trailers, here.
Those in town and wanting to watch the World Cup with others should have no problem doing so, as most cafés and bars seem to have big screens set up inside and out for your pleasure.
Some of the other events on around town are presented below. As ever, clicking on the venue name will get you more details with regard to the time, price and location, as well as other events on this week, and if you want to get a Ljubljana Tourist Card, which gives you travel on the city buses and entry to a lot of attractions, then you can read more about that here, and if you want to use the bike share system, as useful for visitors as it is for residents, then you can learn more by clicking this.
If there's something you want to promote in a future edition of What's on... please get in touch with me at flanner(at)total-slovenia-news.com
CINEMA
You can read about all the cinemas in town here, while the big thing for cinephiles this week, and running from July 5-28, is Film Under the Stars, organised by Kinodvor and Ljubljana Castle, where you can watch movies in the courtyard at night. More details and all the trailers here.
Kinodvor – The arts cinema not far from the train station is showing Grace Jones: Bloodlight and Bami, and Nick Broomfield's latest documentary, on Whitney: Can I Be Me.
Kinoteka – The revival house seems to have only one movie on the schedule this week, Martin Scorsese's Rolling Stones documentary, Shine a Light.
Kolosej – The multiplex out at BTC City Mall is playing all the big movies, which this week include Avengers: Infinity War, Deadpool 2, Solo: A Star Wars Story, Book Club, Jurassic World: Fallen Kingdom, Love, Simon, Ocean's 8, Loving Pablo, Hereditary, Tag, Adrift, Ant Man & Wasp, and The First Purge. There's also The Incredibles 2, but note that it's dubbed. Starting Tuesday there's also Terminal (featuring local star Katarina Čas), while Wednesday sees the opening of Skyscraper.
Komuna – The cinema in a basement behind Nama department store is showing Adrift, Book Club, and Loving Pablo, along with a dubbed version of Ukrandena princesa.
CLUBS
Gala Hala – Channel Zero's usual Dub Lab event is actually being held here this Monday, with The Wild Citizen X Prince Koneski. Wednesday night there's phonk, trap, chopped n screwed, Memphis rap, and beats with a night called Trillity 4 da summa. The DJ's will be Bor$aleano and Cookie. Friday night it's the turn of Umešana jajca, with DJ Woo-D playing a mix of breakbeat, nufunk, jungle, hiphop, bigbeat, electro, bass, funk, soul, drum'n'bass, and beatz. The week then ends with Saturday's Bollywood & bhangra night, with Shanti Priya and DJ Borsan.
Klub K4 – Friday the 13th is UVK4: Sezam w/ Levanael, Dacho, Felis Catus, and Krilc, while Saturday you can enjoy UVK4 Kvalitat w/ Vuka & Disco Durum, with both nights offering "dance". Check out the mixes below for a better idea of what might be playing.
EXHIBITIONS
Please note that public galleries and museums are closed on Mondays.
Plečnik's desk. Photo: JL Flanner
Plečnik's House is worth a visit if you want to learn more about the architect who gave Ljubljana much of its character. Read about our guided tour here.
The Balassi Institute (The Cultural Centre of the Embassy of Hungary) – This is at Barvarska steza 8, Ljubljana, not far from Dragon Bridge, and hosts various events. Until August 6 it's also showing photos by Ora Hasenfratz.
Jakopič Gallery – Fans of Magnum and photography in general will wish to check out the Marc Riboud show here, as detailed in an earlier story, and on until October.
Marc Riboud. Huangshan, 1985. On the right, the pine named Flower-Formed-on-the-tip-of-a-Dream-Paintbrush. On the left, the Sublime Peak. ©Marc Riboud – all rights reserved.
Cankerjev dom – Running until the end of February 2019 is an exhibition titled Ivan Cankar and Europe: Between Shakespeare and Kafka. This is "An examination of Cankar's art through an analysis of influences and interpretations, and juxtaposition with contemporary European writers. The visually elaborate architectural and graphic layout, supported by audio-visual media, installation art and diverse visual highlights, offers a vivid account of Cankar's excellence, his comprehensively exquisite aesthetic and artistic vision."
International Centre of Graphic Arts – Running until August 18 is a show called Stop and Go - the art of animated gifs. Per the publicity "The group exhibition explores the artistic use of animated GIFs, presenting a broad and diversified panorama of the various approaches currently adopted by the international community. The show includes works by nine artists who are some of the most famous exponents of the genre."
City Art Gallery – On until the first week of September is a show called Prrrrrr, featuring the work of seven female artists from Slovenia. More on that here.
Simona Semenič, Nada Žgank - Zapis celote, triptih fotografij, 67 x 100 cm, giclée print, 2009. On display at the City Art Gallery
City Museum – In addition to the large permanent exhibition on the history of Ljubljana, the museum is offering guided tours of its collection every Sunday, 16:30, until the end of August, with the price included in the regular entrance fee. Details here.
Ljubljana Castle – Giampaolo Sgura, the fashion photographer, has an exhibition here until August 25, with images like the one below.
Giampaolo Sgura
MAO – The Museum of Architecture and Design is showcasing Slovenian designers in a show called Made in Slovenia, lasting until the end of 2018: "The selling exhibition aims to present good practices of Slovenian designers and companies in the creative sector." The same venue has an exhibition based on Slovenia's Pavilion at the 16th International Architecture Exhibition – La Biennale di Venezia, called "Living with Water", and on until November 25.
Something by Drago Tršar
Moderna galerija – The main branch of this gallery, to be found near the entrance to Tivoli Park, has a good collection of modern art, as well a nice café in the basement, and, until September 30th, a retrospective on the momumental sculptures of Drago Tršar, which you'll recognise from around town (see more here). For even more contemporary work you can take a trip to the Metelkova branch.
Museum of Contemporary History – The museum in Tivoli Park has two new shows. One is called Museum's (R)evolution 1948-2018, marking the place's 70th anniversary with an exhibition tracing its evolution through artefacts, photographs and personal stories and running until January 6 2019 (details here). There's also In Search of Freedom: 1968-2018, looking at the 1968 student protests.
National Gallery – The country's main gallery has "the best" of what's on offer in non-contemporary of modern visual arts, and is in a great location for exploring other areas, just by Tivoli Park and opposite the main branch of the Moderna galerija. Running until February 10 2019 is a show called Ivana Kobilca (1861-1926): But Of Course, Painting Is Something Beautiful!, featuring works like the one below.
National Museum of Slovenia – There's a lull in the temporary shows, but still plenty to see in the permanent collection, from Roman times, Egypt and more.
At the museum's Metelkova branch, located between one branch of the Moderna galerija and the Ethnographic Museum is the International Ceramic Triennial UNICUM 2018, which runs until September 30. "This prestigious competitive exhibition puts on display the latest trends in contemporary art ceramics. An international expert jury has selected 77 works of art from almost 300 artists from all over the world to compete for prestigious awards. The aim of the UNICUM Triennial is to present the contemporary developments of art ceramics around the world and the diversity of artistic approaches." It's being promoted with the following image.
Slovene Ethnographic Museum – There's a number of permanent exhibitions here, and it's conveniently located near the newer branch of the Moderna galerija and Metelkova.
You can find our Top 10 list of things to do with kids in Ljubljana here. Something that's always popular is The Museum of Illusions, which you can read about here.
Something from the Museum of Illusions
LGBTQI+
If you want to learn more about Ljubljana Pride, then take a look at our interview with its president here, while the group's events page, often updated after this guide is compiled, is here.
Klub Monokel – Nothing is planned for this predominantly lesbian club.
Klub Tiffany – And nothing is planned for this predominantly gay club.
LIVE MUSIC
As noted in the intro, the Ljubljana Festival has a lot of classical performances, including some opera, so check out the schedule here.
The Imago festival continues in the Old Town (all events), and this Wednesday there's the Aupa Quartet in the City Museum, while on Friday the Jazz Ladies will be in Stari trg.
Gala Hala – Tuesday night there's a Level 14: Yazan (USA), Ivan Grobenski, Baby Blue Gun, with the headline act being promoted with the following video. Thursday night you then have a chance to see Demolition Group, live
Kino Šiška – Monday night sees a show by Calexico and My Buddy Moose. Wednesday is Metaldays Warm Up: Iced Earth, Metalsteel, and Eruption, while Friday there's Brujeria and Glista.
Klub Gromka – This month the klub has a series of summer concerts, with some details on the Facebook page. As part of the season you can see Flaška Visočini playing here on Friday, while Saturday has Head Honcho and The Affect Heuristic.
Pritličje – Thursday night there's live music from SsmKOSK, Brgs, and Staš Vrenko (and you can read more about this café / bar /venue here).
National University Library – Monday night there's the Grand Pok cabaret, while Thursday night you can hear folk music from the Ira Roma group. These shows are part of the Library's summer festival, more details here.
MISC.
Every Friday through the warmer months there's the Open Kitchen in Ljubljana Market, where you can try food and drink from some the biggest names in town, and you can read more about it here.
Breg Embankment, just opposite the Old Town and by the river, has a small flea market open every Sunday morning. Learn more about it here.
If you're in town and want to go jogging or walking in nature, why not take another look at the Castle, with a brief guide to the trails here. If you want something bigger, head to Tivoli Park.
If you want to get wet and work on your tan then consider going to one of the outdoor pools in town, which you can read about here.
Ilirija pool
And if you're bored with the Old Town, why not take a walk, cycle or boat ride to nearby Špica and enjoy the riverside life. Learn more about that here.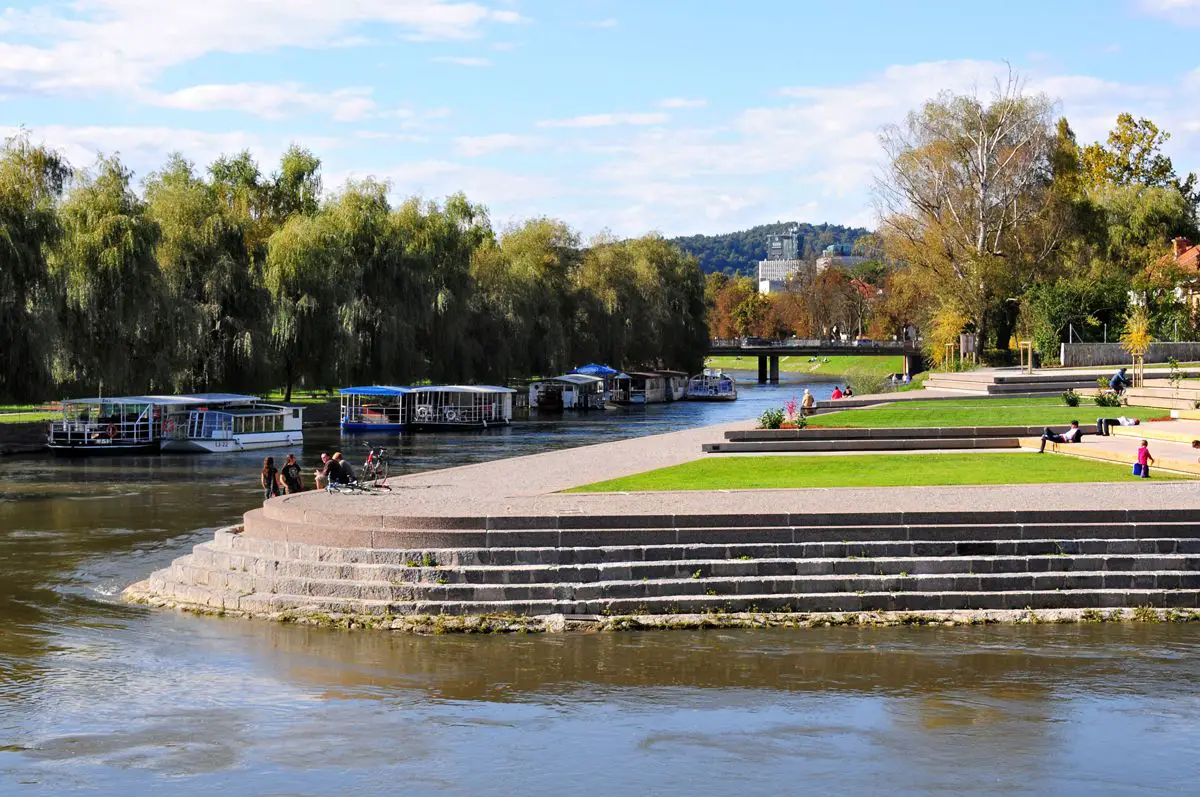 visitljubjana.si
Flicker - Dave Rosenbaum CC by 2.0
Want to stretch and breath? Then check out our list of drop-in yoga classes for tourists, visitors and the uncommitted.
TRIPS
Most of Slovenia is only a few hours from Ljubljana, and you can easily visit Lake Bled, Lipica Stud Farm, Postojna Cave, Predjama Castle, the coast and other locations.
Jaka Ostrovršnik 2015 CC by 2.0 (see more here)
FINALLY...
Ivan Vurnik is known as the architect of the stunning Co-operative Bank building on Miklošičeva, put up in 1821, but the distinctive designs inside and out were the work of his wife, Helena Vurnik. If you get the chance to go inside, take it, for the reasons shown in the video above. (Other interesting facts about the city can be found here.)