April 15, 2018
A lot going on this week, but two highlights for those so inclined who want to hang out with "their people" are cannabis and beer related.
Friday is April 20, or 420, so look out for various marijuana-themed events around town, including the annual Marijuana March and meeting on Kongresni trg / Zvezda Park, starting at 16:20. K4 also has a free event in Tivoli Park starting about the same time, just follow the music, and there are other events and parties to be found below. However, do note the demon weed remains illegal in Slovenia, albeit widely tolerated.
Meanwhile Friday and Saturday see the Makro Beer Fest at the Exhibition Centre on Dunajski, with over 30 craft brewers from the region, along with food, running from 14:00 until late, and more details in the misc. section of this short guide as to why you should leave the house this week and live a little in the streets of Ljubljana.
As ever, clicking on the venue name will get you more details with regard to the time, price and location, and if you want to get a Ljubljana Tourist Card, which gives you travel on the city buses and entry to a lot of attractions, then you can read more about that here.
CINEMA
You can read about all the cinemas in town here, while a selection of what's playing this week is below. (And if you like to study Slovene by watching trailers, we have a round-up of some of the best from first three months of the year, just click this and learn something new.)
Kinodvor – The art house theatre has a Cult Film conference, held in English, and a related programme of movies this week. Details of the conference here, and those for related screenings are here, with some things happening at Kinoteka (see below). At Kinodvor you can see Creature From the Black Lagoon (3D), Brawl in Cell Block 99, and Sword Master (3D). In the regular programme there's the UK movie Film Stars Don't Die in Liverpool, among other delights.
Kinoteka – The revival house is also part of the cult film season, with screenings of Long Weekend (1978) … as well as Monica Stambrini's Queen Kong, who will also be in the house Saturday night to present The Beast.
Kolosej – The multiplex out at BTC City Mall is playing Every Day, A Quiet Place, Rampage, Player No. 1, Black Panther and Blockers, among many others.
Komuna - The theatre behind the Nama department store is also showing A Quiet Place and Player No. 1.
CLUBS
Channel Zero – Friday night is Refresh!, with Local Action records (UK) and various DJs playing what's being advertised with the catch-all term of "electronic music". A set from Local Action is below.
Gala Hala – Friday, 420, is Rapetek #139: Puff Puff Pass Indoor Edition, the official Marijuana March After-party.
Klub Cirkus – Wednesday there's an R'n'B night, while Thursday there's a Neon Party which seems to be hosted by some medical students, with no details as the type of music (although thus Klub is mostly anthems, EDM, house and so on). Then Saturday is Tutti Frutti: 90s & 00s Hits, with Matthew Z and Matteo Kunst, playing "from boy and girl bands to hip hop and dance classics, a dash of grunge and rave and all those guilty pleasures you're kind of embarrassed to admit you actually love." A short set from Mr Kunst is below.
Klub K4 – Friday, 420, there's a night called Phi with Etienne & Walid, among others, along with some special visuals, and this is a continuation of an afternoon affair, starting with a free event around 16:00, in Tivoli Park. The Saturday there's SOLVD, with house, techno music and electronic music.
Moment Bar at Litostrojska cesta 44e has a 12 hour open air party called 420 PSY FLY from 22:00 Friday to 09:00 Saturday, with lots of DJs, a big sound system, live congas, fresh fruit, a chill out area and more to keep you happy. Tickets are 8 EUR from 22:00–06:00, then 5 EUR for the last three hours. One of the DJs, the appropriately named Agent Mushroom, has a set below.
Orto Bar – Friday is Orto & Rock Radio Party with DJ Rock and DJ Dirt.
EXHIBITIONS
Aksioma – This small and vibrant space not far from Dragon Bridge (just walk up the hill, away from the Castle, on the corner at Komenskega 18, open noon to 18:00, Tue–Fri). There's a show called cellout.me by Jeroen van Loon, a man who sold his DNA data, and this runs until April 20
The Balassi Institute – (The Cultural Centre of the Embassy of Hungary) – This is at Barvarska steza 8, Ljubljana, not far from Dragon Bridge, and from March 6 until April 30 will be hosting a show by László Herman, a Hungarian painter living in Slovenia, with an example shown below.
Cankerjev dom – Running until May 6 is a free exhbition of photographs from the Dnevnik daily newspaper. The show Ivan Meštrović: Corporeality and Eroticism in Sculpture continues until May 20, with an example shown below, while a show linking Meštrović and the architect Jože Plečnik is on until May 20.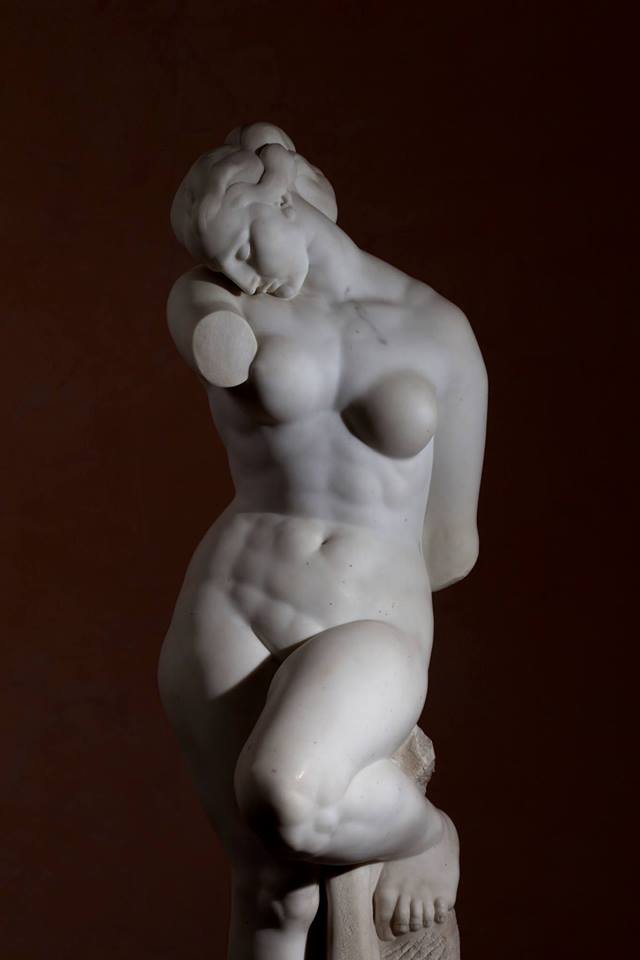 Ivan Meštrović: Physicality and eroticism in sculpture
International Centre of Graphic Arts – Opening Friday the 13th and running until July 29 is David Lynch: Fire on Stage, presenting seventy lithographs from the director.
City Museum – An extensive exhibition on Medieval Ljubljana is showing until May 2, 2018.
Galerija Jakopič – Running until May 13 is a show by the photographer Mario Magajna.
Galerija Kresija – On until April 12 there's Millennial Journey of Anatolian Civilizations: "Mosaic Breeze" Paintings from Turkey, exhibition of Turkish artists Sedef Yavuzalp and Önder Aydın. Note that this show actually takes place in City Hall (Mestni trg 1), just behind the Robba Fountain.
MAO – a show called Stanko Kristl: Poetry and Humanity in Architecture continues until May 27.
Moderna galerija – The Marij Pregelj retrospective is on at the Moderna's main branch, near Tivoli. Well worth the entrance fee, this occupies several large rooms, with the works from the last decade of the painter's life being especially impressive. Highly recommended and showing until May, with an example shown below.
The Moderna's Metelkova branch has a retrospective on the work of Milenko Matanovič, which you can read about here.
Museum of Contemporary History – Renovation work means that the permanent Exhibition "Slovenians in the 20th Century" will temporarily lack the period from 1945-1990, but there are still interesting things to see about the recent past in this museum, set in Tivoli Park. For example, showing until May 1 is Temporary Border: Life and Longing in Zone A (1945- 1947). As per the website: "The exhibition marks the 70th anniversary of the creation of the western Slovenian border. It is devoted to an outline of existential relations in the area of the Julian March before 1947 anpirnatd, through the memories of the inhabitants, reveals the complex relations in the region during the Allied Military Government (1945-1947)." The same venue is also showing a selection of graphic works from the German expressionist master Otto Dix entitled "Der Krieg", on until May 6.
Kino Šiška – The new artist of the month is Maja Poljanc, with a show called Encyclopedia Mythologica Slovenica.
National Gallery – Art for the Brave New World: Sculptures from the Government Art Collection runs until April 21, including the following work by Janez Pirnat.
Janez Pirnat
National Museum of Slovenia – The Past Under the Microscope. Scientific Analyses in Museums is on until the end of April.
Photon Centre of Contemporary Photography – Running from March 30th to May 18th there's a group exhibition called Beyond Myself: Self-portrait in the time of social media, including the following image from Paula Muhr, titled Etat Normal (2009).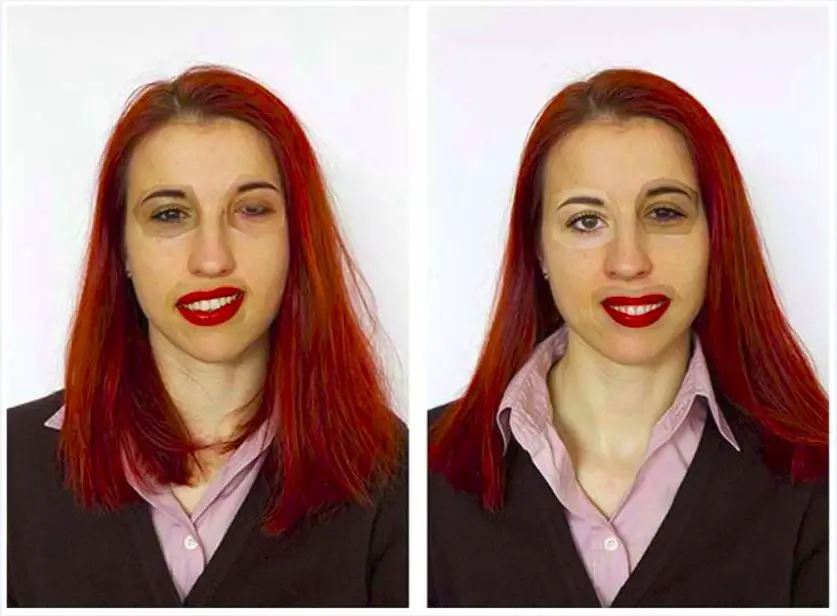 Slovene Ethnographic Museum – Until May 6 there's the show Africa and Slovenia. A web of people and objects.
FAMILIES & KIDS
You can find our Top 10 list of things to do with kids in Ljubljana here, and if want to read more about the philosophy behind the wonderful House of Experiments look here.
LGBTQI+
If you want to learn more about Ljubljana Pride, then take a look at our interview with its president here. And this week, on Saturday, there's an event at Poligon, Tobačna ulica 5, being promoted as follows: "The LGBT Activist Poligon event, which is also aimed at socializing and networking for LGBT+ people and organizations, is intended for those who would like to contribute ideas, their time and energy and have a good time. It would be great if you could participate in the event fully, but if this is not possible, you can of course come or go whenever you want." Details here.
Klub Monokel – No events seem to be scheduled for this predominantly lesbian bar, but that's no reason not to go there and see what happens.
Klub Tiffany – Thursday the gay bar next door to Monokol is showing the klub kid documentary Party Monster.
LIVE MUSIC
Cankerjev dom – On Tuesday you can see and hear the Bergen Philharmonic Orchestra playing Tchaikovsky, the Romeo and Juliet overture; Sibelius, Violin Concerto in D minor; and Sibelius, Symphony No. 2 in D Major. While the "internationally celebrated new French chanson phenomenon and futuristic pop star" Camille is playing here on Wednesday, and is being promoted with the following clip.
Channel Zero – Monday night is Dub Lab, as usual, and this week it's Dub Lab Live: Anja G & Dr.obi (Amplifyah Music) + DJ L.T, with a set from the latter below.
Gala Hala – Noctiferia, the band behind the first black metal album in Slovenia is back together in its original line-up for a 20th anniversary show.
Kino Šiška – This venue is organising an open air festival on Saturday, starting at 16:00, called Punk in Drublic, with music from NOFX, Mad Caddies, Snuff (UK Band), The Bronx, Bad Cop / Bad Cop, and The Mor(R)ons.
Klub Gromka – Sunday sees a show by Cortex, from Norway, promoting their new album Avant-Garde Party Music, with a portion of that shown below.
Ljubljana Castle – Friday night is jazz night at the castle, and this week sees a show by Geronimo & The Bulletproof Band (Slo), playing rock/blues, as heard below.
Orto Bar – Orto Fest continues at this venue, and on Thursday night they have show from soft pop local legends Panda. On Saturday night there's the more colourful and wackier Wacky Blues Professor.
Pritličje – the café bar event space has a show by Helmut at 22:00 Wednesday.
OPERA, THEATRE, DANCE
Cankerjev dom – Tuesday there's MNDANCE: S/HE, as shown below.
Kino Šiška – Sunday, 21:00, there's a dance performance by Žigan Krajnčan, Gašper Kunšek, and Jan Krmelj, as part of the Chorus project, as exemplified below.
Klub Gromka – Thursday night there's perhaps our favourite act in town, the Image Snatchers with their technoburlesque show, featuring music, dancing, comedy and some nudity.
Something from a previous technoburlesque. Photo by Nada Žgank - Image Snatchers Facebook
SNG Opera & Ballet – The opera and ballet is celebrating 100 years in Ljubljana, and this Friday there are two performances of Peter Šavli's 60-minute opera Pastir, while at 19:30 the same day you can see another operatic performance from Tomaž Svete/Ivo Svetina – ADA.
MISC.
Every Friday through the warmer months there's the Open Kitchen in Ljubljana Market, where you can try food and drink from some the biggest names in town, and you can read more about it here.
Friday and Saturday there's the Makro Beer Fest at the Exhibition and Convention Centre, Dunajska cesta 18, really not that far out of town, running from 14:00 until late both days. Read out interview with the man behind the event here.
Breg Embankment, just opposite the Old Town and by the river, has a small flea market open every Sunday morning. Learn more about it here, (or just take a look at all the Yugostalgia on view at Verba while on your way to the Castle).
If you're in town and want to go jogging or walking in nature, why not take another look at the Castle, with a brief guide to the trails here. If you want something bigger, head to Tivoli Park.
Klub Gromka – From 16:00 on Saturday is the Metelkova Alternative Market, which should be interesting.
Ziferblat – Friday 20:00–22:00 is Open Mind Night, where people, maybe even you, get seven minutes and an open mic to share something with the world. Read more about the venue here.
TRIPS
Most of Slovenia is only a few hours from Ljubljana, and you can easily visit Lake Bled, Lipica Stud Farm, Postojna Cave, and Predjama Castle, and other locations.