January 21, 2018
After the quiet of recent weeks things really start to pick in the capital the next seven days, with at least two festivals, the Bobri one of free performances and workshops for kids (see here) and that hosted by Lezbična četrt (Lesbian Quarter – see here), as well as a bunch of great-looking movies, new exhibitions, a lot of live music, and more, as laid out in the following pixels.
CINEMA
Kino Šiška will be showing Burden, what looks to be a fascinating documentary on the life of conceptual artist and sculptor Chris Burden at 20:00, January 23 (Tue).
Kinodovor is showing The Florida Project at 21:00 on the 23rd and 24th (details and other times).
On January 25 Klub Tiffany will be hosting a café night focused on the documentary Paris is Burning. Be there at 20:00.
Cankerjev dom will be showcasing Cate Blanchet in Manifesto at various times from the 26th on (details).
CLUBS
 January 26 Klub Monokol will have music from CYB + Elisa Batti (Detroit Underground) / AMS,  23:00–5:00.
One the same night, Klub K4 has Gibanica from 23:00–6:00, with techno, deep techno, and dub techno, while on the 27th it plays host to Just a Dance from 23:00–5:00, playing new retro, Italo, house, and disco.
Those looking for DJ action with less of a club feel may like the bar Magda's event on the 25th, with the DJs SunnySun, Dado, and Borka.
EXHIBITIONS
January 23 sees the opening of the exhibition Jure Šajn: Picking Up Lines, hosted by DobraVaga (Adamič-Lundrovo nabrežje 5, 1000 Ljubljana), which according to the website "the transformation of the visual in the format of an artist's book. In doing so, he experiments with the procedure, recognising the visual potential of coincidence and error."
January 24, 17:00, will see a guided tour on the Janez Janša® exhibition at the Moderna galerija's Metelkova branch, which the next day it's main branch, near Tivoli Park, will have a similar event at 17:00 for it's wonderful Marij Pregelj retrospective. Highly recommended and showing until May.
Meanwhile, January 25 sees yet another exhibition-based event, with a talk at the National Gallery from 18:00–19:00, to coincide with its show Images of Prestige: Stories of Antiquity in Glass. After the Gems from the Collection of Prince Stanisław Poniatowski (1754‒1833), running until February 11.
Ahead of the MENT festival, DobraVaga opens a new show on January 25, titled AppointMENT 2.0_______Music Poster Exhibition. This sees 69 local artists using risographic printing to produce music posters. Prints have been produced in limited runs of 20 copies, and are available at the gallery, numbered and signed by the author, for 15 EUR each.
Klub Tiffany and Lezbična četrt:  will be hosting the opening of the Strap-Tease exhibition at 19:00 on January 28. The show runs from January 27 to February 3, and the full programme, in Slovene and English, can be found here.
The City Museum hosts an extensive exhibition on Medieval Ljubljana until May 2, 2018
The Ravnikar Gallery Space (Prešernova 10a) continues with Nina Čelhar: Light on Light. until February 28, which you can read more about here.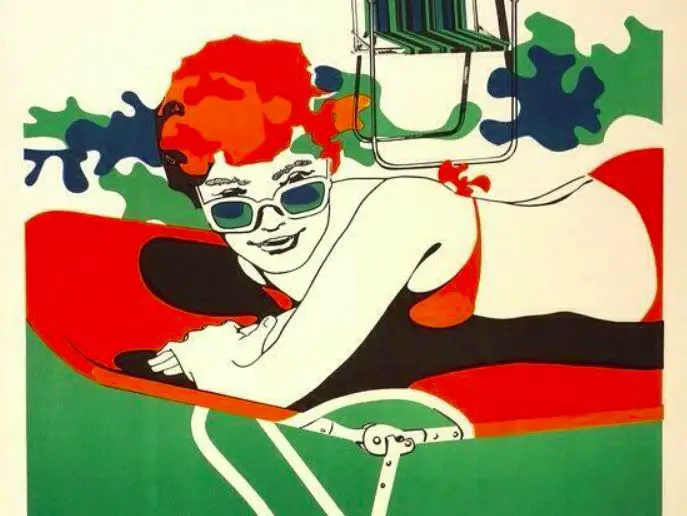 The Cultural Centre of the Embassy of Hungary, aka the Balassi Institute (at Barvarska steza 8, Ljubljana, not far from Dragon Bridge), working in association with the MAO (Muzej za arhitekuro in oblikovanje) continues its show on Hungarian and Slovene film and marketing posters from the 1960s and 70s, such as that shown above, which runs until February 23 and is free to enter.
The International Centre of Graphic Arts in Ljubljana will be showing Boris Jesih: Connections until March 11. In addition to the lithographs for which he is most known, this retrospective exhibition also presents drawings, paintings and photographs, showing the connections between his creative process and works. Open: 10:00 - 18:00. Closed: Mondays
Afghanistan - Slovene Views, continues at the Slovene Ethnographic Museum and lasts until March 30, 2018.
The Galerija Jakopič (Slovenska 9) continues its exhibition of works by Tihomir Pinter, the Croatian photographer known for his shots of everyday life in Yugoslavia, see above, the first major retrospective of his works since the 1960s. The show runs until March 3.
MUSIC
Vesna Zornik will be playing with Brest at SiTi teater on January 25, 20:00.
The Philharmonic Festival of Baroque Music continues on January 26, with a programme of Vivaldi and Bach at 19:30, as played at the Slovenian Philharmonic Hall.
Prulček plays host to the punk band Žmoht at 21:00, January 26.
Friday nights are jazz night at Ljubljana Castle, and this week the 26th will see Janez Bončina Benč & Janezz playing jazz rock at 21:00.
Klub Gromka will see Concert Cava from 20:00–23:00, January 26, promising "vast guitar solo trips, comfortable bass lines, lively rhythms and [a] playful voice… through…genres such as funk, latin, jazz, blues, rock, progressive, soul".
Nearby on the same night, Gala Hala will see a launch party for the new album by local rapper Mito and a showcase for Beton records, with support from Šuljo, Blaž, and YNGFirefly. The party is from 22:00–06:00.
Orto Bar will have a concert by the local rockabilly band Eightbomb on January 26, starting at 21:00.
OPERA, THEATRE, DANCE
Španski borci has Rajakangas - Dinosaur and Hadalin with guests from 20:00–22:00, January 24. The first part of the evening is a dance performance "outlining the absurdity of the relationship between a man and a woman", while the second is a set of Slovenian folk songs. 
Dinosaur 3mins from Janina Rajakangas on Vimeo.
A new production of Mozart's opera Don Giovanni, directed by Diego de Brea, will open at the SNG Opera and Ballet theatre, with the premiere on January 25, 19:30. Check the website for more times and dates.
Friday the 26th also sees a night of flamenco music, titled Noches de Tablao IV: Mirza Redžepagić, Nina Flamenca in Urška Centa. The show runs from 20:30–22:30. The theatre is tiny, and seats must be reserved at This email address is being protected from spambots. You need JavaScript enabled to view it. or 070 325 522. The price of ticket is 20 EUR, and 15 for the students, and includes a glass of wine and tapas.
PERFORMANCE
Leja Jurišić & Marko Mandić will be performing SKUPAJ at Kino Šiška on January 27 at 18:00. AS per the website, the performance will examine "what does it mean to be together and how to be together? Marko and Leo will together stand for 6 hours."
POETRY
Pritličje will have an evening of poetry,19:30–22:00, on January 23
SPORT
It looks like Slovenia will be knocked out of the Men's European Handball Championship this week, but you still might want to catch the last games in a bar. The team play Spain on January 23, at 18:15, while they meet the Czech Republic the next day at 16:00.
The weekend of January 27 and 28 sees a two-day ski jumping World Cup event for women, with this leg of the contest held at  Ljubno ob savinji. The Slovene team came second in the previous event, so book your seat on the couch or in the bar now, and get ready for the Olympics.
MISC
Ziferblat has at talk at 20:00 January 25 called "What Psychedelics Really Do to your Brain", while the next day, at 17:00, the café sees its regular Chess Club.
Ljubljana's main library, the Oton Župančič, has its English language book club on Friday 26, at 17:00, where people will be discussing Paul Auster's City of Glass. If you're not a member of this library, here's how to join.