Exhibitions, promotions, special sales and other quality events have been hapenning at Ravnikar Art Gallery since its opening two months ago for which we wrote
here
. Now, we are happy to annouce the next selling exhibition by Nina Čelhar called "Light on Light", opening next Tuesday, January 16, at 19:00. 
About the author
Nina Čelhar is among the most promising Slovenian painters in today's generation of young artists. She lives up to this promise relentlessly following a series of solo and group exhibitions both locally and abroad. Her work has also been included as part of several collections (inter alia ESSL and RIKO) and she has been awarded an array of international prizes, like the esteemed ESSL Art Award CEE.
To her, art is a space for self-realisation where she gives meaning and colour through her painting. Through her works, she explores the current architecture that wraps around people's living spaces, transforming the latter into a venue of tranquility. Between the external and internal physical spaces, she also leads the viewers into a psychological space – stripped off all tangible distractions, where viewers can pause in its serenity and question their own existence in a calm context.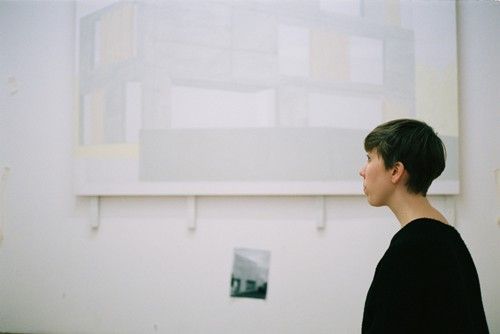 The author with her artwork.                                                                                    Photo Credit: Ada Hamza
The exhibition Light on Light uncovers ´an existential experience´ that takes us on a journey, from a flat, two-dimensional view of the house into a deeper interior on smaller canvases, where walls and other intimate details also play a prominent role. Minimalism is the key operating concept. Through the homogeneity of contents and colours, the viewer is invited into a safe and secure space, into a feeling of peace, opening the valves for reflection.
Enjoy!