Have you tried Slovenian gin yet?
The county is already known for its wine, which is gaining a growing reputation as people start to realise that France isn't the last word in viticulture. Indeed, it isn't even the first, with the grape having been turned into an alcoholic drink around 8,000 years ago in Georgia, and the oldest known surviving vine in the world, one that still produces grapes and a few small bottles of wine each year, is in Maribor.
Over the last few years the country has also seen explosion in craft beer producers, with the brews evolving rapidly from IPAs to the full range now offer, from sours to stouts, lagers to saisons. There's also a rich tradition of brandy and schnapps, but what next for drinkers looking for something special to sample in Slovenia?

The secret to Slovenian gin is the juniper berries
One answer, it seems, is gin, and those wanting to explore this world of flavour would do well to mark Saturday, 1 June (2019) in their calendars, and book a taxi or designated driver. That's the date of Brina, the first Ljubljana Gin Festival, to be held in Križanke, not far from the very centre of Ljubljana (see the map at the end of this story).
The event, which is free to enter and set to last from 12 noon to 00:00, will bring together 17 gin makers, distillation experts, mixologists (aka cocktail makers), glassware producers, and chefs, along with those who enjoy the work of such professionals, all dedicated to transforming humble ingredients into memorable experiences, with Slovenian juniper berries – among the best in the world, and a key component of gin – being the foundation of it. Indeed, it's the Slovenian word for these berries, brinove jagode, that gives the festival its name.
The brands of gin you can try will include - deep breath - Aufbix gin, Berryshka, Bratinov gin, Brin Gin, Broken Bones, Destilarna Karakter, Dingle Gin, Dry Tergeste Gin, GiniBee, Ginious, Gin Monologue, Gin s klanca, Mestni gin, Plymouth Gin (Pernod Ricard) and Santei Gin SKRASA No. 19 (with some details of a few of these here).
More than gin on offer
You can read more about Slovenian gin here
While there'll be plenty of drinks offer to enjoy, one thing to consider sampling before going over your personal limit is the Brina cocktail, devised especially for the event. This local invention combines the flavours of Slovenian gin with ginger, apple, and lemon syrup, along with a twist of lemon, a slice of red apple and Fever Tree pink tonic, and is sure to put a smile on your face. Also special to the day is an exclusive festival glass, "Polaris", produced by Steklarna Hrastnik, as shown below.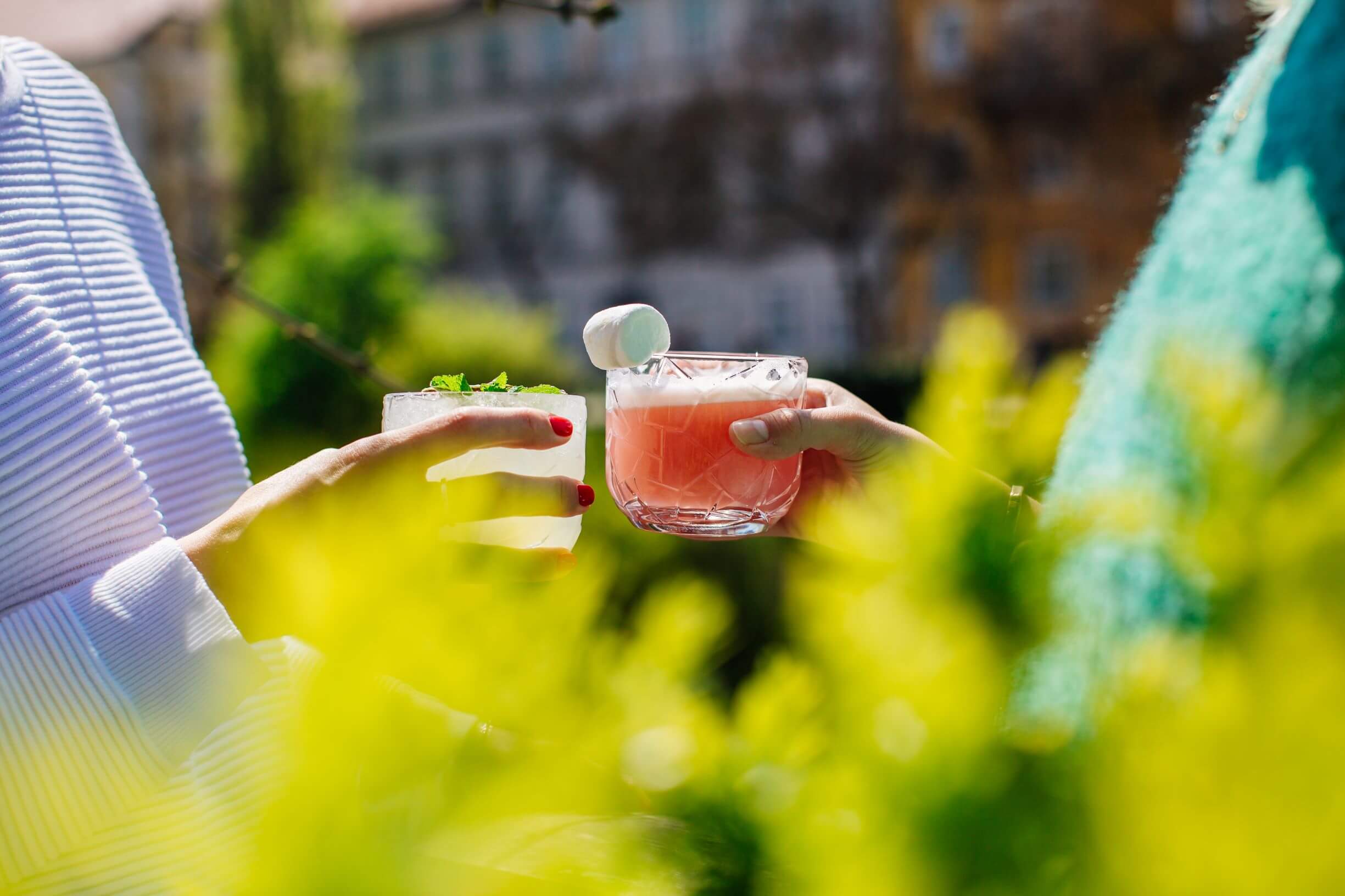 (The Brina cocktail is also available at various bars in Ljubljana, including Centralna postaja, Čin Čin, EK Bistro, eVino, Fétiche Bar, Lepa Žoga, Magda, Pivnica Lajbah, Pop's Place, TaBar, Tozd, Vander and Vinoteka Movia....)
A joint project from the team behind Open Kitchen, Ljubljana Tourism and Gourmet Ljubljana, Brina is intended to be a cosmopolitan affair, and a coming out part of sorts for local gin producers. Among the events on offer is a free cocktail workshop, starting at 15:00, while the culinary offerings will include dishes from Jorg Zupan (Atelje), Jakob Pintar (TaBar), and Igor Jagodic (Strelec).
The fun starts at 12 noon and ends at midnight on Saturday, 1 June (2019), and it all takes place in the beautiful surroundings of the Križanke open air theatre - the Plečnik building that hosts the Ljubljana Summer Festival and can be found a short walk from the very centre of town, as seen in the map above.