If you enjoy gin then what better way to turn your habit into a hobby than to explore the world beyond the big names, and if you'd like a good excuse to restock your liquor shelf with intriguing bottles and varied tastes then consider entering the world of Slovenian gin
To the ill-informed this might seem like a risky proposal – what would Slovenians know about gin? But this would be a mistake akin to dismissing Japanese whisky or Californian wine. More so, perhaps, as Slovenia not only has the climate and knowledge needed to produce the drink, but a long history of working with juniper berries, producing a native spirit known as brinjevec (sometimes brinavec).
Brina is the Slovenian name for the berry that gives gin, along with various other botanicals – each producer using their own selection – its distinctive taste, and here we'll note that botanicals, distillation and restorative liqueurs are also all part of the country's cultural heritage. And gin, if not quite in the DNA, is certainly in the bloodstream of a growing number of Slovenians.
We thus present part one of a brief guide to of the bigger names in domestic gin production, the ones you might find in good liquor stores and bars across the country, and soon, perhaps, abroad.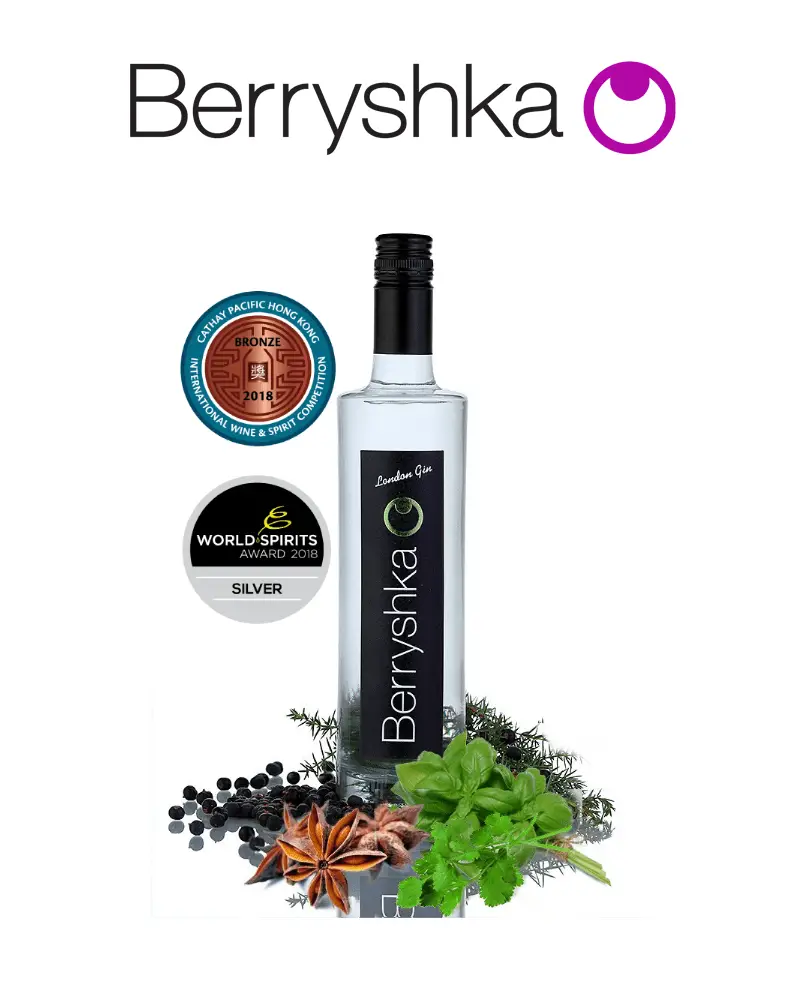 Berryshka, based in Dolenjske Toplice, is family firm that started in 1950 producing essential oils. While this remains the core business, the company has long applied its expertise in extraction and distillation to other products, including a range of spirits and fruit liqueurs, with drinks that are low in sugar, come with no artificial colours or additives, and are made using natural spring water. These liqueurs are based on natural flavours such as cherry, aronia, walnut, blackcurrant, blackberry, blueberry, and juniper – the berry that gives gin its distinctive taste. Berryshka juniper products currently include a brinjevec – marketed as brandy and sold in both original and oak-barrel aged varieties – and two gins. London Gin Berryshka follows the traditions of the most popular gin, with a neutral alcohol flavoured with juniper berries, angelica, iris, cinnamon, liquorice, cardamom, anise, cumin, lemon, and coriander, while the while the more distinctive BrinGin Berryshka has the alcohol provided by juniper distillate, producing a drink that can be savoured neat, or enjoyed with the usual mixers. You can find Berryshka's liquers and chocolates in many stores, but for the full experience you're welcome to visit the factory, which also produces handmade chocolates, an experience that could easily be combined with a trip to Novo mesto, or the nearby hot springs. Find out more the company's website.
Brin Gin is the work of Erik Sarkič, a third-generation brinjevec producer who grew up with a deep background in junipers and distillation. The move to gin was thus natural one, opening up new markets for the family business, and arguably making better use of the berries, since a litre of brinjevec requires around 8 kg of them, while the same amount of gin gains it's more subtle flavour from just 20 g. In his mission to dive deeper into the flavour profile of the juniper Berry Erik is supported by Matevž Kmet, a biochemist who works as a consultant for the firm and has the air of a mad scientist, or at least a man for whom the greater the challenge, the more exciting it is to consider. Together Erik and Matevž dream up new products and then work to make their dreams become reality. One of these, still in the experimental stage, includes an alcohol-free gin, for those who love the taste of a good G&T but want to maintain a clear head. Another is what's intended to be the world's best, and most expensive, gin – with production of this now completed, and the launch only waiting on the perfect bottle to be found. Finally, Erik and Matevž are also working on a product that will be made entirely of juniper, including a juniper wood bottle. You can keep up with the latest developments, and order a bottle online, here.
DTG (Dry Tergeste Gin) also takes its own approach to the classic spirit, and is yet another small producer showing that the Slovenian tradition of brinjevec means the country is well positioned to become home to a variety of boutique gin brands, all of which are worthy of a place on your shelf. The name refers to Tergeste, or Trst (or, you must, Trieste), and Martin Žužek Kres, an anthropologist by training who developed the drink, wants his products to reflect the history of the land. However, DTG doesn't just have a story to tell, but also a product that distinguishes itself from other gins in a number of ways. For one, it avoids the use of grain alcohol to give the drink its kick, and instead relies on alcohol produced from the juniper berry, mixed with a unique coffee cherry brandy. Coffee cherries are the fruit that grow around and protect coffee beans, and contain both caffeine and antioxidants. Their use in gin doesn't produce a coffee-flavoured drink, but does give an interesting taste that can be enjoyed neat, without ice, or with mixers. In a sign of how quickly the Slovenian gin scene is set to evolve, the company has three new products that are still in development, but which I was lucky enough to taste at a recent event, and these will add to the flagship drink's flavour profile with the use of spruce, thyme, and wild mint. Look out for DTG in stores, or order a bottle online.
All the parts of this series can be found here