Open Kitchen is a focus and highlight of the week for many in downtown Ljubljana, bringing stalls selling hot food and cool drinks to the marketplace between the river and Cathedral each Friday, running from an early lunch to dinner. With the culinary event returning for another season at the end of this week, and set to appear at five other towns in Slovenia, we sent some questions to Lior Kochavy, the busy co-founder of the project, and he was kind enough to reply.
How long has Open Kitchen been running?
The first Odprta kuhna (or Open Kitchen) happened on Pogačarjev trg in Ljubljana in 2013, so we are just about to start our 7th season on Friday, March 22. It is going to be pretty special as it turns out, because the opening will be the 150th Odprta kuhna event in Ljubljana and our 200th Odprta Kuhna event ever. You see, we also take Odprta kuhna on tour around Slovenia to Celje, Koper, Nova Gorica, Ptuj and Novo mesto, the latter being a new location this year. Our first event in Celje is scheduled for March 30, we go to Novo mesto on April 13, to Ptuj on April 20, to Nova Gorica on April 24 and to Koper on June 15.
How has it changed over the years?
In some ways a lot and in other way not at all. The concept and the standards – in terms of quality, creativity and innovation – have remained the same, but of course the event grew and continues to grow in all aspects.
When we first started there were not a lot of people who understood what we wanted to do. But luckily one those people who understood was the Mayor of Ljubljana. On the very first event we had around 20 stands and it was a disaster, as it started to rain three hours after we opened. But we carried on and today we co-operate with around 80 different restaurants. In Ljubljana around 50 stands are full every Friday (this is how many fit to Pogačarjev trg) and the variety of food and drinks on offer is fantastic.
Odprta kuhna became a fixture in Ljubljana's social life, this is where the weekend begins, but we also became an important tourist attraction. Readers of The Guardian chose Odprta kuhna as one of the best street-food markets in the world, and the BBC placed Ljubljana as the third on this year's Top 10 Destinations for foodies list. We also expanded beyond Ljubljana and added new locations – this year Novo Mesto, in 2017 Ptuj, a year before that Nova Gorica...
You also run Pivo & Burger fests – do you have any other special events?
Yes, besides Odprta kuhna and Pivo & Burger Fest, which will take place on Pogačarjev trg on April 6 and 7, we are launching a new event this year called Brina, Ljubljana gin festival. It will take place in beautiful Tivoli Park in and around Švicarija House, and it'll be delicious! There is a number of excellent Slovenian gin distillers who will participate, and we're talking top quality gin here. There will be speciality cocktail, tastings, food pairings, mixologists and gin connoisseurs from abroad, top chefs preparing amazing food, there will be music, art and good times, so Brina will definitely be one of the highlights of the season.
Is there anything new for this year?
Yes, at Odprta kuhna a number of new restaurants will participate – such as Gostilna Grabar, Hotel in restavracija Planinka, Gostišče Barbara, Pivnica Lajbah, Restavracija Evergreen, EK Bistro, El Patrón Tacos & Store, Fermen(s)tation, Pop's Place, Fejst™, TINK superfood café and La Ganache – and in April we will add a new stand, dedicated to natural, living wines.
In summer there will also be a special section of Odprta kuhna called Taste Slovenia where producers of Slovenian delicacies, tourist organisations from all over the country and producers of handmade kitchen and food related products such as wooden boards, ceramics and knives will present themselves as they did last year very successfully.
And of course we are very proud that some of the country's best chefs trust us and participate with us, such as legendary Janez Bratovž (JB Restavracija) and fantastic young chefs like Jorg Zupan (Atelje), Luka Košir (Gostišče Grič) and Mojmir Šiftar (Evergreen, named Young Talent of 2019 by Gault&Millau Slovenija).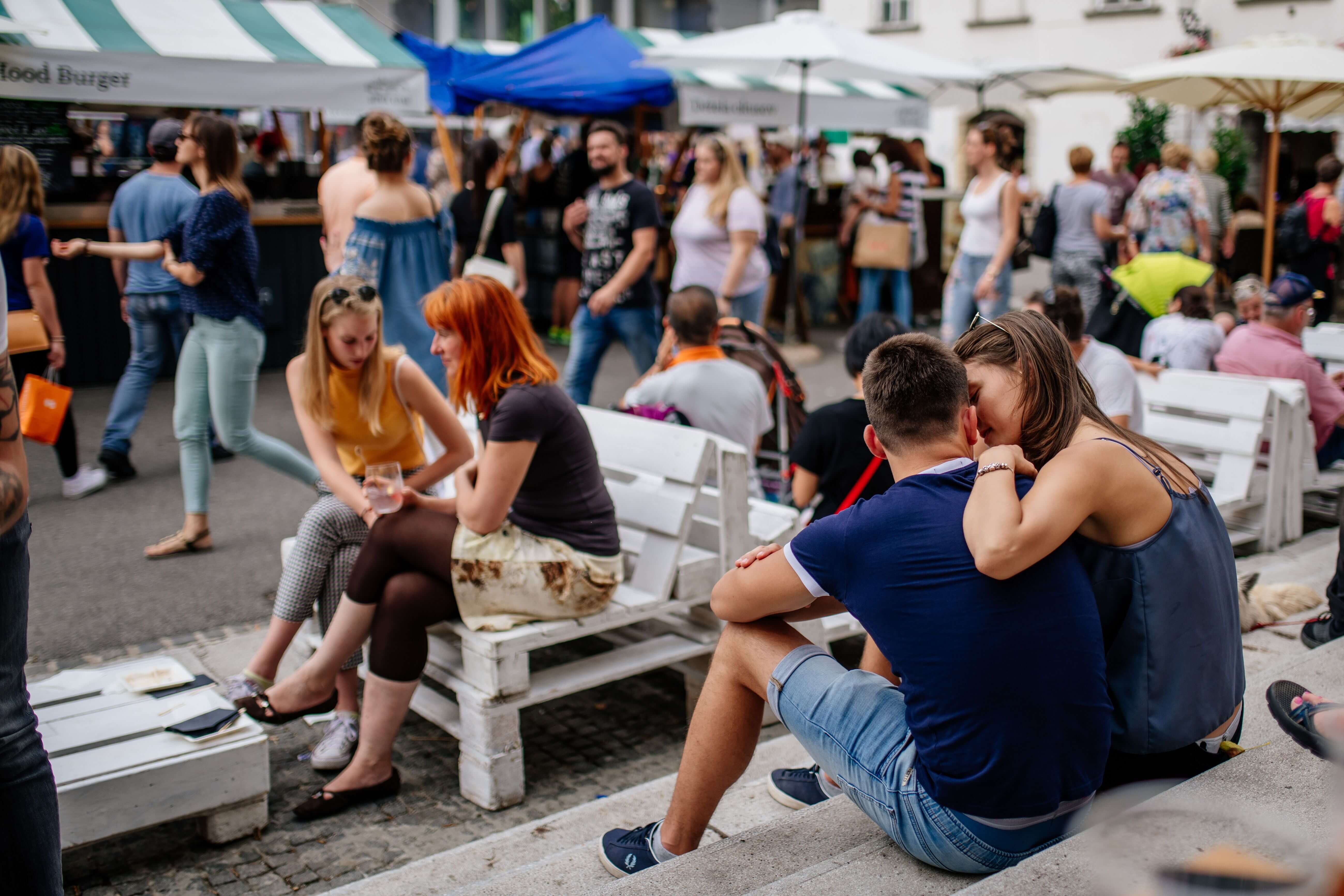 Where can people learn about the dates?
We have a lovely website  where you can find out all about the dates  (and, fortunately, very few cancellations due to bad weather) and much more. Of course we are also very active on social media. You can find us on Facebook and Instagram.
Personally, what do you enjoy most about the Open Kitchen events?
The food, the people, the atmosphere, the socializing, the buzz... I could go on. Odprta kuhna brings joy to people, it is open to everyone and everyone can try something new, meet old and new friends, explore and simply have fun.
I am there every single event from early morning to late evening and I never get tired of it. All of the people who work there are like family to me, I stop by every single stand at every single event to chat, make sure everybody is happy and doing well. In Ljubljana, where we have events on Fridays, there is also this collective sigh of relief that the weekend is about to start and it is a vibe you can feel very distinctly, you can almost touch it.
Related: What's on in Ljubljana this Week