TSN will be on a light schedule over the holiday season, with time spent on feasting with family and friends rather than catching up with the latest online. But to ensure that dedicated watchers of the Slovene scene have something to relax with we've put together 30 questions to test your knowledge of the news this year.
The questions are set out below, with the answers at the end (plus links to the related stories).
1. The actor Matija Barl died in August at the age of 78. He was most famous for playing which iconic character?
2. Two metal structures that are set higher than anything in the surrounding areas were taken down for repairs this year. What were they?
3. Which party won the most seats in Parliament in the general election?
4. What was the title of Slovenia's Eurovision entry this year?
5. What is one of the five most common family names in Slovenia?
6. Which country sends the most tourists from Asia to Slovenia?
7. Slovenia is currently engaged in a border dispute with which of its neighbours?
8. Primož Roglič, who won this year's Tour de Slovenia, did another sport at a high level before taking up cycling. Which one?
9. Which company owns both Union and Laško?
10. Slovenia celebrated the writer Ivan Cankar this year, but what occasion was being marked?
11. Which high profile Slovenian company was sold to a state-owned Chinese firm in this year?
12. Name one of Prime Minister Marjan Sareč's previous jobs.
13. Iza and Samo Login are the two richest people in Slovenia. How did they make their money?
14. Andrej Šiško made the news in 2017 by standing for President. Why was he in the news in 2018?
15. In Slovene slang, what are jazjaz?
16. Janja Garnbret won her second consecutive world championship this year, at the age of just 18, as well as Sports Personality of the Year. In what sport does she compete?
17. Slovenia named a new head of the armed forces, and a new police commissioner this year. What did these two people have in common?
18. Posledice, Zimske muhe and Gajin svet were all released this year, but what were they?
19. Why are Koper and Divača often linked in the news?
20. Slovenia has two famous Pahors, Borut and Boris. How are they different?
21. Which young Slovene moved from Madrid to Dallas in 2018?
22. Miro Cerar lost his job as Prime Minister after the national elections, as well as his glasses. What is his current position?
23. This year was the first World Day of something, a day that Slovenia played a key role in getting recognised as an event. What does this day celebrate?
24. Which large company was privatised in November?
25. Simona Semenič won a Prešeren prize in 2018. In one of her most famous artworks she put part of her body through an object. What body part and what object?
26. Demokracija and Mladina are two weekly reviews. What's the main difference between them?
27. How many regular, scheduled flights does Maribor Airport currently have – less than 10, between 10 and 24, more than 25?
28. Which foreign leader spoke at the SDS party conference and said Janez Janša was the only hope for Slovenia?
29. A group of Cuban musicians got in trouble while in Slovenia for an international festival. In which town were they arrested?
30. Which Slovenian skier missed the Olympics as she was still recovering from an injury?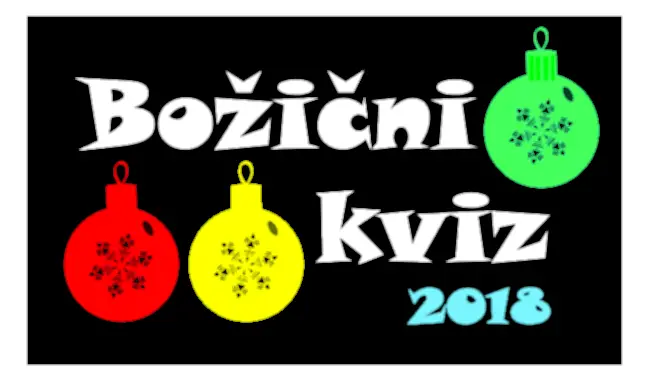 The answers
1. Kekec (read the story here)
2. The Aljaž Tower on Triglav (story) and the Archangel Michael on top of St George in Piran (story)
3. The SDS (story)
4. Hvala, ne, performed by Lea Sirk (story)
5. The top five are Novak, Horvat, Kovačič, Krajnc, and Zupančič (story)
6. South Korea (story)
7. Croatia (story)
8. Ski-jumping (story)
9. Heineken (story)
10. The centenary of his death (story)
11. Gorenje (story)
12. A comedian, known for his impressions, and the Mayor of Kamnik (story)
13. The Talking Tom app (story)
14. He was arrested after organising an armed militia (story)
15. Memes (me me = jaz jaz…) (more)
16. Sport climbing, being especially strong in lead and bouldering (more)
17. They are both the first women to hold these positions (more on the army, more on the police)
18. Three Slovenian movies
19. The long-running story of new rail link between them (story)
20. Borut is President (story), while Boris is a writer (story)
21. The rookie basketball sensation, Luka Dončić (story)
22. Cerar is now Slovenia's Foreign Minister (more)
23. World Bee Day (story)
24. The bank NLB (more)
25. Her pregnant belly through a hole in the Slovenian flag (picture)
26. Mladina is on the left, and Demokracija is on the right (more)
27. Zero (story)
28. Hungary's Viktor Orbán (story)
29. Bovec (more)
30. Ilka Štuhec, who's now back on the slopes and the winners' podium (more)