The 24th traditional charity bazaar organized by the Slovenian International Women's Association (SILA) took place yesterday in the beautiful venue of the Grand Hotel Union in the centre of Ljubljana. The charity bazaar was opened by the Human Rights Ombudsman Vlasta Nussdorfer and attended by the President Borut Pahor and his wife. At the opening of this year's event the Ombudsman emphasized the importance of connecting cultures and encouraged the visitors to do some shopping, thus helping children who suffer from autism or live in extremely difficult social and financial conditions.
Delicious foods at the Iranian stand
The Charity Bazaar, which has been a symbol of the international cultural diversity and charity for over two decades now, took place this year in the Hotel Grand Union, right in the heart of the city, thus making it even more attractive and more accessible to visitors.
This year's SILA-IWCL Charity Bazaar proudly hosted 36 country tables with all sort of products, great as holiday gifts for family and friends. You could also try many culinary specialities from 16 countries from different parts of the world, many that are not well-known in Slovenia.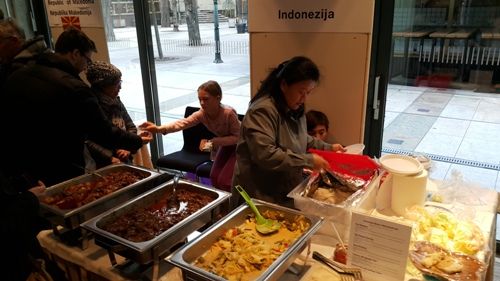 Presenting some Indonesian food
Slovenian stand with some well-known foods 
Waiting in line for some Indian food
There was also a varied cultural programme on the stage, such as bands and choirs from Portugal, Russia, France, and Argentina, and see some oriental dances from Lebanon, Irish dances, and traditional Russian dances, and some visitors were lucky enough to get some prizes in the lucky draw.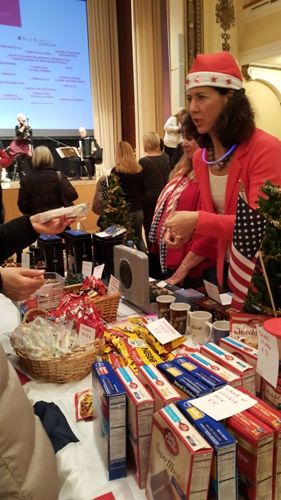 The American stand and a concert on the stage
This year's funds will support projects for children with autism, to get free therapies from the Institute for Autism Spectrum Disorders and the Association for Autistic Children, Školjka, and children who live in extremely difficult social and financial situations, to help them get psychological and legal help, as well as scholarships from two Slovenian organisations, Lunina Vila and Beli Obroč. All the organisations were chosen based on their projects, importance of their cause and number of vulnerable individuals who will be affected and helped by the donation.
Kenyan national costumes and carpets
Over the last two decades SILA has collected and donated more than a million euros to various Slovenian organizations and individuals. They have helped to renovate kitchens in homeless shelters, build up music rooms for kids, supported needy women and did much more.
Lot of going on at the Russian stand