This year marks the 250th anniversary of the death of Giuseppe Tartini, the Piran-born violinist and composer whose namesake square is the focus of much activity in the town. The 19th Tartini Festival is thus a special one, with a program that stretches from the man himself to the present day, from Slovenia to beyond. What's more, Tartini's original violin will be taken out of the Maritime Museum and played – although note this is not the Stradivarius the Piran composer was the first owner of, which has gone down in history as the Lipinski.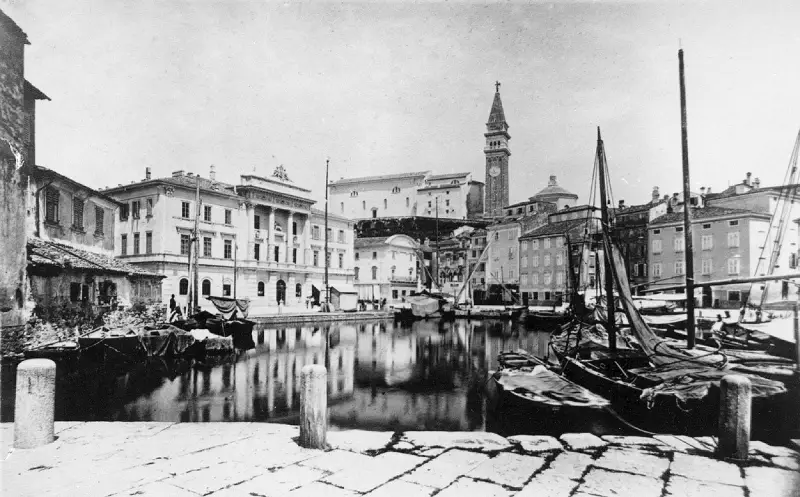 Tartini Square was once part of the sea, as in this photo from sometime in the late 19th century (source: Wikipedia). More old photos of the square.
With the exception of the opening night on August 20 – which is in St. George's Church in Piran – all the concerts will take place outdoors. The historical ambiance of the Slovenian coast, with its Venetian style, thus provides the backdrop to the performances at Piran's Minorite Monastery (Minoritski samostan sv. Frančiška v Piranu) and Koper's Praetorian Palace (Atrij Pretorske palace), the beautiful architecture just the most visible aspect of the area's rich cultural heritage.
Since Tartini's instrument was the violin the program features outstanding European violinists performing in various ensembles. The opening concert, on August 20, 2020, will feature the Venice Baroque Orchestra and violinist Giuliano Carmignola.
The program then continues with performances from artists such as Isabelle van Keulen, Giorgio Fava, I Solisti Veneti, Paolo Perrone, David Plantier, and László Paulik – with the full schedule and tickets on the Tartini Festival 2020 website.
Moreover, the Tartini Festival's own ensemble, Il Terzo Suono, will once again be performing baroque music on period instruments and aiming for historically correct interpretations, as seen and heard in the videos accompanying this story.
In addition to established artists, the festival also supports the future of Slovenian music with workshops, masterclasses and the opportunity to gain experience of playing live. The Tartini Junior is supported by the Municipality of Koper.
Check out the website or Facebook page, and find another great reason to visit the small but perfectly formed Slovenian coast.