Part of the appeal of Slovenia as a destination is the remarkable variety of landscapes, climates, cuisines and cultural heritage packed into a relatively small area, due to the young nation's position at the crossroads of north, south, east and west Europe. Piran, and the Slovenian coastal region of Istria in general, is a fine example of this, giving the country and access to the Adriatic as well as an area famed for its wines, olives, persimmons, seafood, architecture and – on occasion – wind (known as the burja or bora). For both short-term visitors and life-long residents of Slovenia it represents an escape from the inland and the chance to enter another, more Venetian world, an opportunity that should be seized whenever possible.
We thus present a short guide to spending from four to 48 hours in Piran, with a choice of sights and activities that isn't meant to be exhaustive, or exhausting, but rather a simple presentation of things to see and do that'll let you say: "Yes, I've been to Piran, and I loved it".
Essential Sightseeing in Piran: The Old Town and the Sea
The town is an old Venetian settlement, ruled by the lagoon-based city state from 1283 to 1797, and this history can still be seen in many of the more notable buildings. The town's proximity to Italy also means that Piran, or Pirano, is essentially bilingual, as seen in the two languages on the signs and often heard in the accented dialect of locals. The best place to see Venetian architecture is in the Old Town, basically the whole of touristic Piran, which can easily be explored on foot in a few of hours – it's mostly pedestrianised – with breaks for cafés, light shopping and food.
Notable buildings include the Benecanka Casa Veneziana Pirano, aka the Venetian House, now a boutique hotel, but one that you can still enjoy from the outside. It's long been a tourist attraction, as seen in the postcard below, and is said to have been built by a Venetian merchant for a local women he fell in love with.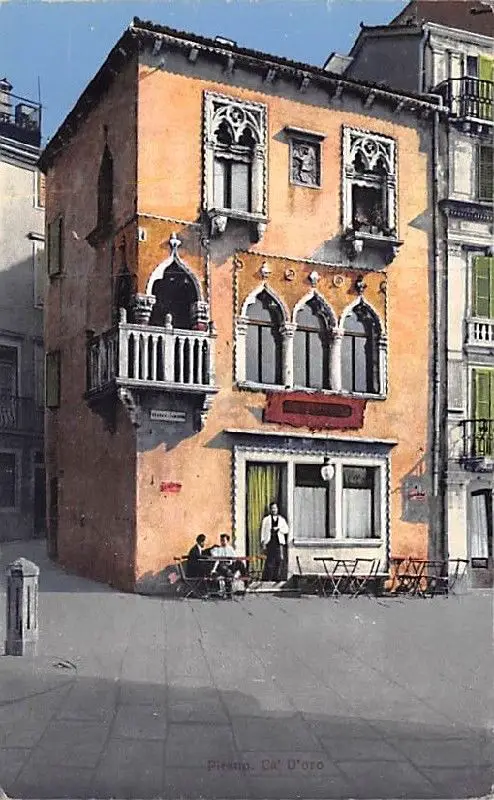 Postcard of the Venetian House, 1914. Source: Wikipedia
Venetian House can be found on the edge of Tartini Square, named after the composer Giuseppe Tartini (1692-1770), the first recorded owner of a Stradivarius. As old as it may look, this square is relatively recent. It was an open dock until 1894, when – the locals having grown sick of the smell of the sewage and waste that floated in the waters – it was filled in, with the statue of Tartini being placed there two years later.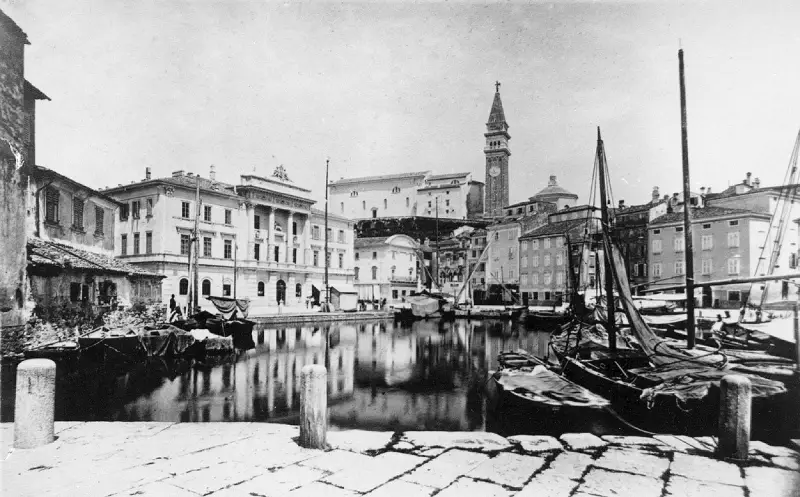 Photo of the dock that became Tartini Square, taken in the late 19th century, with Venetian House roughly in the middle. Source: Wikipedia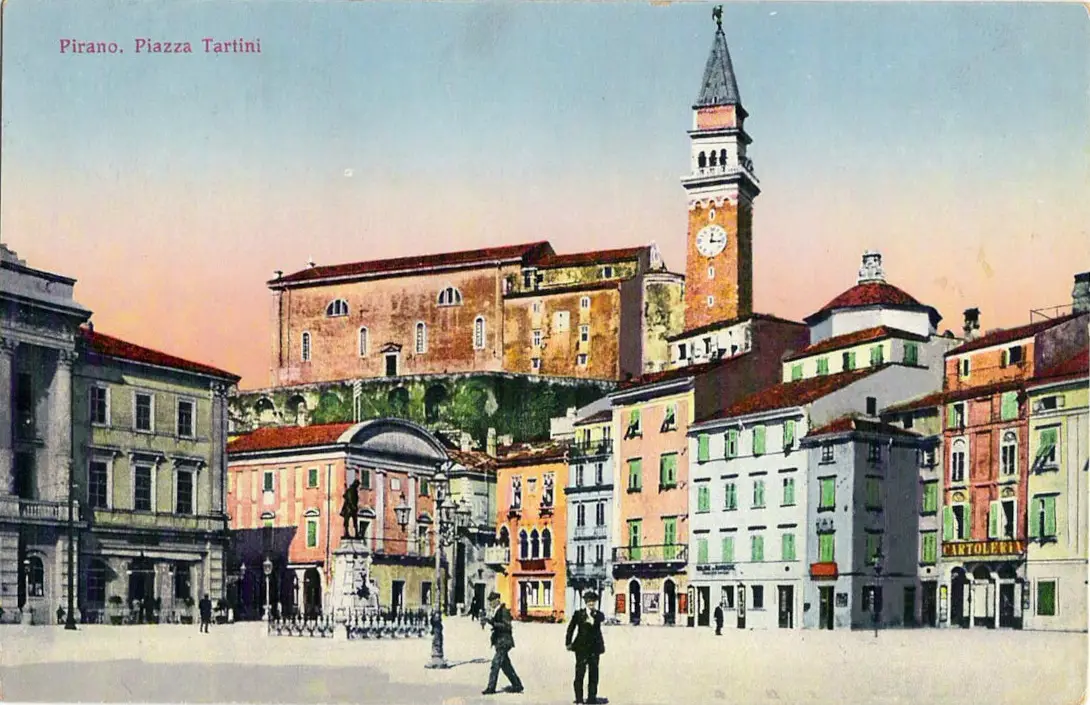 Postcard of Tartini Square in 1915. You can see the Venetian House behind the two men. Source: Wikipedia
Tartini Square in 200. Source: Wikimedia - © Plamen Agov • studiolemontree.com CC by 3.0. You can see more old photos of the square here.
It's from this square that you can see another icon of Piran, the statue of the Archangel Michael, which for a little over 250 years has been sitting atop the church of St George, moving to show the direction of the wind to the town's seafaring residents. (It was taken down for a short time 2018, for some much needed repairs)
St Michael. Screenshot from YouTube
Another structure to seek out are the Cloisters of Saint Francis Monastery, a place that still houses Franciscan monks and one that's known for having great acoustics. For that reason it hosts the Piran Music Evenings and Tartini Festival, with the latter taking place late summer (this year, 2019, from August 22 to September 9), with the official website here.
The Cloisters. Wikimedia - Isiwal CC-by-4.0
Before or after your walk around town you might want to sunbathe or swim, and you can do so at various spots, with some of what to expect (no sand) shown in the following video from Korea.
Things to do with 24 to 48 hours in Piran
Once you've seen the Old Town and bathed in the sun and/or the sea, you might want to take in some more of the related cultural and touristic offerings. These include the Sergej Mašera Maritime Museum, Piran Aquarium and the Museum of Underwater Activities(website down, at the time of writing), all of which offer what the names suggest. You can also find details of upcoming festivals, concerts and other events in Piran here.
If you're spending longer in Piran then you might want to see a little more of the coast, that 47-km of Slovenia that separates Croatia from Italy. Within walking distance, or an easy cycle, drive, taxi or bus ride, is Portorož, a Riviera-style resort town with a very different feel to the Venetian peninsula. It's here you'll find casinos and beaches with recliners and umbrellas, with everything from top hotels and classy restaurants and a marina to pile 'em high, sell 'em cheap stores selling flip-flops, sunhats, sunglasses, inflatable items and so on. It's not for everyone, but then neither is climbing Mount Triglav, so if it sounds interesting to you then take a look.
If you want to see more of the Venetian side of the coast then head on to Izola, although only if you haven't been to Piran first. Meanwhile, the economic centre of the Slovenian Istria (aka Primorska) is the port town of Koper. While a little more developed than its neighbours, it still has another charming Venetian Old Town to explore.
Two areas that are more untouched, and where you'll probably want to take your own food and drink, are Strunjan and Debeli rtič. Strunjan is a coastal nature reserve with many paths and trails for walking, hiking and biking, and the ideal place to get away from the crowds and ice sellers for a few hours. You can read our more detailed guide to this hidden treasure on coast here. A similar kind of experience can be had at Debeli rtič.
Tourist shopping in Piran
Piran is known for its salt pans, once the source of its wealth, and these are still in business, producing the famed local fleur de sel. Even if you don't make the trip to see the seawater evaporating leaving these precious crystals, you'll find stores all over town selling the stuff, both as a cooking ingredient and in various other preparation. Not made in Piran itself, but still in Slovenian Istria (aka Primorska or the Littoral), you might want to look out for local wines and produce. Wines offer include the red Refosco and white Malvazija, although there are also many other varieties and blends to enjoy, as outlined in this earlier article, while olives and PDO designated olive oil are produced nearby and are worth picking up or seeking out in restaurants.
Food and drink in Piran
As noted above, the region produces plenty of very drinkable wines, and often at prices lower than they'd command if they came with an Italian name, so do explore these if a fan of the grape. With regard to food, since you're by the coast you should take the chance to check out the seafood restaurants. You're also next to Italy, so don't feel like you're betraying Slovenia if you order some pasta and gelato.
If you'd like to learn more about Piran, including the stories that don't make it into the tourist guides, then you can find all our articles on the town here