My workdays are hectic enough that if I go on an active vacation I'm likely come home as worn out and stressed as when I left. So perhaps it's my work life (or age), but I found the peace and quiet of the tiny Big Berry "resort" – seven small riverside homes in Bela krajina (aka White Carnolia, and the k in krajina should be lowercase) – exactly what I needed, even if I wasn't able to express those needs until they'd been met.
Started in 2016 as glamping destination for travellers, site for teambuilding exercises, and showcase for Hosekra's prefabricated homes, the place operates under the slogan "the luxury of freedom", and for me that meant freedom from demands on my time and attention. Yes, the resort has WiFi, but because of the metal structure of the homes the signal needs to be boosted in each unit, which means you can have the signal turned off and you're free to stay offline when inside. So I just checked my emails at the start and end of each day in the main building, and even without me the world kept turning.
One of the homes. Photo: Big Berry
There's a field between you and the nearby village which has cows grazing in it, and if you're lucky they'll wander over and start mooing in the morning, a nice alarm clock that you're free to ignore. Photo: JL Flanner
Clean and green. Photo: JL Flanner
Croatia, and a small "beach" and blue slide, on the other side of the river. Photo: JL Flanner
Sited right by the River Kolpa, which divides Slovenia from Croatia, the resort sits between the small villages of Primostek (Slovenia) and Jurovo (Croatia), giving you the option of simply walking, cycling or swimming to another country – with no border controls at the time of writing. Indeed, several of the staff are Croatian and cross the border twice a day, while others include individuals from Portugal and Brazil, the latter part of the company's internationally minded internship programme.
But what can you do here, other than turn off, tune out, and relax? It's not that there's nothing to do – there is, and we'll get to that – it's just there's nothing you have to do, no must-see sights or "10 essential experiences". The property is big enough that you can wander around, sit on the grass, read, draw, do yoga, enjoy the river and so on, with the Kolpa enabling swimming, canoeing, or supping (even fishing, with a licence). If you want to get further away, but still avoid driving, there are bikes you can use to explore the area. In season there are also activities offered for guests, such as wine tastings and other things from local partners.
Only breakfast is provided, with all the food ordered from outside. You choose from a menu the day before and the next morning a wooden box is sitting on your porch full of items from local producers. Bread, cheese, salami, milk, yogurt, fruit, jam, honey and so on, with coffee and tea supplies in the kitchen.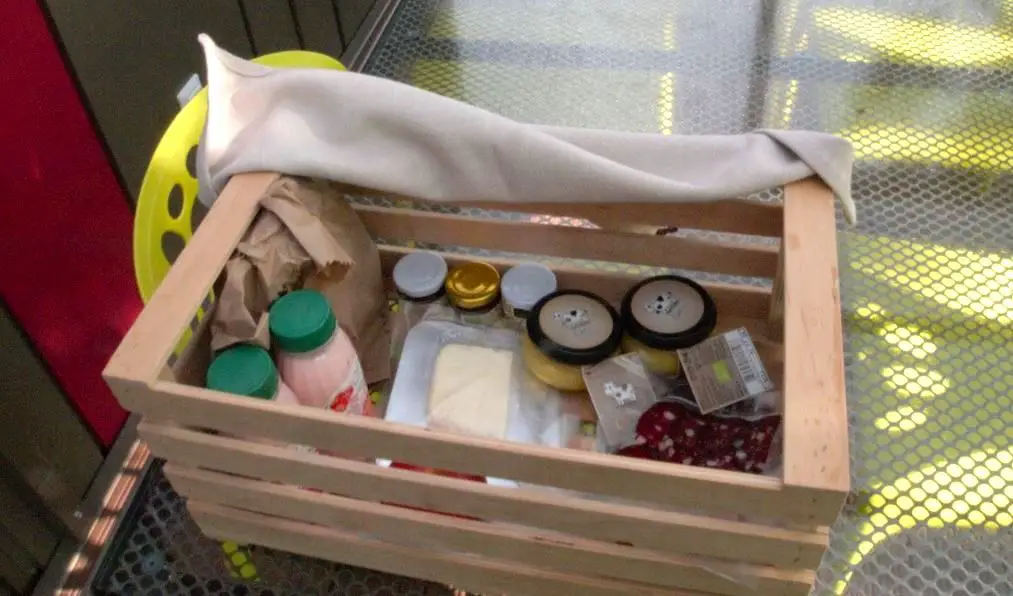 Here you might notice a little too much packaging, but that's a health and safety issue, and one the management would like to find a way around. Photo: JL Flanner
Inside one of the homes. Photo: Big Berry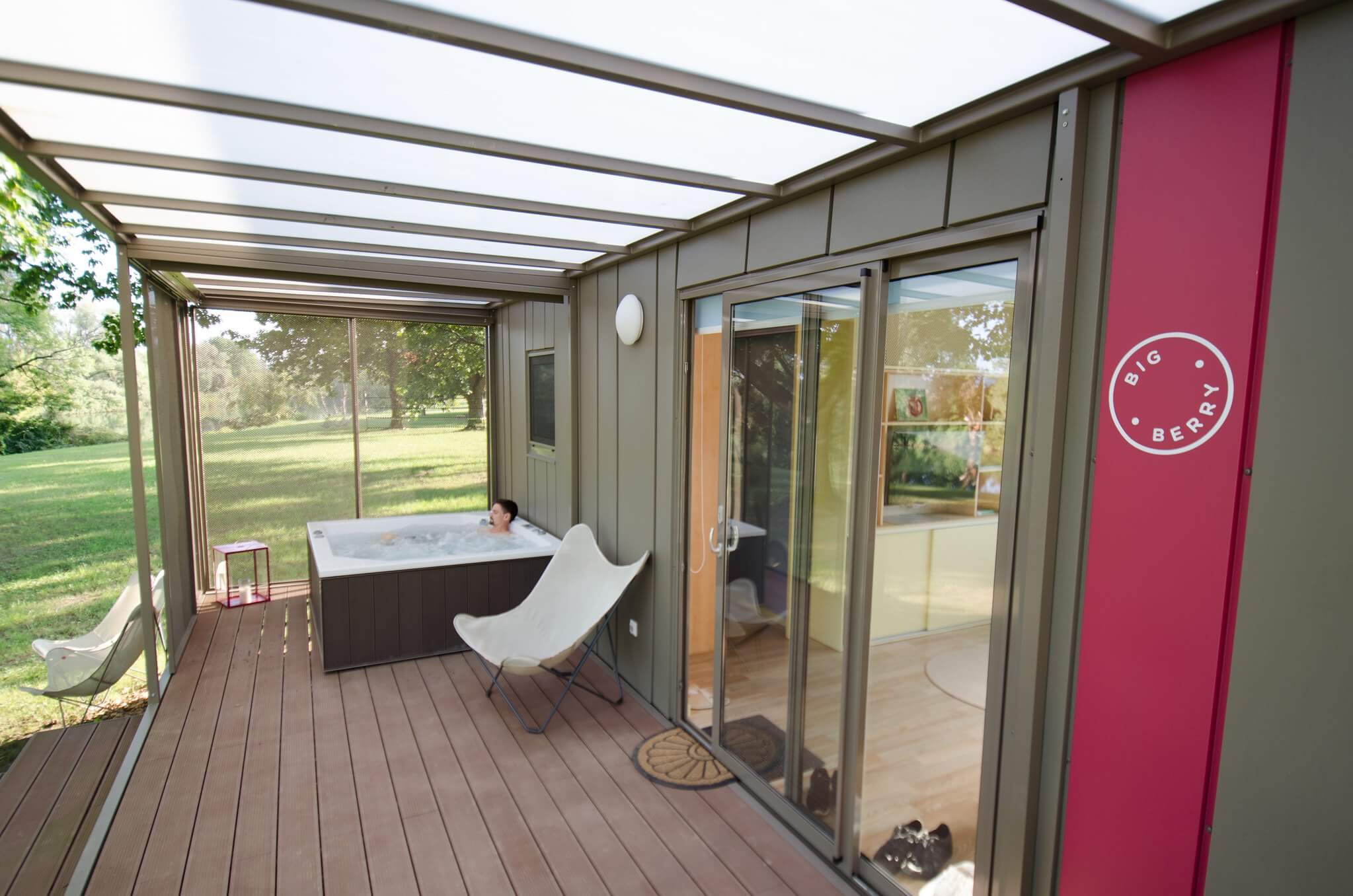 Each home has a jacuzzi. Photo: Big Berry
After breakfast you'll have to make your own arrangements for lunch and dinner. If you want to fully disconnect you could simply stop off at a store or market on the way to the resort and stock up the large fridge in your new home, and I certainly recommend bringing along some snacks, as well as buying some wine from a local cellar. But the area is so beautiful, the green, rolling hills so tempting, that a trip out for a meal is no bad thing. Especially since the team at Big Berry know the place well, and will be able to recommend something to enjoy (a knowledge base that extends from food and wine to all the other things the area has to offer).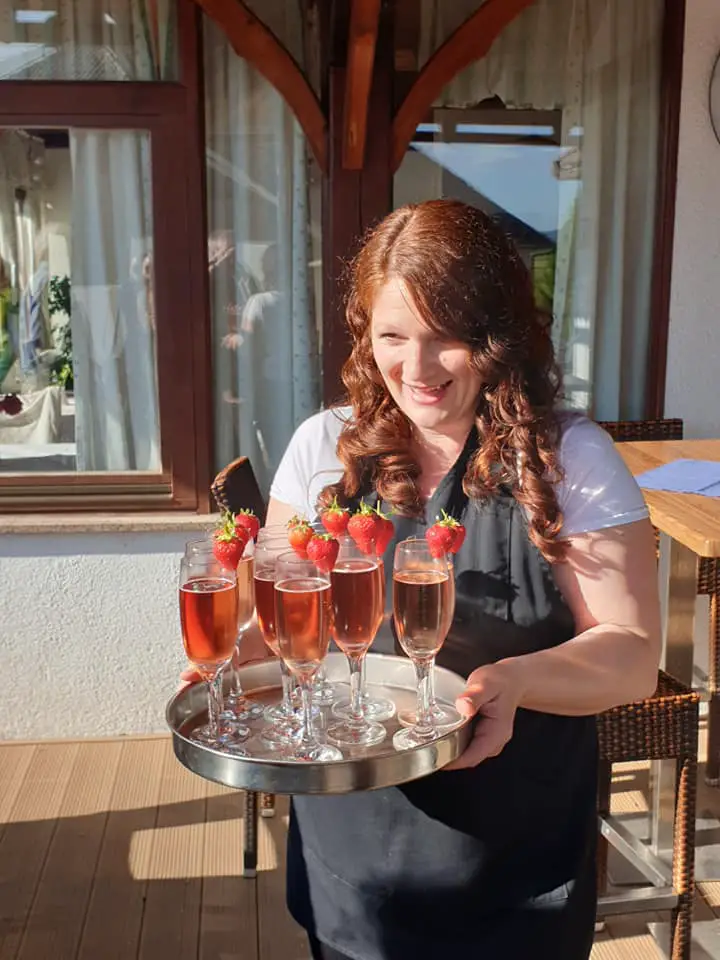 Andreja Drakulič Veselič with some glasses of white wine, sparkling mineral water and juice, called a Mussolini. I asked around and it's a name for a spritzer that seem to have been especially popular in this area in the post-war years, but one that I've never head of elsewhere in Slovenia.
The group I was with, which included a number of travel journalists from Slovenia and Croatia, went to Gostišče Veselič and tried a varied menu that came with – as all meals in Bela krajina must – pogača, a flat round bread topped with salt and cumin and scored with lines, making it easy to tear off in chunks. This went well with a fresh salad, clear beef and noodle soup, a creamy garlic soup, a plate of meat, štrukelji, fried cheese potatoes and other hearty fare, followed by a dessert of fried dough (think donut pieces), caramel sauce and vanilla ice cream. We were then offered a small dish of something unusual – garlic and pumpkin oil ice cream. It's not something I'd order a bucket of, but definitely worth trying and sharing, with a "wow" factor that I kept returning to.
Photo: JL Flanner
That was the only real meal I had off-site in my two days at Big Berry, with my appetite for the second day being taken up by a whole suckling pig and lamb that were roasted at the resort on spits, a speciality that can also be had, by prior appointment, at many local restaurants (as above, just ask the staff and they'll have an answer). There's also a barbecue area if you bring your own meat and vegetables.
The onsite BBQ area. Photo: Big Berry
I had two memorable cellar visits and tastings. The first was to Vinska Klet Prus (Prus Wine Cellar), in Metlika, an event that my fellow travellers later told me stretched on for at least 15 of the vineyard's 45 wines. All I know for sure is we didn't get back to Big Berry until midnight, with my notes becoming increasingly enthusiastic, erratic and illegible as the evening wore on.
Mr Prus and some of his work. Photo: vinaprus.si
We were guided through the bottles by Jožef Prus, a 5th generation winemaker whose collection of medals, certificates and photographs with "wine queens" attests to the quality of his production. A man who loves his work, and his wine, Prus was able to bring each glass alive as we swirled, sniffed, sipped and savoured all the standard varieties as well as some novelties, like orange wine – a white that gets its colour from maceration – and Beli Trio, a mix Muscat, Traminac and Sauvignon that I'll be looking for in stores. To that end, if you see a Prus bottle on the shelves called Svetovno Vino (World Wine) then don't be put off by the name. It's a well-made Cabernet Sauvignon that, due to the strict and arcane rules that govern the wine world, can't be sold under that name, even though the vineyard has been producing it for decades. But Mr Prus follows his heart, and is a wine-maker whose bottles are worth seeking out.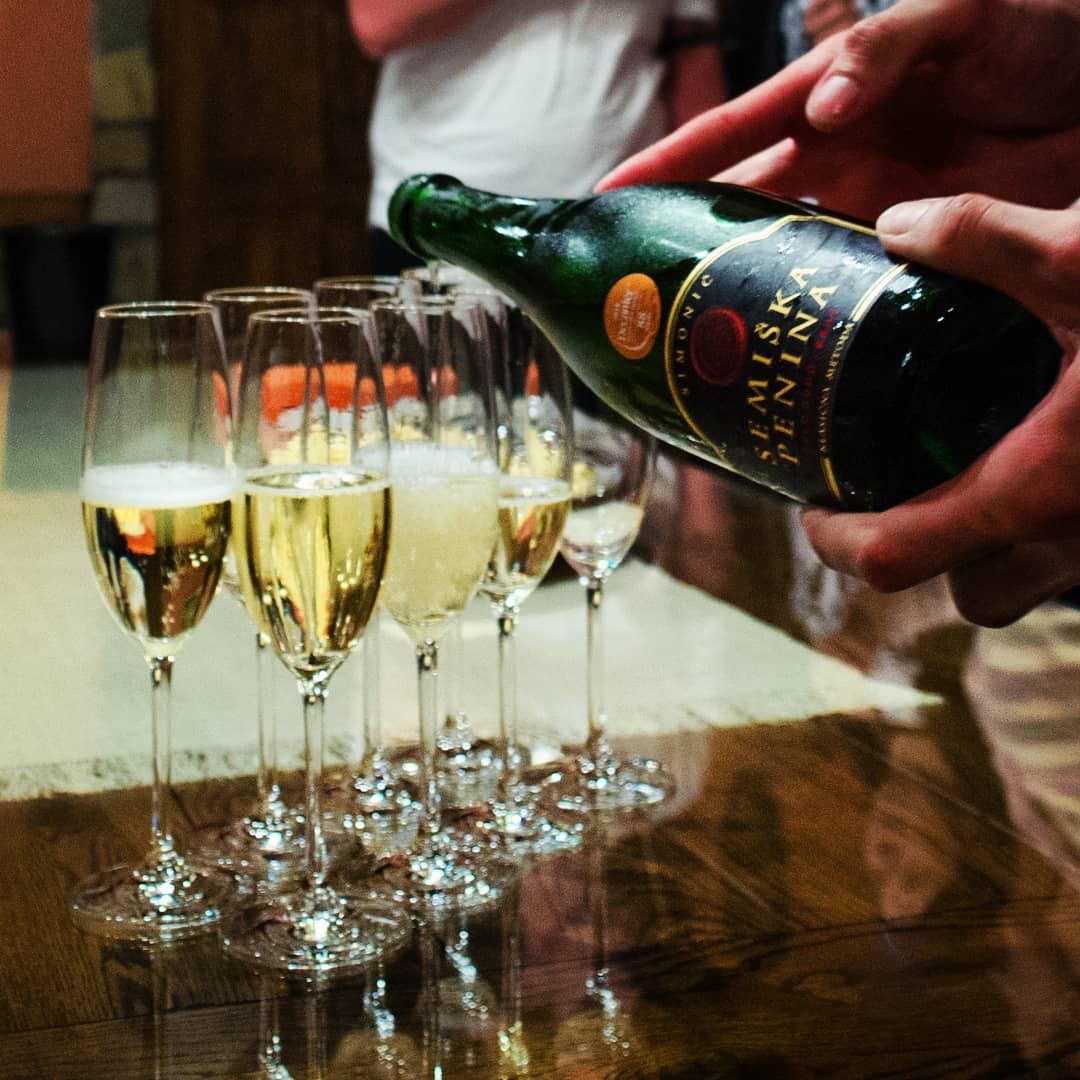 Photo: Semiška Penina
The other cellar visit was a mid-morning trip the next day to Semiška Penina. Penina, aka sparkling wine – champagne without the protected designation of origin ("PDO") – is my favourite, albeit because it's the one closest to beer. This was thus a magical trip, with a short tour of the cellar before the main order of business, tasting some of the company's nine varieties. True, a penina tasting won't take you on the same tour of colour and flavour that you'll get at a place serving red, white, rosé, orange and ice wines, but will delight anyone who likes bubbles (unless, and I travelled with one such a person, you can distinguish between big and small bubbles and love the latter, while disliking the former). I had a great time.
Osnovna Šola Bistra Buča is in a charming building that seems typical of the area. Photo: JL Flanner
The teacher is always right in 1957. Photo: Paul Bradbury
Because I was travelling with Slovenians and Croatians we also made a stop at Osnovna Šola Bistra Buča, a charming building with a classroom from the 1950s and a teacher to match. Played out via the character of a strict but comical pedagogue, visitors will experience an entertaining lesson based on the region, it's history and customs, and even if I didn't understand every word the laughter of the others told me all I needed to know. So don't plan a trip here if you can't speak Slovene, but if you can then put it on your list of fun but not essential things to do in the area (you did, after all, come here to do nothing).
After a few glasses of karapampoli you'll be ready for your Bela krajina passport: Photo: Paul Bradbury
We also stopped for a snack at Gostilna Badovinac, a restaurant that's been in the same family since 1896 and kept enough customers happy that the owners have long since been able to follow their passions and not worry about chasing the market. In addition to presenting local food in its purest form, one such passion is karapampoli, a schnapps made with over 30 ingredients that the current reigning Badovinac will be happy to list for a few seconds before waving his hands with an "and so on…" Delicious and no doubt good for almost anything, it's also very strong, so don't have one if you're driving – Slovenia has strict laws and the roads are narrow and windy. Do, however, consider picking up a bottle to enjoy back at Big Berry or elsewhere, as it's only sold here.
"Papers, please". Photo: Paul Bradbury
Another passion the family pursues is more quixotic, but also explains some of the charm of Bela Krajina, and some of what makes it distinct, as all regions are, from the others. The restaurant serves as the check point for entry into the Free Territory of Bela Krajina, or Svobodna Belokranjsko Ozemlje. This is for two reasons. One is the fact that in the Second World War the region was a centre of anti-fascist resistance, home to the Yugoslav Partisans and the site where many Allied prisoners escaped to (as recounted here). Another is part of a broader tourist promotional effort, whereby visitors can purchase a passport (€6) for Bela Krajina that gives discounts to many businesses and attractions, and also collect stamps as they travel the region. The details entered in the document include your name, official ID number, nationality, waist size (guessed) and nose colour.
A sign showing the Gostilna's status as a checkpoint for entry to the free territory of Bela krajina. Photo: JL Flanner
Those interested in World War Two history will many stories in the region. Photo: JL Flanner
And that – some eating and drinking, a short detour to see a US bomber from WW2, along with some sitting around on the porch and in the jacuzzi with a book – was all I did during my two days at Big Berry, taking full advantage of the location and facilities to disconnect as much as possible from my regular concerns and reconnect with food, drink, myself and my companions. I left feeling refreshed, but also ready to come back, do even less and not take any notes. You can learn more about Big Berry at the website, here, while the general site for Belja krajina is here.