British expats Will and Saira Aspinall moved to Slovenia in 2018 to renovate their 400-year-old farmhouse into a small, family-friendly hotel. While the renovation continues, they have broadened their tourism business to include a vintage caravan mobile bar, and now a boutique hotel room with a twist.
Contained neatly in a 1979 Adria caravan, the 'hotel room' was completely refurbished and redesigned by Will and Saira during the lockdown period in Slovenia, and it is now located at ECO River Camp in Radovljica. Named Number 26, the caravan is available to book this summer for stays of two-nights or more.
Complete with a sun terrace overlooking the River Sava, Number 26 aims to offer campers a taste of luxury in the middle of nature. It is equipped with solar power, a full-size double bed, wooden shutters and an interior design scheme inspired by the old-world glamour of the Orient Express.
As Will Aspinall says "I love the way Number 26 embodies the history of tourism of Slovenia.  Adria caravans are a piece of Slovenian history – they were first manufactured in the former Yugoslavia and the company has been inspiring adventures for over 50 years. Now we have updated this 1979 model to accommodate the modern vision of tourism in Slovenia: green, five-star travel. I love the retro design and the rich history of these vehicles; the previous owners shed a tear when they sold it to us, as they had enjoyed so many wonderful holidays in the van. Now we hope a new generation of travellers will enjoy it too!"
ECO River Camp is a small, self-sufficient camping site that operates completely off-grid, using water collection principles and solar power. The campsite is run by local couple, Anja Adamlje and Anže Bertoncelj, who are committed to eco-tourism and preserving the natural surroundings of the camp. Close to Lake Bled, the campsite offers easy access to all the most popular spots in Gorenjska but in a calm environment, with plenty of personal space for everyone.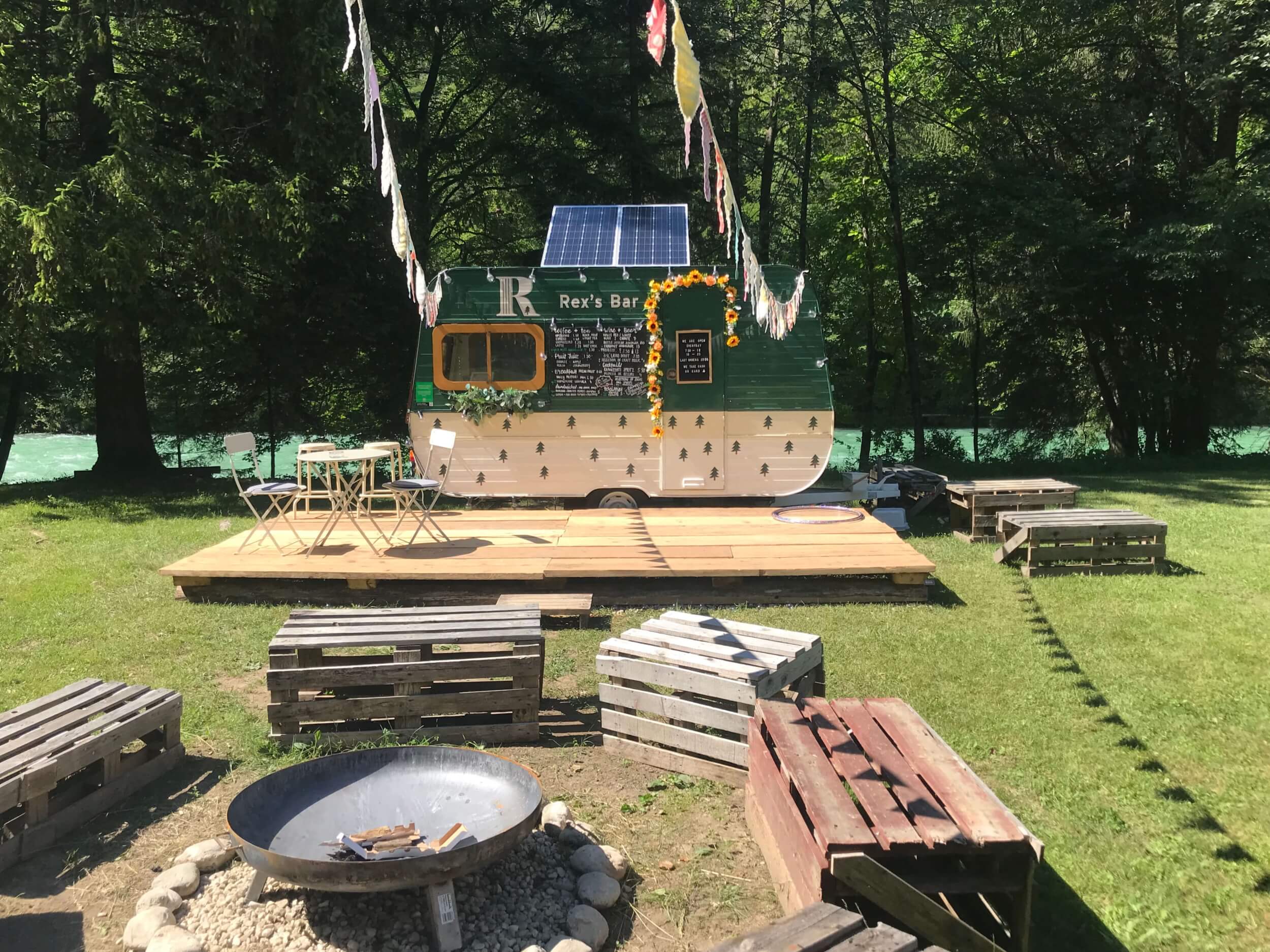 The camp provides all necessary amenities and offers an open-air kitchen and dining space, though most guests enjoy breakfast, dinner and drinks from the onsite caravan bar, also renovated and run by Will and Saira!
Book your stay at 'Number 26' on Booking.com now: www.booking.com/hotel/si/eco-river-camp-globoko. Follow @slovenianfamilyaspinall and @ecorivercamp on Instagram.