Trubarjeva cesta is one of the most colourful and dynamic streets in Ljubljana, with every season bringing some new stores or restaurants that try their luck before going on to bigger, better places (like Kralj Žara's move to Kongresni trg), or disappear without leaving a memory. It also attracts an increasing amount of tourist traffic, with a number of hostels along the way, as well as serving as one of the main channels by which guests staying at the Hotel Park make their way to and from the centre. Despite this the street remains less gentrified than the old town, and has more businesses that are supported by locals, although I'd expect that number to keep falling each summer, while that of those selling ice cream and trinkets to rise.
But whatever lies ahead, and whatever the reason for the shoes hanging overhead, it's one of my favourite streets in Ljubljana, so a quick stroll down Trubarjeva, with a few things to look out for, as of December 2017.
JL Flanner
From Prešeren Square the street starts with the Lekarna pharmacy and Galerija Emporium. The latter is an attempt at a high-class fashion label store, but the crowded space seems more like an airport mall than something you'd find on the Champs-Élysées. That said, it's housed in a wonderful Art Nouveau building from 1904, the Palace Urbanc, with a grand staircase inside, although one that's now a little overwhelmed by all the bags and belts and shoes. So don't feel embarrassed if you feel the need to take pictures and stare, especially at the glass canopy above the entrance. It's not just a department store, but legitimate introduction to the secessionist wonders you'll get if you turn left and walk along Miklošičeva ulica, up towards the rather similar Grand Hotel Union.
After it was Palace Urbanc, but before it was the Galerija Emporium, this building was a department store known as Centromerkur. That name and some of its trade live on next door, in what's likely the best haberdashery store downtown, the place to go if you need elastic, pins, needles, buttons or Velcro. Highly recommended of its kind.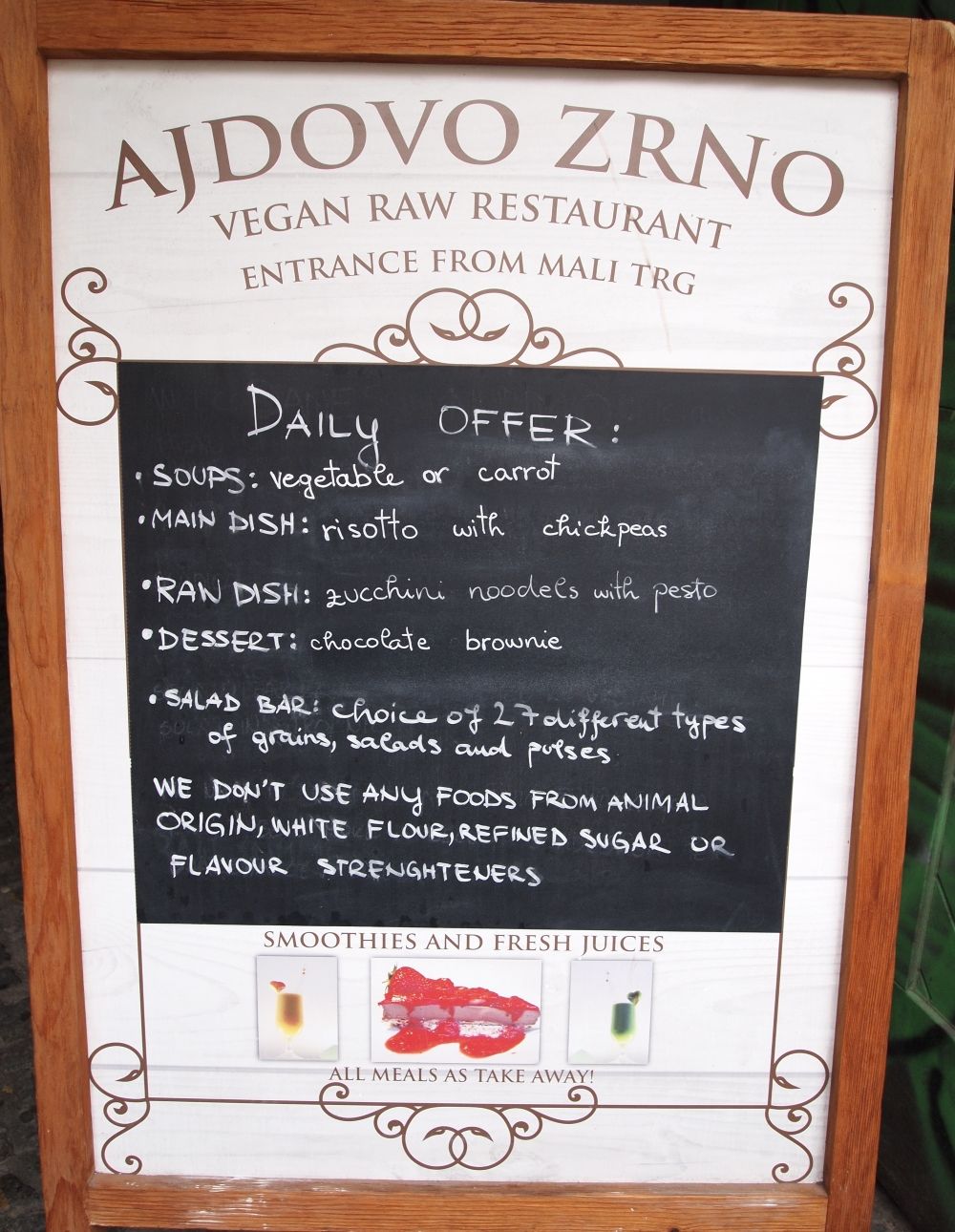 JL Flanner
The next stores of interest are Zrno do Zrna and Klobuki Mimi, a health food and hat store, respectively. The former has packaged goods and fresh, prepared foods to go, as well as potions and lotions, while the latter seems to sell handmade hats. Just next to Klobuki Mimi is the entrance to Mali trg (Little Square), a reminder of the hidden, if modest, delights that can often be found if you take a small detour. Among the stores here, perhaps the most notable are the vegan restaurant Ajdovo Zrno, and the pet store Smrček, one of the few in this area.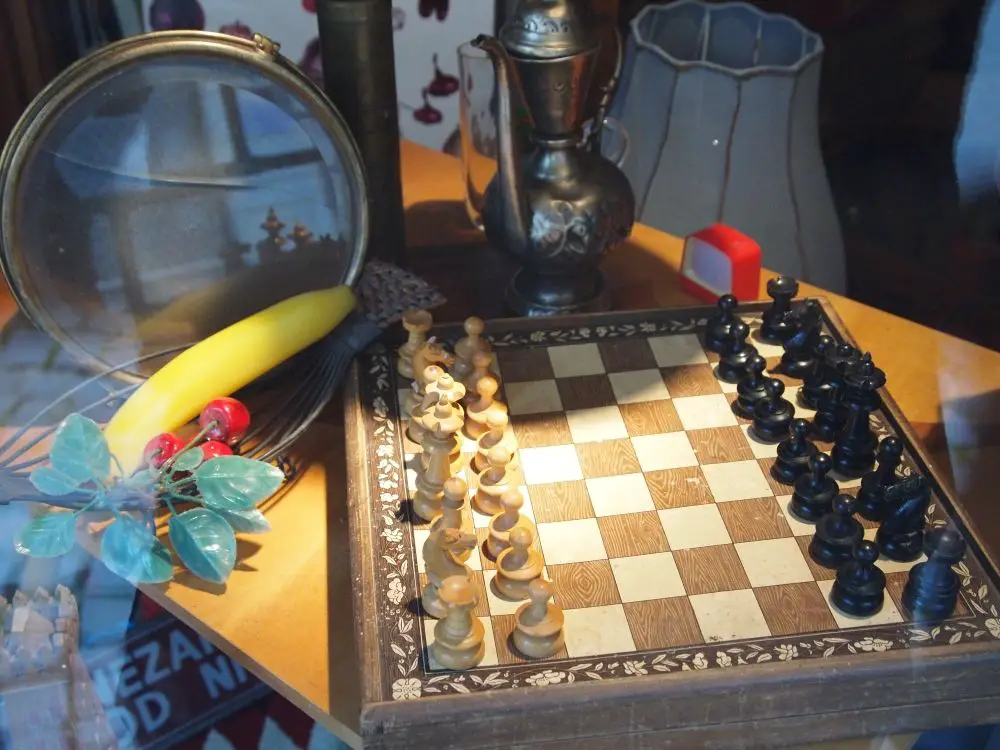 JL Flanner
A little further up from the entrance to Mali trg is Antika Carnolia. This is an antique store with odd opening hours and an interesting owner, and even if closed the windows are always worth a look, evolving week by week. Inside you'll find a well-curated selection of objects, artworks and curios, with the art going back a century or more and up to the more recent past, with works by NSK, the group that spawned Laibach, Irwin and others, often on display.
Moving along Trubarjeva, the next bunch of things starts with Mladinska knjiga, a small branch of the country's main book chain, which has a fair if rather small selection of Slovene and foreign language books and magazines, well-suited for vacation shopping. Opposite this is Bazaar, a head-shop that sells the usual rolling papers, pipes, bongs and accessories. Visitors should note that marijuana remains illegal in Slovenia, although its flowers are often burned in protest.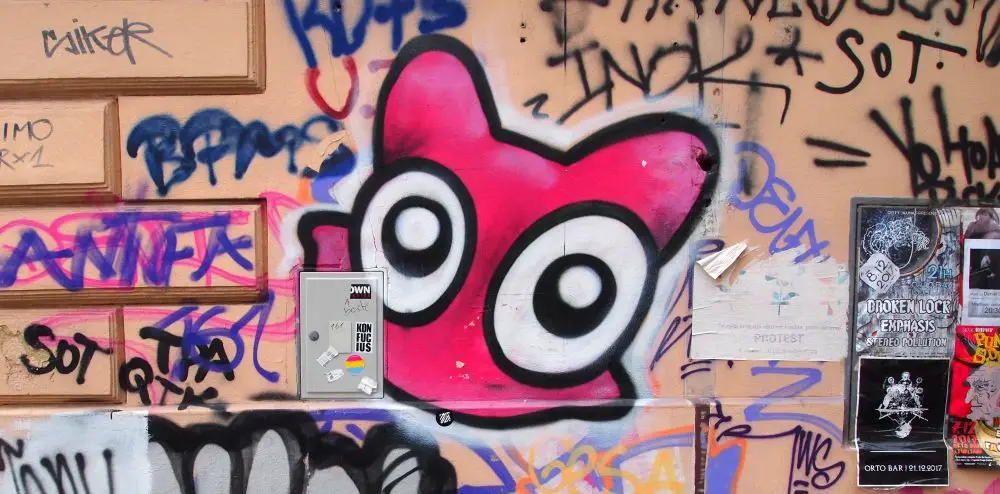 JL Flanner
On the other side of the road is an interesting little store that's rarely open and sells only umbrellas and parasols. This curiosity is part of the block that, if followed up either of the side roads, comes to a point in the Mala ulica playground. The bar opposite the umbrella store is Reformator, a place that seems to be either dominated by the regulars who sit outside and watch the world go by or almost dead. It's a nice bar, in an odd location that makes no sense until you see it on a sunny day with the outside tables full, when it can be a lot more appealing than the riverside.
You can see one of the regulars in the following video, talking about the tradition of hanging shoes over the street.
Continuing along Trubarjeva, away from Prešeren, and you'll come across a small store called Svilna pot (Silk Road), that sells Asian groceries, including spices, sauces, candies, frozen items and instant noodles. Although it looks expensive, many things are cheaper than in the more utilitarian-looking Asian stores on the outskirts. It's also one of the few places to get certain things in the centre of town, so take a look if interested.
 JL Flanner
The only used bookstore on this street is Slovensko-Srbski Klub, which seems to stock mostly Slovene and Serbian books, although there are some in other languages if you take a look around or ask. The front windows are divided by pictures of local authors, with Žižek's face having been scratched out some years ago and not yet replaced. (And whatever you think of the man be aware he's often spotted in this neighbourhood, along with, although not actually with, the artist Ulay. So if you see any men who look like these two, congratulations, you've probably seen them. Now keep your eyes open for Dejan Knez as you walk further along.)
There's then the other side road up to Mala ulica, Prečna ulica, where there's Patrick's Irish Pub and, if you keep going up and around the corner, a large Rayher art and craft store.
The next landmark is Centralna postaja (Central Station), a big bar with outside tables that gets packed in the high seasons and student party nights. It seems to be the main sport for beautiful young folk on the street, and as such we never go there, preferring the more anonymous, less glamorous and cheaper places at the end of the road (of which more later).
Vapers have two stores to meet their insatiable need for ever more outré juices and optimised coils, the first one in this direction being Nimbus, which kicks off another short run of interesting places. The longest of these is the Hiša sanjajočih knjig (House of Dreaming Books), which is packed with books, although few are in English. It's notable for the regular events it hosts, with readings and discussions, and is also one of the places where you can pick up the latest Mladina on Thursday night rather than Friday morning, if you want to stay ahead of the game and impress the cool kids of Centralna postaja with your knowledge of the latest Leftist debates.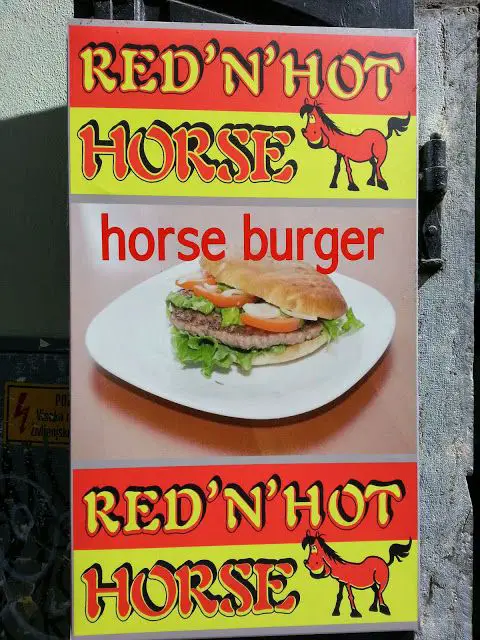 JL Flanner
Along with the book store is a one-two hit of Indian things, with Kashida selling clothing, incense, jewellery, knick-knacks and so on, while Namaste Express sells pretty good Indian food, although not very spicy—as seems to be the case with most Indian, Thai, Vietnamese and so on here—so ask if you're looking for something with more kick. Next to this is the former Hot Horse Burger, which is now known as Šerherezada. This still seems to sell the original horse burger, although more popular are the kebabs and other items. This is a good, clean and reliable place, but note that unlike the other kebab and fast food joints coming up it doesn't sell beer.
This part of Trubarjeva, which ends at Resljeva cesta, closes with Elementare one side, and Pekarna zmajski most on the other. The first is a kitchen and furniture design store, which looks too rich for my blood, while the second is a bakery that stays open until midnight. The bread and other baked goods it sells are far from the best in town, but it's always open, does good business, and I've eaten there without incident.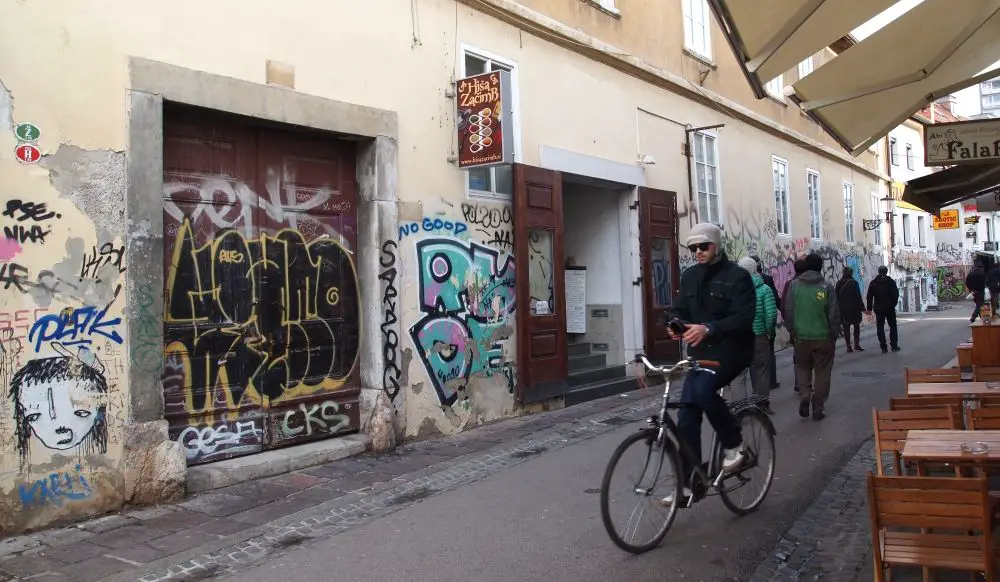 JL Flanner
If you're at this part of the Trubarjeva you're probably distracted by Dragon Bridge, but nearby there's also Natraja Studio, which offers yoga, dance and other classes, next to Textile House Second Hand, a large and well organized used clothing store that regularly gets in all-new stock and then has a countdown sale over the next few weeks.
On the other side of the road and in a basement is the Obsešen store for skateboards, snowboards, rollerblading, and the like, while over this is a hairdresser's whose name I live in fear of misreading, Cut'n'Go.
We now come to perhaps the most interesting part of the street, at least in terms of variety. The anchor at this end of Trubarjeva is Hiša Experimentov (House of Experiments), a fantastic little science fair/project that's full of exhibits for visitors to play with and explore various phenomena. When you buy your tickets you should be offered a printed guide in another language if you don't read Slovene, but even without this you can have fun. On weekends there are presentations in the early evening on different scientific concepts. These are aimed at children and in Slovene, and so of interest to adult learners of the language.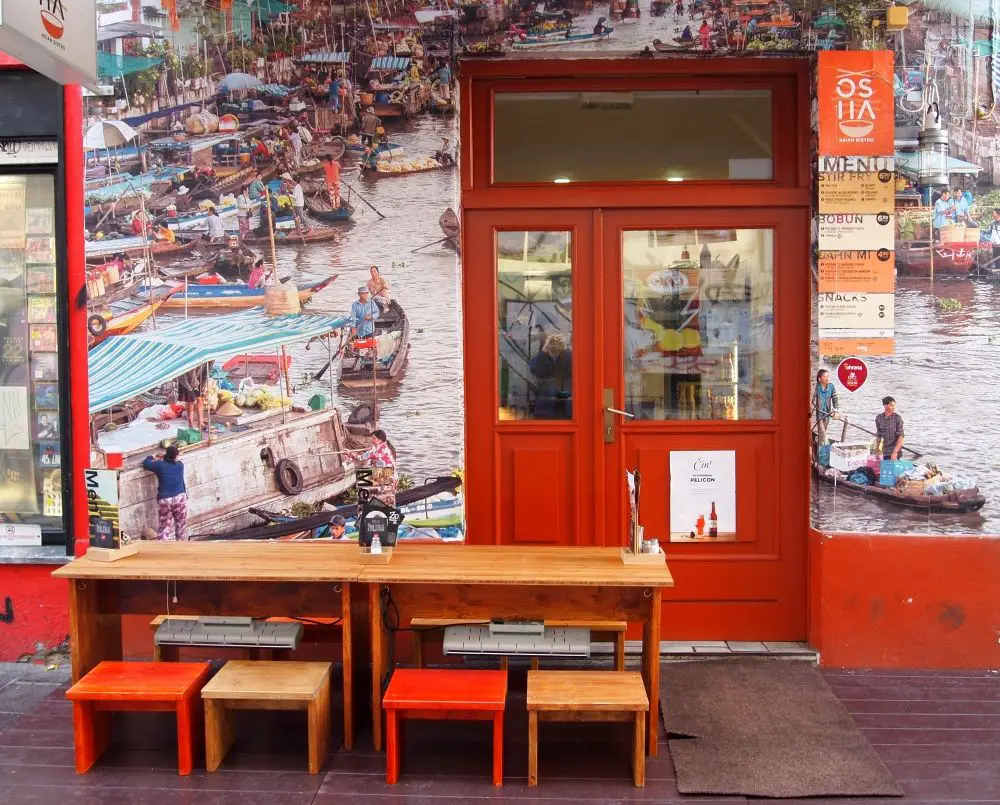 JL Flanner
Opposite the House of Experiments place is Abi Falafel, a popular restaurant for food to take-away or eat in, and, like most of the other food places coming up, you can buy beer here too. Just up from this is Osha, a relatively new Asian place that has some Thai and Vietnamese food, and this is next to the store Jazz & Blues Ploščarna, which sells CDs and vinyl and keeps the street alive with the sound of whatever the owner is playing. Opposite these is Hiša Začimb, the House of Spices, and here you'll find what's almost certain the best selection of whole and ground spices in town. And the fun doesn't stop with exotic groceries, as the next place is Čompe, a grilled meat restaurant that's usually fully booked, and which we're written about in more detail elsewhere.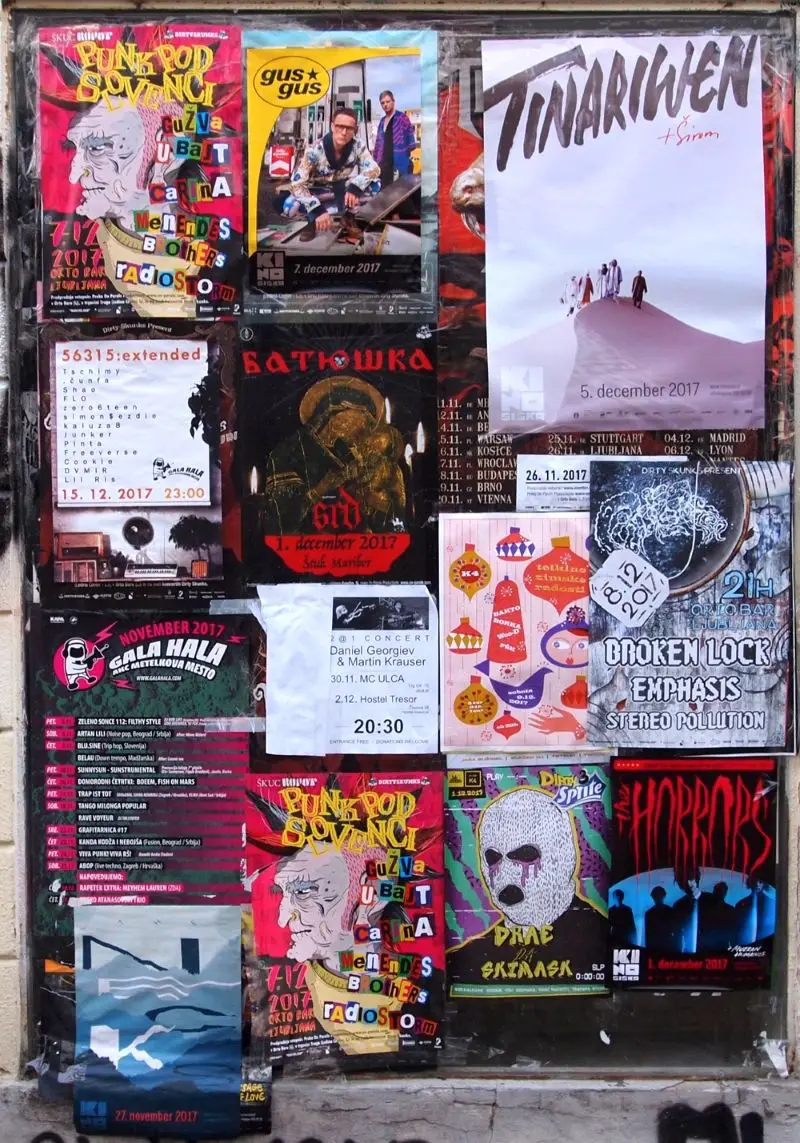 JL Flanner
You're now in the belly of the beast of Trubarjeva, where things start to get a little funkier and the graffiti more common, the bleeding edge of gentrification. To that end there's a Venera sex store and the Red Cat tattoo parlour just yards from one of the city's highest rated restaurants. The outside wall of Venera is a pretty good place to see the latest posters for upcoming events at some of the more overground underground clubs, so stop here and check things out.
The next place is Libanonske meze in drugi užitki, which translates as something like "Lebanese food and other delights, "which is what's on offer in a restaurant that's good, but not cheap compared to some of the offers nearby (although it does have a great ambiance, with lots of cushions and less of the bright lights and bustle of the take-away places with seating). A little further up is Mačkon, a bar with a hardcore of locals that still welcomes visitors. The owner has a big, well-tempered dog that often patrols this end of Trubarjeva, looking bemused at the tiny dogs that yap at him.
A new arrival here is the Rustika's pizza venture, Pinsa Rustika, with its old ice cream and chocolate store now remodeled and selling gourmet pizza by slice and weight. Here's what I thought on my visit.
Že v Redu Primož?/Facebook

Opposite this is a little courtyard which features a branch of Kebapči, an excellent kebab place that sells beer to go, although if you want something more than Laško/Union you're better off sticking on Trubarjeva and hitting Že v Redu Primož?, the first explicit reference to the foundational Slovene author Primož Trubar thus far. The name means "Are you OK, Primož?", and it's a fair question to ask anyone called Primož after a few hours spent with the brews available here. Bottles and cans of Slovene and other craft beers are on offer, with the best selection in the street and a bottle opener on hand if you can't wait to get home before trying a purchase. (You can learn more about  the owner here, as well as his pub on the other side of town.). Outside and there's a basement bar with a black and white sign, Klub Respect. I've never been there, but it sells pizza and fries and is open until 03:00, which is enough to get it noted on this list.
 Rounding out this very active part of town are a few more sedate places. Zelena Štacuna on one side is a windowless store selling everything you need to grow marijuana, which, as noted above, remains illegal in Slovenia. Across from this is the second vape store on the street, Vape On, next to Canton & Co, which sells wines, spirits, oils and more from Spain.
We're now at about the end of the pedestrianised part of town, which we reach with the Trubar bar, a solidly local place with a TV inside set to the big game or cable movie, and one of the best places to sit outside in the warmer months and watch as people come from the Hotel Park, because this is the corner where they suddenly see "the real Ljubljana," the one they've seen on the Internet. This junction also has a so-so Chinese restaurant, and newly opened Greek place, Greeko, the third restaurant in this space in the last three years.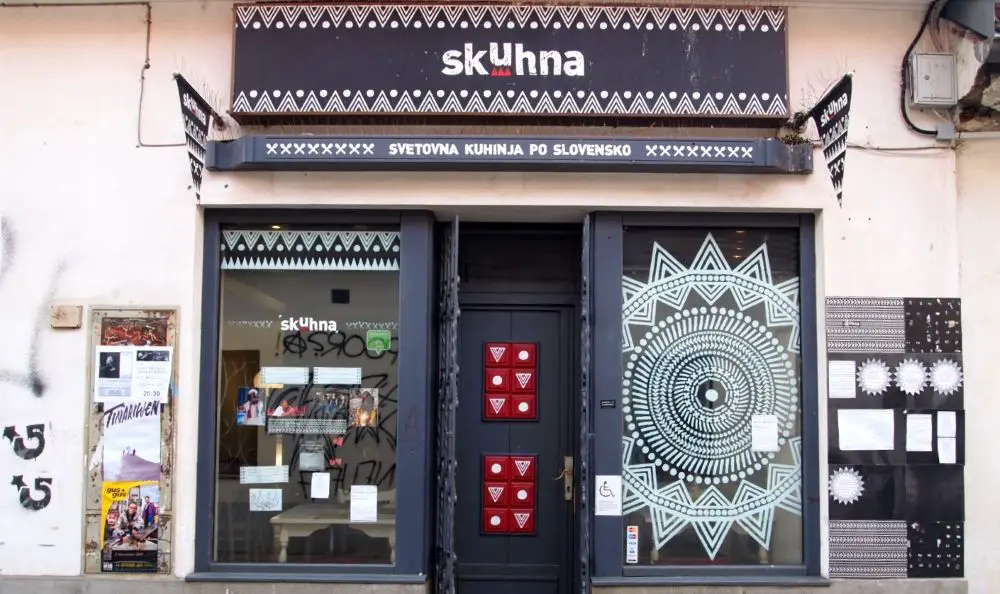 JL Flanner
Beyond this, a few things of note before you wander off into the great unknown. The first of these is Skuhna, a local institution that offers a different ethnic cuisine each night it's open, so check the Facebook for details of the food and if there'll be any live music. If not, then the sounds will be coming from the store opposite, recordslo.com, another second-hand vinyl store. There's then a Bangladeshi / Indian take-away, Tandoori, that's open late but sells no beer.
JL Flanner
Keep walking after this, and you'll soon come across some ever-changing graffiti murals, which mark the outside wall of Rog, a former bicycle factory within whose crumbling walls and broken windows is now a hive of artistic, political and skateboarding activity, a would-be Metelkova that seems likely to fail due to competing urban redevelopment projects. Check the entrance doors for posters advertising upcoming events, and enter the space at your own risk. Continue on and you'll come to Bar Trenutek, a kind of half hip half derelict place that marks the end of the street and is mainly notable for being a good place to be drunk at any time without attracting attention, and for selling cigarettes and take-away beers late at night. There's also a small bicycle store, but these are for purchase and not for rent, and all that remains of the block's cycling heritage.
JL Flanner
One last thing—if you hear more ambulances towards the end of the street, don't worry. A big hospital is just up the road, and everything's going to be all right.