After burgers it's perhaps the turn of pizzas to get the gourmet treatment in Ljubljana, and while Pinsa Rustika aims high, it also has no seats, an intimidating pricing system, and some confusion as to how hard to push things in any direction.
You might know the Rustika name from the small chain of good ice cream and chocolate stores that the same company operates, and the closing of their Trubarjeva branch at the end of the summer was a loss, with the long-covered windows promising something new.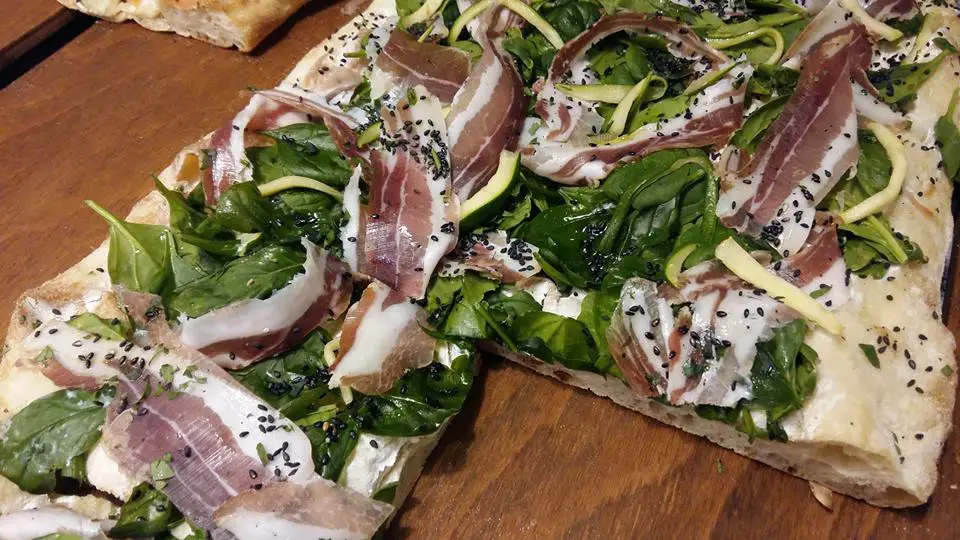 It finally reopened a month or so ago as Pinsa Rustika, a take-away pizza place said to be in the Roman style, with long pies that are sold by the slice, with the slices cut with scissors and the sale done based on weight. It's here that the cautious diner is given pause, as there's no indication of what the cost might be other than price per kilo, which is over 20 EUR in most cases.
It was packed in the first weeks of business, and I looked through the windows several times without taking the bait, but then one night I was hungry, drunk and spendy, which is the best way to walk into Pinsa. I bought the two slices pictured below for 10.92 EUR, about the same price as a big delivery pizza.
Photo: JL Flanner
Now it's the holiday season as I type this, and so once again hungry, drunk and spendy I went back a few days later for a smaller slice at 5.18 EUR and a small can of Union beer at 1.90. The menu includes Poretti draught beer, although this was not available on my visit, and in the future wine may also be sold.
So the first thing to say is this is expensive take-away pizza, with an element of risk in your order that means you want to check your wallet before popping in for a slice, and certainly before deciding to treat the whole family, where things could get prohibitive, fast. But the second thing to say is that the pizza is good, with a crisp underside and a base that's chewy in a good way. The toppings are generous and imaginative, and – because of the way it's sold – you can get a clear look at what you'll be getting. Your purchase can then be reheated in the store and eaten there, standing up, or packaged and taken elsewhere.
Overall, this is good pizza by the slice, and an interesting addition to the street's thriving food scene, although the pricing system is rather unwelcoming, and especially so for those on a limited budget, who will need to keep walking to find something cheaper, perhaps down to Fany & Mary by the river.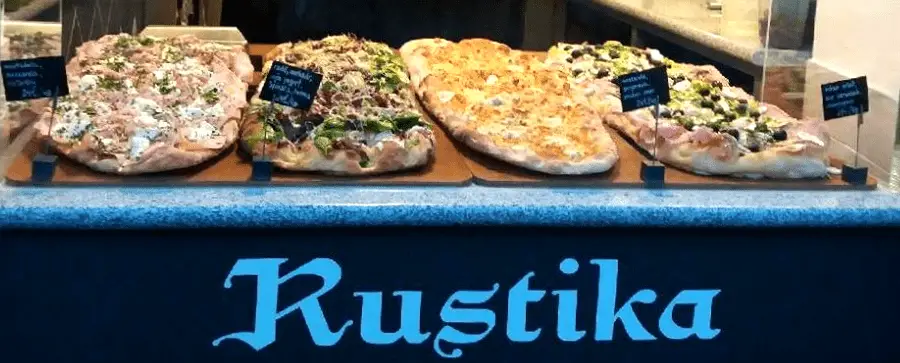 I'll be interested how Pinsa Rustika fares through the low season and if it does well in the summer, and what that might mean for the street. Still, the truth is I live nearby and often get two big pizzas delivered for 20 EUR, including a tip, and that'll remain the case when the whole apartment wants to eat until they're full. That said, I look forward to revisiting this place later in 2018 and maybe writing another version of this, but in these early days it feels like a missed opportunity that could still be grasped.
Pinsa Rustika can be found at Trubarjeva 44, 1000 Ljubljana, and is open from 11:00 - 21:00.