Despite the growing number of Chinese restaurants, Slovenia still isn't a great place for non-European food, and it's only in the last decade or so that Ljubljana itself has seen more diversity with regard to its dining offers. Much of the excitement there is concentrated on and around Trubarjeva cesta, the colourful but rapidly gentrifying street that runs from Prešeren Square towards one or two of centres of contemporary culture, the Metelkova-Gallery-Museum quarter, and the newly opened Cukrarna.
I lived on the street my first few years in Slovenia, one of the less vibrant members of the immigrant community, albeit one with a long and abiding interest in the spicier end of cuisine towards the other end of Eurasia. Which is why when chef Ziauddin Ahmed started serving food from the subcontinent at Hotel Park (now the B&B) a few years ago I was a very happy customer, joining many others who travelled from far further afield to enjoy his work.
See the full menu. Photo: Zaika
I left Ljubljana two years ago, just at the end of 2019 and a few months before the lockdown put the hotels, restaurants, bars, cafés, clubs and so on through the worst times anyone can recall, and it's already clear that when this whole mess finally ends the scene will have changed significantly, with some businesses closing, others successfully evolving.
One of those changes to the scene involves Ziauddin, who in March of this year took over the small space at Trubarjeva 60 that previously hosted the Bangladesh restaurant. The place (Zaika) was fully cleaned and renovated, and set up for takeaway and delivery service, making best use of the small space and central location to bring colourful, exotic, and delicious new tastes to the street, with meat, vegetarian and vegan options.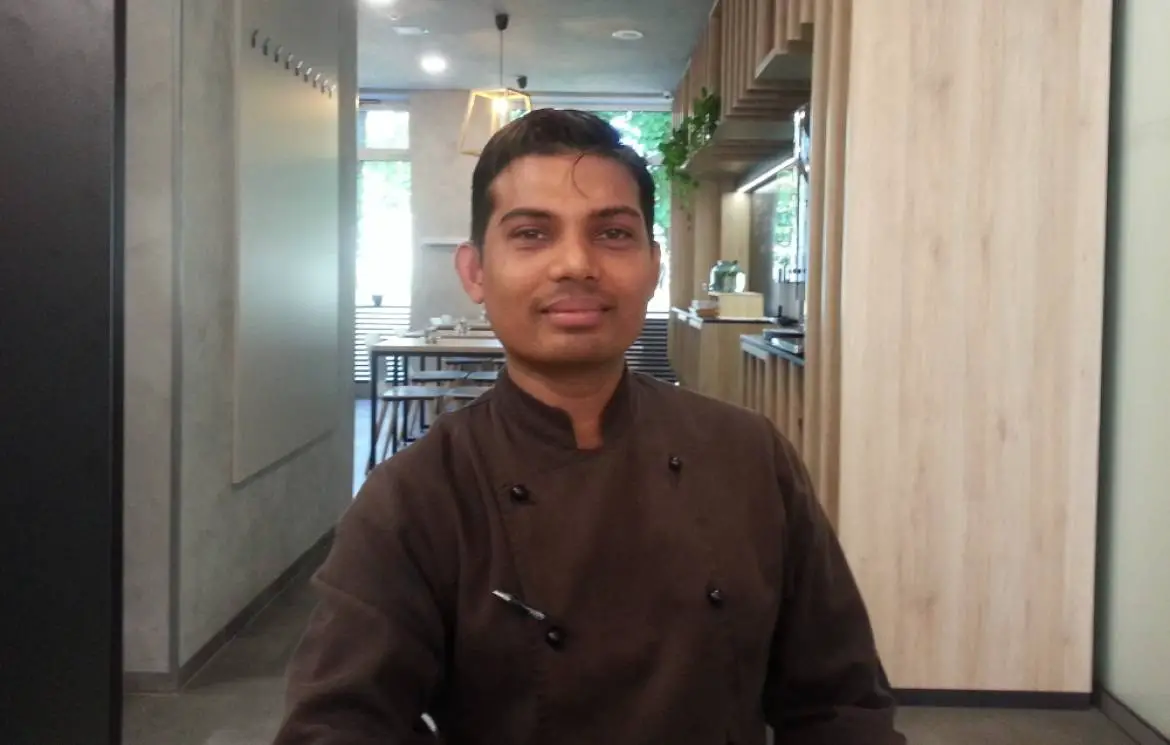 Ziauddin Ahmed, photographed in another location. Photo: JL Flanner
I know Ziauddin from way back, so here's a little of his story and that of Zaika, which you should check out and support if you'd like more of this kind of thing in town.
How did you end up in Ljubljana?
I'm from Kolkata, West Bengal. I did my master's degree in the hotel industry. After that I got a job in a five-star super-deluxe hotel, the Hyatt Regency Kolkata. So I started my career from there, and I worked there four and a half years, then I got a chance to come to Ljubljana as the head chef of Figovec, when it was an Indian restaurant, called Currylife Figovec, and then I worked at Hotel Park for a few years, until COVID changed everything.
Are people here open to trying Indian food?
Yes, many people in Ljubljana love Indian food– but still many of them are scared of trying it because their perception is that it's very spicy, maybe there's no option for vegans, and the like.
Slovenia is still a young country, so I feel it will take little more time for people to get used to Asian flavours, dishes and spices. That said, recipes are not written in the Bible, so you can change them and make good food according to a customer's taste-buds and choice, they just need to let me know before I start cooking. To my mind, that's the real difference between a chef and a cook. A cook just follows the recipe, but a chef can adapt it and always make something that pleases all of the senses, no matter what needs to be changed.

See the full menu. Photo: Zaika
How do you like Slovenia?
I like it very, very much. That's why I came back. It's a really beautiful country. I like nature and I am not a person for very crowded places, so i can say it's perfect for me.
You also have a mixed culture. Most of the year – when there's no epidemic – the city is dominated by tourists from all over of the world.so you can also enjoy the different cultured people here. And that's a very beautiful thing about this country. Not overpopulated, very nice people, very friendly.
What about the winters?
Honestly, I'd never experienced that kind of temperatures in my entire life . At my birthplace temperature goes maximum 10 degrees Celsius, and we think "oh, it's too cold". When I came here it was minus 15. I was scared that I'd die. But the human body can acclimatise very quickly. Now it's become normal.
What about Slovenian food?
Well, as a Muslim I can't eat pork, so when I go out I'm always a little bit scared, because most Slovenian traditional foods are dominated by pork or use pork fat to enhance the flavour. But I like štrukli, žlikrofi, prazen krompir, pasta, although bolognese, again, I worry there's a little pork fat in there, because fat always gives a good taste.
See the full menu. Photo: Zaika
How many people are working at the new place?
I'd like to get some help with the cooking, but until then I'm the only person here – ordering the ingredients, cooking the food, keeping the place clean and the customers happy.Enter
Who are your customers, and what things sell well?
I get both tourists and locals, because that's who comes to Trubarjeva. There's a great slection of Indian curries, but the best-selling items  are chicken makhani, tikka masala, subz diwani, hundi kofta, nazakat and naan.
Zaika offers service, takeaway and delivery of meat, vegetarian and vegan dishes from 11 – 21:00 Mon-Saturday. iIt's very easy to find at 60 Trubarjeva cesta, just down from the famed Trubar café, home to among the best doughnuts in Ljubljana, and – incredibly – still in business after I left town and stopped drinking there.
See the full menu. Photo: Zaika
That café, cake and ice cream store is in good company with the many other small eateries, bars and boutiques that make Trubarjeva a must-see street that's easy to overlook but much easier, and more fun, to visit, leaving you well-positioned for the various attractions there or just a short distance away, or a pleasant walk along the river, perhaps with an ice cream in hand and your heart open to the life of the city.