Slovenia is a small country, with just over two million people and a capital where it can be hard to find something to eat after midnight. But that doesn't mean it isn't home to businesses, artists and designers who can enjoy its sleepy charms while still engaging with the wider world. One of these is Olga Košica, a jeweller, artisan and artist who can be found working in the small studio she shares with Martina Obid Mlakar in Ljubljana's Old Town, designing, making and selling her pieces around Europe, in Asia, and elsewhere. Intrigued by her story, I got on my bicycle to learn more about how a small business, drawn from the hands and heart, could do all this. Along with some pictures of Olga's work, here are some excerpts from our conversation
I started my career almost by chance. I took a short course in college, an introduction to jewellery, and was fascinated. From then on I wanted to learn more. I couldn't do that in Slovenia, because there weren't the schools, so I applied to study in London, at the Royal College of Art, and was lucky enough to be accepted, and I did my MA there.
Photo: Olga Košica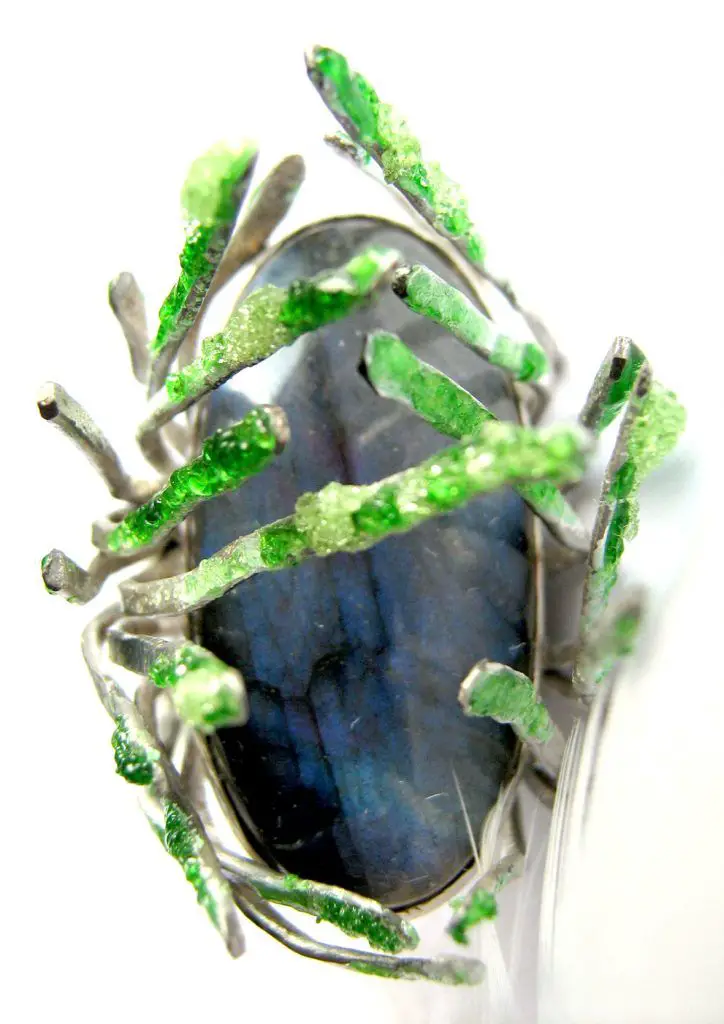 Photo: Olga Košica
I already had some basic knowledge, but at RCA they really encouraged me, and saw my potential. They also provided a lot of support, in terms of, say, technicians and equipment. I was there for two years, working every day, but it was wonderful, because there's everything at your disposal. It's a great school.
Photo: Mimi Antolović
Photo: Mimi Antolović
Back then I was rying many different things, and you can still see some of those pieces here in the store. A lot of them, like this necklace, were electroformed using wax, but – as you can see – this piece is falling apart, because I've loaned it out for so many fashion shows, photos shoots, and so on. I did a lot of electroformed pieces in London, which looked like coral, and also beetles, a lot of beetles, because when I start something it's like a production line.
Photo: Rok Marinšek
Photo: Rok Marinšek
I work freelance. This is my workshop, so here I can handmake certain pieces. But when I work for Zlatarna Celje I just make the designs, not the physical pieces. I've been working with them for 14 years now. I did some gold collections, but mainly I worked on their silver line – LENCIA.
Photo: Olga Košica
Photo: Olga Košica
Another project I spend a lot of time on is 3-D printing, which I do along with the graphic designer Rok Marinšek for the Chinese designer Masha Ma, to be used as part of fashion show at Paris fashion week.. They're made of polyamide, and they're really fun. We started about 6 years ago, when in Maribor they'd just got a huge machine. It was very exact, the best for its time, and they wanted some designers to use it, to see what could be done.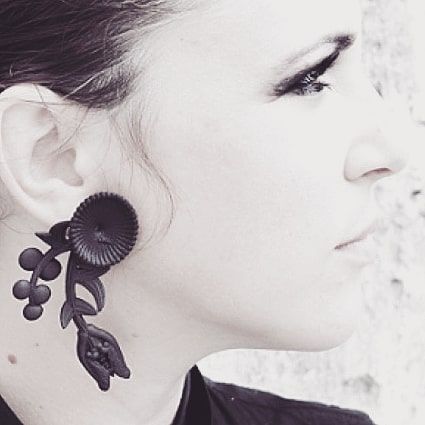 Photo: Rok Marinšek
Photo: Matjaž Banič
We played around with it and produced some really interesting things. Some of those were taken to Paris by Andrej Skok, a Slovenian stylist who works with Masha Ma, and that's how that collaboration started. We produce some of this here in Slovenia, but for certain pieces we send the files to i.materialise, a Belgian company.
Photo: Rok Marinšek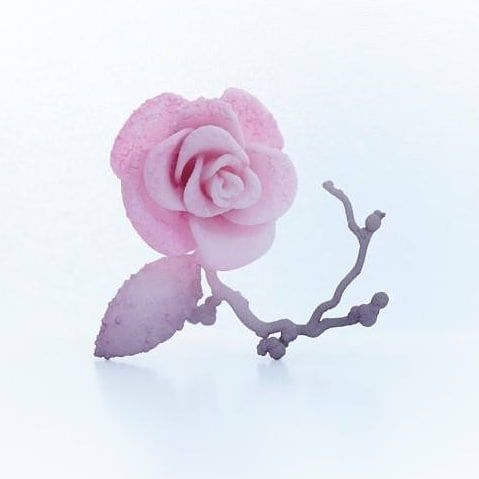 Photo: Rok Marinšek
I move between different projects and different ways of working. So sometimes I'm working on the computer, producing a file for 3-D printing, and with that you can go into incredible detail that wouldn't be possible by hand. For example, I made some 3-D printed frozen flowers, and you can see the ice. But these aren't real frozen flowers that were scanned, they were all designed. And then when you have the data of course you can change the size, stretch it, copy-paste it, move it around. In that way you can get a lot of different pieces out of one design element.
Photo: Mimi Antolović
Photo: Olga Košica
But then I also enjoy making the pieces myself, in the workshop, because that can be more spontaneous. Of course, people are surprised when they come to the workshop and they see the reality. Jewellery is very delicate, but the process of making it can be very brutal, and you need a lot of force to stretch metal, change its shape, or make some wire. Which is why this all used to be seen as men's work.
You can see more of Olga Košica's work on her website or, if you happen to be at the far end of Ljubljana's Old Town, visit her workshop instead at Gornji trg 26.