I have far too many textbooks for learning Slovene. I'm not talking about dictionaries, of which I have more than 10, and enjoy adding to in used book stores, or guides to the grammar (3), but those books that take your hand and present the language step-by-step with vocab, grammar, readings, listenings, exercises and so on. A way to pull it all together, pass the A2/B1 test (for nationality) and put you on the path to independent learning by doing, fluency and never having to buy another textbook again.
And truth be told, while there are excellent dictionaries and grammars, until recently I didn't have a textbook I'd recommend to anyone. They're all OK, but none of them do what a new book from Rada Lečič does, the last Slovene textbook I hope to ever open, until volume 2 comes out.
This is Slovene from A to Ž – Volume 1, the fruit of Lečič's more than 30 years teaching the language to foreigners. As such it's a comprehensive work that's as useful for teachers as it is for students, with 10 units and almost 200 pages of well'planned, varied and interesting lessons and exercises that take you from saying hello to being able to pass the prized A1/B2 exam – if you do the work, of course.
You might know Rada Lečič from some of her earlier works, notably the books on Slovene Verbs and Basic Grammar, which this volume obviously draws on.
Lečič has mostly worked with Italians, and thus the original version of the book was based on the lessons she gave to Italian speakers. But since the problems these face when learning Slovene are different to those of English of German native speakers she completely revised the text for those audiences (as seen, for example, in the different reflexive verbs used).
Of course it starts here...
...but it ends up much further away, with the first nine (of 10) units appropriate for a one-year course.
The book – which you can now find in stores and also order online – is a genuine personal project, with Lečič involved in every stage of the design process, producing a fully coherent and cohesive work that's as well made as it is written, with high quality paper and sewn binding that will stand up to repeated use and being thrown out the window when frustrated with skloni. 
Nearly all the words in the book also appear in the glossary - a mini-dictionary to support your studies.
Other things to note:
All texts in Slovene are also shown in English on the same page, and a full glossary is included at the end of the book. Much less fussing with dictionaries as you study.
Each unit introduces the focal vocab and grammar, and only that, then sticks with that for the readings, listenings and exercises, drilling it into your head.
Grammar (including the declensions) is introduced slowly, without overwhelming the user, and with 10 pages of grammatical tables at the end of the book .
Accent marks are shown throughout, a rarity on the scene, but also used in Lečič's grammar and verb books.
All the audio files are available online – no need to dig out a CD player.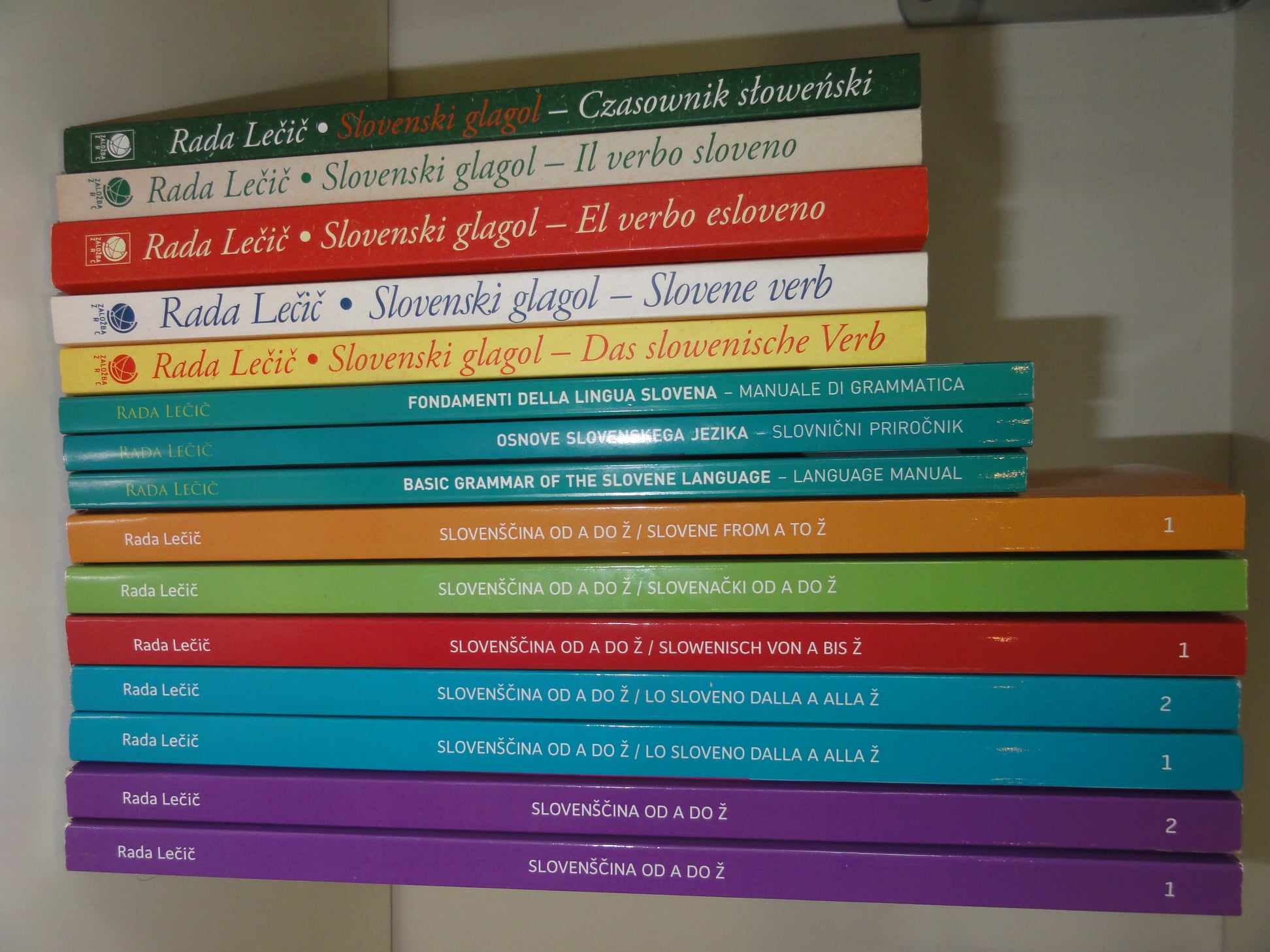 In short, Rada Lečič's Slovene from A to Ž – available in English, Italian and German editions – is a top quality book that wasn't rushed out to meet a deadline or tick a box. Instead it's the result of decades of teaching the language, knowing how best to present things (and when) in order to set you up for success as you embark on the exciting, and often frustrating, journey of learning Slovene, no matter how many times it goes out the window.