Ljubljana's gourmet burger scene is a strong and growing one, with both dedicated restaurants and pop-up festivals dedicated to bringing the best out of simple ingredients. One such place is the Hood Burger chain, which started as a humble stand in front of Sax Pub, Ljubljana, in 2012.
The Lady Marmalade: "Voulez-vous manger avec moi, ce soir?"
The concept of high quality ingredients served with respect found immediate favour with customers, with the owners, Til Pleterski and Klemen Ptičak, opening their first permanent location in Vič later that same year. Since then the company's gone from strength to strength and now boasts four locations, three in Ljubjljana (Vič, BTC and Nazorjeva Street) and the latest in Celje (at Prešernova ulica 10, Celje).
To mark the occasion, do some good for the local community and underline the chain's commitment to fine ingredients and innovation, Hood has announced a new product, available for just 12 days, the intriguingly named Lady Marmalade. But the name is far from the most interesting thing about the latest addition to Hood's short menu of burgers, fries, chicken, shakes, sodas and beers. It'ss a collaboration with the chef Janez Bratovž, the doyen of Ljubljana's fine-dining scene and the man behind the initials of JB Restavracija. In short, not someone to throw ketchup on a burger and be done with it.
As Janez said at yesterday's launch:
When the boys invited me to participate, I was honoured, even more so when I learned that it was for a good cause. I immediately had a basic idea in my head, and then with Til and Klemen, who are truly burger experts, I have developed and supplemented it, so I am very happy with the end result. The rise of street food like this is a reflection of the fact that we live faster, we do not have one hour for lunch, but the quality of street food is thus very important. Hood Burger provides this. Til and Klemen take food, and really make sure that the bread, meat and other ingredients are top-quality.
The item itself is described as a sophisticated burger, both strong and gentle, and I'd just say it was delicious, as I discovered at the launch last night. The tasty bun and burger, the latter produced using Hood's standard smashing technique, is complimented by a thick slice of Lombardy gorgonzola, a jam flavoured with Brda Merlot, some thinly sliced radicchio, enriched with a custom vinaigrette dressing, along with some onions and crisp pancetta – a taste of the Karst region you can hold in your hand, and one that goes equally well with a glass of Bevog or Union
Related: Ljubljana Burgers – the case for Hood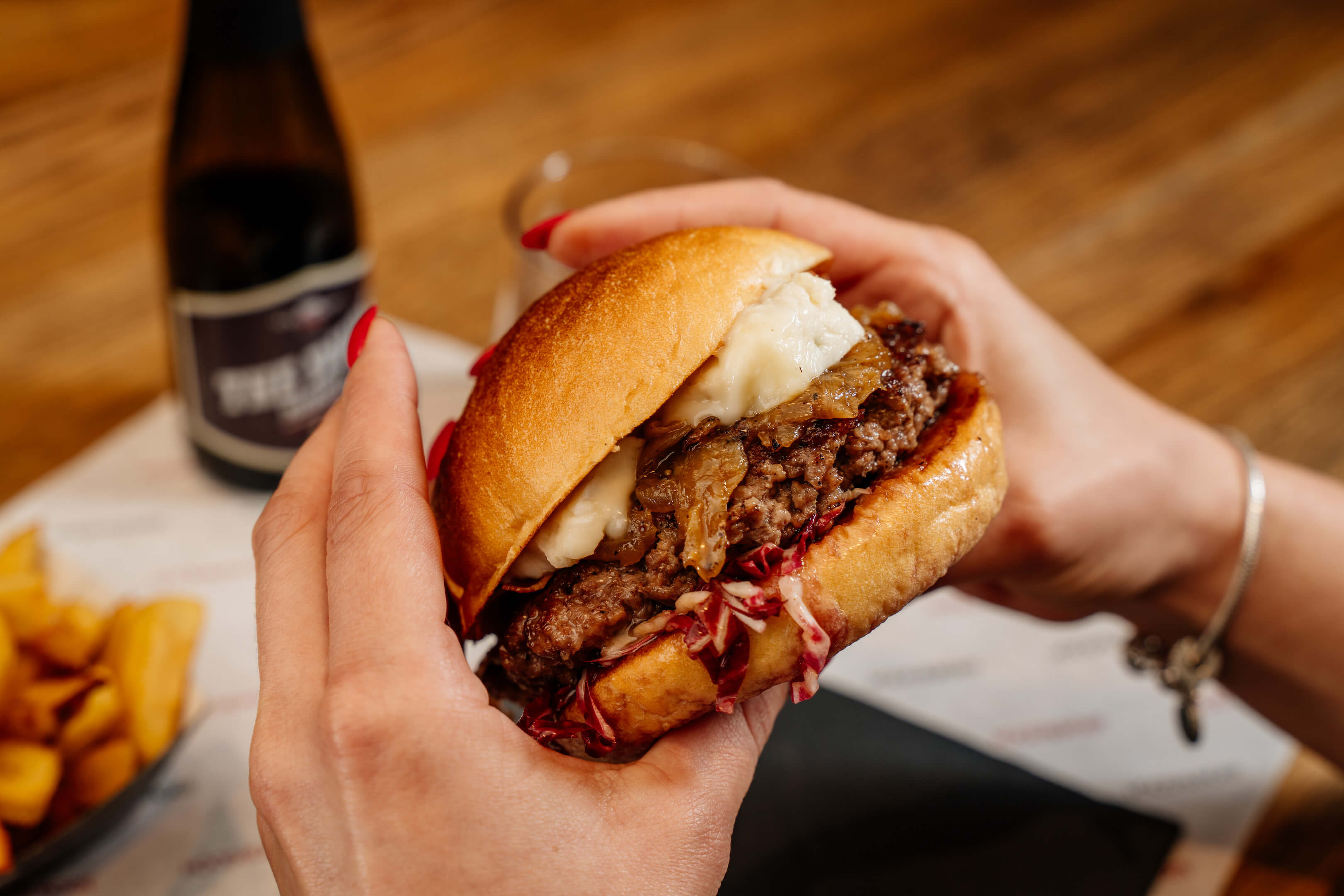 What's more, from each one sold Hood is donating €1 to the Gynaecology and Maternity Department of the General Hospital Celje. There's thus no reason to feel guilty the next time you pop out for a burger, as it'll both taste good and do good, while enabling you to say, in all honesty, that yes, you've eaten food by Janez Bratovž.
The Lady Marmalade burgers will be on the menus of all four Hood locations from today until June 2, so catch them while you can.