November 29, 2018
As has been reported on many other occasions, there are "three good men" that bring gifts in Slovenia in December.
These papa Smurf clones arose from attempts by various ethico-political systems to erase the "barbaric" pagan rituals that have taken place during the Winter Solstice since pre-history, and after failing to get rid of them they were adopted and restyled in the image of the dominant "religion", assuming various roles to meet the political demands of the day.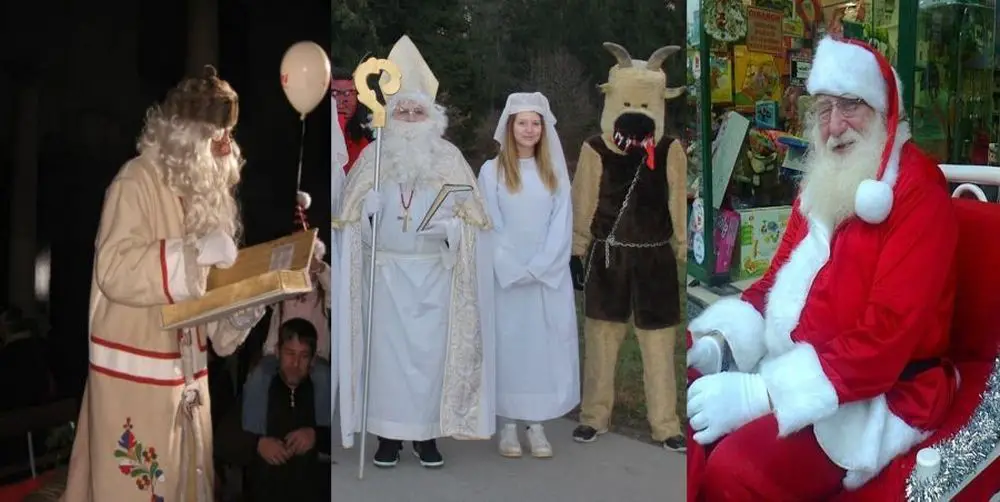 Dedek Mraz, Miklavž, Božiček
Currently in Slovenia, St. Nicholas (Miklavž), who brings gifts to children on the Eve of December 6, and Grandpa Frost (Dedek Mraz), who brings them on New Year's Eve, are in increasing competition with each other as much as they are with Santa Claus. Božiček, or the Little God, contrary to expectations, is in fact the one most closely associated with Slavic pagan celebrations of the Winter Solstice, one of the two most important pagan holidays, with this being one possible explanation as to how and why the birth of Jesus was chosen to be celebrated around this particular time.
So the first one to arrive, St. Nicholas, is a saint, known for his good deeds, also a protector of sailors and fishermen, which is why churches that are dedicated to him are usually found by important maritime and river routes. These include the Ljubljana Cathedral, also known as St. Nicholas Church, that lies by the once important traffic route of the river Ljubljanica.
In his role of a good man that brings gifts to the (good) children, St. Nicholas is called Miklavž. Since the real man was a bishop, he is wearing a bishop's liturgical clothes, and carries a book that contains the names of all the children that were good and those that were bad. He is accompanied by angels and devils, and we can imagine which children will meet whom.
This is where you can meet Miklavž this winter:
Ljubljana: December 5, 2018 at 17:00
Miklavž will descend in the funicular to Krekov trg (the site of the Puppet Theatre) at about 17:00, and then with his entourage with pockets full of sweets head towards Prešeren Square, where he will address the public and then disappear into the Franciscan Church. You can get some idea of the action in the following video from last year.
Kamnik: December 5, 2018 at 18:00
On the slope of the Little Castle (Mali grad) there will be a show "Two Brothers and a Father", followed by the arrival of Miklavž. In case of bad weather the event will be moved to the Home of Culture (Dom Kulture).
Vrhnika: December 5, 2018 at 17:00      
Visitors will gather at Cankar Memorial House, where firefighters will assist them in lighting torches. Together the caravan will then head to the top of the Holy Trinity Hill, where they will listen to the children's church choir and afterwards meet Miklavž with his entourage.
Celje: December 5, 2018 at 17:00
Miklavž and his entourage will arrive at Krekov trg at about 17:00.
Šoštanj: December 5, 2018 at 18:00
You are invited to join celebrations at trg Svobode.
Domžale: December 1, 2018
People can meet Miklavž between 8:00 and 13:00 at the central Market Place.
Zagorje ob Savi: December 5, 2018 at 18:00
The Miklavž procession will start at "komunala" at 18:00 and head towards the city platform, where it will be received by the Mayor, who will switch on the Christmas lights at 19:00.