November 14, 2018 - The cost of living in Ljubljana is a tricky subject, made more so to comparing it to the cost of living in another, very different city, to say nothing of the varied lifestyles folk lead, and how this changes as we get older. That said, such figures remain a subject of obvious interest to all those with a more international mindset, as they imagine what life would be like in London, Berlin, Tokyo, New York or Ljubljana. How far their current income and savings would go, and whether a move would require – or enable – significant changes in preferences, tendencies and habitual behaviors.
The cost of living in Ljubljana compared to other European capitals
It's here the website Expatistan comes in handy, as it uses survey data (details here) to create a ready-reckoner for the relative expense of living abroad, as well as to provide details of the salaries associated with various jobs. While we can't vouch for the exact precision of the answers, the results do seem to give a pretty good idea of how much it costs to live in Ljubljana compared to some other cities we've called home. Below you can see the details for a comparison of the costs of living in the Slovene capital with Paris.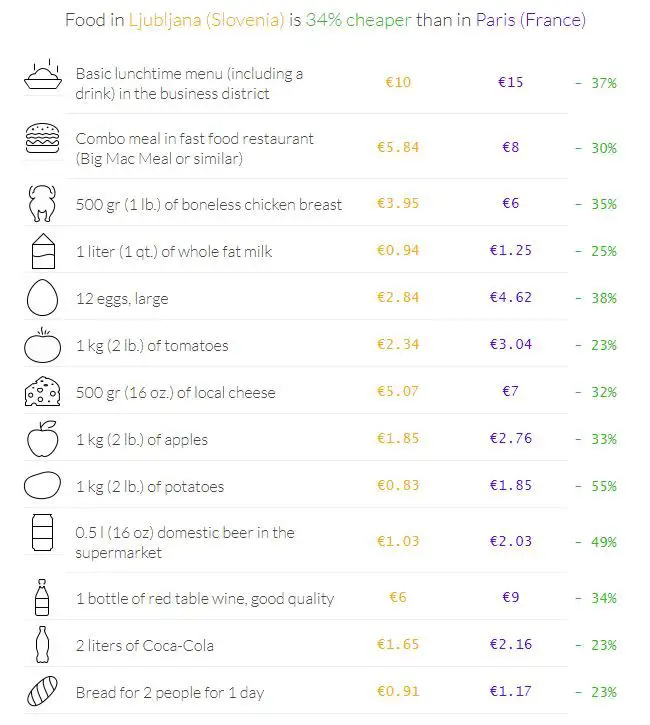 Screenshots from Expatistan
As a further test of the system we entered a list of European capitals and a few other notable cities around the world to obtain the percentage difference in cost of living, with the results shown in the following table:
With hundreds of other cities in the system you can have hours of fun making comparisons and day-dreaming of a new career in a new town, as well as checking the relative salaries and looking for details of international schools, so if curious do look for more data at Expatistan.
Related: Find out the average pay for various jobs in Slovenia