Explorer Camps has been offering screen-free summer adventures for children aged 6-17 for some years now, building, friendships, confidence, skills and memories in Slovenia's great outdoors (as reported here). But the region has much to offer in the cooler months, and so the natural step was for Steve Hartley, the camp director, to launch a winter program to get kids outside, moving and learning, albeit across the border in Austria. We got in touch and asked some questions…
Winter camps are a big step away from the summer camps you run. Why have you made this move?
We'd prefer to call it a natural step rather than a big one. In all honesty, it's something we've been looking to do for some time and with our summer camps being in a position of being one of the best international camps in Europe, we thought it was time to expand even more.
It really was a natural move as our core values, beliefs and identity are all the same whether it be the winter or summer camps. We see this as a chance of reaching more children from around the world, and helping them discover the power and magic of camps thus inspiring them to make positive differences to the world around them.
However, with that in mind it was still a challenge as when looking at winter camps we have some very specific needs and criteria for a location so it's been quite a process finding that right fit. Over three years we've taken.
Three years! Your needs and criteria must be very strict?
I guess you could say strict. Our Explorer families expect and deserve the best, so for winter camps we needed to find something that ticked all the boxes and, being honest, do more than 'just' tick the boxes. There needed to be that WOW factor.
If you don't mind me asking, what were some of these needs and criteria in finding the right location?
Winter is quite a challenging season to work with due to the uncertainty about snow conditions, especially for our Christmas to New Year winter camp. Can we guarantee snow? Especially around Christmas time? This was the real concern from our side as we wanted to be in a place that would not just have snow, but give all of our campers that special Explorer experience in nature. A winter wonderful.
On top of that, Explorer Camps has a very entrenched set of values that we continually aim to grow within our Explorer family. It was important finding a location and hotel that had a synergy with our ethos which was surprisingly difficult to discover. A true community feel is essential to our campers as they become more comfortable in their surroundings and ultimately become happier with themselves.
Also, very important to our vision was to have accommodation that was away from touristic areas, so we have privacy to ensure the health and safety of our campers and also to bring them closer to nature. In this day-and-age we're always striving to help our campers detox from their screens, so we needed to be at a place that would inspire them through the wildness.
Imagine that you've discovered that WOW factor and the best location for your winter camps?
That first time we arrived at Felseralm Hotel in Obertauern, Austria we were completely blow away. It was jaw dropping being honest. Nestled in the middle of a beautiful mountain range, completely surrounded by forests and nature. The best part about the location was that it's secluded and away from the mass tourism most see at any major ski resort, but at the same time it's only a 5-minute drive to the slopes.
What surprised you about the Felseralm Hotel?
The three llamas that live on-site! Haha. The kids will love them though.
That to the side, the standard of the rooms and facilities was really unexpected. Having had camps at a youth hotel before, naturally I thought the rooms would be a little outdated and worn down but they were simply stunning. Modern. Spacious. Well-kept. Whole floor just for Explorer Camps.
Then there're the facilities. Ten-pin bowling. Indoor basketball court. Ping-pong tables. Chill out spaces. Multimedia room. Disco hall. 2 dining rooms. It has it all really. Everything we were looking for but more.
So, Felseralm Hotel ticks all the boxes?
It certainly has all the things we're looking for … and a lot more!
The fact it's a family run hotel with a really personal touch also aligns with our values and enables us to create a truly special Explorer community during the winter camps. On camp we work from the heart, as does the hotel which means everything to us. It's more than just accommodation so we can ski at Obertauern. It needs to be a home away from home. And we honestly feel it will be.
We've talked a lot about the hotel, what about Obertauern and the ski slopes there?
They call it a 'snow bowl' which is where people are surrounded by snow and ski slopes, and as a result the skiing conditions are much better. They have perfect snow from November to May, and over 1oo kilometres of slopes of all different levels. Plus, there's a really cool Snow Park for tricks etc.
What really attracted us to this location was the fact Obertauern, on top of the snow quality being so high, is that it has such a variety of slopes and difficulties meaning we can target all levels of skiers. From beginners to advanced.
How do you arrange the skiing when you have so many levels?
Our aim at Explorer Winter Camps is to ensure everybody enjoys their time on the snow. We maintain extremely high staff: camper ratios (minimum 1: 4) which gives us the flexibility to allow all campers to join groups appropriate for their level and discipline.
Beginner groups have a dedicated Austrian instructor from CSA ski school for 4.5 hours a day to teach them the skills they need to enjoy the wider ski area. A snow-savvy Explorer counsellor accompanies the groups throughout their lessons to encourage and guide campers on their journey.
When skiers and snowboarders get to a level that they can safely use all types of lifts, and confidently navigate blue slopes, they then join our guided groups led by experienced Explorer staff, who know the best places in resort for their level. Guided groups are also offered some hours of instruction with the ski school at different points through the week in order to give campers an opportunity to further develop technically.
You're hiring Austrian instructors plus your own? Is there a need for that many staff?
As I previously mentioned, quality before quantity. Safety has always been our focus at summer camps, the slopes of Obertauern present different challenges which we need to be prepared for which is why we're combining local expertise with our own.
While it's true traditional ski schools wouldn't be offering such intense supervision, it's important to our values that we are there with our campers throughout the whole day. They need to feel that Explorer spirit 24/7.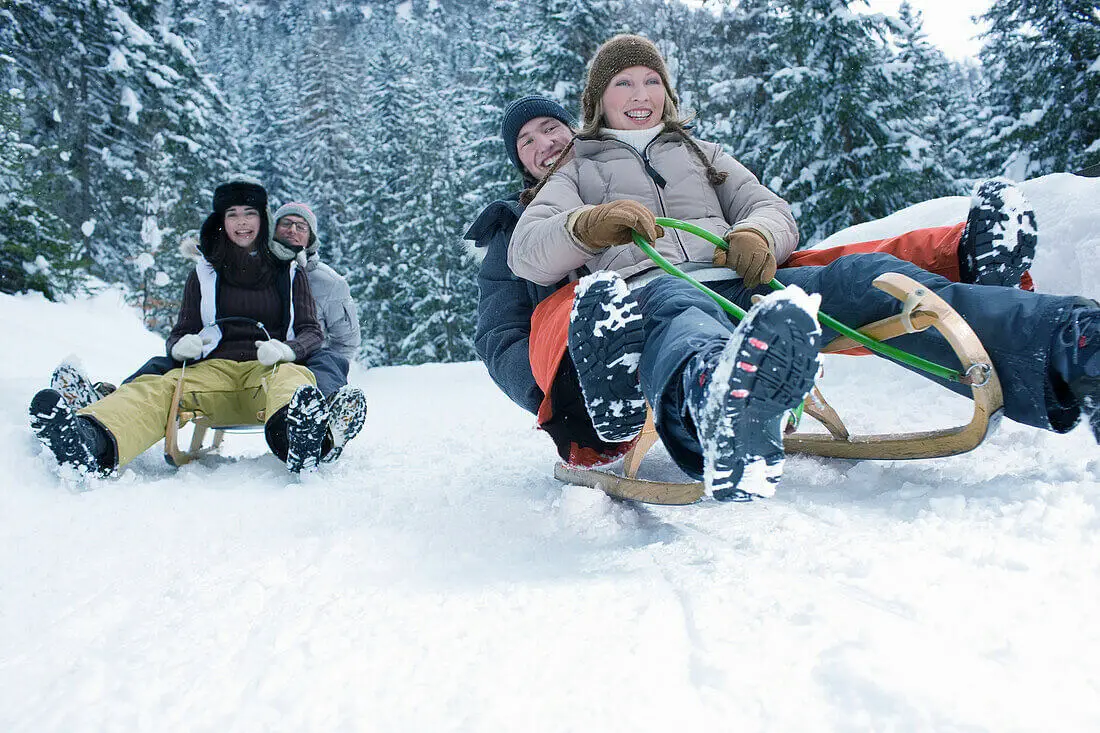 Taking all of this into account, how do the winter and summer camps really differ?
As I mentioned, both our winter and summer camps share the same core values and beliefs where we focus on our campers' personal growth by surrounding them in a warm, positive and caring environment. This is what makes these camps so unique and attractive to our Explorer families.
Of course, our winter and summer camps have different activities in quite different seasons however throughout it all we rely heavily upon our core values to drive our entire community to reach greater heights.
Be Respecful.
Be Responsible.
Be Caring.
Be Honest.
Be Adventurous.
So, when our children step onto either a winter or summer camp they know what kind of environment they can expect, and the expectations that are set out. Every day we've got a very strong focus on growing these values as we know how much children can truly benefit from the right camp experience which ultimately leads to a greater sense of self-worth, self-belief, independence, and confidence. Which all parents want for their children, don't you think?
So, you think that these values and personal growth is the most attractive thing about the winter camps this year?
Well, no doubt it's the most attractive thing about Explorer Camps judging by campers' and parents'
Clearly, the amazing ski slopes of Obertauern catch the eye and make it something really interesting for all of our families. However, the positive connections they make during camp and the life-long memories they create will be what truly shapes their lives and ultimately the biggest attraction of the camps.
Sounds like hard work putting all of that together. Activities. Location. Life Skills. Personal Approach.
Yes, but with the right team it makes things much easier. I think Explorer Camps has been truly lucky to have created an amazing foundation of experienced staff all with a very similar outlook on life, and a clear goal of helping our campers to enjoy winter and summer while ultimately becoming better young people themselves.
In saying this, we believe in continual growth so we do have online training for our staff covering a number of different areas. And, in addition to this, we also do live trainings to further boost their skills whether it be in supervision, communicating with campers, homesickness. Training is a very important part of our camps so there is a bit of work involved, but it's worth it in the end.
Have you bitten off more than you can chew? Balancing winter and summer camps. Training.
Ha, I like a challenge and it's really exciting starting this new project as it's something that I truly believe in. It really is.
But, thankfully Catherine and Tim Earles, who are also expats here in Slovenia, have both stepped into co-director roles for our winter camps which has been a complete blessing. Adding them to our team really boosts all of our performances and ensures our campers will have an even better and personal experience. We're very lucky to have them!
So, with all of the groundwork clearly been done … what excites you most about this winter?
Our firm belief is that camps have this special power and magic that can transform children. We see it all the time during the summer so we're most excited about being able to bring these special moments to winter also!
It's an exciting step … natural step for these camps, and we can't wait to open our doors to even more youngsters from around the world.
A video showing the summer camps
Learn more about everything Explorer Camps has to offer on the website, with the winter camp page here, and there's also a Facebook page to follow