Already in the winter, before the start of this year's fly-fishing season in Slovenia, I made a plan for myself, which was based on visiting and thoroughly researching some fishing districts where I have not yet fished, or I have only fished a few times. The largest and longest sinking river in Slovenia - the river réka - was also on my list of much-desired fly-fishing districts in 2020.
The thought of karst beauty and my plan to dedicate myself this year to researching and fly-fishing of the indigenous fish species - marble trout and brown trout – was then ruined somewhat by the situation we found ourselves in with the beginning of the COVID-19 crisis in March 2020.
Green Karst Slovenia
That is why I was all the more pleased with the invitation of RRA Zeleni Kras (Regional Development Agency Green Karst), which invited me on a study trip through the green karst. The invitation included fly-fishing on the Réka River, pike fishing on the Mola Reservoir, fly-fishing on the Queen of Slovenian Waters, the Unica River, exploring the underground world by visiting Planins cave, cycling on electric bikes and enjoying local cuisine at the surrounding tourist attractions.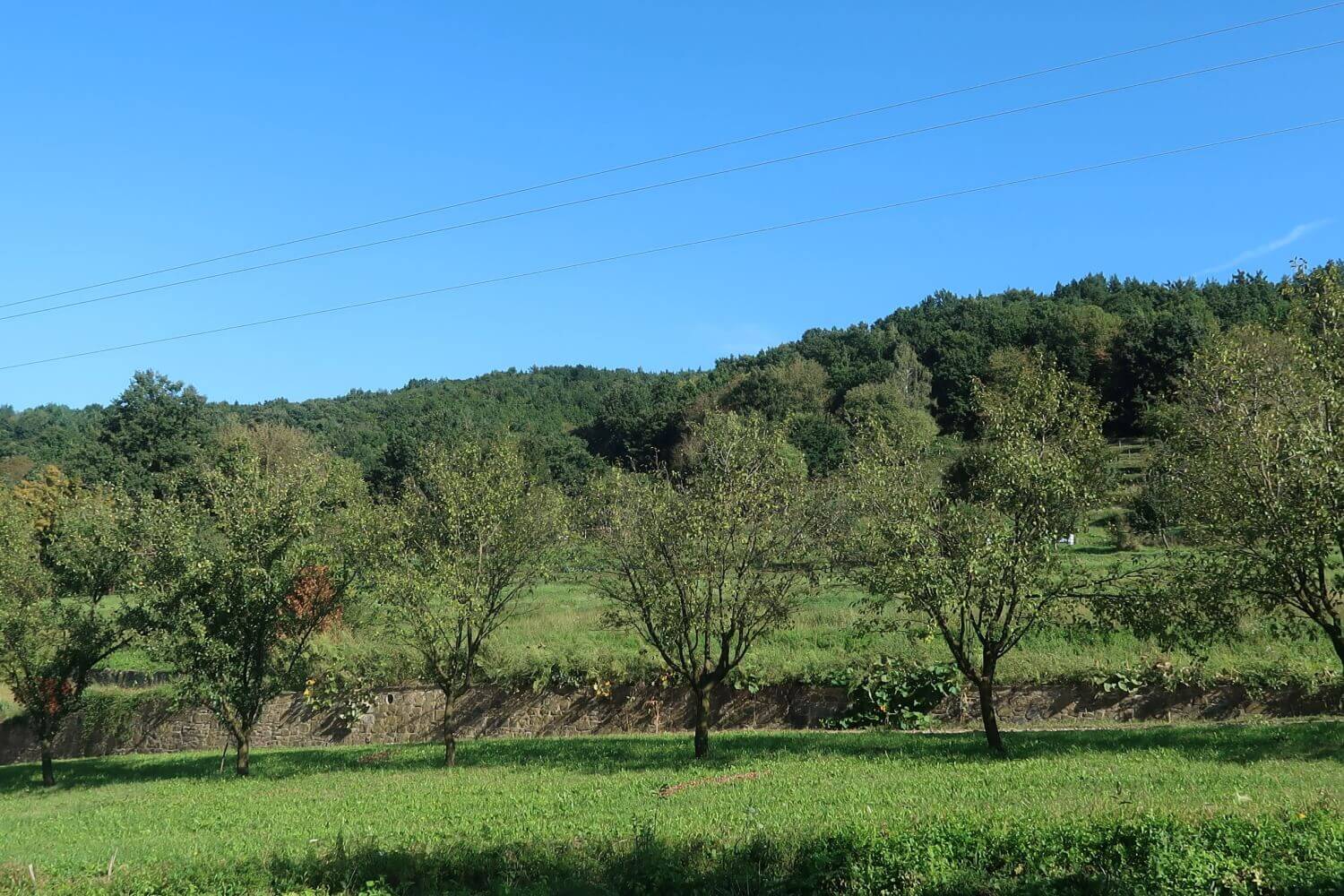 Photo: Fly-fishing in Slovenia with Flyfishingodec | Green Karst Slovenia
The River Réka, best known for creating the beautiful and world-famous Škocjan Caves over the millennia, along with the Mola Reservoir, are managed by the Bistrica Fishing Family based in Ilirska Bistrica. The Réka River belongs to the Adriatic basin and is a typical karst river with torrential impact caused by its many tributaries, which the Bistrica Fishing Family uses for its breeding streams and for the maintenance of its breeding flock of native marble trout.
Photo: Fly-fishing in Slovenia with Flyfishingodec | Green Karst Slovenia
Fly-fishing on the river Réka
At the time of my visit, the conditions for fly-fishing were perfect and the water level did not exceed 6 m3 / s, despite the previous heavy rain, which filled the riverbeds of most Slovenian watercourses. As such, the rain changed the course of our trip to such an extent that we had to give up fly-fishing on the Slovenian queen of rivers, the Unica. However, if you want to learn more about that river then just read my blog about fly-fishing there.
Photo: Fly-fishing in Slovenia with Flyfishingodec | Green Karst Slovenia | River Unica
Just the elevated water level and turbidity, unspoiled nature, interesting hunting passages between long pools and rapids, peace and tranquility aroused a number of familiar and beautiful feelings in me. I have to say I felt wonderful. And this wonderful feeling, happiness and contentment are the reasons I love fly-fishing so much. It inspires me and gives me the strength I need in these unpredictable times. As a guide and teacher of fly-fishing, my travel study trip also gave me a new insight into my work as a guide, which I have been doing as a professional for five years now. I have never been in a situation where I was led on any Slovenian river by someone who is not my friend or acquaintance. In the role of a guide to the Bistrica fishing district, the locals, Mr. Emil and Mr. Biščak, showed me and Boštjan, who manages the well-known fishing site fishing permits for all Slovenian fishing areas, some interesting hunting places that are easily accessible to everyone. Despite the fact that the River Réka is heavily overgrown with lush vegetation, we drove to all the hunting places. The overgrown parts of the Réka give the indigenous marble trout, brown trout and other fish species excellent shade and an effective hiding place from predators. But with its distinct green summer color palette, it conjured up a moment that I will never forget.
Photo: Fly-fishing in Slovenia with Flyfishingodec | Green Karst Slovenia | River Réka
The fish in the Réki river are extremely careful, which was also evident in the total number of fish caught in two hours. I was lucky enough to catch only a small chub, which I tricked with a classic rabbit ear tie in size #14, and Boštjan was delighted to catch the indigenous marble trout, which we later found out may have been a "crossbreed" and not a real marble trout. We could have caught more fish, but our time for fly fishing was running out and we were forced to put away our fly rods, as the organizer Dejan was pushing us a bit because we had to follow a schedule.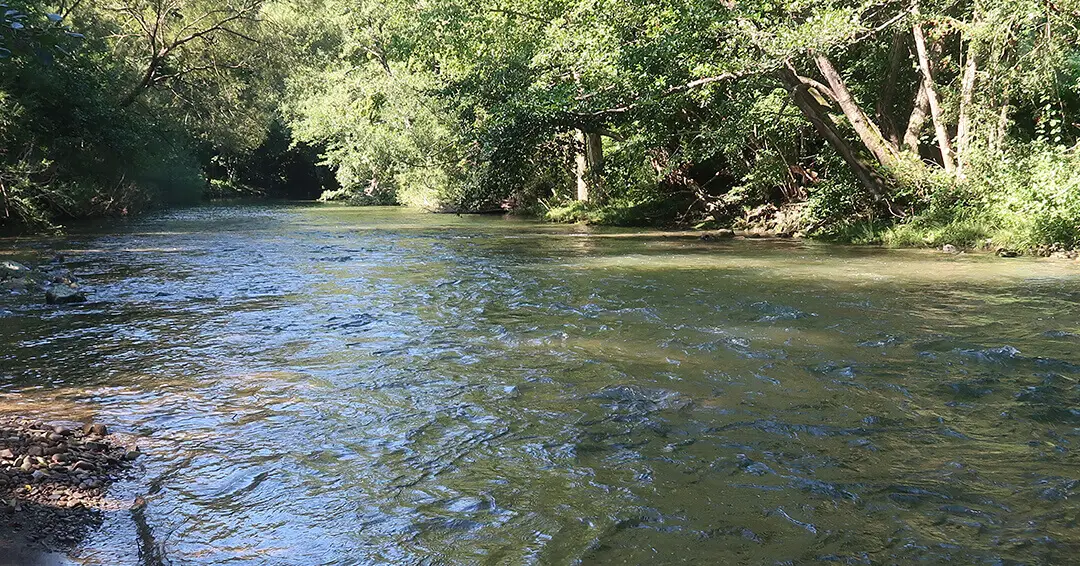 Something more
After an excellent lunch at the restaurant Pri Zotlarju, right next to the main road that leads through Vremska Britof towards Ilirska Bistrica, Boštjan, Dejan and I went for a short ride on electric bicycles, which we borrowed from TIC Ilirska Bistrica for this occasion by prior arrangement.. Given the limited time, we shortened the planned circular route, which started at Črne Njive, but I must say that I was very impressed by what I saw and experienced. Cycling along the paths of the pine forest (by the way, I should explain that the pine forest was planted according to a plan from the 1950s), which offers excellent protection to the fertile soil of the Dinaric-Karst region and all small ruminant farmers, although these are in short supply.
Photo: Fly-fishing in Slovenia with Flyfishingodec | Green Karst Slovenia | E-bikes cycling
After a short cycle and interesting adventure, the three of us drove together towards the accumulation lake MOLA, where the Bistrica Fishing Family has a beautifully landscaped fishing lodge. The lodge was not empty, as Boštjan and I were very well received by prominent representatives of the Bistrica Fishing Family, and it was not long before a "debate" on current fishing topics quickly broke out. Considering that the summer sun was slowly disappearing behind a nearby hill, we took advantage of an available boat with an electric motor and quickly made a circle around the Mola reservoir. Of course, we also used our ride to hunt for pike, but didn't catch anything. Still, on the boat, we enjoyed nature and greeted fellow anglers on the shore, eagerly awaiting their catches.
Photo: Fly-fishing in Slovenia with Flyfishingodec | Green Karst Slovenia | Spinning lake Mola
A short feast followed, during which there was no shortage of fishing stories that made us laugh from the heart. After a great barbecue dinner, Boštjan and I headed home late at night. Full of impressions and wonderful experiences, I decided to return to this beautiful and somewhat forgotten part of Slovenia soon. What about you?
Thank you
On this occasion, I would like to thank Dejan again for the invitation and excellent organization. Thanks also to the Peternelj Tourist Farm, which hosted Boštjan and me and offered us accommodation. Thank you to the Bistrica Fishing Family for the accompaniment and friendly reception, especially to Emil and Iztok. Thank you all!
More from Matej Godec: Get Closer to Nature & Go Fly-Fishing in Slovenia, Fly Fishing on Unica - the Queen of Slovenian Rivers! And you can learn more about Matej's work, and book a tour, at his website, and see more pictures on Instagram. If your planning a fishing trip and not everyone in your party is an angler, then check out some of the other ways you can enjoy the River Soča and its surroundings - the ideal location for an active vacation.