Last week, Ljubljana and its foodies witnessed a culinary novelty—the second episode of a new culinary series, actually. Master chef Igor Jagodic and his team from Strelec Restaurant temporarily moved their kitchen at the Ljubljana Castle to the Castle Vineyard. 
Note - this event will take place again on 19 August, 19:00 to 23:00
It was the second in a series of summer dinners by Strelec Restaurant. Strelec's summer dinners usually unfold on the Ljubljanica River below the castle. However, this year, the river cruise was adequately dropped to hinder the unavoidable huddling of people on a boat due to COVID-19.
Denise Rejec of Wine Dine Slovenia at the Strelec Restaurant Ljubljana Castle Vineyard dinner. Photo: Wine Dine Slovenia
Sunset Dinner with a View in Ljubljana
The vineyard setup was equally—if not more—remarkable. Guests were able to dine between the vines of the Ljubljana Castle Vineyard. And apart from indulging in extravagant culinary creations by Igor Jagodic and his team, they could take in the peaceful surroundings of the vineyard, admire the views, and enjoy a beautiful sunset from a high-hill vantagepoint.
25 Things to Know about Ljubljana Castle
This carefully tended part of the castle hill, which interlocks with Golovec Hill (a popular hiking and running spot), the Ljubljanica, and Gruber Canal, boasts views as far as Ljubljana Marshes (Ljubljansko barje).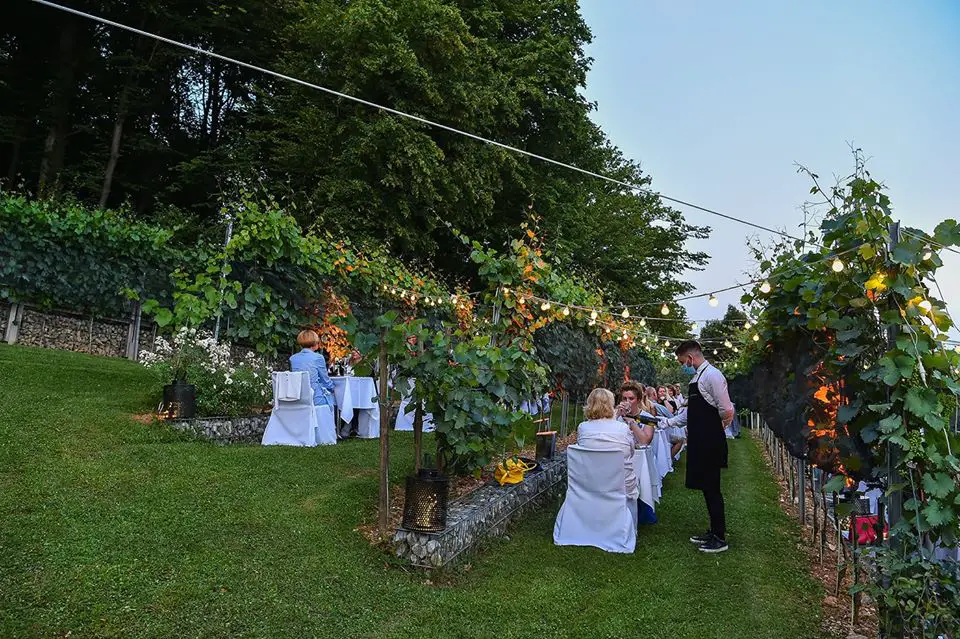 Photo: Strelec Facebook
Dining Among the Vines & A Memory from Malta
Vineyards have this special aura about them. They're peaceful. Romantic. A calming green (in summer, that is). As I sat down to dinner in the Ljubljana Castle Vineyard last week, I couldn't help but recall a special event I'd attended back home in Malta quite a few years ago when I dined among thick vines dotted with fairy lights. The atmosphere was unforgettable. The air was as balmy as that at the Ljubljana Castle Vineyard dinner some days ago.   
Vineyards are also a fitting place to drink wine! During our dinner at the castle vineyard, we drank wines from a variety of wine sub-regions in Slovenia: Štajerska, Istria, Goriška Brda, and Vipava Valley.
Denise Rejec drinks Brut by Puklavec Family Wines at the Strelec Restaurant Ljubljana Castle Vineyard dinner. Photo: Wine Dine Slovenia
Photo: Strelec Facebook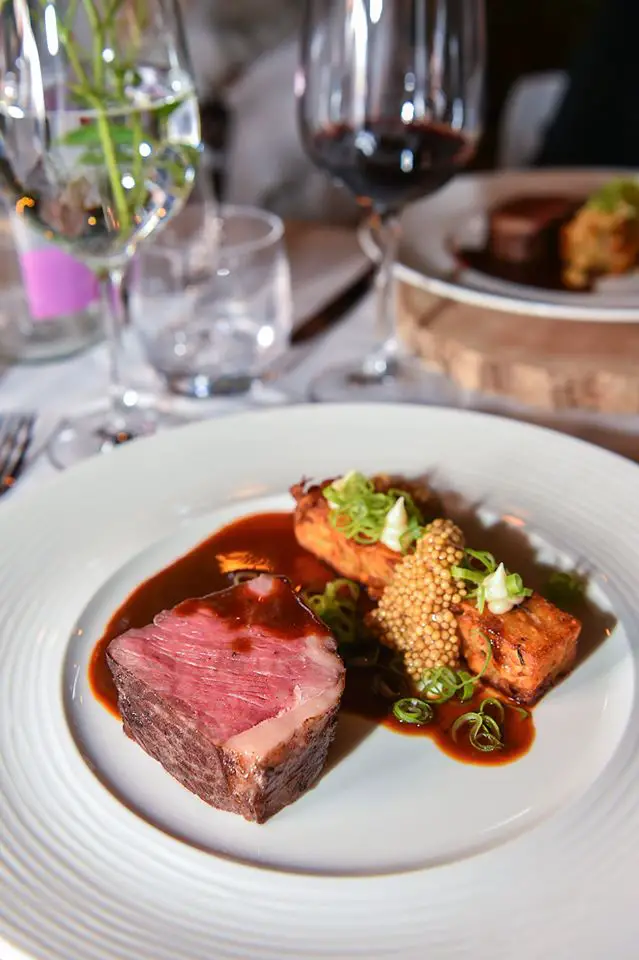 Photo: Strelec Facebook
Strelec Food & Ljubljana History
Strelec's sublime dishes were tasty. They also offered some food for thought with a touch of Ljubljana history: "Beef has been the most popular meat among the people of Ljubljana for centuries" is the description that accompanied the juicy dry-aged tenderloin dish in one of the seven courses. 
Master chef Jagodic threw in a few Asian touches here and there throughout the menu. One element was the watermelon dashi in the marinated sea bass dish, a tasty unami brothy sauce (Japanese style) that gave a salty kick to the fish. Dashi is 'stock' in Japanese cuisine, and forms the base for miso soup and other simmering liquids to emphasise the unami (savoury flavour) character in food.
Marinated sea bass with watermelon, pickled grape, and watermelon dashi by Strelec Restaurant chef Igor Jagodic. Photo: Wine Dine Slovenia
I now invite you to read a more in-depth and personal recollection of my dinner in the Ljubljana Castle Vineyard. Get ready for some delightfully foamy smoked butter, venison tartare, Adriatic prawn dumplings, and a pimped up all-time favourite dessert! 
3 Junior Chefs
3 Junior Chefs is the name of the next event that Restaurant Strelec is hosting on August 27, this time in the restaurant itself. Click here for more information.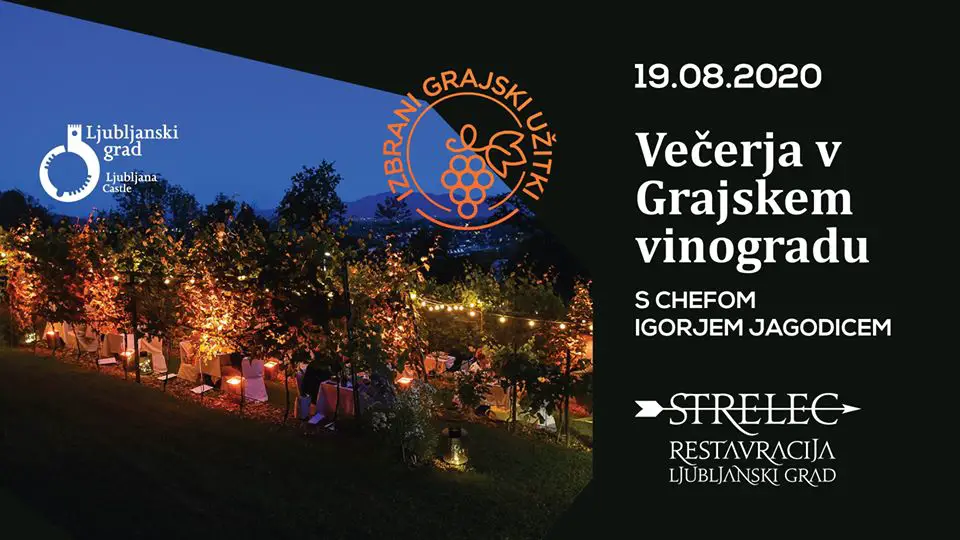 Note - the evening meal will take place again on 19 August, 19:00 to 23:00
About the author:
Denise Rejec is a freelance writer from Malta. Her passion for writing—not to mention her love for Slovenian food and wine—prompted her to create the website Wine Dine Slovenia, which is dedicated to all the yummy things you can find in Slovenia.