With every adult in Slovenia about to get €200 to spend on tourist accommodation to help kickstart the post-corona summer, we thought we'd take a look at various properties around the country to consider. Since the coast came top in a survey of Slovenes asked to state where they'd like to stay – just after Croatia – we got in touch with Olga Mostepanenko, who runs Piran Vacations offering short-term rentals of various sizes and asked a few questions, which she kindly replied to.
Tell us something about your background.
I'm Canadian, living and working in Switzerland for the last 10 years. I run a consulting company for small business owners. In 2012 I came to Slovenia on vacations and it was love at first sight: breathtaking nature, lovely people and so many cultural and natural treasures to explore!
When did you start renting properties? How has the market changed in this time?
I've been renting vacation properties for seven years: from the very early days of Airbnb in Slovenia, all the way into the enormous boom of 2018-2019, followed by complete shutdown of travel industry in March 2020 due to coronavirus – a true roller-coaster! That said, the beauty of the Slovenian seaside hasn't changed. If anything, it only increased, as new beaches, hiking trails and dining experiences came to life in recent years.
What do you like about life in Piran?
I have many interests: art and science, travel, friends, nature hikes and historic architecture, the sea and stars... All of these are reasons to come to Piran, and I come as often as I can! As a host I'm happy to welcome you to Piran and help you plan a perfect seaside stay: get lost in the winding cobblestone streets of our medieval town, climb Piran's ancient town walls, enjoy our many music festivals, discover the best beaches, sea lookouts, nature walks and bike trails – and, of course, just soak in the sun and enjoy delicious local fish, seafood, olive oil, truffles, fruits, ice-cream... I'm sure anyone who visits will keep coming back, this is the magic of Piran!
What effect has coronavirus had?
This is one of those once in a lifetime events that puts our resilience to a test. For sure, most of us are facing a big, negative impact on our businesses and employment. Fortunately, health-wise the situation on the coast is very much back to normal after just two months: the epidemic in Slovenia is over, Piran is full of happy holiday-makers, so let's be thankful for that! As business people, we have to work smarter and better to compensate for the lost months and to brace ourselves for the recession ahead for Europe and the world. We want to serve each guest in the best possible way to bring back consumer confidence and smiles.
What do you think will happen this summer?
Thinking positively, the seaside is the best place to be in times of health concerns: sea breeze, sunshine, high-quality locally grown food – there are no better things to help build immunity! The Slovenian coast is a short drive from anywhere in the country and neighboring nations, and so many people have great access to the natural treasures of Piran, soaking in the history and culture as an added benefit. Private apartments are also well-positioned to serve as safe havens, creating your own "family bubble" where you don't have to mix with strangers so much.
What is your opinion of the tourism voucher plan?
People were saying that seaside vacations outside Slovenia, especially Croatia, seem more affordable, and the government has done something about that. Now more locals can benefit from amazing holidays at home, as opposed to going somewhere cheaper destinations, where healthcare or hygiene standards may be not as high as in Slovenia. It's a great opportunity for Piran, but also for other destinations in the country.
With that said, can you tell us about some of your properties on the coast?
We believe everyone – a solo traveler, couple, family or larger group – deserves a welcoming home in Piran. So we offer a variety of apartments and houses, all in the very heart of historic Piran and within 1-3-minutes' walk from the beach. And it's our pleasure to recommend activities to help you become a temporary local: shopping at the farmer's market, enjoying the sea, people-watching at the grand Tartini Square, eating at the best local restaurants.
Thinking about specific properties, for a couple or family with young kids we offer two-room apartments (here and here) in a comfortable house right off Tartini Square: watch festivals from your window or enjoy a sea view from the common roof terrace! Feel immediately at home:
- clean and disinfected private apartments
- Wi-Fi, air con, bed linens & towels, washing machine
- kitchens with large fridge/freezer, stove, oven, plates, pots & pans, cooking supplies
- fully renovated bathrooms, free toiletries
- two-minute walk to swimming, supermarket, restaurants, farmers' market
For a family of 4-6 we are happy to offer a private apartment directly on the sea, with a gorgeous view – just walk out to the beach and seaside promenade! Enjoy a spacious living room, fully equipped kitchen, two bedrooms, beautiful bathroom and two balconies.
- the kitchen is custom-made from Slovenian oak and includes a large fridge/freezer, dishwasher, stove, oven, coffee machine, tea kettle and cupboards full of chinaware, cutlery, pots & pans, kitchen utensils, basic cooking supplies
- the fully renovated bathroom is equipped with a shower cabin, sink, toilet and a washing machine; enjoy complementary toiletries & laundry detergent
- the bedroom comes with a king-size bed and is facing a quiet street, while the kids' bedroom has bunk beds and a sea view.
For a larger group (up to 12 people) we offer your own house with terrace and sea view
It's all yours: a historic renovated house with four bedrooms, three bathrooms and a spectacular private roof terrace - ideal for a family! 150 m2. of living space over five floors of a historic Piran house, a registered monument.
- free Wi-Fi, air conditioner on each floor, bed linens & towels, washing machine
- clean and disinfected
- fridge/freezer, stove, oven, chinaware, pots & pans, cooking supplies
- private roof terrace is spacious and offers amazing views of Piran & the sea
- perfect Old Town location: 2-minute walk to swimming, supermarket, restaurants
Anything else you would like to say?
Piran is beautiful year-round. We can't wait to welcome you here. Take a look at the properties, see what you like, and then get in touch with any questions or inquiries in Slovenian, English, German or French at This email address is being protected from spambots. You need JavaScript enabled to view it., and check out Piran Vacations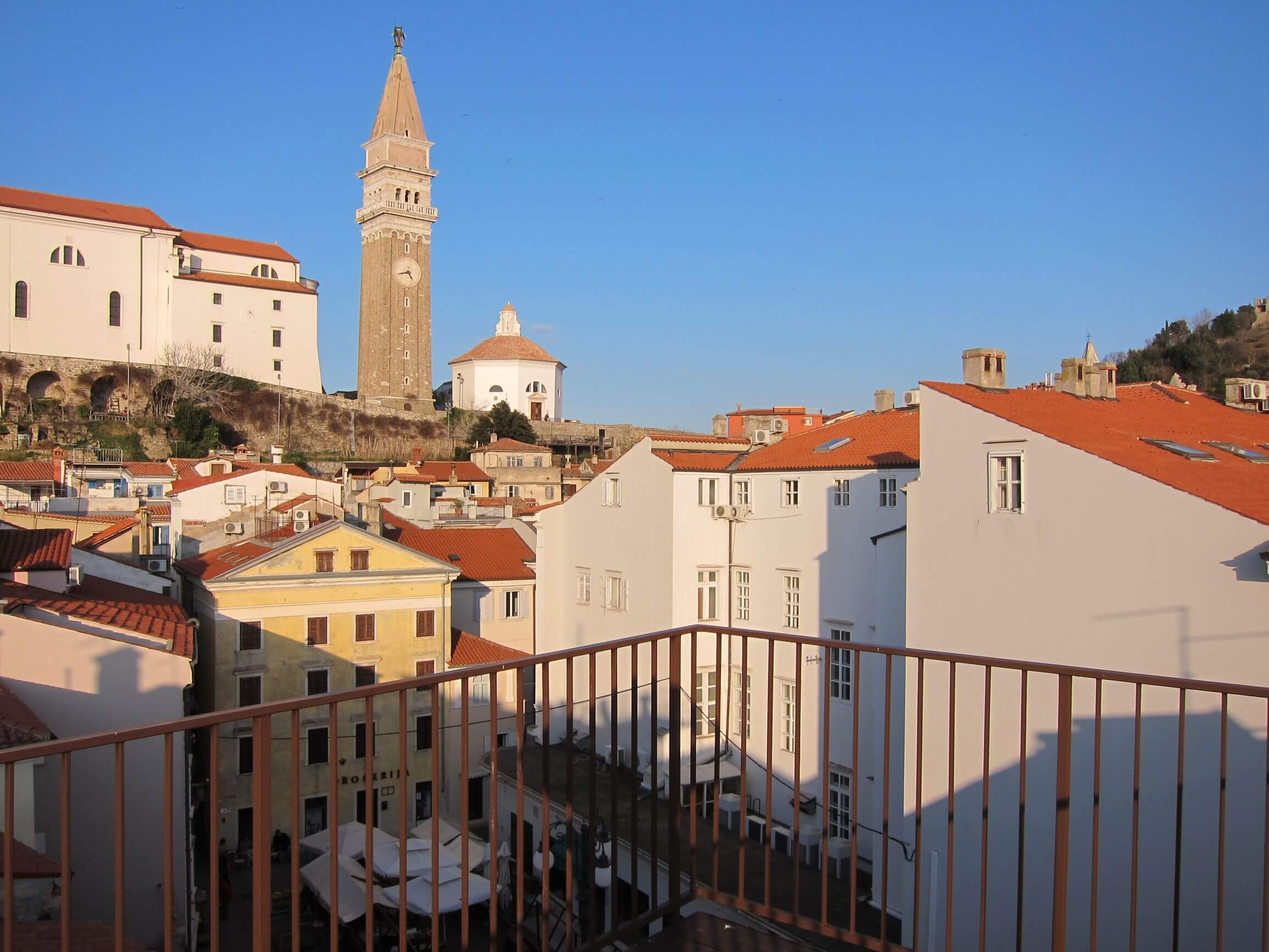 If you'd like to show some properties, then please get in touch at This email address is being protected from spambots. You need JavaScript enabled to view it.