In this short  (we hope) series before things re-open, we're looking at what things local tourist offices want to promote for their town or region, starting with the capital. If you're a tourist office and would like a similar, free-of-charge story for your area, please get in touch me with me at This email address is being protected from spambots. You need JavaScript enabled to view it., subject Virtual Tourism + PLACE NAME, and let me know why people should be planning a visit, plus links to anything you want to promote.
People can't travel now, but they can daydream and plan, so we got in touch with Nina Kosin at Ljubljana Tourism to find out what she'd recommend. She wanted to highlight four broad areas of what Ljubljana offers visitors and residents – a green, active city, vibrant culinary scene, wealth of museums and galleries to explore, and tours and trips to take within the city or nearby. There's a lot of videos, so relax, let them load and start planning your next trip Slovenia.
A green and active city
In 2016 Ljubljana won the title of European Green Capital, a fact that will come as no surprise to anyone who knows the city, with its trees and parks, large pedestrianised area, good public transport, clean flowing river and many, many cyclists. This year the city is tying this clean, green and active image even more closely to its tourist offer, with a clear focus on active holidays.
Cycling in Ljubljana
If you want to on a bike to explore the city like a local then you can easily rent one from the Biciklj system or the tourist centre – with four hours free if you have a Ljubljana Tourist Card – which also offers entrance to city and national museums and galleries, free public transport, a boat ride, trip to the castle, wi-fi and more.
By bike you can follow a one of several thematic routes through the city, take a tour or just explore your interests – with the Castle and river as easy reference points to find you way so you're in no danger of getting lost.
If you prefer to cycle away from the streets, then Ljubljana Bike Park and the hill known as Golovec offer mountain bike trails to bounce along, while there are also pump tracks in the Spodnja Šiška, Bežigrad and Fužine districts. In short, if you're looking for a city break that's good on two wheels then consider Ljubljana – and if you want to see more of the country, then take a look at the Bike Slovenia Green tours that can take you from the mountains of Kranjska Gora to the coast of Koper.
Hiking in Ljubljana
Of course, not everyone feels comfortable on two wheels, so it's good that Ljubljana is small enough to enjoy on foot, with many paths to hike or jog along through nature if you want to get more exercise and pump more of the city's fresh air into your lungs. Simply head to Castle Hill or Tivoli Park and then up to Rožnik Hill for a commanding views the city in a forest. These two forested areas are quickly reached from the centre of town, and throughout the year offer residents and visitors a green escape into the wonders of nature.
Running in the city is fun, with lanes and bridges, hills and forests
Further from the centre there's the more extensive Šmarna gora, while if you'd like to get out of the city then there are numerous hiking trails nearby with different levels of difficulty and landscapes to enjoy – the official details are here.
If mobility is an issue, then don't worry – Ljubljana is an increasingly accessible city with ramps and facilities for people with disabilities, as well as a free electric vehicle (an electric kavilir) to move you around. A great app called Ljubljana by Wheelchair also highlights cafés, attractions and so on with ramps, disabled bathrooms and Eurokey facilities, which you can read about and download here. Manual wheelchair users can also borrow, for free, an attachment that will motorise their equipment, as reported here.
Food and drink in Ljubljana
With all that movement you'll be hungry, and when Ljubljana reopens there should be plenty to eat, which is why Nina Kosin of Ljubljana Tourism recommends adding the city's culinary scene to the reasons you'll be making a visit.
Slovenian cuisine has been on a steep rise the last few years, with Ana Roš, food & wine tourism, farmers markets, and festivals building on each other to spread the word and create the networks needed to connect producers with consumers.
If you want to cook Slovenian food, then I recommend taking a look at the Cook Eat Slovenia book – beautiful produced, with clear recipes that cover all seasons and regions. Here's the recipe for potica.
Gault & Millau published their first guide to a Slovenia in 1998, Michelin's book is set to be released late 2020, and Ljubljana Tourism have put together their own list of restaurants with the "Ljubljana Quality Mark", along with some recommended places to sample traditional Ljubljana dishes, artisanal products, and even international food (details here).
Whatever your budget, you'll want to check out are the excellent central market, where you can pick up everything you need for a picnic from local farmers and producers – and perhaps find yourself shopping next to a top chef or two. If in town on a Friday in the warmer months then a must visit is Open Kitchen, which from 11am till late has stalls selling food and drink from some of the best restaurants in the city, and certainly has the most variety in one place.
Museums, galleries and performances in Ljubljana
OK, that's movement and food, now to consider art and culture, with Ljubljana's museums and galleries offering very manageable collections of artworks and artifacts from around the country and all over the world. Whether you prefer natural history or contemporary art, ceramics or science and technology, puppets or Roman remains, the city has more than enough variety to keep you entertained, educated and enlightened.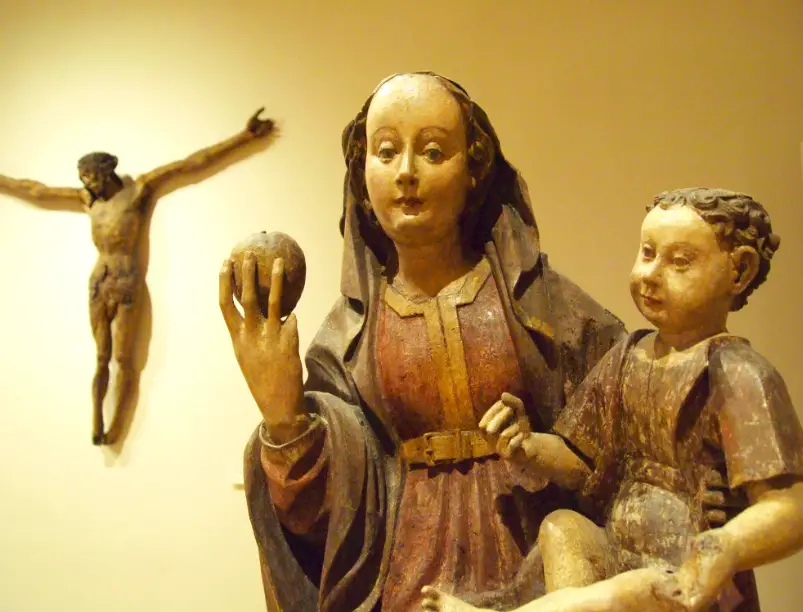 The city has everything from sacred art at the national Gallery..... (Photo: JL Flanner)
...to more colourful shows, like this from the Japanese artist Saeborg at Galerija vzigalica (photo from the gallery website)
If you prefer your art live then you're also spoiled for choice in Ljubljana. Classical music, opera, ballet, pop, rock, electronic, jazz, folk and so on, as well as a vibrant street performance scene, mean you can easily take in a show from local or international names, with all the major venues in the heart of the city. When things reopen, we'll start our regular what's on in Ljubljana guides again, so you can plan your trip – here are all the previous editions if you want to see what's usually in town.
How well do you know the city? Test your knowledge with 25 things to know about the green city of dragons…
Tours in Ljubljana
So that's green, active, culinary and cultural– what else did Nina Kosin recommend? That would be the experiences you can have in Ljubljana. While most of these will be the ones you make yourself on the streets and in the buildings of the city – which is small and welcoming enough that you'll feel at home by your second day – you can always go on a more organised endeavour and be more certain of the outcome. There are (usually) many tours on offer, with focuses on history, architecture, food, wine, beer, street art and more. The city itself promotes these tours, but there are many others available in a competitive market.
Here's Martin, an official tour guide, filming himself giving a tour during lockdown
All of this, and a lot more, is waiting for you in Ljubljana when travel is possible again, and you're looking for a clean, green and active place to escape from wherever you are now.
If you're a tourist office and would like to a similar story for your area, please get in touch me with me at This email address is being protected from spambots. You need JavaScript enabled to view it., subject Virtual Tourism + PLACE NAME, and let me know why people should be planning a visit.