Slovenia's attempts to get visitors to stay longer, and visit more places than Ljubljana and Bled, are seeing new offers and attractions being launched around the country. One recent opening is the range of "Bike Slovenia Green" tours, which take you from Kranjska Gora to Koper, as detailed here, while another is the 270-km long Juliana Trail. This is a circular route in 16 stages, with the highlights including Triglav National Park, Bled and Bohinj Lakes, Soča River Valley, Radovljica, Kranjska Gora and Pokljuka Plateau.
Source: slovenia.info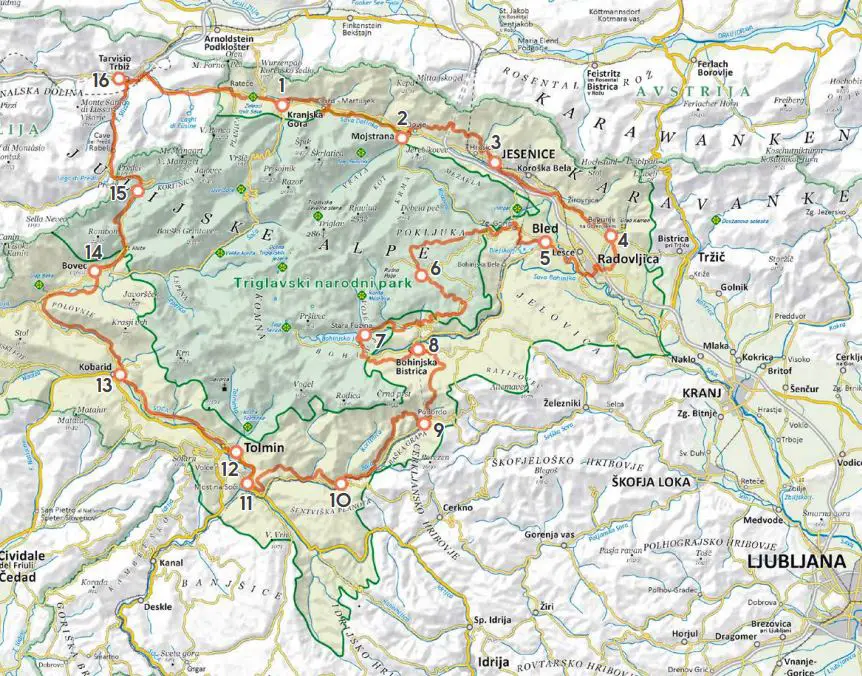 Source: slovenia.info
As the accompanying press release puts it:
To find, walk, learn and explore the unknown diversity, to offer and use what is unknown to others; this is the Juliana Trail. A trail of a personal pilgrimage to oneself, to pristine nature and its magical beauty, into the diversity of the landscape and biodiversity, to hidden and unknown places with magical power (rivers, lakes, waterfalls, forests, exceptional trees, colourful flowers, rocks of unusual shapes), and last but not least: to culinary, cultural and historical treasures.
The Julian Alps Hiking Trail is planned so it's possible to spend the night where a stage starts or ends, along with opportunities to buy refreshments. Moreover, where possible stages start at railway stations or bus stops, the  route more accessible to all and encouraging the use of public transport.
All the following images are screenshot from the embedded video
The average length of the 16 stages is 17.5km, assessed at taking between 4 and 5 hours and rated as non-demanding. The list of stages is shown below, while more details on each stage can be found here, or on the related PDF guide. There's also an app due to launch in late October, while more information is coming on the Julian Alps webpage in November.
Kranjska Gora–Mojstrana
Mojstrana–Jesenice
Jesenice–Begunje
Begunje–Bled
Bled–Goreljek na Pokljuki
Goreljek na Pokljuki–Stara Fužina
Stara Fužina–Bohinjska Bistrica
Bohinjska Bistrica–Podbrdo
Podbrdo–Grahovo ob Bači
Grahovo ob Bači–Most na Soči
Most na Soči–Tolmin
Tolmin–Kobarid
Kobarid–Bovec
Bovec–Log pod Mangartom
Log pod Mangartom–Trbiž Tarvisio
Trbiž Tarvisio–Kranjska Gora