Slovenia doesn't have much of a coastline, just a small section between Italy and Croatia, but that doesn't mean you can't go scuba diving in the country. To learn more we got in touch with Matjaž Repnik, President of Diving Society Kisik - Oxygen (Društva Kisik – Oxygen), a PADI IDCs instructor and DDI instructor (for people with a disability), and part of the team behind watersports.si.
How did you get into diving?
My first step into diving start in 2010. It was simple – I just want to see bubbles underwater. Funny actually. Later after I finished my open water course diving become like an addiction. From that time I was driven to discover more and more and more. Over the last year I've been focusing on cave diving here in Slovenia.
What do you offer at Bled?
At Lake Bled we can take certified divers to a few interesting places. The lake itself in summer is lovely for scuba diving, since the water is 24°C and a 5mm wet suit is all you need for one-hour dives. Until recently Lake Bled was not on the world map of diving location, but since we've been offering trips there it's become more famous, and now we get people from all over.
Courses for all ages, new and experienced divers
When you're underwater in Bled there's lots of catfish, pike and carp swimming around you. We have special place for diving there, very hidden, and it's only used by divers who come with us. So far no one has been disappointed, and we get a lot of positive reviews on TripAdvisor and Facebook. Night dives are also incredible there. Many small crabs are moving around, and of course big fish are much easier to see compared to diving in the day.
Some of what you can see in Lake Bled.
What if someone isn't a certified diver?
For those we offer almost everything you need to get started. The first would be the Discover Scuba Diving program, which is actually most popular thing we offer at Bled. People visit the lake and of course they want to see what's underwater. This program takes two to three hours, and you don't need any previous knowledge of diving. We come with all the equipment, give a briefing, and by the end we make people wet and happy.
Get PADI certified at Lake Bled
After that many people continue to the next level, the Open Water Diver course. Once you pass this you can become a PADI Open Water Certified Diver. This is a two or three day course, and after that you can go diving all over the world to a depth of 18m with another diver, and it's easy to do, plus all courses are conducted by very experienced instructors. We also offer many special courses, which you can learn more about by talking to us, or telling us what you want, including technical programs for the most advanced divers.
How long have you been offering this at Lake Bled?
I was first one who start commercial operations in 2012.  The idea actually came up a year earlier, at the local diving club, but no one was offering something for tourists. It's still early days at Bled for diving, but the place has a lot of potential – it just needs the local community to realize that diving can become part of the tourist offer.
What do people need to bring?
Just a smile, water, a towel and a swim suit, the rest we can provide. Of course, if someone has their own equipment and they want to use it then that's no problem, they just need to bring it.
What else can people do on the water at Bled?
Well, I should say that we don't support fishing there, since there it kills too many fish, even catch and release. Sorry, in my opinion fish are nice to see, not to hunt. Swimming is possible all around the lake, and there are public beaches. You can also rent a boat or just take a ride on a pletna, the traditional Bled boat. Many people also explore the world underwater with a simple mask, snorkel and fins, but away from the shore you should always have a support boat.
Diving part of Bled's growing tourist offer
How has Bled changed since you've been working there?
A lot, and the roads, especially in August, just can't handle the traffic. Every year there are more tourists, and although that doesn't disturb me it's not so good for the people who live there. One problem, one of many, with mass tourism at Bled is it affects the water quality, as more people swimming there means more pollution, more suncream in the lake and so on, and this year there's been a problem with green algae. There is an idea to try and develop a higher quality of tourism at Bled, not just mass tourism, but for that the area needs to offer more, and that's something that diving can be a part of.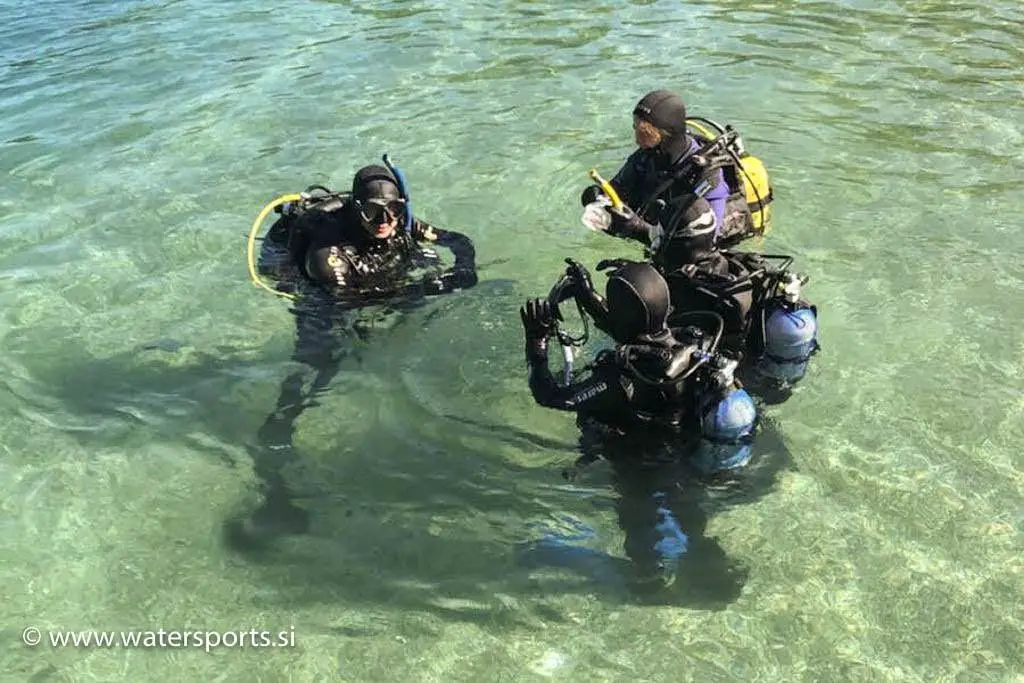 When is the diving season?
Business usually starts in June, and the busiest time is in August, when sometimes we just can't serve all the people we'd like to. The traffic can be terrible then, if you come by car and not by train, so the best time to come is in the morning, for an 8am dive. For me the best time to visit for diving is in September, there are fewer people and the water is warm. People also come in the winter, when we do some dry suit specialty, TEC courses, and if there's ice then we do ice diving and courses.
What other places do you dive?
Besides Bled we offer also diving nearby Lake Bohinj. There's one unique and very beautiful diving place for advanced divers, in it's a green area with lots of water and a slight current. We love it., although the lake itself is nothing special for diving, so we don't do diving in there.
You can learn more about diving with Matjaž Repnik  and his team at  www.watersports.si/en, or by email at This email address is being protected from spambots. You need JavaScript enabled to view it., and with any luck we'll get back to him soon to find out about diving in Slovenia's caves.