Last week we came across a photo, as seen here, and ended up learning more about the person behind it, Jerneja Fidler Pompe, or Neja, who runs Exploring Slovenia. This is a site that shares Neja's love of the mountains in words and photographs, with support from her Instagram page. And in addition to introducing various walks, hikes and climbs in the region, Neja also runs tours enabling you to travel safely and see the best views, as found by experience locals and guides. Always curious and eager to learn more, we got in touch with Neja and asked her some questions, as follows.
How long have you been running Exploring Slovenia?
It's been three years now. Three years ago, I had this idea to start blogging / vlogging about Slovenian mountains, climbed Mt. Storžič, created a video about the climb (as seen below), opened a channel on YouTube, Facebook, Twitter, and after a month also my blog and Instagram. That's how it basically all began.
Why? Before following my heart into the mountains, I had been managing a blog and other social media channels for a well-established international IT business for years. I loved my job, I loved blogging, yet somewhat lost the passion for IT, so I decided to finally give something a go I'd always enjoyed.
If readers aren't familiar with Exploring Slovenia, what does the website try and do, and what are three to five posts that you recommend?
In case you haven't stumbled upon my blog Exploring Slovenia yet, let me give you a brief idea of what to expect.
Expect various outdoor ideas on what to do in Slovenia, particularly in the Alps, that range from beautiful family hikes, easy, moderate to demanding climbs in the mountains, tips on the best hikes with regard to the season, and, most of all, interesting adventures in the outstanding Slovenian backcountry.
To name a few, my favorite blog posts are the following:
Encircled by high mountains, this picturesque village offers a plethora of hiking trails: Bohinjska Bistrica as it lists quite a number of spectacular hiking ideas in Bohinj Valley, a beautiful glacial valley favored by tourists and locals alike.
Exploring a most beautiful Alpine valley of Slovenia - hiking, climbing and fly-fishing in Logar Valley for holiday ideas in Logar Valley, where I personally note one of the most genuine and memorable experiences in the Slovenian mountains.
When Velika Planina dresses in purple to help you explore an extraordinary wonder at a high-Alpine plateau close to Ljubljana, where every spring endless fields of purple crocuses flood the whole plateau, coloring it purple.
Beautiful Alpine Slovenia in a time-lapse video, where you can watch my 3-minute time-lapse video of the Slovenian mountains - a project that sums over a year-and-a-half worth of videos collected from over a hundred of trails.
Up to Triglav over its North Face and down to the Krma Valley where I take readers on a two-day adventure from one valley to another across Triglav. And of course, there are many more.
What has the experience of running the site taught you?
Probably the most important lesson I learned was to always produce excellent content. Not only in regard to providing the audience great stories, but also taking them through the places I talk about through breathtaking photos and videos. Plus, always to think of new, intriguing adventures not only for proven mountaineers, but also for average hikers that want to simply enjoy the spectacular landscapes Slovenia has to offer.
How important is Instagram to your work?
It's nice to have it, since I do far more adventures than I have time to blog about. Therefore, most of my hikes are shown only on Instagram, with the very best and most interesting ones also on my blog. It's a platform that can connect you with your audience in a more personal way, while it also allows you to grow your audience if you approach it the right way.
How long have you been offering tours?
I've been always happy to help my readers connect with a mountain guide if they needed one for a certain ascent in certain conditions, but I started offering tours myself last summer. The most popular is Triglav in all seasons and on all routes. It's the highest mountain in Slovenia, and as such the most obvious choice either when you're visiting the country for a week or you live there and haven't found the courage to climb it yet on your own. Nevertheless, Triglav is indeed one of the most fascinating climbs in Slovenia and, must I say, never disappoints, not even those who've climbed it several times.
When is the best time of year to climb Triglav, if you're not a regular climber, and when do you like to climb it?
The easiest time to climb Triglav is when there's no snow on the way, meaning usually July – September. Even a little bit of snow brings extra hassle and the need to bring extra gear for snow conditions, especially when it's combined with ice. I prefer climbing it in June, the end of September and October to avoid the crowds. I haven't climbed it in serious winter conditions yet, when the steel cable is hidden underneath the snow, but I'd love to do that with the help of a mountain guide.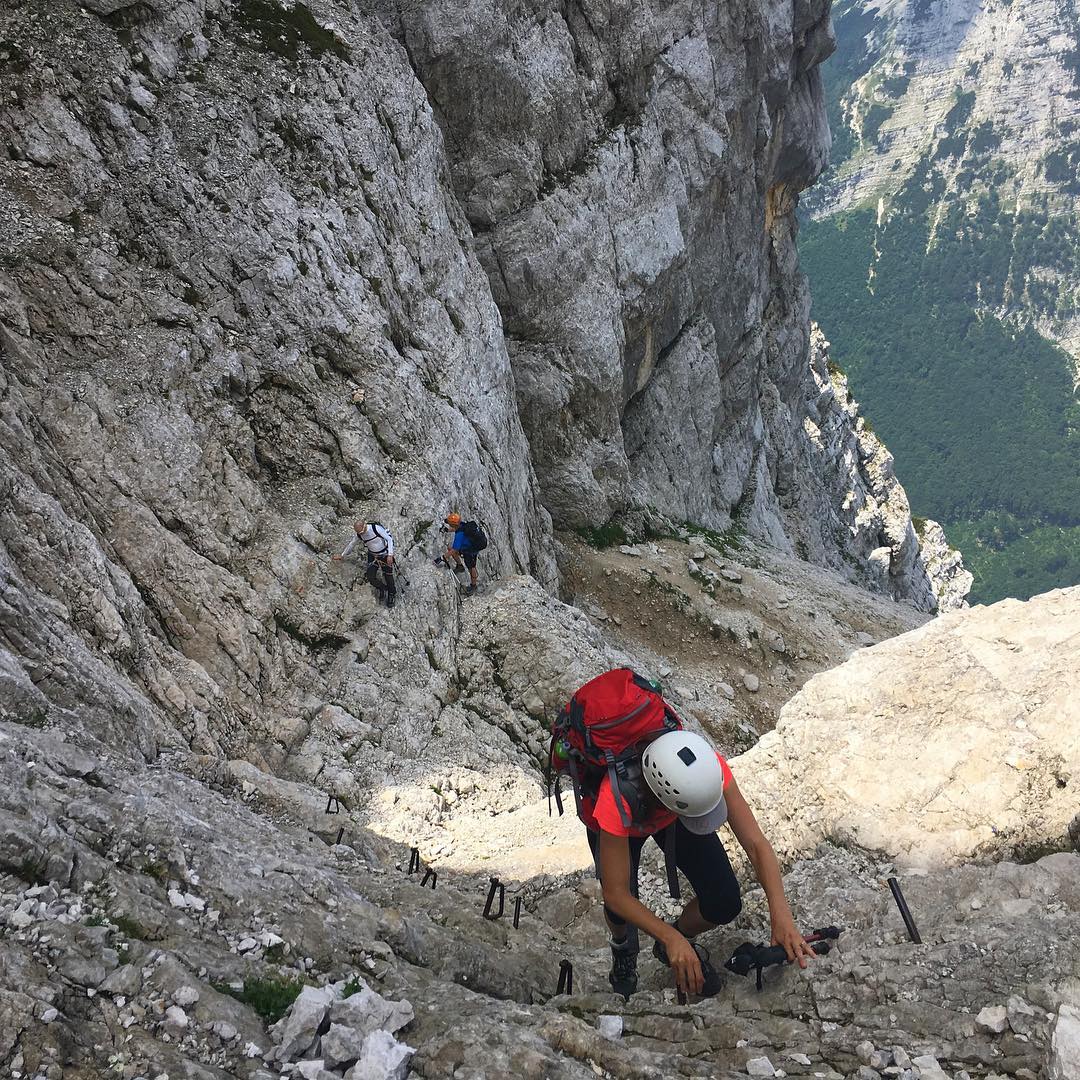 How do you feel about the way tourism is developing in Slovenia?
I love the fact that Slovenia is becoming more recognized in the world and more people are coming to see our wonderful country. In regard to service providers, particularly those working in mountaineering tourism, I like the fact that most of them are well-trained and internationally licensed mountain guides, thus assuring top-level safety and service.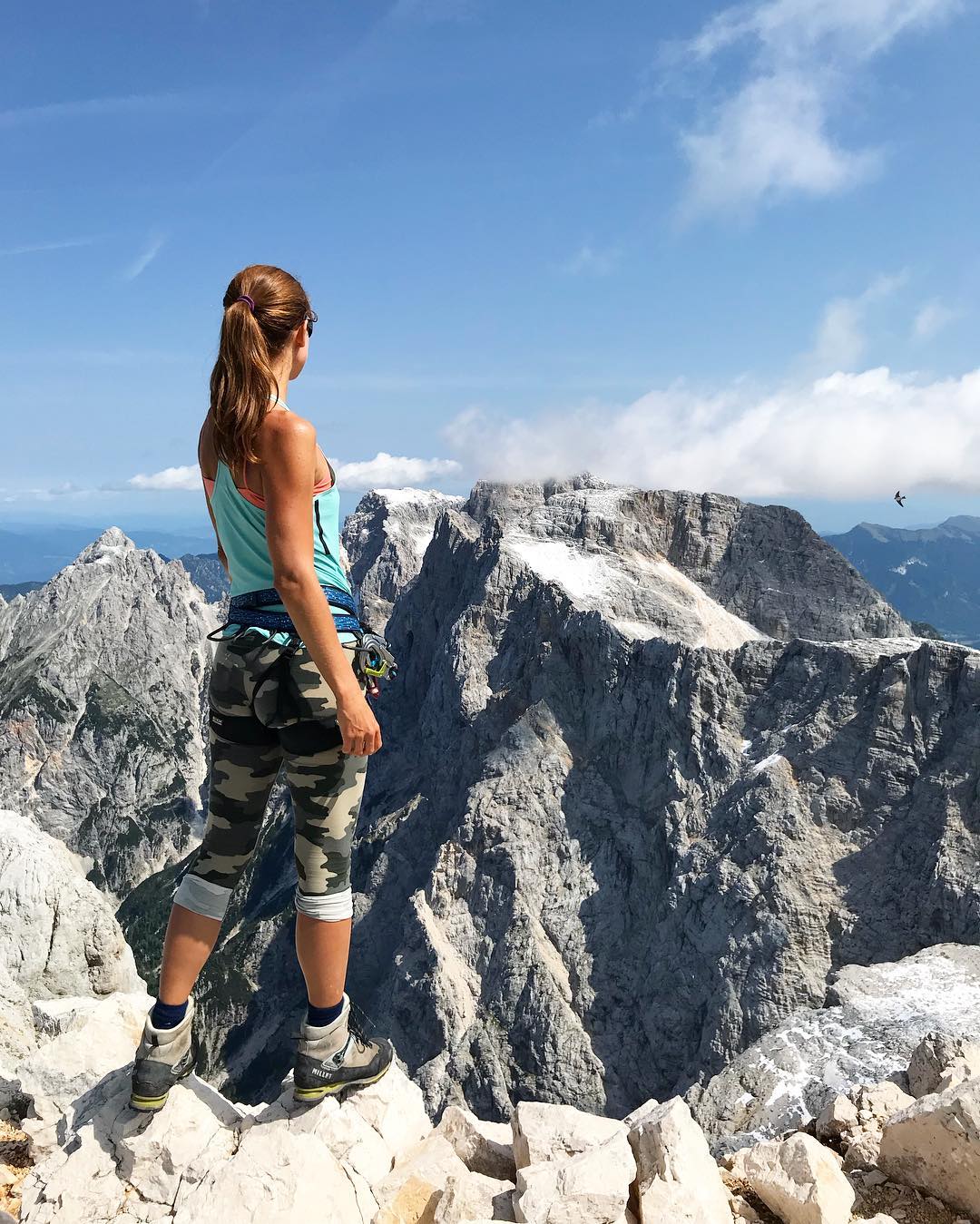 How would you like tourism to develop in the future?
More boutique small groups with respect for our land who visit Slovenia to enjoy incredible landscape, good food, and rich culture, while on the other hand also receive a great service. While I love the fact that the Slovenian mountains are accessible to anyone with the desire to climb them, it would be nice to add more service to the mountain huts for the more demanding guests. I would also love to see more mountain huts open all year round, more options in the food menu, nicer bathrooms with a possibility to shower, heated rooms, etc., which could as well be offered as an extra service as long as it's available.
Finally, away from hiking and "work", can you recommend a few things to our readers.
Places: Anything hidden from the main tourist attractions. I really love the Logar Valley for its beautiful landscapes, rivers, waterfalls, and, most of all, welcoming people. While the most memorable experience for me was to fly over the Julian Alps in a hot-air balloon.
Food & drink: Organic herbal tea made of flowers picked in the mountains, roasted lamb and potatoes, beef and mushroom soup, apple strudel, chocolate štruklji (served in the mountain hut Kofce in the Karawanks).
Sports events: Marathon Franja, Goni Pony, and Juriš na Vršič
Books: Čefurji Raus (Vojnović), Alamut (Bartol)
Movies: Gremo mi po svoje and Houston, imamo problem.
Music: Siddharta – Ledena, Napalm 3, Sfinga, Narava; Lamai – Spet te slišim.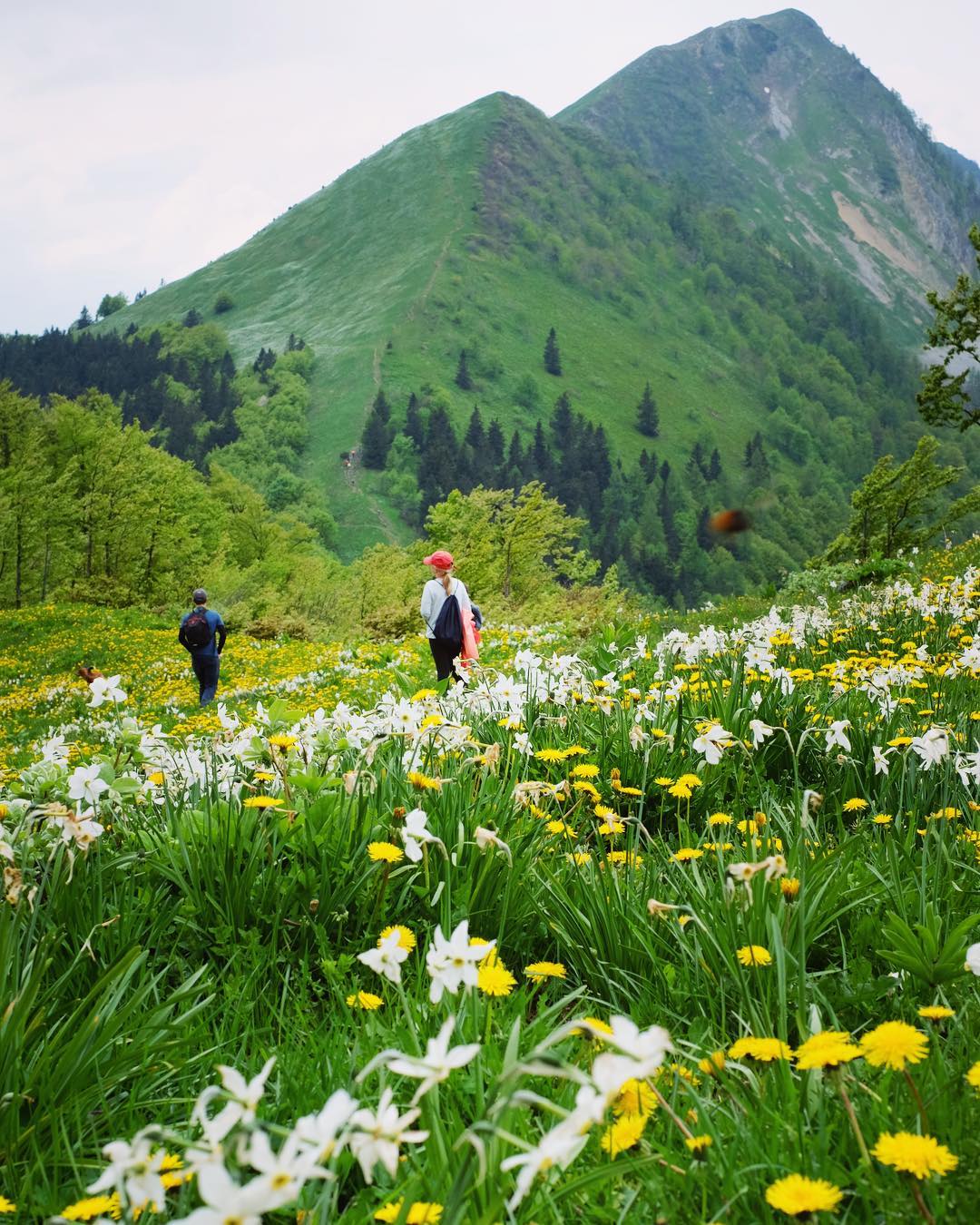 You can see more pictures and videos, read more adventures, and maybe even book a tour at Exploring Slovenia; and if you'd like to share your story with our readers, please get in touch at This email address is being protected from spambots. You need JavaScript enabled to view it.