At the start of the year we spoke with Steve Hartley about his experience as a foreign entrepreneur in Slovenia, an Australian who runs Explorer Kids Summer Camps. Now, after another successful season and going into the winter, we spoke to him again about summer camps for children in Slovenia, and the potential that's still there in this relatively undeveloped market in an ideal location for getting away from it all.
Summer camps are an 18$ billion industry in the US, with over 14,000 camps and 14 million children attending every year. How does that compare to the European market?
It's a bit like comparing apples and oranges really as there are so many variables involved. Clearly though there is a much greater camping tradition in the US when compared to Europe, though does that mean camps are unpopular here?
The bottom line is that summer camps in the US are a tradition, a way of life. In many ways it's become so engrained in popular culture that it's just a given that children do this during their summer holidays. Well, at least those children from families that can afford to send their sons and daughters off to camp for eight weeks straight.
In saying this, it's foolish to say that summer camps aren't popular in Europe because they are. Just not to the same extent as in the US, nor in the same way. For example the Scouting Association is present in 40 of the 50 European countries, while there's a large number of language-based camps found in places like the UK, Spain, France, and even Croatia. It has to be said though that Europe has a lot of ground to catch up to reach the dizzying heights of summer camps in the US.
Photo: Explorer Kids Camp
What makes summer camps in the US different to those you generally find in Europe?
Looking at what those in the American camping industry say, the majority of summer camps there are far less focused on traditional education and are more centered on strengthening and developing skills, such as Emotional Intelligence, not commonly taught in the classroom. On paper they're also much longer, ranging from four to eight weeks in length, whereas in Europe it's not common to find camps that last longer than two weeks.
When delving further, the American Camp Association emphasizes "exposing campers to different cultures" as a key factor of US based camps, as they see this cross-cultural experience as vital for their children's growth. Even though this is becoming more popular now in Europe, with such programs as ERASMUS and some international camps, it still isn't a deep tradition like you see in the US.
Photo: Explorer Kids Camp
They also aim to develop community skills in the campers. Many camps (the American Camp Association says over half) offer some kind of community service program, such as clean-ups or community food drives in their curricula. It ties into exposing campers to different cultures, while also building Emotional Intelligence which they deem so important to their values.
Slovenian summer camps can learn much from the American experience
One can perhaps get the biggest insight into how camps work in the US by looking at what the parents see as advantages of sending their children to camps. According to the American Camp Association the benefits for parents were reported as having a safe environment that builds self-confidence, esteem and social skills, and encourages friendships, while increasing children's willingness to experiment and try new things.
Again, there's a distinct focus on building Emotional Intelligence in camps in the US as it's now widely regarded as a better indicator of success than what you find with IQ. This focus on building EQ is something that isn't often seen in feedback from parents in Europe as a society is still much more focused on building IQ for schools and life.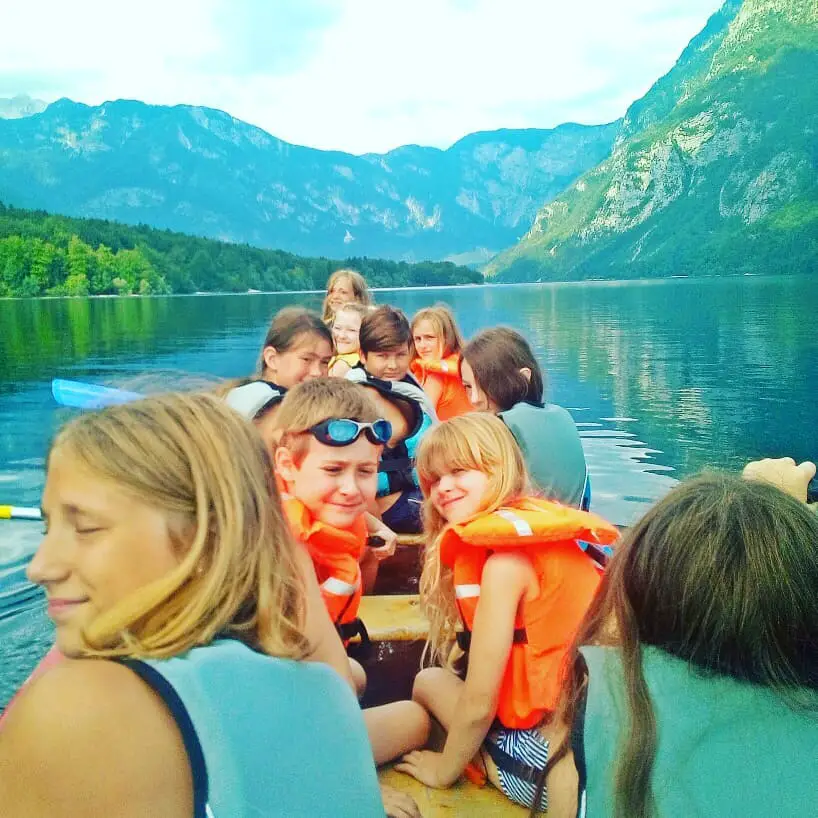 Photo: Explorer Kids Camp
You've been running camps in Slovenia for over 10 years. How have they evolved over that time?
Slovenia has always had a pretty rich camping history, especially when you take into account its abundance of nature and outdoor activities. Not only are the Scouts quite popular, but you also have the Taborniki which some might say is a mellow younger sister of the Scouts. Adding to that there are many specialized camps for at-risk children, language learning, and also some sport-based camps in both summer and winter. Of course, you also have your traditional school camps which are a regular part of the school curricula.
In saying all of this, the vast majority of these camps are predominately done only with Slovene children and staff, meaning there's a lack of "exposing campers to different cultures". Poletni Taborni was perhaps the pioneer in this field, having run international camps in Slovenia for the past 11 years, and with the recent tourist boom there's a distinct growth in foreign children attending summer camps in Slovenia.
When compared to the traditional 'life skill based' US camps, that's something that hasn't quite caught on yet in Slovenia. One could argue that the Scouts and Taborniki are groups that teach some of these skills, although they're still some way off what you'll find in the States, especially when it comes to building EQ. Quite simply, when camps aren't seen as big business, as you see in Slovenia, they tend to lack the same professionalism and day-to-day organization that you see across the Atlantic.
Photo: Explorer Kids Camp
You established Explorer Camps four years ago, and they have grown over 320%, with 2019 looking to be even bigger. What's behind this success?
Identifying one clear reason behind our present success is difficult, as it's been a combination of many different factors. Without doubt the fact we are a true international camp with children coming every year from over 18 different countries is a big draw not only within Slovenia, but also in this region. It's something unheard of in Slovenia to have 45 children on camp, with only three Slovenes, and while the rest of the campers come from as far as Australia, China, UAE, Ireland, Russia, Latvia, Malaysia, and the US to name a few. You can then also add having the bonus of English native-speaking stuff that run 100% of the activities.
Some may point to our desire to step away from a school like atmosphere by focusing on outdoor activities that are fun and engaging as a key point. It's definitely an amazing experience being challenged to try something you've never done before. However, behind this fun there's a strong belief in building EQ amongst our camp community, whether it be during our outdoor activities, free time or even meals.
Photo: Explorer Kids Camp
You could add to this the open and caring environment we create where children can feel free to express themselves without fear of judgment as being a good reason behind their success. It's not often campers can totally relax and enjoy just being who they are.
Counsellors are the key to a successful summer camp
Personally, the biggest factor of our success is our staff. Across the board campers repeatedly talk about the counselors and their warm, caring, and personal approach to working with them as being the biggest reason for enjoying the camps so much. It's a unique opportunity for campers to simply be themselves, and to learn to love who they are rather than trying to be someone they're not.
Photo: Explorer Kids Camp
You mentioned campers come to Slovenia from all around the world. What are their impressions of the country?
It's safe to say that they really love Slovenia, and our camps, when you take into account that nearly 80% of our campers come back every year. Without doubt they're impressed by the beauty of Slovenia as the nature around Lake Bohinj, our previous location, really is something else. I think it's also the fact that they experience the outdoors rather than just observe it which creates and even more special bond between the campers and nature here. Whether it be on the water in canoes or kayaks, hiking in the mountains, riding horses through forests, or flying through the air they are always challenged to step out of their comfort zones while being totally in nature.
Photo: Explorer Kids Camp
As you pointed out, campers come away with life-long memories. What are some of your best moments from camp?
Over the years there have been so many magnificent memories, if I'm honest it's quite difficult to pin point one. Quite often campers come to us lacking in self-confidence, self-belief, and generally feeling negatively about themselves, so it's extremely rewarding seeing them grow in stature leaving happy and more in love with who they are, rather than who they're told to be. The feeling of staying in touch with these campers year after year and seeing them grow as human beings is unbelievably satisfying, especially on those occasions those campers come up and thank us for all we did with them.
A supportive environment gives children the confidence to grow
In saying this, perhaps the most memorable moment came from my very first camp in Slovenia, as it set the tone for the next 15 years, and also became the cornerstone for Explorer Camps. A young camper was in need, but was at a loss at how to express himself or to get others to understand his pain. By taking the time to listen, the staff helped him find his voice and show his emotions, not only for the first time at camp, but also at that time in his life, which resulted in him not only enjoying the camp but also being more relaxed and happy at home. His parents were extremely grateful to us for making this difference, and as a result this empathy and care shown towards campers forms an integral part of our camp philosophy. We aim to make a difference to every camper's life.
Photo: Explorer Kids Camp
Do you think there's a place for summer camps in Slovenia and Europe in the future?
It's a funny question if I'm honest, as I believe camps will always have a place in Slovenia and Europe. However, a lot needs to be done to ensure that they reach the extremely high levels set in the US, which I believe should be our goal. Education is more than just the pursuit of IQ, as Emotional Intelligence is a growing force worldwide and becoming increasingly recognized as a true indicator of success. Without doubt we'll be pushing hard at Explorer Camps to ensure children that come to us walk away not only being happier with themselves, but also understand more about EQ and its value.
You can read our earlier interview with Steve Hartley here, visit the Explorer Camps website here, follow them on Facebook, or watch more of their videos on YouTube. And if you'd like to share your story about running a business in Slovenia, or about anything else related to the country, then please get in touch at This email address is being protected from spambots. You need JavaScript enabled to view it.