December 14, 2017
As of December 10, 2017, Slovenian Railways has been following a new improved timetable, with faster routes, and new international routes as well. For example, passengers will now travel 15 minutes less with trains which drive passed Pragersko on the line to Ormož, Ptuj and Maribor. Read more info
here.
Moreover, the connections have been improved for the routes to Nova Gorica, Jesenice and Ljubljana. Changes are also made to international passenger transport, as passengers will be able to travel to Belgrade with a night train.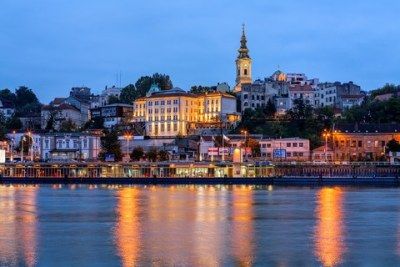 Belgrade by night                                                                 Source: Getty images
If you had no idea where to go this holiday, you are on a budget, or if you decide to go at the last minute, you can travel to Belgrade, Rijeka, Zagreb, Vienna and other destinations outside of Slovenia, with a 70% discount for youngsters up to 20 years of age, a discount from the City Star International offer or with the InterRail offer for young people up to 28 years of age, or for those over 60. For example, a night train to Belgrade costs just 29 EUR on this plan, and you can get more info
here
.
Special holiday selection for thermal baths
Slovenia is a country of thermal baths, and it's a tradition for people to visit them, mostly in the winter time, but during the whole year too. For the holiday season, we found  some offers from Slovenian Railways in collaboration with some thermal baths.  All you have to do is travel by train to the baths at your chosen destination, show them the daily train ticket when purchasing entry, and you will get
various discounts
. 
Rimske Terme                                                                                                                                            Source: Visit Slovenia
At Rimske Terme you will get 25% off admissions to pools and sauna baths, plus 15% off wellness services at the Amalija Wellness Center. You can have a relaxing massage, or go for a dip in the romantic ambience of the Water Nymphs' Bath.  
If you go to Terme Čatež by train this winter season, upon presentation of your valid train ticket you get a 20% discount for their Winter Thermal Riviera and Sauna Park during the week, Monday to Friday, and also at weekends and holidays.
 Terme Čatež Wellness center Vivat                                                                         Source: Terme Čatež
Note that when you get to the train station to Dobova, it is connected with Terme Čatež by a bus service provided by Integral Brežice. Bus tickets can be purchased directly from the bus driver. You can check the bus timetables
here
.
Terme Ptuj is the right place for all seeking to recover or maintain their health, as Ptuj's thermal springs help relieve rheumatism, treat bone and cartilage diseases, and also have beneficial effects on neurological disorders. The positive effects of Terme Ptuj's thermal water were already known by the Romans, who founded Petovia, or today's Ptuj – the oldest town in Slovenia.
If you go to by train to Terme Ptuj you may obtain a 50% discount on all-day tickets for the thermal park and 20% discount on spa treatments at the luxurious wellness centre Valens Augusta at the Grand Hotel Primus. Present a valid daily train ticket when paying the entrance fee and enjoy yourself. 
 Grand Hotel Primus  Terme Ptuj                                                                                  Source: Terme Ptuj
Travel to Laško and get discounted swimming and sauning in Thermana Laško. Discover the secret healing powers of thermal springs and have endless water fun under a glass dome with a 20% discount on the use of swimming pool and sauna facilities, and 10% on wellness treatments at the Wellness Park Laško. The train station is almost right beside the thermal resort.
Terme Laško                                                                                                             Source: Visit Slovenia
And last but not least, if you decide to travel by train to Terme Olimia and expect to get a discount make sure it's Saturday, because their offer is valid only on this one day week. You will save 30% off your entrance fee for adults, but 50% for children under 12 years of age. 
 Terme Olimia:Welness&Selfness                                                                                                             Source: Visit Slovenia
Just lie back and enjoy the ride together with your friends and family – simple, stress-free, safe and comfortable.  However, please note that the discounts are limited to the day on which you purchased your train ticket.  
More detailed information on timetables, train prices and offers are available at the official website of
Slovenian Railways
.