I must have looked at over twenty destinations in my search for our perfect February break.
We had four days ideally, had to be a reasonable cost, had to be within a few hours flight and I wanted to fly from Gatwick – easy criteria for Europe in February.
I searched for ways to convince Kerrie of each place I found, and she was indifferent to my excited pitch about what there was to do in each place until I showed her a picture of Lake Bled.
When she said, 'We have to go there!', I immediately booked flights before she could change her mind!
Lake Bled is in Northern Slovenia, not far from the Austrian border. It is a beautiful lake in the Julian Alps with a small island in the middle. It is a big tourist attraction in the summer, but winter seems to be their low season.
Bled town is primarily to the East of the lake and has plenty of hotels and restaurants to cater for the busy season. It also has a big Medieval Castle on a hill towering over the town which is lit up at night.
In winter, the lake freezes over to such a thickness that you can walk over the surface, all the way to the island in the middle – when we got there, a warm spell had hit and the ice wasn't thick enough to safely walk on!
I booked flights with EasyJet from Gatwick to the Slovenian capital, Ljubljana. The city is just over a two-hour flight from London and return fare for us was less than £100 each. The only problem with flights to Ljubljana is that EasyJet fly out Friday evening and back on Monday midday with no flights on Tuesdays (in early Feb) so our four-day getaway was off the cards.  [Ed. All times and prices for 2017] We flew out on the Friday evening and decided to fly back on the Wednesday. This would give us four full days in Slovenia with two days to fly.
Bled is about 20 miles from Ljubljana Airport and is essentially, one motorway until the road into Bled. There are plenty of transfer options, as well as train and bus links. For around 15 euros a day, we hired a car from InterRent at the airport.
If you are going to use InterRent I can save you an hour of aimless walking – their office is not in the well-sign posted Car Rental facility, as you might expect! As you exit the arrivals building, turn immediately right, walk down to the departures building, go in the first set of doors and turn immediately left. There will be a dimly lit corridor that their office is on…it took me about an hour to find and no airport staff know where it is either!
We then drove north to Bled and arrived at our hotel in about 30 minutes which had free parking.
We normally choose a cheap hotel when we go on short breaks as we spend so little time in the room but this time, with my adventure plans for this year, we decided to splash out on a five-star hotel – Grand Hotel Toplice.  The hotel is in the south of Bled, right on the edge of the lake. I wasn't convinced by the elegance of the hotel from the promotional pictures but nevertheless for less than £100 a night on Booking.com, it should still be great value.
We had few plans when we arrived, I just had my normal book full of scribbles from my research of things to see and do. When we checked in, there was a brilliant concierge who was incredibly welcoming and knew everything about Slovenia and Bled. He gave us more maps than we would ever need and suggestions on enough attractions to fill a few weeks at least!
We spent the Saturday exploring, we drove around the lake (15mins) about three times and explored Bled making a plan of attack for the trip.
Typically, I cannot resist a 'Road Trip' and I managed to convince Kerrie that we should do one on the Sunday:
From Bled to Wörthersee in Austria, across into Italy down to Trieste and back…
With an early start, you can get to the stunning Wörthersee Lake for breakfast, head across into Italy, down through the Easternmost point of the Dolomites, down to Trieste for lunch and back to Bled in time for dinner.
The scenery is breath-taking, although we had fog through a lot of the Italian Alps, the picturesque valleys and towering mountains were definitely worth seeing.
Trieste is a nightmare to drive around! We spent about 2 hours trying to find somewhere to eat as well as somewhere to park. At one point, I got us pretty lost and we were on a 30% incline in the wrong part of the city, with wet tarmac, watching a car slide down the incredibly narrow street towards us as he tried to get some grip!
The driving in this part of the world (ignoring Trieste) is easy! The roads are perfect and quiet, everything is well sign-posted and the other drivers are surprisingly courteous.  The only thing to bear in mind is that in Austria, you need a vignette to drive (like a toll sticker). They only cost around 9 euros for a 10-day vignette (the minimum) but hefty fines are handed out to anyone travelling without one. All the service stations and significant road borders sell them anyway, so it isn't much of an issue.
Next, we wanted to go Skiing. Slovenia is a hidden skiing destination in Europe. It has the world-championship Maribor resort but other than that, they are pretty unknown.
There are a few ski centres around Bled but very few write ups that I could find.
Straža – pretty much opposite our hotel, Straža is basically a hill that, when snow covered, can be a good starter or children's slope to learn on. They also offer snow tubing when the weather is right! Straža does open for evening skiing when there is snow so it can be good, as it is in Bled, for an aprés-ski-ski.
Vogel – we decided to head for Vogel. It is the next valley over, in the Bohinj area (beautiful even if you are not skiing!) and it is about a 30-minute drive. This is a great resort for intermediate skiers offering pistes of all different shapes and sizes. Ski hire is available at the top where the gondola arrives and is very competitive – all day hire of Skis, poles and boots is 30 euros!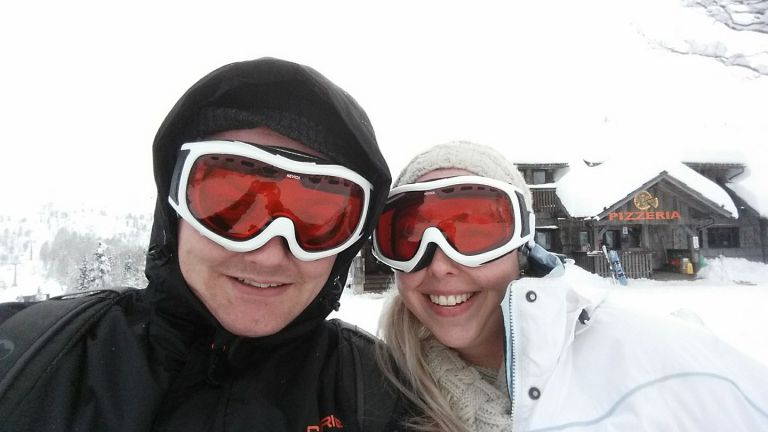 Kerrie and I taking a traditional snow selfie at Vogel!
Lift pass is 30 euros for all day and also gets you a ride there and back from Bled on the Ski Bus. On top of that, it allows you to ski the other local resorts of  Kobla, Kranjska Gora, Krvavec, Soriska Planina, Stari Vrh and Straža.  That's a good deal!
Vogel Ski Resort, Slovenia
On the way to or from Vogel, or just in Bohinj, you shouldn't miss a gem of a restaurant – Foksner. They have some incredible food in a quaint little timber cottage with really friendly staff. On top of that, it is probably one of the nicest burgers I have ever had in my life!
Bohinj is another beautiful mountain lake surrounded with small villages which host some great bars and restaurants too!
Bohinj Lake, Slovenia
Tuesday we decided to go and have a proper look at Ljubljana. We left early and headed for the castle. The castle hill is a great vantage point to see the whole of the city. You can see from up there how it isn't so much a city, more of a town.
Ljubljana has an arty, indie feel to it. The locals are really friendly and seem to want to help you with anything you need. We didn't feel there was that much to see but it would be a great place to spend some relaxing days in the cosy bars and pubs.
We then headed across the border into Croatia. We have done Croatia before but only in the South, I have always wanted to see Zagreb and we decided now was the time to do it!
Zagreb is a great city, there is plenty to do and plenty to see. We came across an area by St. Mark's Church (upper town) and walked down to the bottom of the hill where there is a nice baroque district with a market in the square on Sundays.
St. Mark's Church, Zagreb
Being science geeks, we really wanted to see the Nikola Tesla Technical Museum but it was closed when we went. Looks to be well worth a visit next time!
Another quirky museum that is much talked about in Zagreb is the Museum of Broken Relationships – it seems we missed a quirky experience there but next time, we will do it!
On our final day, we spent more time in Bled experiencing the Slovenian hospitality and as we had heavy snowfall the night before, decided to drive into the dramatic Triglav national park. This is a mountainous area to the immediate north of Bled which is at a higher altitude and we found a good loop to do (only if the road is safe, of course!)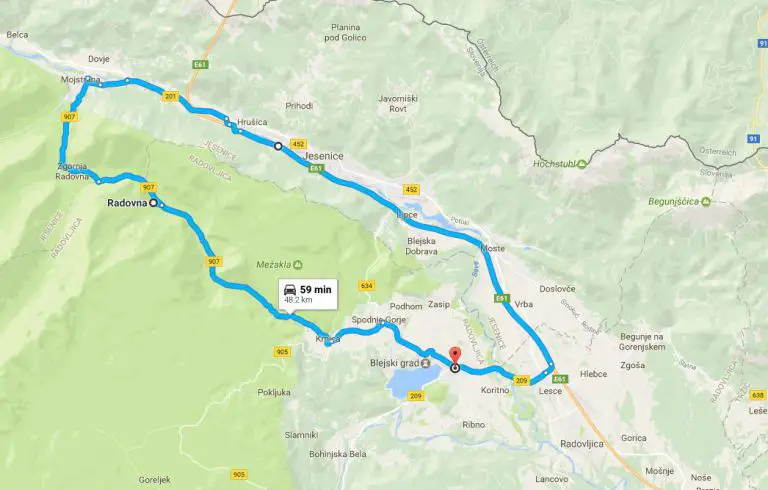 Drive in a small circle out into Triglav and back down to Bled
Grand Hotel Toplice Review
After my initial scepticism from looking at their Booking.com profile, I have to admit I was wrong. The photos, in my opinion, make the hotel look dated and tired but this just isn't the case.
Not to be too strong but this is probably one of the best hotels, from a guest experience point of view, I have stayed in when travelling Europe.
We arrived when it was dark and found the hotel reserved parking (of which there was plenty), that faced Lake Bled. We parked up and carried our luggage towards reception to check in. Their concierge came straight out and insisted he took our cases into the reception.
As you walk into reception, you can appreciate the elegance and class of the hotel. It is clean, light and polished, with a simple but classy decor.
The smiley concierge checked us in effortlessly and started asking us about what we had planned. I explained what we would like to see and immediately he started handing us out maps and tips for every place we wanted to see. He knew all the local attractions and advised us on best times to go. He knew his stuff!
We then went up to our room insisting, in true British style, to take our own cases. We went into the room and found it to be immaculate and well presented. The room had two double French doors onto the full-width stone balcony with charming wooden blind inner doors. The bed was huge and very comfortable.
The breakfast offered was in a huge variety and there was an additional menu of items the kitchen would make for you fresh. The breakfast is served in the restaurant with full width windows facing the lake.
There is a pool there which is in a roman-column style surround, and although it is not heated and only at room temperature, guests have complimentary access to Hotel Golf (virtually next door) which has a fully heated pool.
I can tell why world leaders choose to stay here as the hotel is exquisite, it even offers a stunning guest (and presidential) lounge overlooking the lake from the first floor.
Having worked at a hotel, I am rarely such an easy critic to win but I would genuinely recommend this hotel to anyone going to Bled who can spend a little more money for a luxury hotel (at less than £100 a night, it is great value).
Overall, Slovenia was faultless as a short break destination. It is easily one of Europe's top-10 destinations in my opinion and we will definitely be back!
Dan is currently travelling overland from the UK to Mongolia, and you can follow his adventures on his blog, Facebook or other social media.