August 15, 2018
Rail Journal reports that after a 10-year break it will soon be possible, from September 9th on, to travel by rail from Ljubljana to Trieste, the port town that was once part of Slovenia, a status that lives on in the many memes launched with the slogan Trst je naš! (Trieste is ours!).
One-way tickets to and from Ljubljana and Trieste will be priced at €8, with the first train leaving the Slovenian capital at 05:57 and arriving at Trieste 08:39, while the second train will leave at 16:10 and arrive at 18:43. Running the other way, the first train will leave Trieste at 09:01 and arrive in Ljubljana at 11:36, while the second train will leave from Udine at 17:54 and arrive at Ljubljana at 21:48.
The trains are scheduled to stop at Villa Opicina, Trieste Central, Monfalcone, Trieste Airport, Cervignano-Aquileia-Grado and Palmanova on the Italian side of the border, while the stations served in Slovenia will be Sezana, Divaca, Pivca, Postojna, Rakek, Logatec, Borovnica and Ljubljana.
Readers at the intersection of the Venn diagram that covers trains, literature, Ljubljana and Trieste will be pleased to note that the relaunching of this rail service provides another reason to remember the night James and Nora Joyce spent sleeping rough in the Slovenian capital. The date was October 19, 1904 – the same year immortalised in Ulysses – when the couple got on a train in Zurich with the intention of travelling to Trieste. For some reason they got off in Ljubljana, where they remained for the night, in a park.
A memorial to this event can be found on platform six of the city's train station, as shown below.
If you find the sculptures in the second image somewhat familiar then that's because they're by Jakov Brdar, the man behind those on Butcher's Bridge – the one with all the "lovers' locks" that links the Central Market with Petkovšek Embankment (Petkovškovo nabrežje) – both the large scale works and the smaller ones on the railings ,as shown below.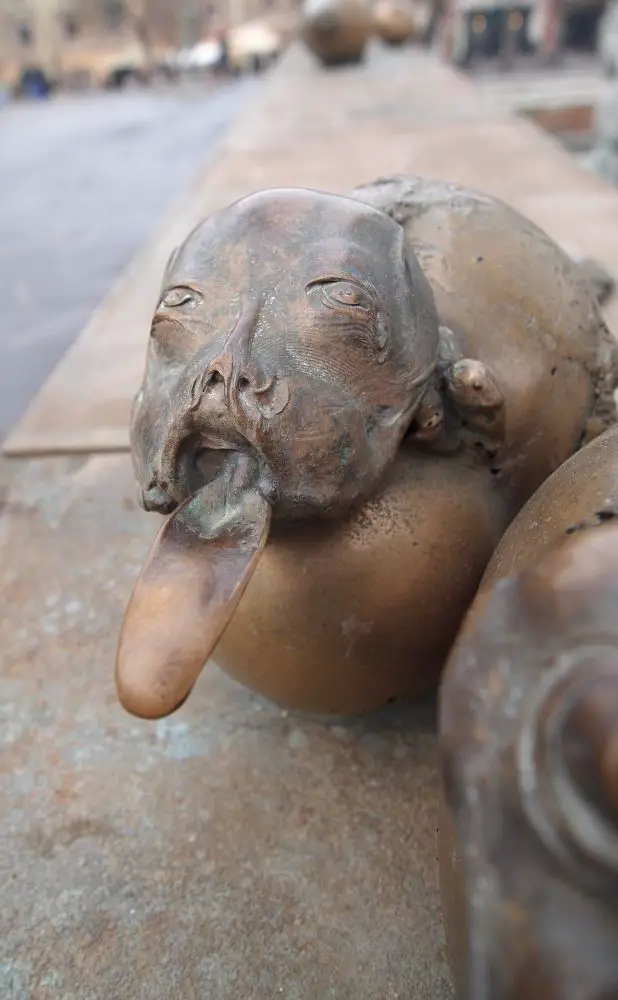 Photo: JL Flanner
He also has some fantastic pieces tucked away in the Old Town, but we'll leave those for another day.