August 2, 2018

While Bregana may be the biggest border crossing between Croatia and Slovenia, there are no fewer than 47 others between the two countries that you can use. Some of the bigger ones are open 24/7, while some of the smaller ones are not open during the night.
The Croatian Ministry of the Interior has compiled a very useful map with opening hours,conveniently sorted by county, which you can find below, as well as a Google Map with the location of each.
You can also check www.hak.hr (Croatia Traffic Info) for news and updates.
Note: EEA (European Economic Area) is the EU + Iceland, Lichtenstein, Norway
CH: Switzerland
If you are an EU citizen, but there are third countries citizens (non-EU) with you in the car, you must cross one of the following borders: Macelj, Bregana, Rupa, Plovanija, Kaštel, Požane, Pasjak, Jurovski Brod and Dubrava Križovljanska.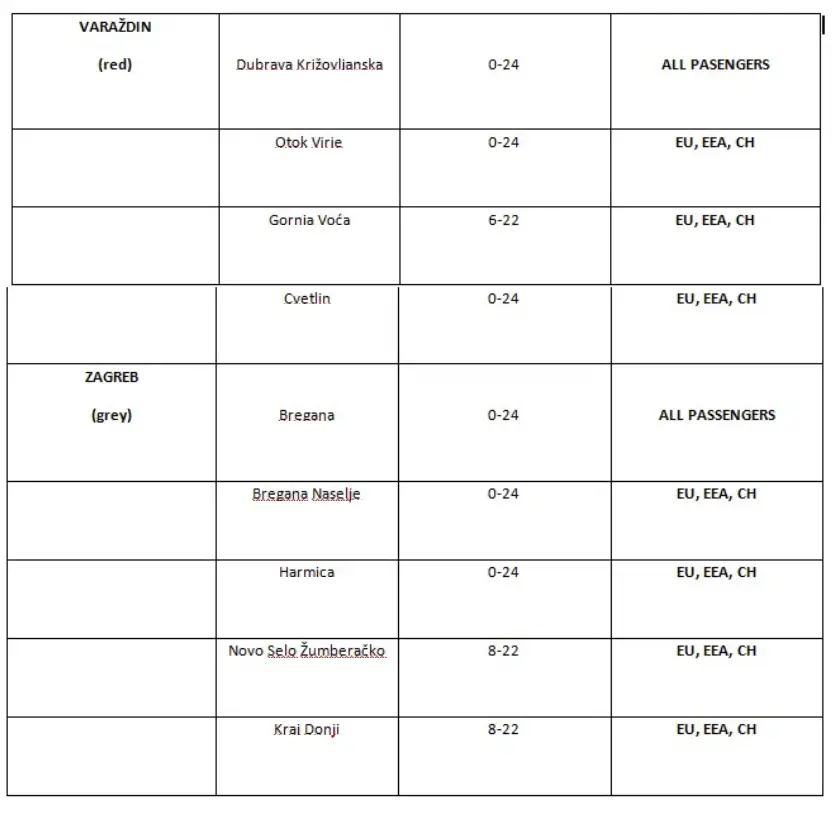 How to avoid Bregana
If you're travelling from Slovenia (and you're an EU citizen), get off the motorway at Čatež ob Savi, and drive 8 km to a nearby border crossing called Rigonce / Harmica. If you're travelling from Croatia, head over to Zaprešić and look for Harmica / Rigonce.
There is also a smaller border crossing for EU citizens, called 'Bregana – naselje' at the town of Bregana, three kilometres from the big Bregana border crossing.
Live traffic cameras
These are the webcams where you can see the situation live:
Macelj (no data at the time of posting)
Bregana
Pasjak
Rupa
Kaštel