Goriska Brda is my favourite region of Slovenia. It is also known as Slovenian Tuscany, so let's say it's like Tuscany, but without the crowds of tourists and high prices. In addition to the picturesque hilltop villages, you can actually hike and get lost through the vineyards, orchards, along the cypress trees and its rolling hillsides lined with vineyards.
The region is famous for the production of wine, cherries, olive oil and other typical foods. Hidden behind mountain ranges it looks like a mystical place, a secret paradise waiting for you to discover.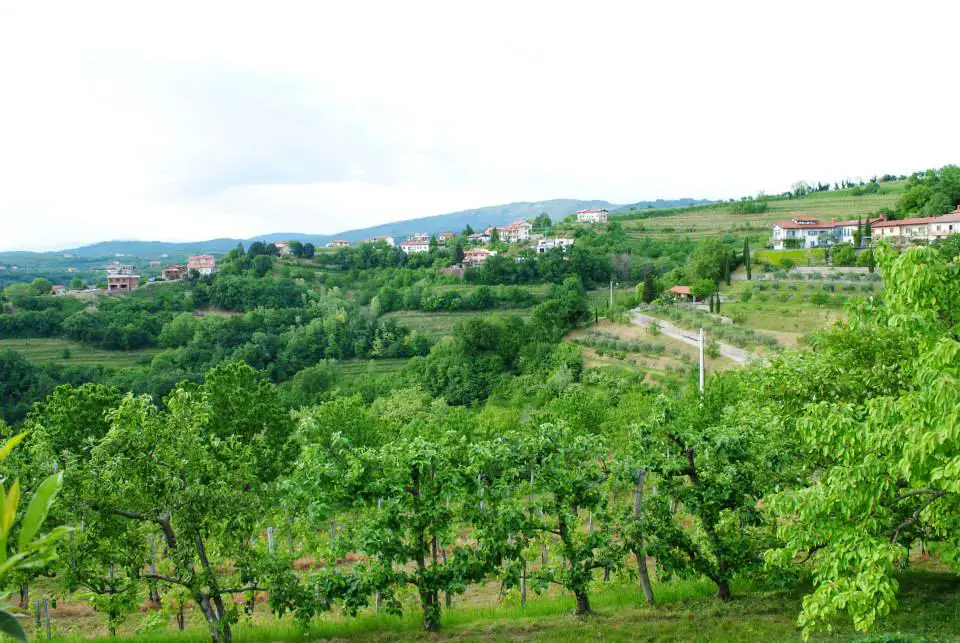 The view from Šmartno
How I fell in love
The first time I visited Goriška Brda was by chance, as me and my friends were driving through Slovenia we wanted to visit some wine cellars. As we got there we were amazed by so many cute and charming villages, the medieval Šmartno, Medana where Kristančič wines are made, cute and empty Biljana, the home of the spectacular Biana penina, and I promised myself I would go there again.
My personal reason why I love this region is that I could experience it just like a person who lives there. I am lucky to have a close friend who comes from Dobrova, or a very small village at "the end of Slovenia," as I say, just a few kilometres from Italy, Brdice pri Kožbanih. Many times he hosted me and a group of friends at his old family house, where we could also learn about the customs and people of this region, and of course try their delicious traditional homemade food.
Another peculiar thing which I as a linguist admire and also envy about the people from the Primorska/ Goriška Brda region is that they are bilingual and all speak Italian fluently, and take it for granted like it's nothing, although it gives them an advantage in life.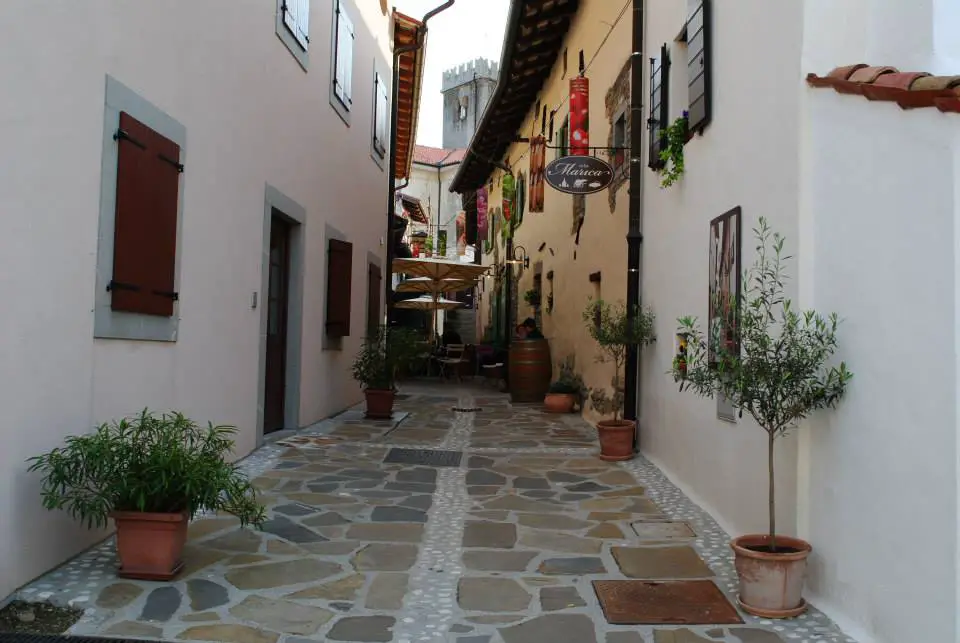 Charming Šmartno
Olive tree at the Homestead Belica in Medana
 Wine, the wineries, the vineyards and everything wine-like
There are many wine cellars, which make their own wine, and some of them offer wine tours, but you will have to book a tour at least a day before, and if you do that in high season, let's say in August, the owners, believe it or not, might be on vacation as well. And also in smaller villages you'll be lucky if you meet anyone at this time of year. Whatever the case, "Brici," as the inhabitants of Goriška Brda are called, are charming and whoever you meet will be very helpful and friendly. So, blame it on the wine, blame it on the sea, but Brici in general are much more open and relaxed than people from other regions of Slovenia.

However, perhaps one of the reasons that the region has still not become a huge tourist destination is that you will have a hard time finding anything open, if you visit it in the time when there isn't a special event or Festival happening, as was the case with us.
Moreover, there are only a few restaurants offering local food, and to eat at these make sure that you come in the lunch hours, and by this I mean the Slovenian lunch hours, somewhere until 4:00 p.m. The bars and restaurants (of which there are not many) have strange working hours, open only for the weekend or closing at 4:00 p.m.

However, we've been lucky to visit the winery Čarga and chat with the owner who was also kind enough to host us and show off the wine cellar.
Winetasting at Čarga Winery
 Čarga winery
 The villages
I have visited almost all the villages in the region, and Šmartno is my favourite.
It's a picturesque medieval village walled with five preserved towers, and looks like Eagle's Nest (as the Slovenian poet Alojz Gradnik would say). You can take a stroll, have lunch, of course drink lots of wine and enjoy the magnificent views over Goriška Brda.
The most beautiful I'd say is the one from Belica hotel in Medana. There is also a wine shop with snacks, which luckily always seems open, and an interesting bar…although unfortunately the two times we visited it wasn't open.
 Remains of the day in Šmartno
Biljana is another beautiful Brda village, recognizable from afar by its church, the Parish Church of St. Michael is still Gothic in its basic appearance, and was mentioned for the first time in writing from 1233. The star-arched presbytery was constructed in 1534, while the church itself is decorated in the Baroque style.
The walls were painted around 1900 by Clemente del Neri, while Christ's Resurrection, a wooden sculpture from the first half of 16th century, is a carving from a South Tirol workshop. Murals behind the side altar prove that the original church was of the same size as the current one, and several times larger than others in this area. It was thus the centre the ancient parish for the major part of the Brda region.
 Parish church of St. Michael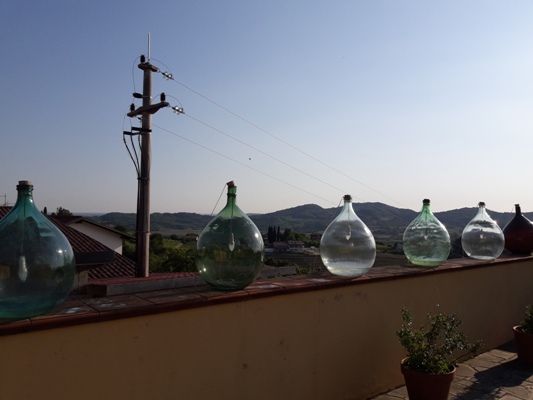 A wine bar at Medana
 And last, but certainly not least, Dobrova village, which is the administrative centre of the region. I suggest a visit to the castle, where you have a beautiful view and also the possibility of a guided tour in the wine cellar. As I still haven't been this is the next thing on my list. There's also a tourist info office with a lot of materials in several languages, maps which are free, and where you can buy souvenirs. 
What's the best thing about these villages, aside from the views? They're free to visit, but be sure to buy or at least try the wines.
Choose one of the many events at Goriška Brda
There are many events happening in Goriška Brda, such as festivals, cultural events, commercials fairs, and so on. The area's cultural offering is getting richer and richer each year. You have everything from wine festivals to a vineyard cycling marathon. My personal favourites are the Cherry Festival in May and Wine Days at various times of the year. More info on the following link:
https://www.brda.si/events_and_festivals/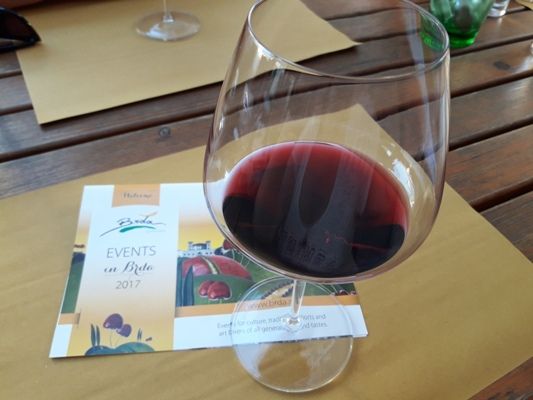 Enjoying a glass of Merlot in Medana village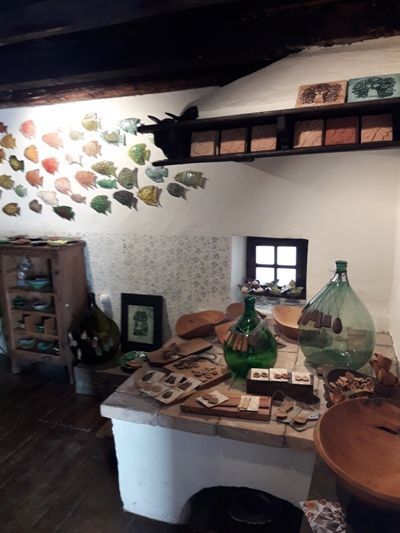 A handmade souvenir shop in Šmartno
 How to get there
You can reach Goriška Brda by following the Nova Gorica road, although you have to drive several kilometres into Italy.The Brda region is fortunate as it is located next to the border with Italy, and tourists from there make up a large part of their guests, although the Italians have their own part of the Brda hills in Italy, called Collio.