STA, 17 December - Cyclist Primož Roglič, sport climber Janja Garnbret and the men's national volleyball team are the winners of the main awards conferred by the Association of Sports Journalists as the 2019 Athlete of the Year ceremony was held in Ljubljana on Tuesday evening.
Roglič, who entered the world elite this year by finishing 3rd overall at the Giro d'Italia and winning the Vuelta a Espana to become the first Slovenian ever to win a Grand Tour race, scored 272 points from 105 Slovenian sport journalists.
Source: Twitter
All our stories on Roglič can be found here
He finished ahead of last year's winner of the Athlete of the Year award for men, basketball player Luka Dončić. The NBA Rookie of the Year received 200 points, while third place went to world motocross champion Tim Gajser (106).
The association noted that "in the fourth season among the elite, [Roglič] only upgraded his previous achievements" and ended the season as the first-ranked cyclist in the prestigious ProCyclingStats (PCS) raking.
Garnbret defended last year's title of the Athlete of the Year among women, winning 269 points ahead of Alpine skier Ilka Štuhec (208), the world downhill champion, and world slalom canoe champion Eva Terčelj (78).
In August, Garnbret won gold medals in bouldering, lead and the combined at the IFSC Climbing World Championships in Japan to become the first ever climber to complete a hat trick in a single championship.
"A majority of her achievements, which have already made history, come with a note that she was the first or youngest to make them," the sports journalist association said about the 20-year-old.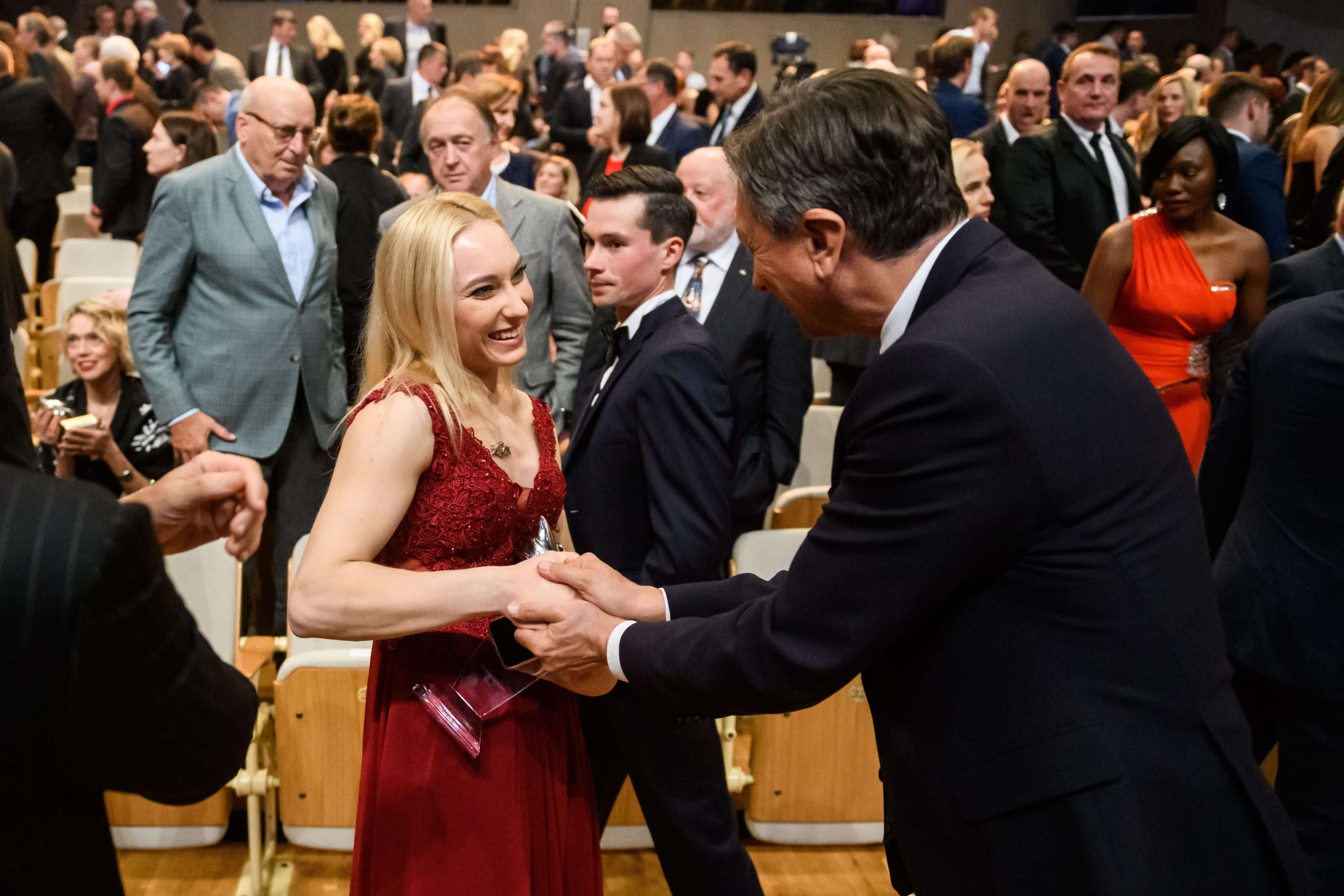 Source: Twitter
All our stories on Garnbret can be found here
In line with expectations, the Slovenian men's national volleyball team was declared the best team this year, winning 95 out of the possible 105 votes. The award comes after they won silver at the European Championships in September, co-hosted by Ljubljana.
"With their performances, they again unified the Slovenian nation by filling up the Stožice Arena and kept sport lovers in front of their television screens," the association said about the improbable run made by the volleyball players.
The most promising young athlete is tennis player Kaja Juvan, who played in the second round of Wimbledon and peaked at No. 106 in the WTA rankings this season. "The goals in the coming season are much higher," the association said.
Biathlete Alex Cisar won the fair play award for his display of sportsmanship in a Slovenian Cup race in Pokljuka. He gave fellow competitor Tilen Gregorka his ski stick after Gregorka lost one of his own in a collision with Cisar.