STA, 21 July 2020 - The Administrative Court has sided with an appeal by a Cameroonian citizen who was deported to Croatia last August and is currently in Bosnia-Herzegovina. Slovenia must allow him to enter the country and file an asylum application, and pay compensation, the court said. The decision will be appealed by the Interior Ministry.
Announcing the decision from last week, the civil initiative InfoKolpa said on Tuesday that the "national police carried out an illegal expulsion of a member of a persecuted English-speaking minority from Cameroon who wanted to apply for asylum in Slovenia."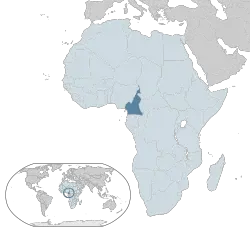 Cameroon on the map,. Wikipedia
The applicant was held in a Slovenian police station for two days and denied access to asylum, despite making multiple verbal requests. He was subsequently readmitted to Croatia, and from there, he was chain refouled to Bosnia-Herzegovina.
The civil initiative says that the Administrative Court found that Slovenia violated the applicant's right to asylum and the principle of non-refoulement.
"The court ruled that the police had not informed the applicant of his asylum rights, as mandated to do so, in clear breach of domestic and EU law."
The pushback also breached the prohibition of collective expulsion because the applicant was not issued a removal order, nor given translation and legal aid prior to his readmission to Croatia."
InfoKolpa notes that once the ruling becomes final, Slovenia will be obligated to allow the applicant to enter the country and file an application for international protection without delay, as well as provide EUR 5,000 in compensation.
Commenting on the outcome, the applicant said "I believe that the judgement will help those that come after me. It may not have a direct solution for me, but I know that we are creating awareness."
Meanwhile, the Interior Ministry of Internal Affairs said it would examine the decision and appeal it. "The ministry will respect and realise a final and executable decision of the court."