December 7, 2017
NiceHash, a hugely popular cloud mining service company based in Ljubljana, has reported a 24-hour shut down of its platform services due to a security breach on its website yesterday.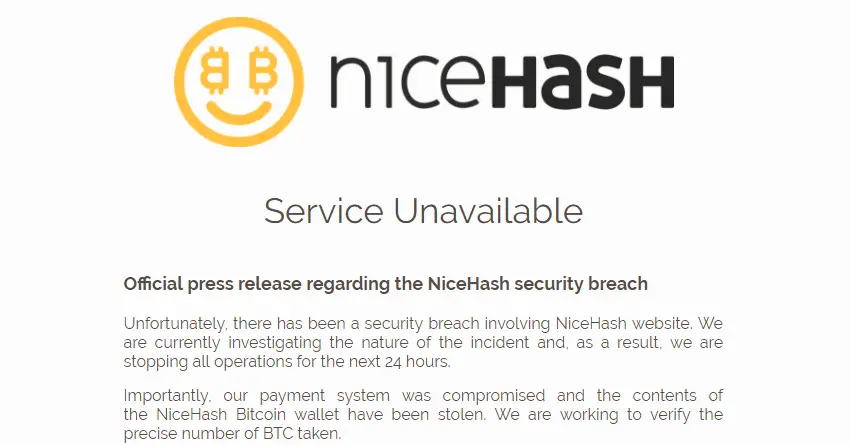 Speculation that about 4,700 Bitcoins (BTC) had been stolen from various users' accounts was confirmed today by the company's head of marketing, Andrej Škraba. In a statement to Reuters, Škraba described the breach as "a highly professional attack with sophisticated social engineering," and added that the company was cooperating with the authorities. The latter has also been confirmed by the police, although both NiceHash and the police refused to give any further information on the ongoing investigation.
NiceHash was offering a platform for trading computing power among its users, which was either bought or sold for the purpose of cryptocurrency mining and transaction confirmation.
Users traded their services in and for Bitcoins which were then stored in their accounts at NiceHash. The cyber-robbery come at what is believed to be peak BTC, which with its lack of regulation and absence of centralized administrative control renders this sort of cyber-crime even more tempting.
NiceHash CEO and 45% owner and co-founder of the company, Marko Kobal, has so far not given any statements, while concerns over the possible role of the other co-founder, Matjaž Škorjanc, presumably the company's CTO, whose father is also the majority owner of the company (via H-Bit), are spreading online.
Matjaž Škorjanc, aka M. S. Iserdo, the creator of notorious underground hacking forum Dark0de, was arrested in 2010 for creating Mariposa (butterfly) botnet malware which infected over 12 million computers around world. Škorjanc was found guilty and sentenced to four years and 10 months in jail in 2013.