August 31, 2018
Only days ahead of the start of the school year, Festival Ljubljana has filed a report with the authorities claiming that the school building next to the Festival's event venue in Križanke is unsafe for classes, while at the same time expressing an interest in taking over the premises.
The former monastery, renovated in the 1950s by Jože Plečnik, is currently shared by three parties. The church was returned to the Holy Cross monastic order in 2017, and the High School of Design and Photography has occupied the main building since the end of WWII, when it was first known as the School of Fine Crafts; while the Festival Ljubljana Public Institute manages the open-air theatre. Most important for this case, the school is run by the Ministry of Education, Science and Sport, part of the national government, while the Festival Ljubljana is part of the city government.
In 2016 a snow storm damaged the large retractable canopy which allowed events to take place in all weather conditions, which prompted the Festival to seize the opportunity to renovate the rest of the venue along with replacing the old stage.
However, in 2017 the school ordered a structural analysis which showed the suboptimal conditions of the building, and used the results of this study to prevent Festival Ljubljana from attaching its canopy roof to the walls of their building.
Now Festival Ljubljana and its director is coming back using the school's own analysis in an attempt to evict it and take over the building. In its report to the Construction, Surveying, Mapping and Housing Inspection Services, part of the Inspectorate of the Environment and Spatial Planning, the Festival Ljubljana Public Institute proposes a total ban on the use of the building in Križanke as, according to the Festival, the building is unsafe and poses a threat to the lives of everyone inside it and nearby.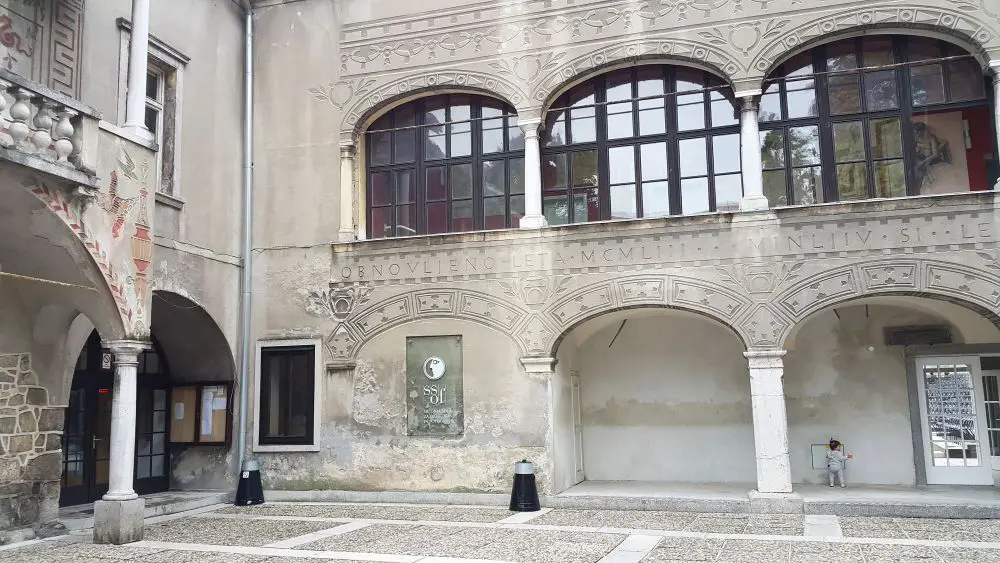 Left entrance: High School for Design and Photography; Right entrance: Festival Ljubljana open air theatre
Renovated uncovered open air theatre, with the school building and Holy Cross church tower in the back. The venue is ready for Friday night's performance by Vlado Kreslin and Friends.
As the media reported this Thursday, the Festival's director Darko Brlek put forward his case in a press conference last week, when he stated that he expects the authorities to think twice before starting the year's classes there, and thus preventing "another Genoa" from happening. Brlek also expressed the wish that an agreement could be reached on the renovation of the building next week, which he'd like to come under the management of Festival Ljubljana. He stated that the Institute is in urgent need more room for practice and to meet the various technical needs of the Festival.
No concerns have yet been expressed over another Genoa occurring during the Laibach concert that will close the Festival next week.