Things are finally, slowly opening up again, and one event on the horizon is the Brin Gin Festival, to be held on the 2 and 3 July (2021) in Dutovlje – although check in on Facebook to keep up with developments.
The promise of this event, along with the reopening of bars, is a good excuse to check back with one of Slovenia's more interesting gin producers, Karakter. We first met the team behind the distillery at Brin 2019, in a long, hot afternoon of sampling food and drink. And to be honest, after your fifth or sixth gin things do tend to become something of a blur, and even a dedicated professional, armed with a pen, notebook and press card to ensure continued access to free booze may think about calling it a day and faking a report. I overcame such doubts, however, and continued my research for the sake of our readers until ending up at what I think was my last stall of the event, Karakter's. There I heard the story of the handcrafted gin they'd been making in Bohinj, and enjoyed the revelation that is their Cherriot gin, infused with wild cherry and a charming pink, even picking up a bottle, possibly two, to continue my work home.
 
 Juniper berries (Slo. brin), a key ingredient in gin, have a long tradition of cultivation and use in Slovenia, most famously in the spirit brinovec
Waking up the next mid-day with a sore head and surrounded by evidence of personal failings and gross indulgence, high and low, I swore off alcohol for some time, but did eventually return to that bottle of cherry gin and enjoy it. And the other day, almost two years later and with bars reopening, the summer soon upon us, I finally got around to contacting Karakter again, to find out what I'd forgotten.
Note that the following interview with Urban Bajrič – who together with Matic Bezjak and Timi Rožič is behind the various projects – was conducted under covid-secure conditions – at a distance, and with all participants disinfected with gin.
Urban, making gin
How did you get into making gin?
At first in 2016 we started homebrewing beer, and we liked playing with different aromas, flavours, infusions, etc. After brewing quite a few batches of beer we thought about setting up a business, but at that time, there were already many breweries. So we made some research and decided we would try our luck with distilling. We opened up our business in February 2018. After our first two products, which were gin, we got a chance to take over Karakter Bar, called Paviljon at that time, and we did. A year after that, we started Zanoodle, an Asian bistro in centre of Ljubljana. Now, after everything that's happened in the last year, I think it is time for us to go back to our roots and focus on distilling and fermenting again.
What gins can people try now?
We have two gins at the moment, Imagine and Cherriot.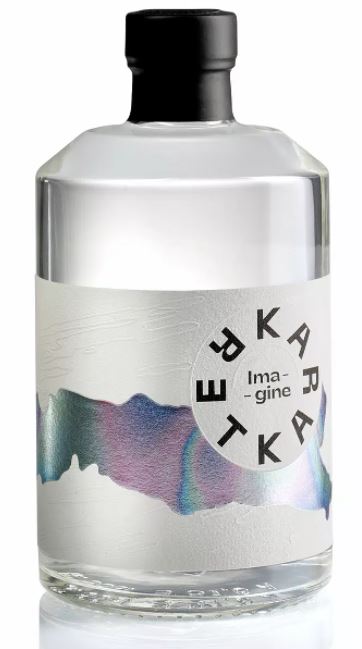 Imagine Dry Gin, which we used to sell under the name Karakter Gin, is a London Dry type, but not a classical juniper heavy gin, instead it's very fruity, balanced and fresh. It's made with 25 botanicals used in total, the traditional and red & black currant berries, along with cranberries, kaffir lime leaves, wild thyme, rose petals, mountain pine and some others we'll keep a secret for now. On the technical side we use all three ways of preparing the botanicals, percolation, infusion, and extraction, with the distillation taking place using a 100-litre column still. We're based in Bohinj, and we wanted this gin to reflect that, so some of the botanicals are picked locally, such as wild thyme and mountain pine. We use 8.5 kg of botanicals per 100-litre batch, and 6 kg of that are fresh berries, with this freshness making it into the gin through the slow distilling process and generous cuts, using the foreshots and tails. We're very proud of this gin, and especially since it won a bronze medal in the New Western style gin at the Craft Spirits Berlin Awards for 2021, the world's largest competition for handmade craft spirits.
The other gin have now is the Cherriot Infused Gin that you tried before. That's made with a total of 17 botanicals, the traditional ones plus things like beetroot, almonds, dry pears, and raspberries. Then After distilling that's infused with wild cherry and hibiscus flowers, As with Imagine, we get the full flavour from the botanicals by using percolation, infusion, and extraction. The result is aroma that's like a sweet gin, although no sugar or other sweeteners are added, it's all from the natural ingredients.
So right now we have a traditional gin, with the feeling of Bohinj, and a sweeter, cherry gin, both of which are ideal for drinking neat or with a mixer.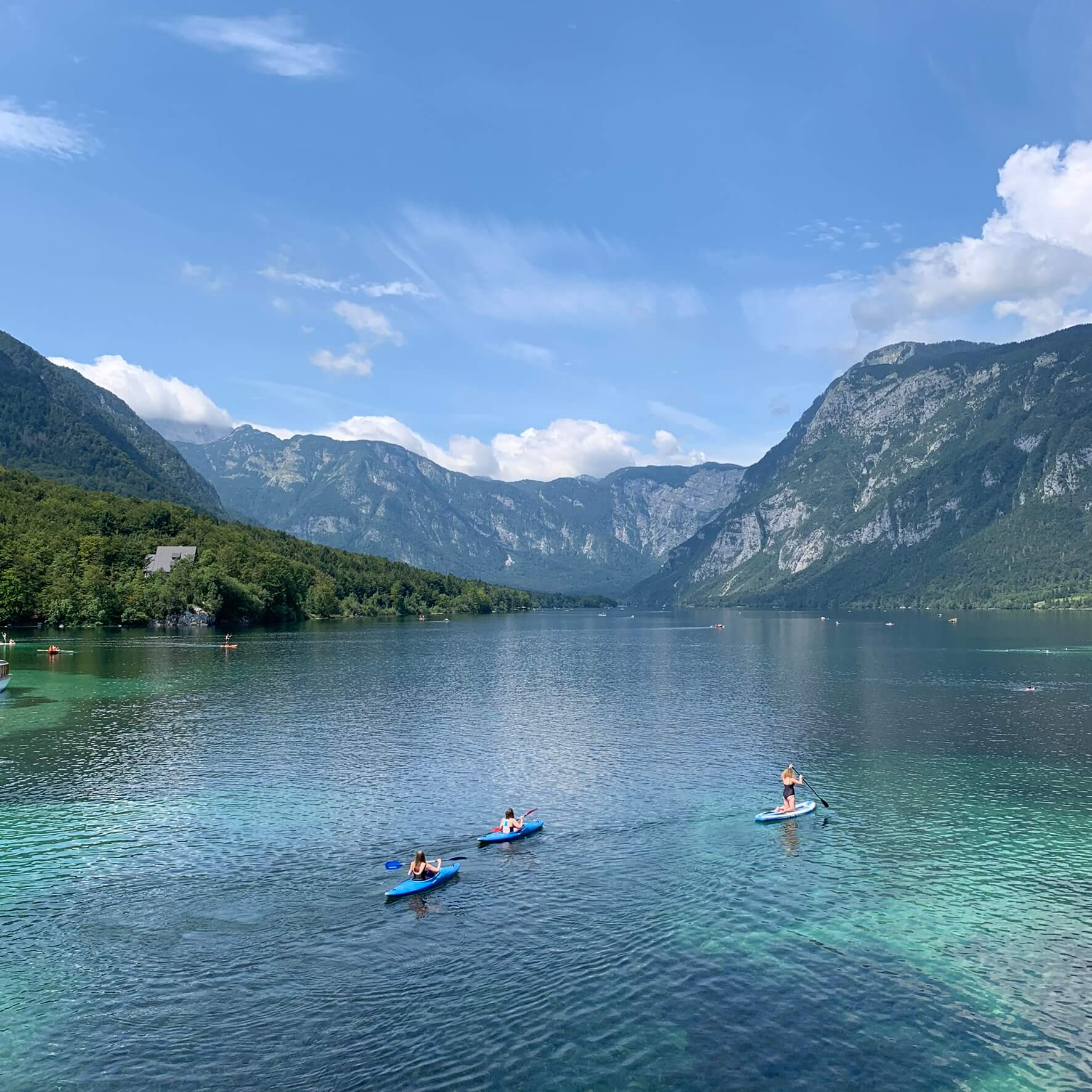 Lake Bohinj - not a bad place to be
You mentioned Bohinj and how it inspired your Imagine gin. What's it like working there? work?
Bohinj is a special place, everyone knows each other and sometimes people know more about you than you do. Wherever you go you have to drive for at least 30 minutes, and whatever you do, there are a thousand eyes staring at you. Just like any small, isolated community I guess.
But if you can look past some minor setbacks, Bohinj is a fantastic place to live and work. Of course it's easier to run a business in Ljubljana, but if I had to start the distillery again, with the knowledge I have now, I'd still choose Bohinj. I love it.
Karakter Bar, by day...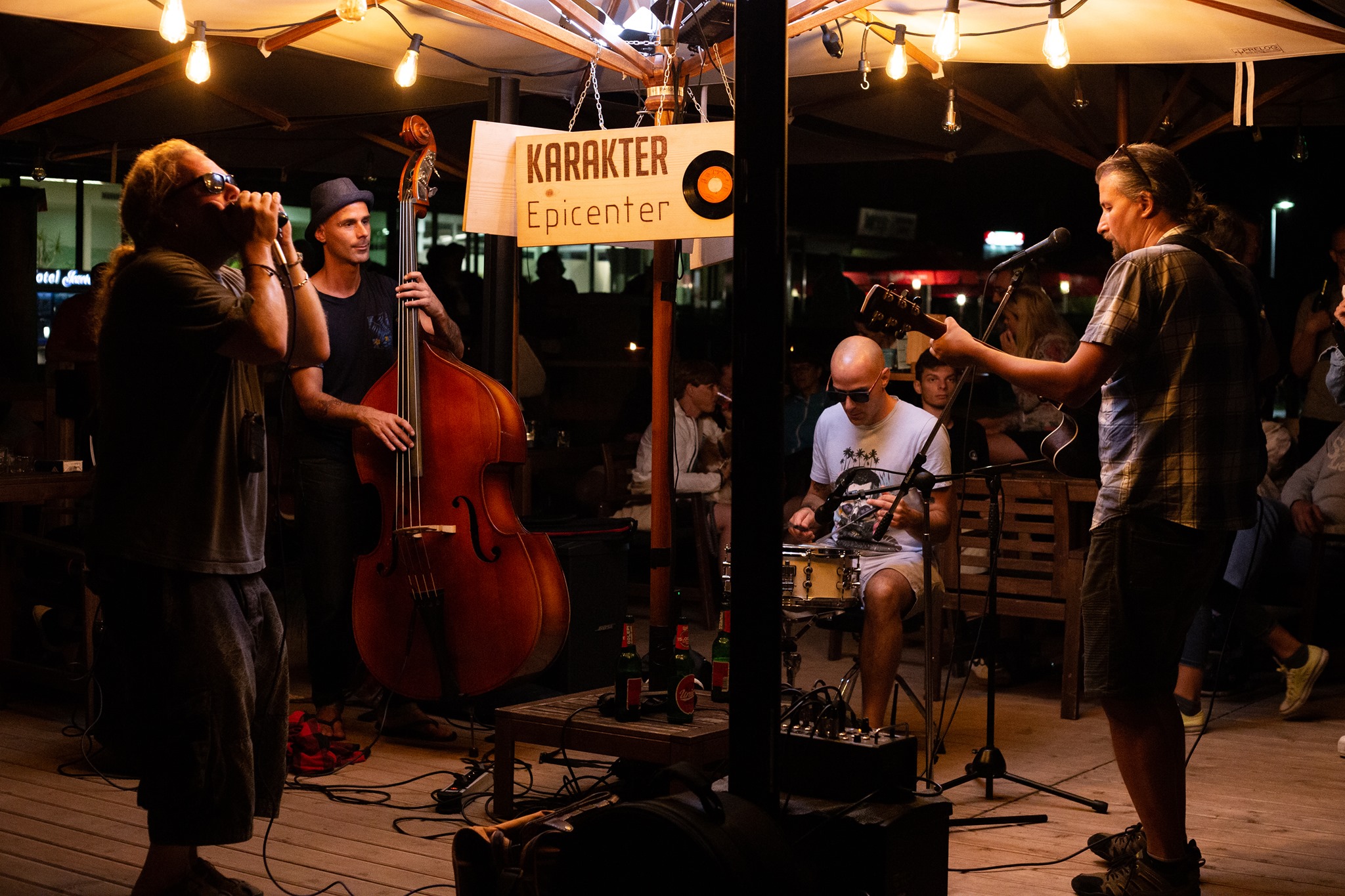 ...and night
In addition to gin, you also have the Karkater Bar, Zanoodle Bistro & Shop – can you tell us something about those?
Sure, Karakter Bar (opposite Hotel Jezero - Ribčev laz v Bohinju, 4265 Bohinj Jezero) is a place to relax, enjoy a cool gin and tonic and live music on a warm summer evening. Before COVID there was a lot going on, and with any luck there will be again soon, with live concerts from Slovenian jazz, folk and pop artists, culinary events in collaboration with local chefs, along with children's events, weekend barbecues, and so on.
ZANOODLE is a Slovenian-Asian fusion bistro in Ljubljana not far from Križanke (Rimska cesta 21, 1000 Ljubljana) with an ever-changing menu that includes everything from soups with homemade noodles, to dry aged beef, seafood, desserts and burgers.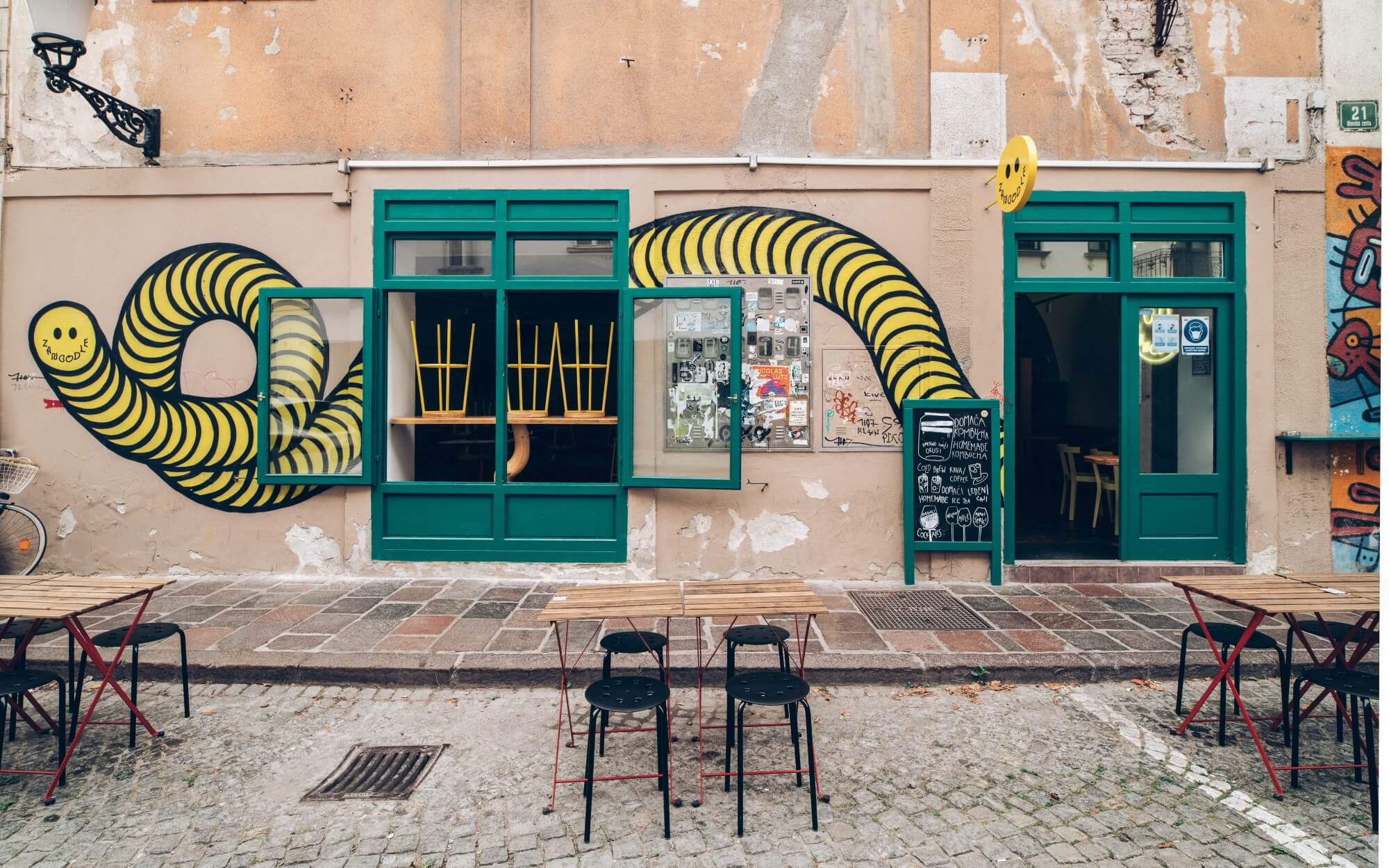 Zanoodle outside...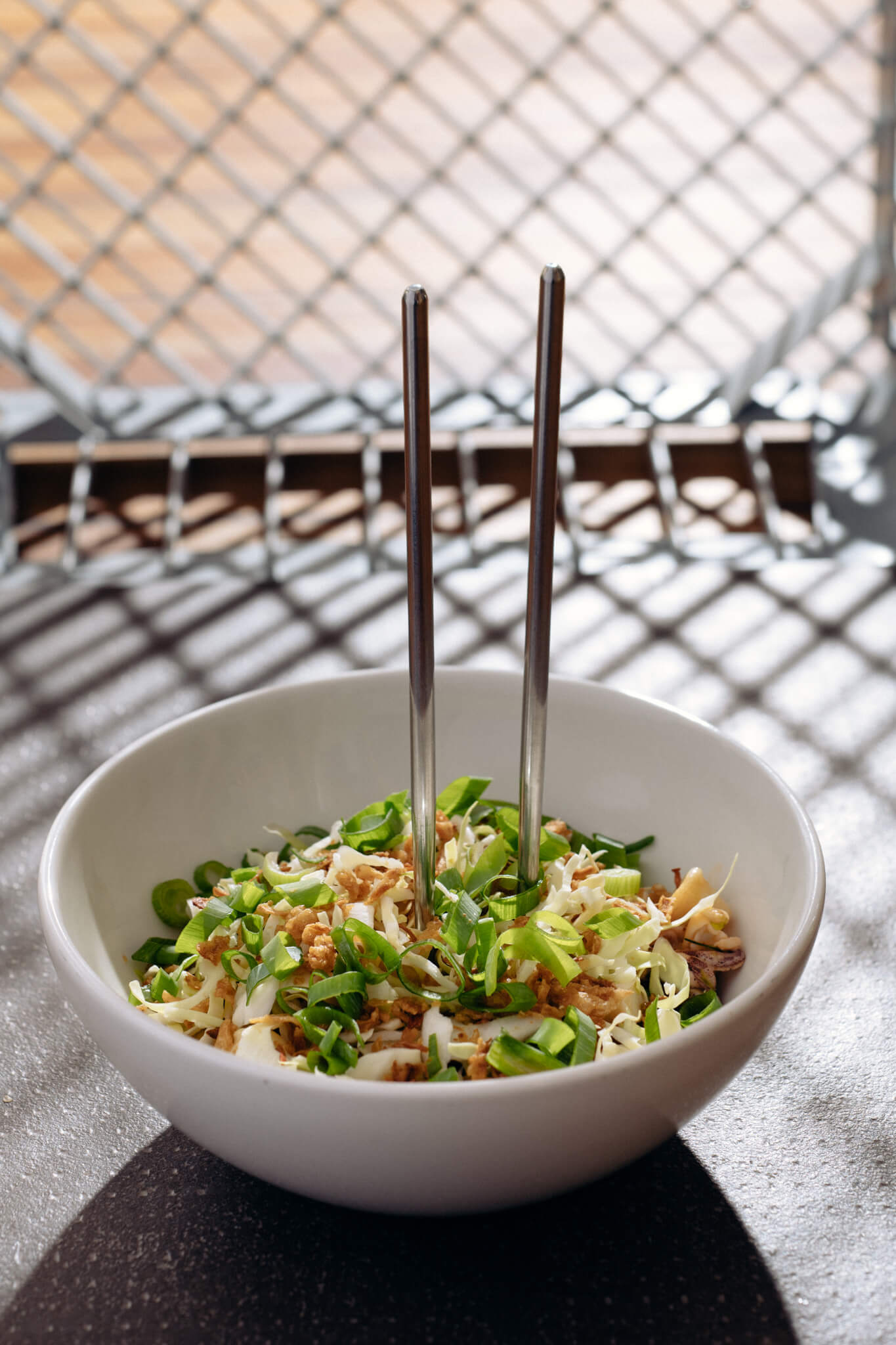 ...and in
Can people visit the distillery of they go to Bohinj?
We don't offer guided distillery tours as a service, but we're very happy to show people around the distillery when they come and buy a bottle of gin. That kind of 'tour' can take up to eight people, and we can walk you through the process from start to finish. The main reason people like to visit and see the distillery is because we don't hide anything, we're happy to explain everything about our gin and the production process. This kind of knowledge-sharing and openness is important – for us, the customers and the business. Our process and our ingredients are 100% natural, so we have nothing to hide.
How did COVID affect your work?
To be honest, a lot. We depend on bars and restaurants, and these were closed or had very strict limitations for more than eight months, and that really hit the demand for gin. That said, the situation is now improving and we're optimistic and hope that everything can get back to normal as soon as possible, that Slovenia can enjoy the summer. When things do reopen we want to encourage people to support their local businesses in these challenging times. Every order you make at a small hospitality business – a restaurant, café or bar – makes a difference and helps them to recover, and with it the local community.
What do have planned next?
There is a brand new product coming in June 2021, with the Brin Gin Festival in July being the first official event where everyone can try it. What we can say is that we are developing experimental fruit brandies that will be available in limited quantities – coming later this year.
Where to find Brin Gin Festival
Where can people try and buy your gin?
A list of locations is available on our Instagram account (we are still working on our website to highlight locations). For a perfect gin and tonic, head to Zanoodle in Ljubljana or Karakter Bar in Bohinj. Bottle purchase is possible in many local shops in Slovenia and of course through our website, with shipping throughout Europe.