It's been a hell of a year for anyone trying to start a new business and meet up with suppliers and partners, for all the obvious, dull and increasingly frustrating reasons, with Slovenia still under strict lockdown at time of typing, the vaccination program in disarray and a second summer season looking ever more likely to be lost. Thus despite the longer days and better weather, optimism is in short supply on the sunny side of the Alps, with little to look forward to but more of the same again and again and again.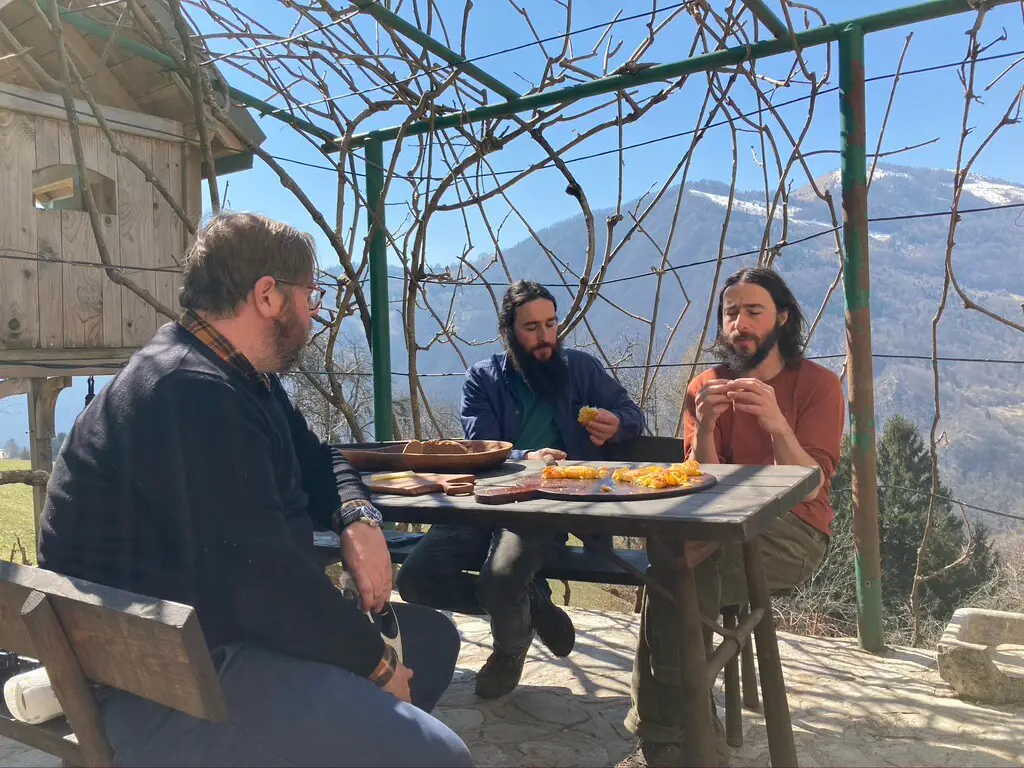 Jason with cheesemakes Jani and Samo Kutin
One man who's pushed ahead despite all obstacles with what at times has seem a reckless passion is Jason Hartley, a British chef, restaurateur and food campaigner. He learned the food business in Amsterdam, after a successful career in advertising, and is now based in Ljubljana, the centre of a network of producers and partners with a project that's been five years in the works and has now finally launched.
Cultisan is a business we first took a look at last September, and one that's well suited to these strange days of enforced monotony, when enjoying food not cooked by yourself or family member is a distant memory and exotic hope. In short, Cultisan brings together a curated selection of foods and ingredients from around Europe, a virtual delicatessen and gourmet experience that you can order and enjoy without leaving you home or putting on pants, adding variety and interest to your diet while supporting farmers and artisans in these troubled times that have seen even the renowned Ana Roš, Slovenia's only two-star Michelin chef, selling bread, paté, štruklji and more in supermarkets.
Operating under the banner of 'terroirism', Cultisan officially launched in the EU last week, a Slovenian-British joint venture that aims to connect consumers with farmers in a way that's ethical and convenient, a timely project that let's you enjoy the pleasures of the artisan's craft at home. As Jason puts it: "We need to rid ourselves of the misguided reliance on ultra-processed food, factory farms and supermarkets. Cultisan is on a mission to create a fairer food economy that removes people who care only for profit and focus on sustainability, fairness and flavour, putting the best products from the best people in your hands and fair money in the hands of the people who make it."

A box of delights, from the producers to you
How does it work? First Cultisan visits a new region each month and explores the places, foods and people to find the best of what's on offer, from simple pleasures to greater indulgences. It's an app-based project (Android / Apple) that presents the focal regions from the ground up, introducing the land and those who work it to create food and drink that has the characteristic taste and flavour imparted by the environment and conditions in which it was produced. This combination of ubiquitous technology and the fiercely local craft finds physical form in so-called 'Adventurer's Packs', carefully curated packages selected with the aid of the best local chefs and sommeliers, and given the final seal of approval by the travelling gourmet himself, Jason Hartley, a man who knows a good lunch when he eats one.
Dimitrij Mačerol and Jason
But why base such a pan-European venture in Slovenia? The location is one thing, at the crossroads between east and west, north and south, making research trips that much easier. Another, less obvious to those who haven't explored the land beyond potica, klobasa and so on, is the sheer wealth of fine and varied produce on offer in a nation blessed with enough variety in terms of topography, climate, culture and terroir that you'll find culinary secrets and surprises around each bend in the river or road. It's not for nothing that Slovenia has been named the European Region of Gastronomy 2021, a title that – pandemic notwithstanding – is sure to bring greater attention to the vast variety of high quality food and drink on offer in the only nation to connect the Alps, Mediterranean, Karst and Pannonian Plain.
The journey thus begins with Slovenia, with the first box including tasters of the following: Krškopoljski salami and ocvirki from Janja and Matjan Zgajner (Zgornja Voličina); Stajerska Prekmurje pumpkin oil and roasted pumpkin seeds from Gorazd Kocbek (Sveti Jurij ob Ščavnaci); Tolminc Cheese from Jani Kutin (Čadrg); Lepa honey and wildflower tea from Ana Braz (Vrsno); Chocolate praline with ocvirki from Matevž Božič (Ptuj); Istrian olive oil from Andy & Nina Froggatt (Portorož); and Malvazija wine from Sebastijan Štemberger (Tomaj). The coming months will see the roving caravan of fun move on to Emilia-Romagna and Sicily in Italy, the Douro Valley and Alentejo in Portugal, then traveling across Europe and through the Balkans.
Let the app be your guide to the best that's unknown
Of course, once you've explored the regions and culinary delights that are showcased each month on Cultisan you'll probably want to get closer to the experience, and that's something Jason and his team are already working on, with an eye to when these dull, dark days are over and we can once again get dressed, leave the house and visit farms, vineyards, restaurants and markets once again and enjoy the pleasures of the table with friends old and new. To that end Cultisan will be eventually – late 2021? – be launching a travel service for people who want the ultimate food adventure, meeting, eating and learning with producers and chefs, getting closer to the land and it's secrets. And if you'd rather travel solo then don't worry – the app keeps track of everything and everyone Jason and company are discovering, so you can choose your own adventure and buy the best direct from the farm door.
So if you're anxious for a little adventure from the comfort of your home, would like fine food and wine delivered to your door that you can't find in supermarkets, or want to plan your next vacation, then just download a copy of the app (Android / Apple) and explore, or visit the Facebook page. Better days are coming soon, and Cultisan is ready to help you enjoy them.