STA, 15 January 2020 - Photographer Stojan Kerbler, and ballet dancer and choreographer Milko Šparemblek have been declared the winners of this year's Prešeren Prizes, Slovenia's top accolades for lifetime accomplishments in the arts.
 Kerbler, 81, is being honoured for his body of photographic work, "a magnificent fresco of the life of the Haloze people", a "value of national importance that professional and lay public can agree on", the Prešeren Fund Committee said in announcing the winners on Wednesday.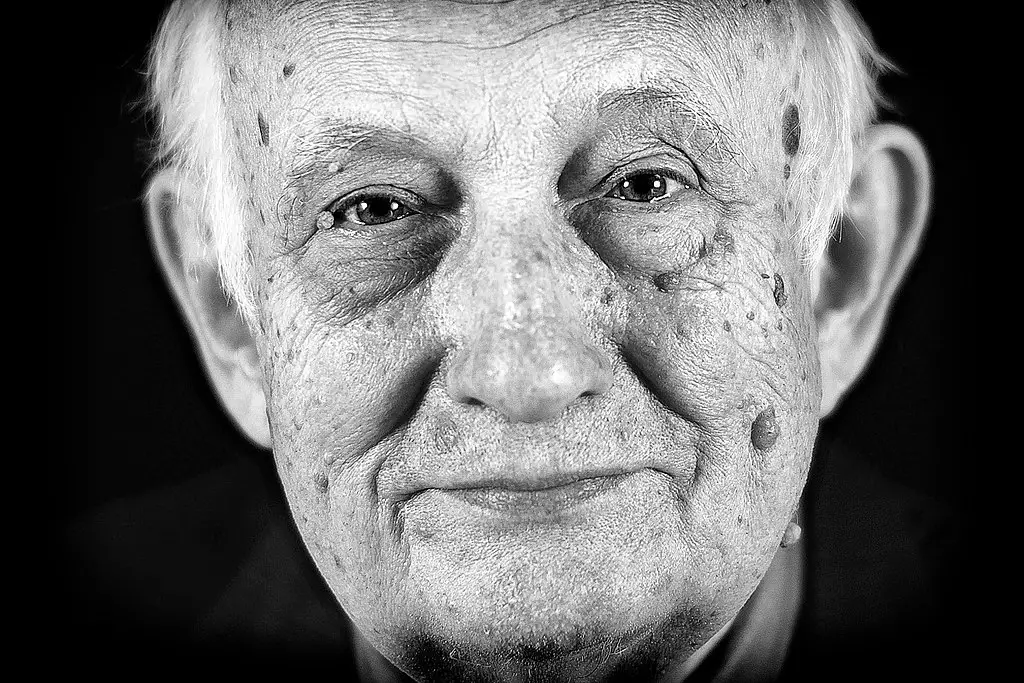 Stojan Kerbler. Wikimedia - Srecko Trstenjak CC-by-4.0
"Unpretentiously, with his modesty, love and responsibility for the fellow human being, Kerbler has set high standards of pure black-and-white analogous photography, establishing a reference point for humanistic photographic sensibility and aesthetics even for generations to come," said the committee.
Kerbler, who hails from Ptuj, has never sought his motifs around the globe, never photographed excess situations. Rather, he has caught in the lens the unforgettable, warm images of the inevitable flow of everyday life, winning acclaim at home and abroad for his 'spectacle de la vie quotidienne'.
At 91 years of age, Šparemblek is the oldest still working choreographer in the world. Spanning seven decades, his oeuvre comprises more than 150 ballet, opera and theatrical productions for 45 theatres worldwide, heard the winners-announcing event at the Ljubljana opera house.
Milko Šparemblek. Screenshot
"Milko Šparemblek is a charismatic man and artist who leads us as creators and viewers reliably and joyfully from the labyrinths of the world into the embrace of our own hearts," said the committee in the justification.
Šparemblek, who was born in Koroška in the north of Slovenia, but lives in Croatia's Zagreb, where he graduated in comparative literature and completed a ballet high school before pursuing further education in Paris and New York, is seen as one in a generation of artists of global renown whose work has led to a change in thinking about dance in modern times.
In their first reactions to the honour for the STA, Kerbler said that he understood the prize as recognition for classic auteur photography and Slovenian photography in general, while Šparemblek said winning the Prešeren Prize meant "you are being recognised, remembered, not forgotten".
The Prešeren Fund Prizes for achievements in the past three years go to graphic designer Nejc Prah, actress Nina Ivanišin, composer and accordionist Luka Juhart, film director Rok Biček, translator Suzana Koncut and costume designer Alan Hranitelj.
Ivanišin, a member of the ensemble of the SNG Drama Ljubljana theatre, is being honoured for her roles of female heroines Antigone, Francka, Nežka and Agata Schwarzkobler and for her freelance projects, and Koncut for her translations of French fiction and theory over the past three years.
Juhart won the recognition for achievements in the past three years, including his composition Unleashed, and Biček for The Family, his monumental 2017 feature-length documentary about a dysfunctional family of people with special needs that he followed for more than a decade.
Prah won over the jurors with the visual image of the 33rd Graphic Biennial, promotional material for a series of experimental concerts and his independent exhibition, while Hranitelj is being honoured for Parallel Worlds of Alan Hranitelj, a 2019 exhibition showcasing some of his major costumes from his career.
"Each year, the prizes provide an opportunity to show what our arts and culture are capable of. We definitely reach all the way to the starts," Culture Minister Zoran Poznič said in his address to the winners-announcing event.
Coming with a prize money of EUR 21,000 for lifetime achievement and EUR 7,000 for individual accomplishments, the prizes will be presented on 7 February, the eve of Culture Day, a national holiday commemorating the death of Romantic poet France Prešeren (1800-1849).