June 21, 2019
After attending last week's London release of Exploring Extraordinary, a book that explores the history of Rolls Royce and Bentley and also features the work of Mateja Benedetti, the designer's latest venture, Benedetti Life, has now launched both an online store and showroom in Ljubljana.
Photo: Boštjan Podlogar 
Online preorders can be made for Benedetti Life's Parrots' Poetry collection, which the firm sees as a way to reduce overstocking and therefore avoid potentially unsold items that then become textile waste.
Starting this Monday, June 26, 2019, customers will also be able to place made-to-measure orders from the collection with a Morro Sartoriale tailor.
The Benedetti Life showroom opening, at Kristalna palača in BTC City, was hosted by the always positive and friendly Manca Košir, the Slovenian author, journalist and environmental activist, and Moda Mi&Lan and Morro Sartoriale label CEO Milan Mörec.
Manca Košir and Milan Mörec presenting Benedetti Life at Morro Sartoriale showroom;    Photo: Boštjan Podlogar 
Benedetti Life is a sustainable and animal-free luxury fashion label, founded by the award-winning designer Mateja Benedetti. The Benedetti Life fashion line was created in response to mounting reports on the devastating impact fast fashion has on the environment, animal and human wellbeing.
Mateja Benedetti
Mateja Benedetti with Manca Košir                                             Photo: Boštjan Podlogar 
Mateja Benedetti, a Slovenia-based fashion designer, started her career as a costume designer for opera houses and theatres, her works being featured all over the world, including Milan, Paris, Los Angeles, Kuwait, and Singapore, among other locations. In 2014, she launched her first sustainable fashion brand and Vogue Italia selected it as one of the TOP 20 most promising eco-friendly clothing brands in the world that same year. In 2017, Mateja made it among the five finalists at the Green Carpet Award, conferred at Teatro alla Scala during Milano Fashion Week. The renowned Suzy Menkes interviewed her for International Vogue in 2017, and Livia Firth selected her apple-skin gown for a Grazia photoshoot, published the same year. In 2018 she received the Positive Luxury and the Big See Awards. Mateja's work has recently been featured in book Exploring Extraordinary, commemorating the 100th anniversary of the carmakers Rolls Royce and Bentley.
Photo: Boštjan Podlogar 
Benedetti Life uses only non-toxic and organically grown textile materials, makes its clothes locally, in line with fair trade and decent workers' conditions, and guarantees no animals were abused in the process of garment creation, be directly or indirectly through the environmental destruction. By its high ethical standards and constant search for new material and productive solutions Benedetti Life sets the bar as high as it gets. Responsibility driven innovation combined with luxury fashion design results in skin-friendly, timeless creations inspired by life and nature.
Photo: Boštjan Podlogar 
Parrots' Poetry Collection
Photo: Boštjan Podlogar 
Each Benedetti Life collection explores an animal species under threat due to the destruction of their natural habitat, hunting and climate change. It aims to celebrate the creatures' beauty in garments, and raise awareness of the threats and related solutions that would improve their conservation status. Parrots have served as human inspiration and companions since at least Roman times. Today, many of the existing 387 parrot species are endangered, with some on the verge of extinction, due to destruction of their natural habitats and the persistence of illegal trade in wild-caught stock. These include some of the most beautiful and intelligent species, such as the big colourful Arinae from the New World, talking African parrots, cockatoos and the flightless Kakapo of the New Zealand.
Benedetti Life captures the beauty of these birds in its clothes not in cages. In the process maximum concern is placed on protection of the environment and people involved in the manufacturing process.
Photo: Boštjan Podlogar 
Wood Stock by Benedetti Life
In collaboration with the Slovenian Wood Stock Eyewear brand, Benedetti Life also presents the Wood Stock by Benedetti Life sunglasses line.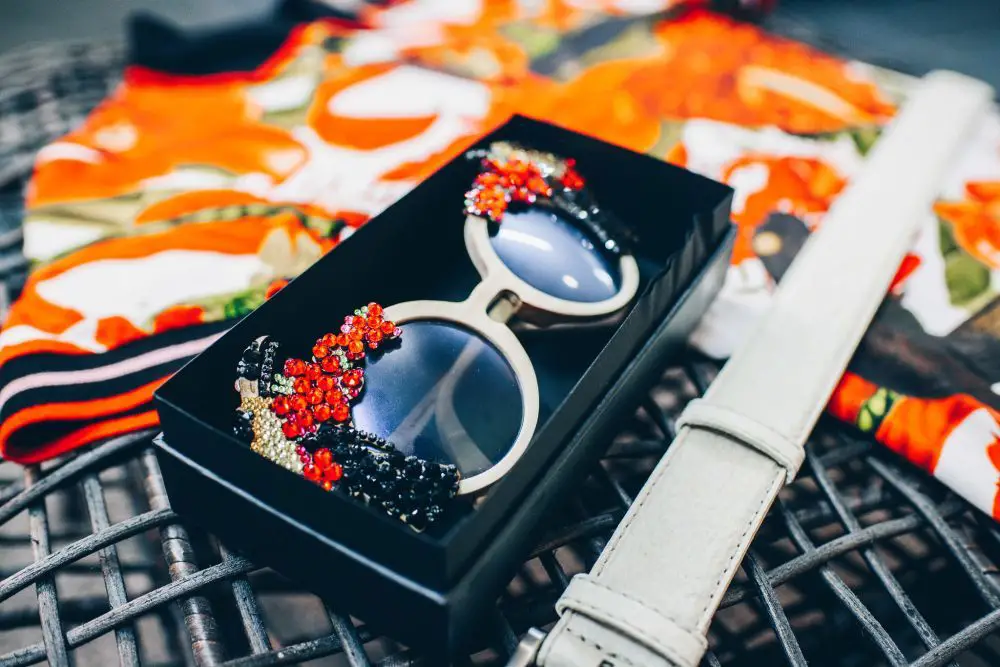 Photo: Boštjan Podlogar 
Wood Stock is a name that stands for environmental responsibility and excellence in craftsmanship. Wood Stock's wooden sunglasses are not only locally produced but handmade by the skilful master Jaka Jančič himself, while high quality lenses are provided by a Slovenian lens producer Alcom.  The frames of Wood Stock sunglasses are made of certified fair-trade wood. Once carved, the frames are then protected with skin friendly citrus oils and beeswax.
Wood Stock by Benedetti Life offers several designs that span from a straight wooden look to rich embellishments of birds, flowers and Swarovski crystals.
Morro Sartoriale
The Morro Sartoriale showroom, which is located in Kristalna palača at BTC City, Ljubljana is an exclusive host of the Benedetti Life showroom, where customers can order made-to-measure Parrots' Poetry Collection designs with the Mi&Lan tailor every Monday between 8:00 and 11:00 and every Wednesday from 11:00 to 18:00. Bookings can be made by calling 070 669 669 or writing to This email address is being protected from spambots. You need JavaScript enabled to view it..
Photo: Boštjan Podlogar 
Photo: Boštjan Podlogar