Some weeks ago I was at one of the Pivo & Burger Fests in Ljubljana, researching Slovenia's flourishing craft beer scene. Six months earlier I'd paused my investigations, overwhelmed by the number of breweries and beers that were turning up on my radar each month, anxious to reduce my drinking (and spending), and – to be frank – bored of IPAs.
Learn more about Slovenian craft beer here
It was thus with delight that I found a much evolved selection of beers at the festival, with a broader range on offer, including wheat beer, lager, porter, gose and, my new obsession, sour (and Bevog's Lolita in particular). But beer wasn't my only discovery that long and hazy weekend, as I also came across a stall offering samples of chili sauce – another market that's seen a boom in Slovenian producers in recent years – and one these, the fiery but flavourful All Stars had an effect I can only describe as making me high.
A disclaimer on personal taste: I like hot food, with a preference for Indian, Sichuan and Thai, but I don't like pure heat. Instead I crave a more rounded flavour, with bass notes to accompany the highs. I also have, like everyone else, a level of heat that tickles my brain in just the right way, just on the right side of pain to release the endorphins and have me putting down the fork, spoon or chopsticks and taking a little time out to enjoy the waves of pleasure and distress, before diving back in again and feeling the heat.
It was this level that Gorki's All Stars hit, and I went back a couple of times to just try another dab on a breadstick, each time getting that same rush and happy high that left me smiling like a loon. I bought a bottle on the spot, and a gift pack of samples of their other sauces, and a bag of dark chili chocolates that, like the sauce, had a balance of flavours that went just far enough out of my comfort zone to flood me with joy, and that I finished the next morning with coffee.
I got talking to the two guys who run the company, Igor and Rok, learned that they produced everything in Koper, had won a big hot sauce competition in America, and were willing to give me an interview, as follows:
How did you start with chili farming?
We started four years ago, first as a hobby, simply because we love spicy food. We started with a few plants that we grew at home. Rok made a hot sauce out of the first chilies he grew and all our friends and family were enthusiastic about it. With their support we decided to grow more plants - a lot more – make more hot sauces and try to put them on the market. In the first place because the Slovenian market at that time didn't offer a lot of hot sauces or other chili products. And those few on the shelves weren't "the real thing", in my opinion.
What problems did you face when starting your business, and how did you overcome them?
We were new to the business and there were really a lot of things to think about – taking care of the plants, cooking the sauces, creating our webstore, packaging, storage, creating a label … Somehow we managed to solve all those with good organizing and planning of the work.
Then in the fall 2014 we first created three hot sauces with different degrees of heat and started selling them through our webstore. By spring they were all gone, which was a really good start.
Two of your sauces came second and third at the 2017 World Hot Sauce Awards. Can you tell me a little about that.
We first entered the World Hot Sauce Awards competition in 2015. Back then our hot sauce Choco came third in the Latin style category. For us it was a clear sign that we were on the right track. A year after our hottest sauce, All Stars, came second and last year it was third. It's an extra hot sauce, but besides that it tastes really good. We believe our products are special because we always put taste in the first place, rather than the heat. We choose the ingredients very carefully, we try to be creative when cooking and do as much testing as needed in order to achieve the right flavor. All this we believe is the key to quality.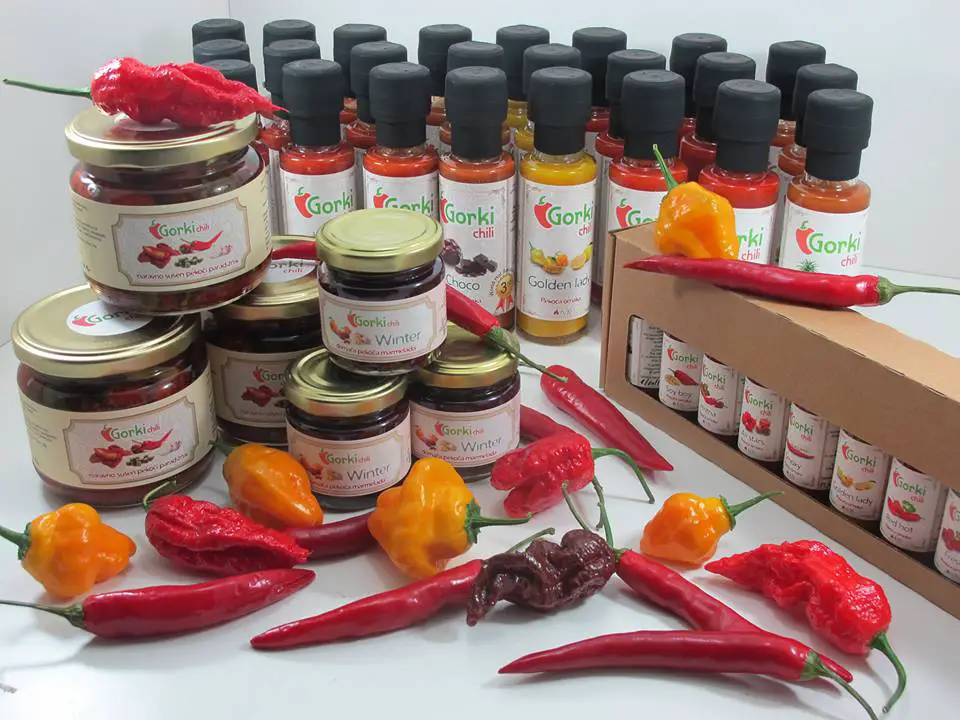 Which of your sauces do you enjoy the most?
It's very hard to answer this question. You know – it's like when a father is asked which child is his favourite. To us all of them are delicious, each in its own way, suitable for a different dish or for a different kind of chili lover, from beginners to real chiliheads.
That's what keeps this exiting, not the one "best" sauce, but searching for new tastes, creating new products, meeting new people, having face to face contacts with our customers at fairs and festivals, where we can give them advice and have interesting debates about chilies.
What are some of the other chili products you sell, beyond the sauces?
Hot paradajz is one of our bestsellers that also requires a lot of time to prepare, because it's all handmade. It consists of spicy dried tomatoes in extra virgin olive oil with garlic, capers and spices. Once you try it you can't live without it, really. We also make two types of BBQ sauce, hot marmalade, spicy chocolate, and spicy extra virgin olive oil which was named world champion at last year's World Hot Sauce Awards.
What are your plans now?
We plan to start selling our products on foreign markets, and of course keep on developing new ones. But for the moment everything is available in Spar and InterSpar all over Slovenia, in some small gourmet stores, and of course in our webstore. We also supply a lot of restaurants and pizza places with our sauces.
Anything else you'd like to say?
Yes, our philosophy in growing chilies and producing hot sauces has two main goals: quality and taste. Of course we want our hot sauces to be hot, but the flavour is always number one. We are happiest when our customers tell us that they enjoyed our products not because they taste like fire, but because they're delicious.
You can find Gorki products in stores, at markets, and online, with the official website here (in Slovene, English and Italian), and note the neither TSN nor myself received any compensation for this article, just a few samples at that beer festival which were enough to turn me on to this story.