Am I unique in finding that coming out of lockdown is almost as stressful as going into it?
Having got accustomed to my leper like existence, the prospect of establishing a full social life is rather daunting. Trying to plan and keep upbeat in a very uncertain new world, re-establishing a 'normal' circadian rhythm and hoping to maintain a semblance of normality by June.
Related: Going Through the Coronavirus Grief Cycle in Slovenia
Last night, as the rain lashed down and put paid to my dinner 'out' in the city, and with no TLC within easy flying distance, I decided to indulge myself with a newly permitted massage. And I chose my favourite – Chinese massage by Megy.
Megy
I discovered Megy and the Kang TKM Centre (with TKM standing for Tradicionalne Kitajske Medicine) in the rather unassuming Rojcev Ulica 24, behind trznica Moste, parked under the high rises next to the pharmacy. It offers Chinese medicines, acupuncture and massage at very reasonable prices, and on my last back twinge in December, I decided to give it a go. And touch wood, I haven't had a back twinge since.
I have now been for many basic massages with Megy, and found them to be excellent – very similar to Vietnamese, and very effective in dealing with back pain . She often supplements the treatment, with your permission, with cupping and acupuncture. Both painless, and in my experience extremely effective.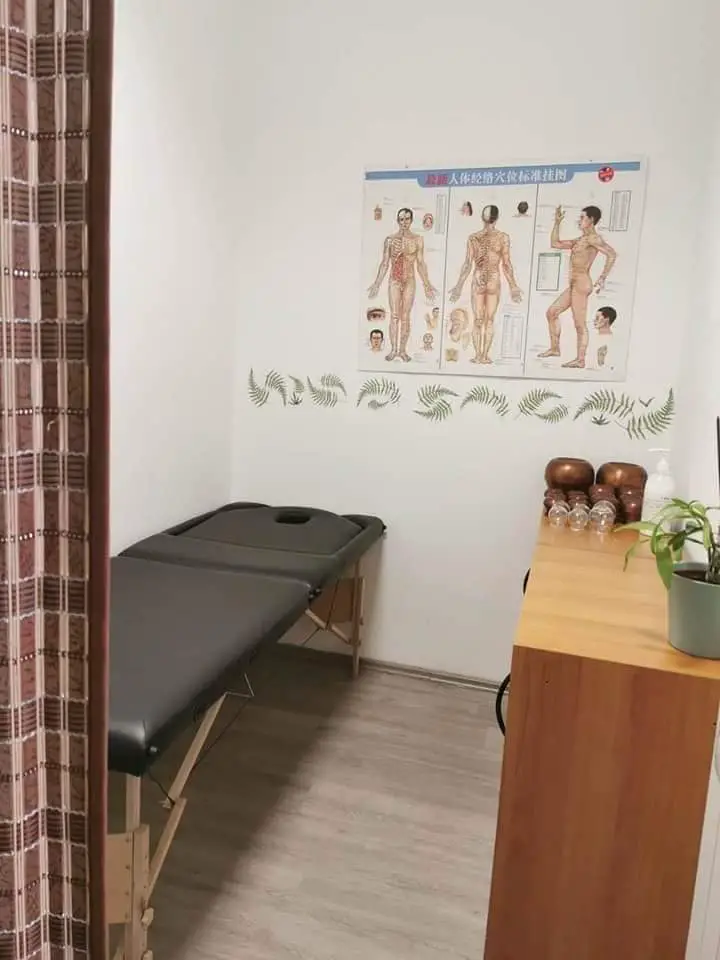 In the spotlessly clean almost clinical waiting room awaits the friendly face of white coated Megy. Megy speaks a little Slovenian, and with the help of her medical knowledge, Google Translate, her Slovenian husband and mime, she can prescribe and deliver the most appropriate and efficacious treatment – unless you merely want a straightforward head, foot or body massage whereby you simply point at the very reasonably priced 'menu'.
Last night, she took one look at my dishevelled appearance, and stress worn visage, and took control.
She started with a brisk body massage, and then commenced cupping. From experience, I knew that the cupping helps with local pain relief and muscle relaxation, while it also improves overall mental and physical health by removing the energy blockages which prevent the flow of healthy energy or 'qi'. It also stimulates the vital organs into releasing their toxins; and I could actually feel a faint fluttering in my belly as it did its work.
Cupping
After the very relaxing cupping, Megy performed the popular form of Chinese medicine called 'moxibustion' consisting of small fires. I must admit I was slightly apprehensive at first, but fear not - it was a wonderfully relaxing experience, and I fell into an alpha wave type meditation – completely calm, as small fires smoked fragrantly and painlessly on my back.
In effect, moxibustion involves the burning of small pleasantly scented 'mox' fires (in pots) along your back (chakra). The Ai Ye smoke released from burning the mixture of dried leaves has an anti-bacterial effect and is said to also have an inhibitory effect on various viruses including the common cold, and who knows, maybe even the dreaded Coronavirus. All in all, it has a very soothing effect – so just lie back and enjoy it. It certainly de-stressed me, and today I have completely got rid of the sniffling beginnings of a cold, along with my lockdown lethargy.
I left two hours later, a new woman, and went straight to bed and into a long and untroubled sleep. I can highly recommend Megy and her treatments, as being an excellent antidote to all lockdown maladies including headache and backache.
If you'd like to visit Megy for a treatment, then you can book an appointment on her Facebook page, while the telephone number is 040554 940 or 040 707 440. You can find out more about Carol Jardine at her website, SpeakEasy English.